World Kindness Day: 20+ Outdoor Acts of Kindness for Kids & Ways to Be Kind to Nature
World Kindness Day is November 13 and we can't think of a more deserving recipient of our kindness than our planet. Nature is all around us and benefits us in more ways than we can imagine. Our planet needs our help, protection and kindness. This weekend, we hope to inspire you to get outside with your kids and perform some of these outdoor acts of kindness and discover new ways to be kind to nature.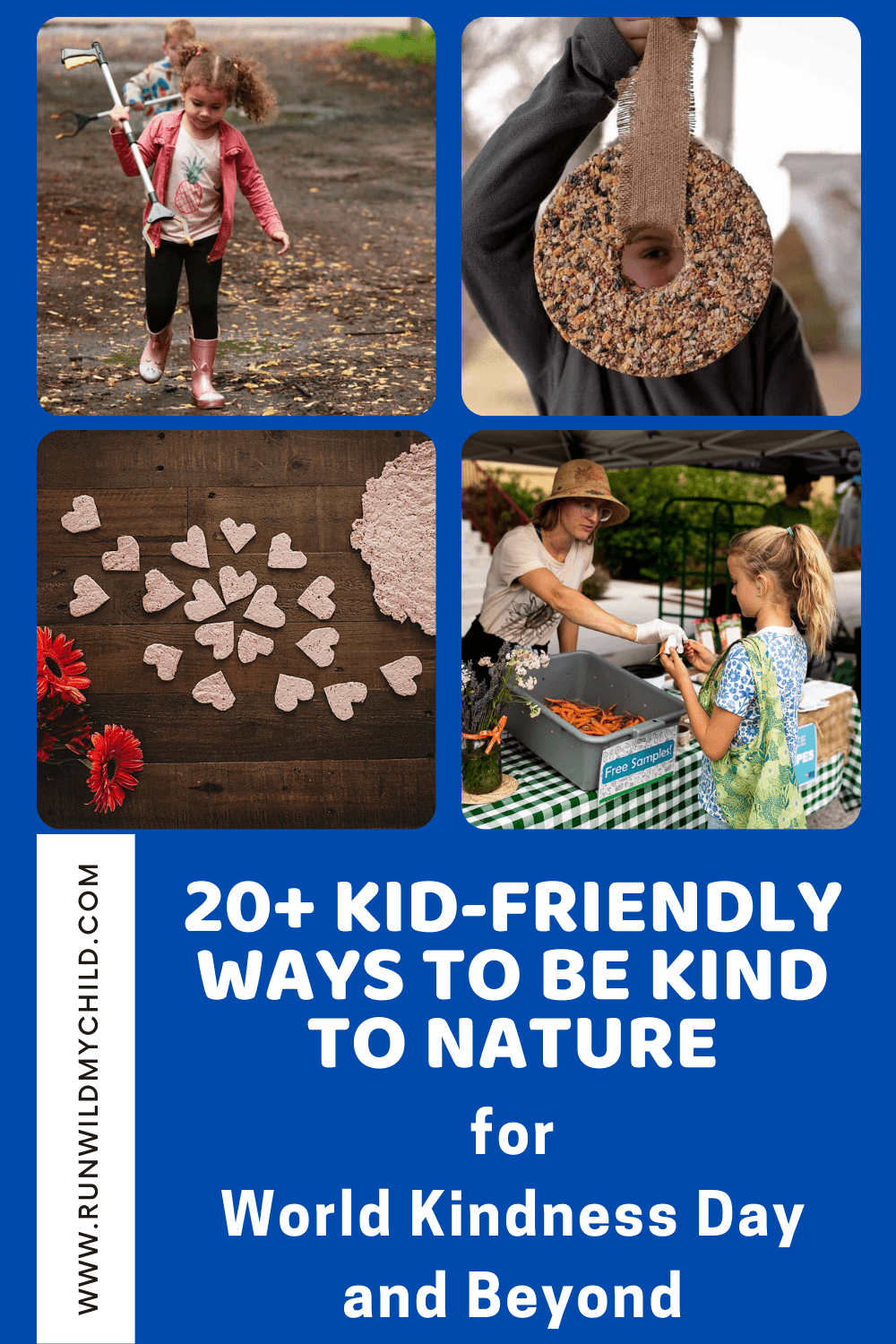 Celebrating World Kindness Day outside
World Kindness Day is right around the corner and what better way to inspire kindness than to take a moment and be kind to our planet. Each year on November 13th, people all over the world come together and give kindness to each other, themselves, and the world.
World Kindness Day was designed to highlight good deeds in the community focusing on the positive power and the common thread of kindness for good. Kindness is a fundamental part of the human condition which bridges the divides of race, religion, politics, gender, and location. 
This shared movement reminds us all that compassion really does bind us together on this planet. This year, we encourage you to reach out with acts of kindness to your families, neighborhoods, communities, and to our shared planet.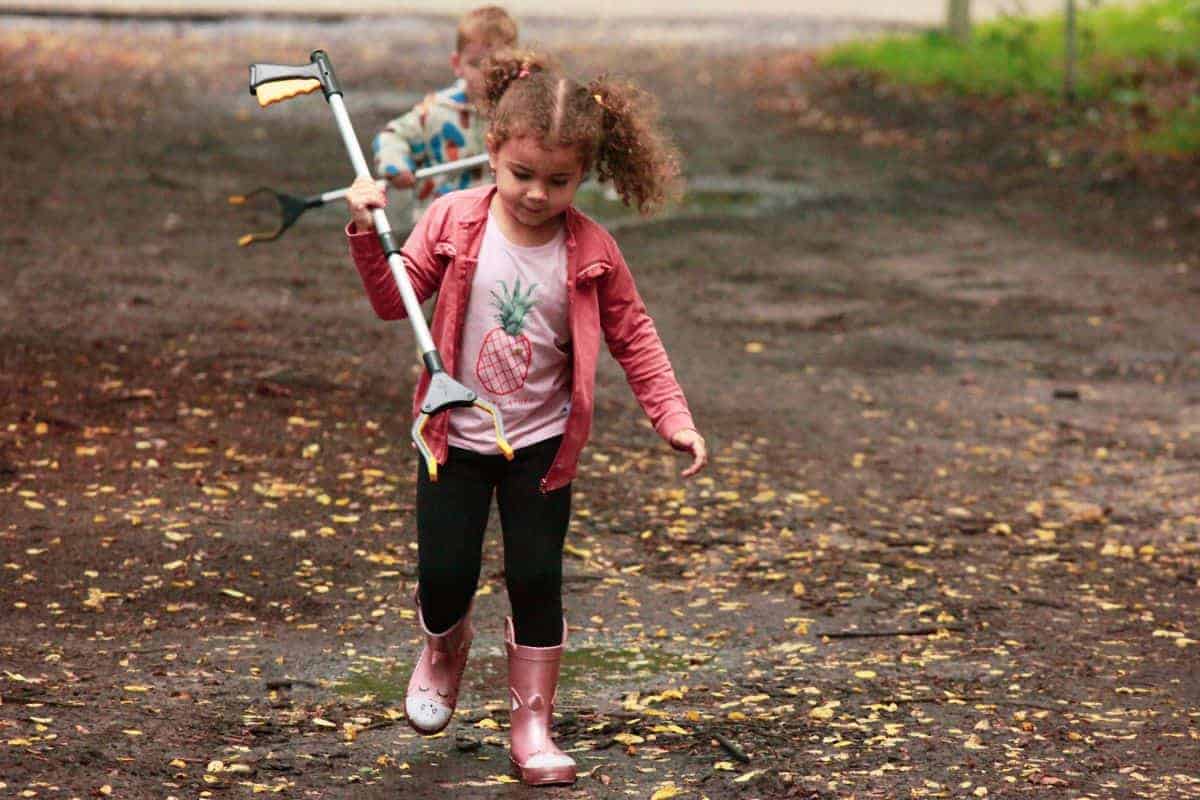 20+ kid-friendly ways to be kind to nature
Of course, we want you to be kind to everyone, but since we're all about getting kids outside and into nature, today we're going to share some ways that you and your kids can be kind to nature and our planet. If you are in need of a little inspiration and some ideas for ways you can be kind to nature, we're sharing over 20 ideas to get you and your kids started. And the best part…you can do a lot of these acts of kindness outside! 
1. Pick up trash
This is probably one of the easiest ways to get your kids involved in giving back to your community and nature. As you walk through your neighborhood and local parks, pick up the trash you see. Make a point to go out on a hike or walk with the sole intention of cleaning up. Kids love being helpful and it really is so beneficial to the maintenance of the natural areas we all love and enjoy. Plus, you're setting an example of a lifelong love of their planet and instilling a personal responsibility to take care of nature.
2. Practice Leave No Trace principles
While out in nature, teach your kids Leave No Trace principles and practice them together. Unless you have specific permission to do otherwise, stay on the trail, leave nature treasures where you found them, don't build rock cairns, don't litter, and respect wildlife. Always leave a place better than you found it. Make sure that you also explain why you should (or should not) do things when you're with your kids so they understand the implications of your actions and the reasoning behind them. Not sure where to start? Learn more about outdoor etiquette and manners for kids with this post.
3. Join a community cleanup
Bring your kids along and join in on a local community trash cleanup. These are almost always kid-friendly and event coordinators will be happy to find a child-safe area for you to help in the cleanup efforts. Kids love to be involved in adult projects and they are sure to be rewarded for their volunteer efforts with smiles and kind words by other adult volunteers. If you don't have a community clean-up project in place, organize your own! Gather some friends and go out together to make a difference. 
4. Plant a tree
Give back directly, by planting a native tree or shrub in your yard. Fall is a great time to plant trees. Visit a local nursery to get the best advice on which tree to plant and how to care for it. Let your kids be part of the process from beginning to end. Not only will kids love digging the hole and helping care for the tree, but they get to watch their tree grow for years.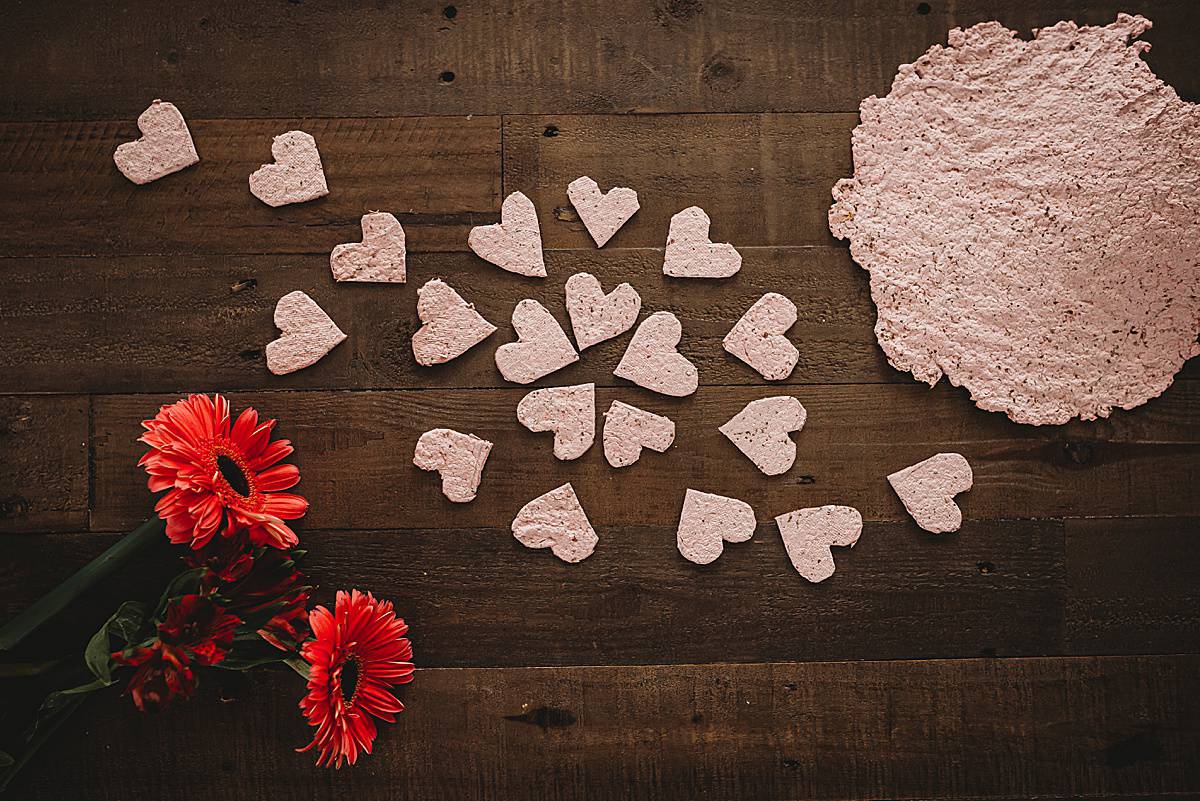 5. Plant a wildflower garden
The bees, butterflies, and other pollinators love native flowers. Planting (or planning if it is the wrong time of year) which flowers are beneficial to your local environment is one wonderful way to spread a little kindness to nature. Here's a great post on planting a pollinator garden with lots of native plants and flowers.
Or, if you're looking for a fun way to explore native wildflowers with your kids or make a fun homemade gift, you can create seed bombs with your kids (in paper or ball form): DIY Eco-friendly Plantable Seed Paper and How to Make DIY Wildflower Seed Bombs with Kids.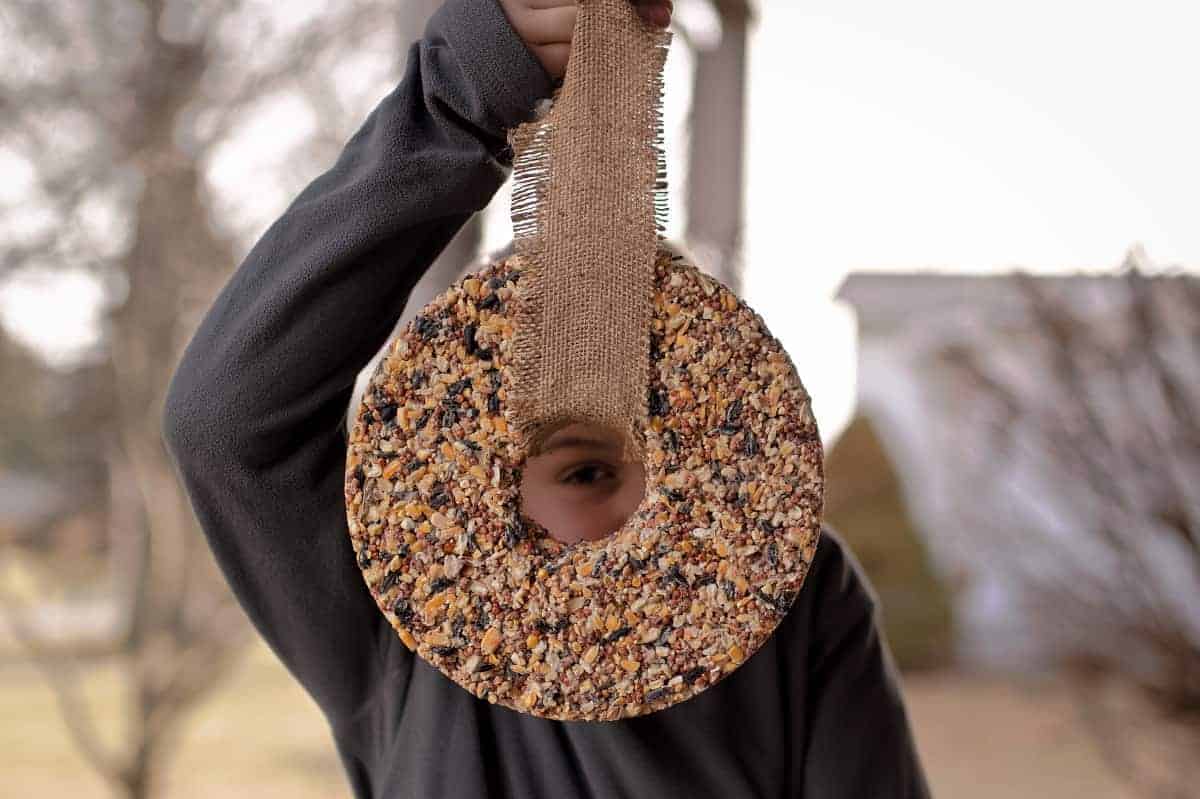 6. Feed the birds
Winter can be rough on wildlife, especially birds. Spread some kindness by feeding the birds this fall and winter. It's simple and even provides hours of entertainment. Make your own bird feeders and then watch the birds together. Gather some ideas on making bird feeders for your backyard birds with these two posts: Eco-friendly Bird Feeders to Make with Kids and Easy Bird Feeders to Make with Kids.
7. Compost
Anytime is a great time to dive into the world of composting and recycling your food waste scraps. Your kids will learn all about food waste, get to see how food breaks down, and less food waste ends up in the landfill. If you have space, you can create a composting station directly on the ground. If you don't (or if you live in a city or neighborhood), this composting tumbler is a great option. When you start your compost project, make sure to include a few bins for little hands so the kids can help out, too! Mother Nature and your local landfill will gladly accept that kindness.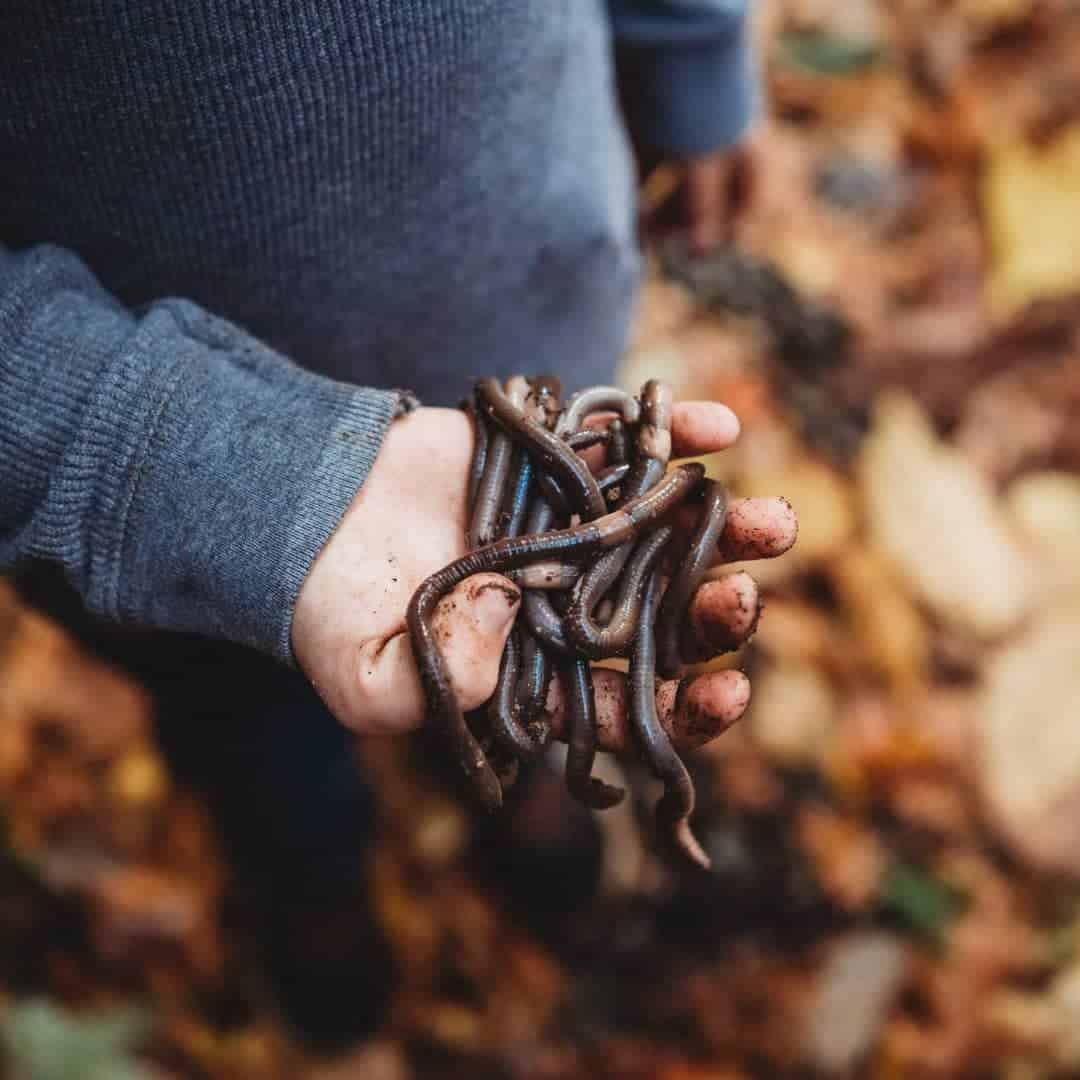 8. Start a wormery
Kids love worms! And so does the earth. If your kids are super into worms, we have a great project that will be fun and beneficial. Creating a wormery with kids is the perfect way to learn about food scraps and food waste with kids. Your kids will learn a ton, the worms will be well-fed, and keeping food waste out of trash helps our planet. It's a win-win kindness activity for all.
9. Join a seed swap
If you garden every year, then you know that you never (or rarely) use all the seeds you buy! Or maybe you have varieties of plants that are wonderful and you save the seeds each year. Instead of tossing the extra seeds in the trash, donate your extra seeds to your local seed swap. Seed swaps are very educational and are a great way to teach kids the difference between plant hybrids and heirlooms. Heirloom seeds are often handed down through families and might hail from other parts of the world. Take your kids with you to the swap and let them help you find the perfect seeds to plant in your garden.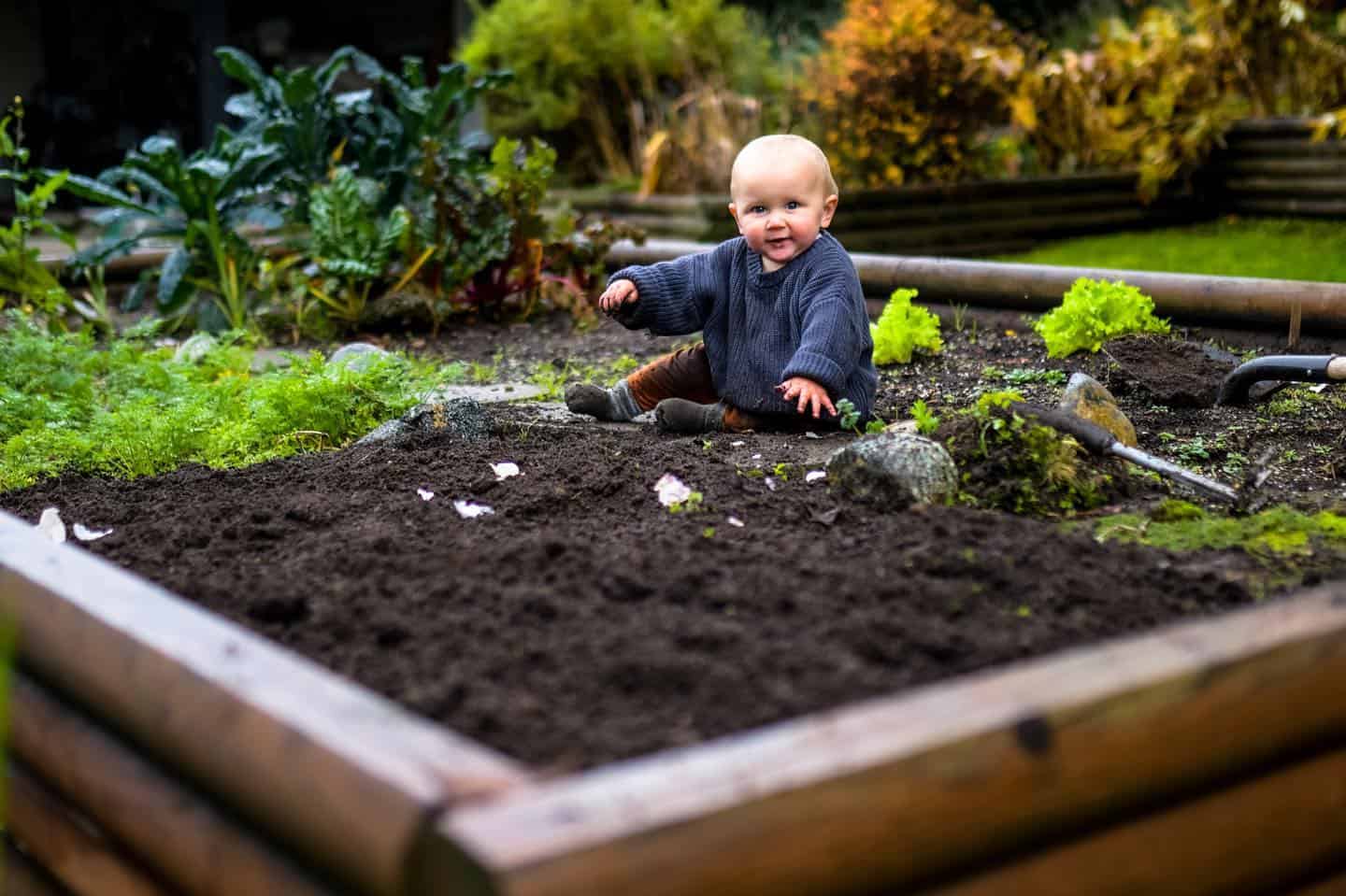 10. Join or start a community garden
Interested in gardening and don't have the space or have no idea where to begin? Join a community garden! If one doesn't exist, you could even start one. This is a great way to volunteer with your kids, learn about growing your own food, and even eat locally grown food.
11. Reduce your use of single-use plastics
Teach your children all about how single-use plastics end up in giant piles of trash and how cutting back (or eliminating) these types of plastics is beneficial to nature. Not only will your family be helping the Earth right now, but you are helping to teach the next generation a better way to care for our planet. Examples of single-use plastics are straws and plastic utensils, water bottles, baggies, single-use coffee pods, takeout containers, coffee cup lids, etc.
Learn more about how to dive into the topic of sustainability with your kids with this post: Garbage Collecting, Recycling, and Sustainability for Kids.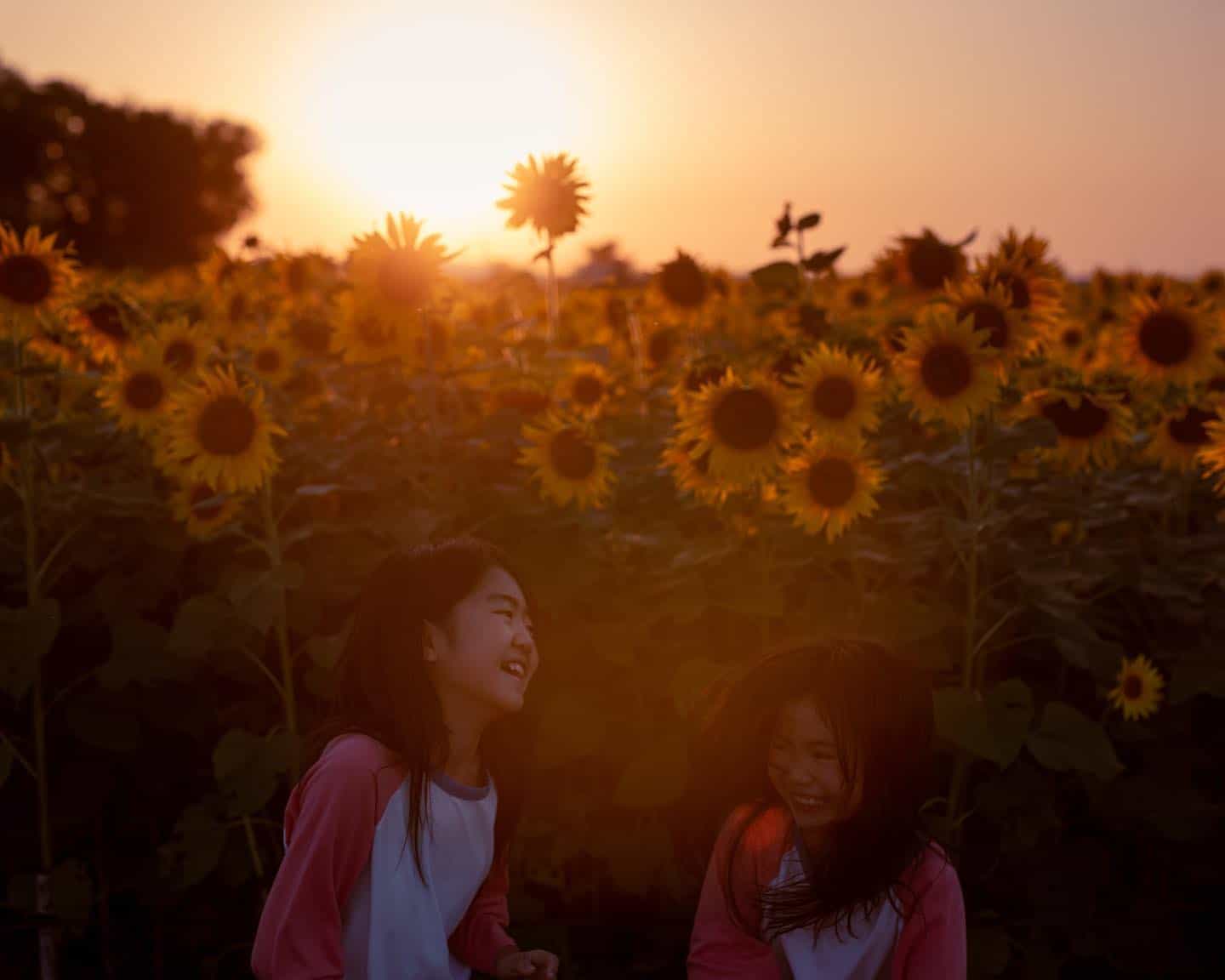 12. Volunteer with your kids
There are so many ways to be kind to nature and volunteering with your kids is one of the best. Your community likely has environmental groups, animal rescues, wildlife conservation groups, and other nature-focused organizations you can spend your time helping. If your kids are not enough to tag along, set an example by volunteering yourself and sharing your experiences with your kids. Learn more on how to volunteer with kids here.
13. Save water
The little efforts we put into our everyday activities really do add up. Teach your kids all the little ways they can reduce the amount of water they use each day. Water is a precious resource on our planet and learning how to conserve it is a kindness our Earth and everyone on it will appreciate. Some quick ideas for conserving water: turn off the water when you brush your teeth, take shorter showers, wash the dishes at least once a week by hand instead of using the dishwasher, and don't water your lawn during the summer (or better yet replace your lawn with native plants or a wonderful garden).
14. Reduce electricity usage
As with water, reducing electricity usage is beneficial to our planet and kids can learn a lot of ways to do it. Easy ways include turning off the light when you leave a room, spending an hour each evening together in one room (or outside) with all the other lights and devices off, installing energy-efficient light bulbs, not standing with the refrigerator door open (keep warm air out), hang drying laundry, unplugging unused devices, and using natural light when possible.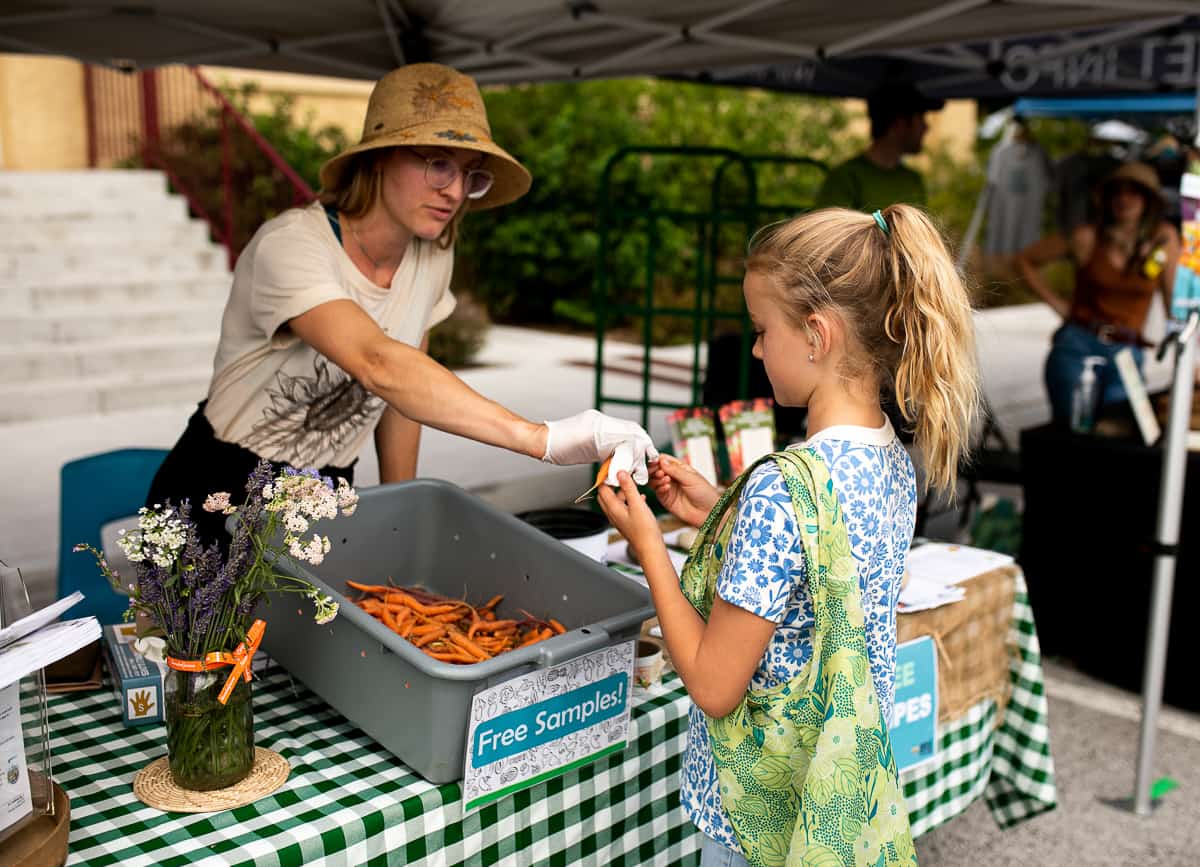 15. Shop at a farmer's markets and u-pick farms
Shopping local and small is a wonderful way to spread kindness in your community and help out our planet too. When you buy food and other goodies from farmer's markets or local farms, you are reducing the carbon footprint of the food you eat. Local food travels significantly less far from the farm to your plate. Plus, children get to interact with local farmers and food vendors, which spreads smiles and good cheer. Learn more about exploring farmer's markets with kids here.
16. Raise and donate money to the local environmental group
Spending time raising money for a good cause is such a great way to spend time with your kids. Maybe you bake cookies and make hot chocolate together and sell them on your street corner. Rake leaves and donate the money. Host a yard sale. Maybe have your children come up with a goal and use social media to help them reach it. There are so many options out there and plenty of time to make it happen. After all, teaching and learning kindness through giving is a wonderful life lesson.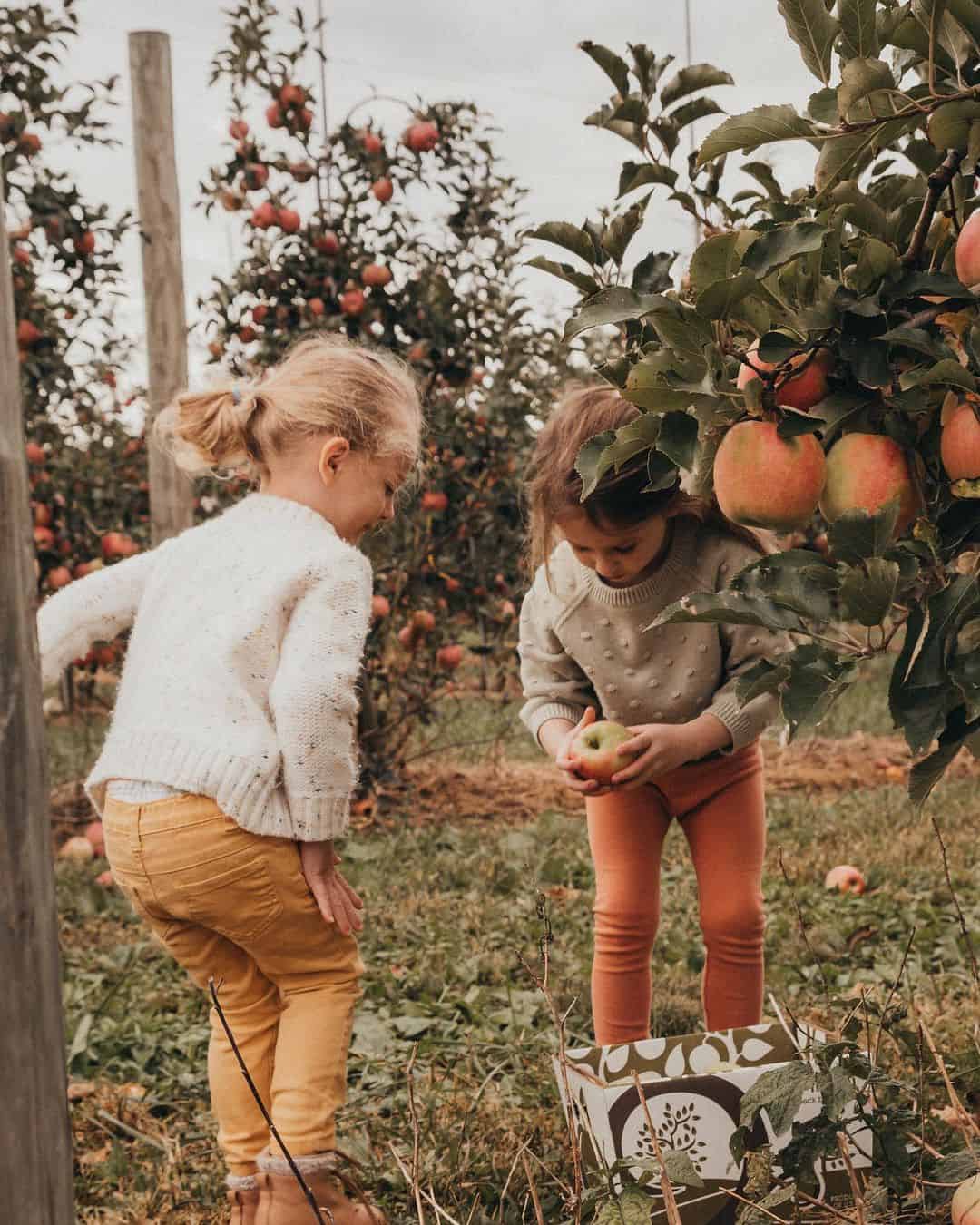 17. Write a letter to elected officials
Get your children involved in politics and help them write letters to elected officials sharing their thoughts on ways to help our environment. Everyone likes to get mail, especially from kids, right?
18. Carpool
This time of year is incredibly busy with sports and school. Offer to carpool with another family to reduce car emissions. Not only will you be helping another family, but you are being kind to Mother Nature too.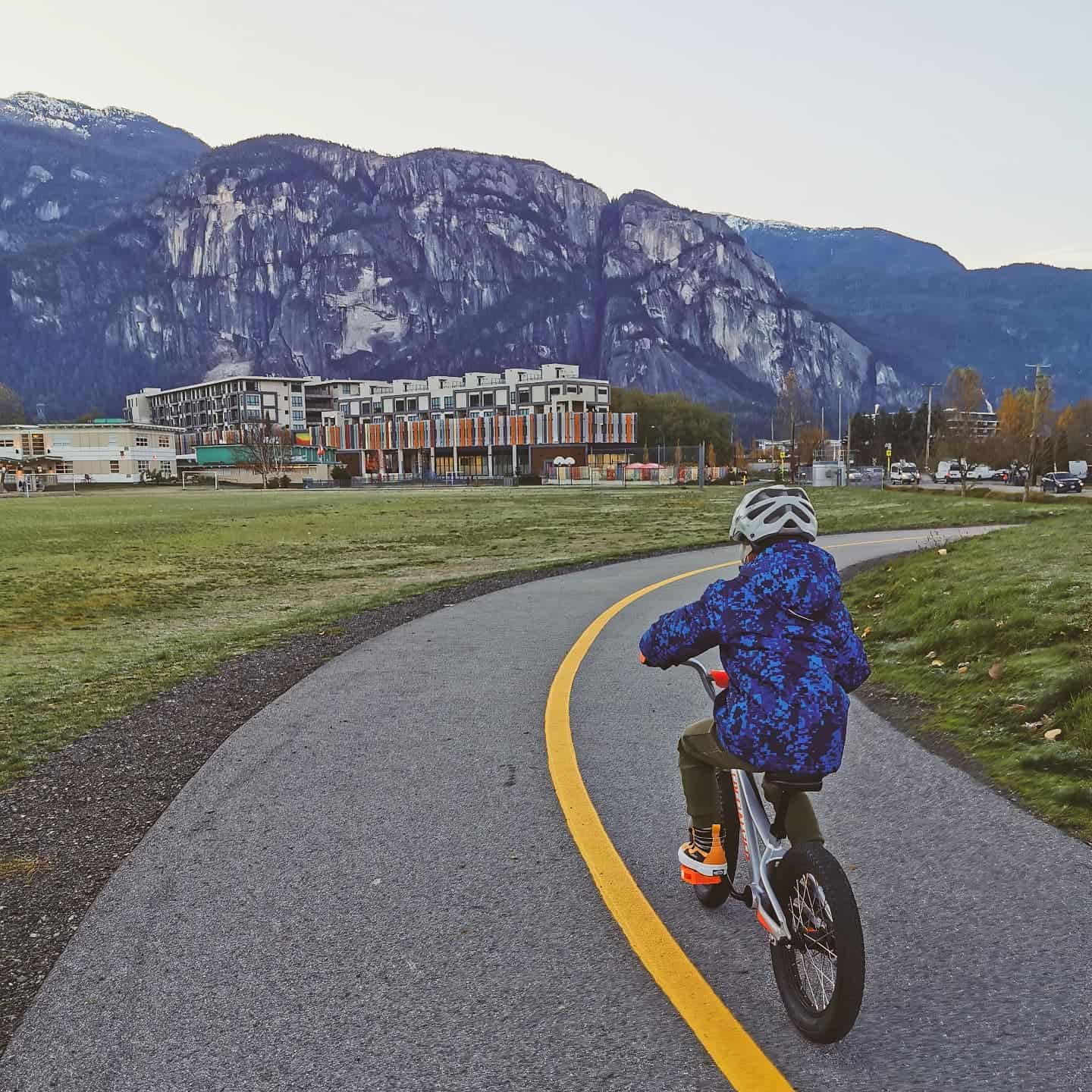 19. Ride your bikes
If you live close enough to school or community businesses and events, consider riding your bikes instead of taking the car. Talk to your kids about why you are opting for the bike lane and set an example by using your bike whenever you can. Biking or walking just one mile a day for a year could save 330 pounds of carbon dioxide—that's the same as planting four trees and letting them grow for 10 years! This also helps kids be active, connect with their neighborhood and gain a sense of direction.
20. Use public transportation
Not all of us have this option, but you absolutely should give it a go if you can. Kids love riding buses, trams, subways, other public transportation options. This is especially true for little kids who require car seats in the car but get some freedom when taking public transit. Not only are you reducing emissions (for which nature thanks you), but you get to spend time with your family and give your kids an eco-friendly adventure.
21. Shop second-hand shops
There is so much clothing, toys, and other products sitting in trash dumps all over the world. Our consumer culture creates a ton of waste. Did you know that so many things you want and need can be bought second-hand? Instead of buying a bunch of new gifts for the holidays this year, buy some gently used items instead and encourage your children to do the same. Or when your children need new clothing or your family wants a new board game, puzzle, or book, go to a thrift store or used book store and see what you find. You are helping to reduce waste by reusing items and that is a kindness nature needs.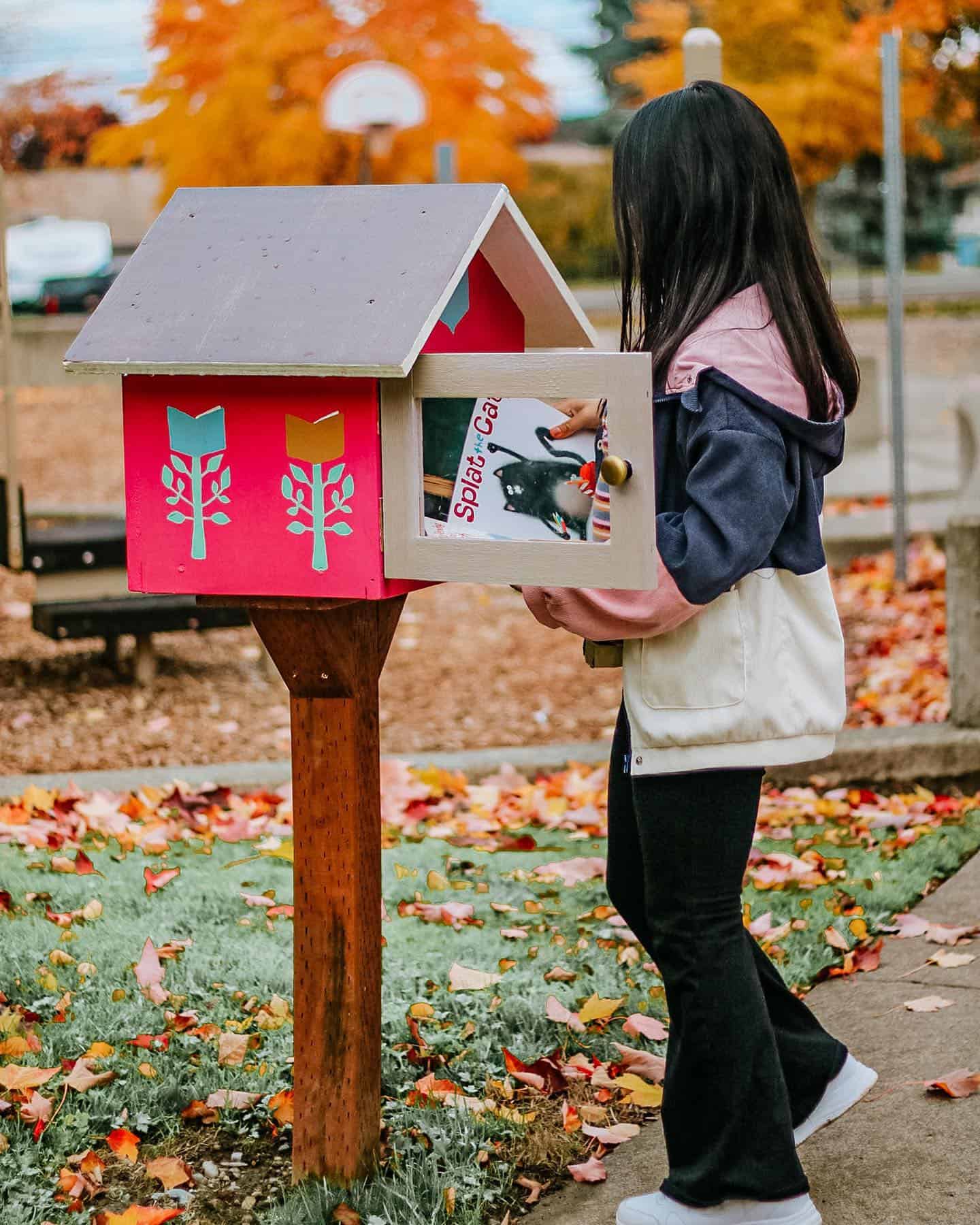 22. Use libraries and Little Free Libraries
Sharing is caring and what better way to spread kindness than through sharing books? Instead of buying new books, utilize libraries to find new-to-you books. Your local library is sure to carry the majority of books you could ever want to read and almost all of them have ways to request books they do not yet carry. Plus, Little Free Libraries are all over the place and are such a fun way to share books you are done with and grab new books too.
23. Help your kids organize a clothing and toy swap
So many of the toys we buy our kids and the clothing we wear are in great shape when we are done with them. This is especially true of children's clothing because kids outgrow them so quickly. Your kids will love to spread kindness by helping you organize a clothing or toy swap between their friends and families. Maybe a school, your place of employment, or a local community organization would like to host or you have space in your garage or yard. It can be between friends or a whole community event. Get the kids involved with sorting and set up and then let them find some new-to-them items for all their hard work.
24. Organize a craft supply exchange
Similar to a clothing and toy swap, a craft supply exchange is a great way to be kind to nature and lets you re-distribute craft supplies you are no longer using. Your kids will love to help organize, sort, and find new craft supplies. Not only are these sorts of exchanges spreading kindness within your community, but Mother Nature will be happy the items were utilized instead of tossed in the trash.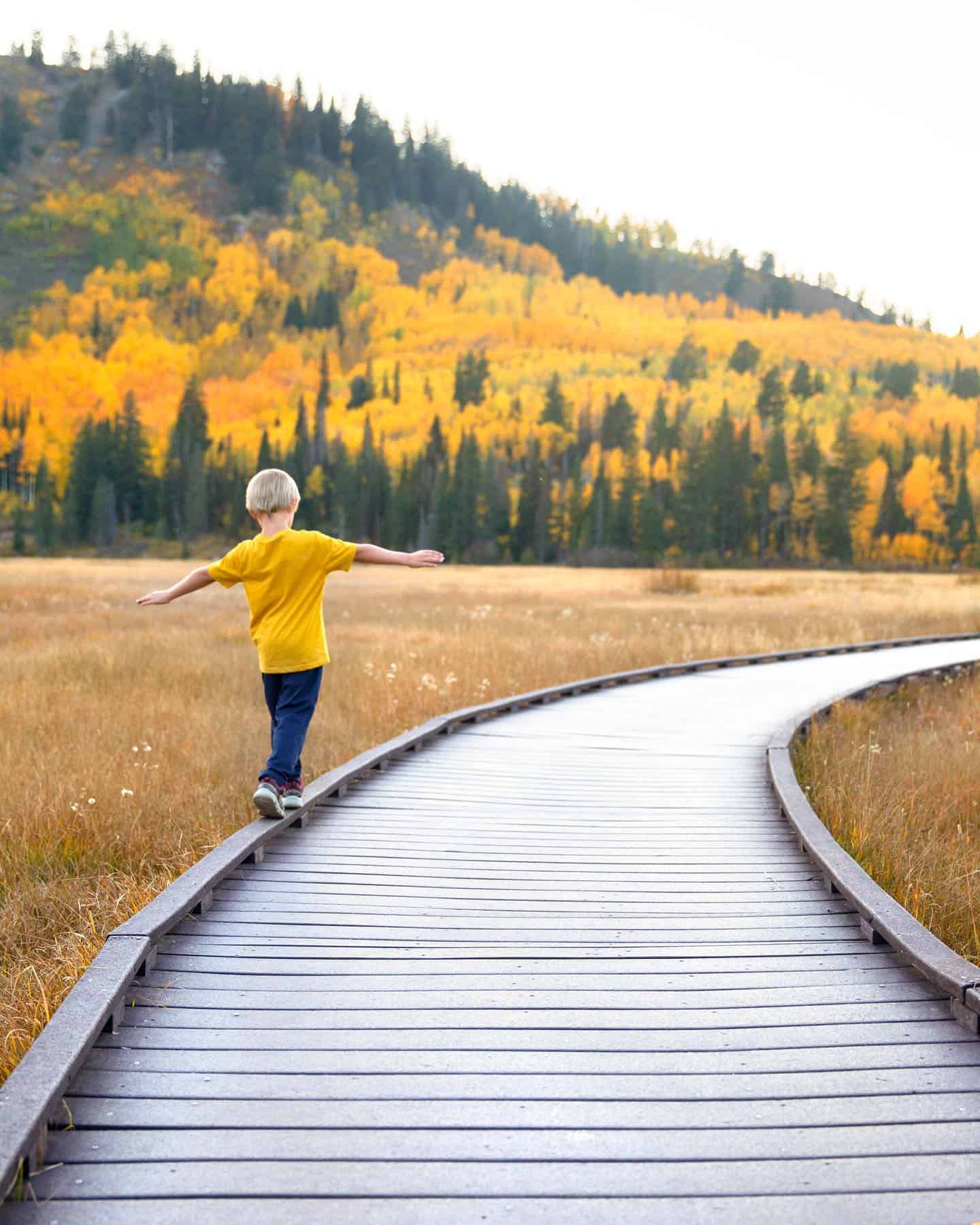 25. Set up a scrap paper station
So much paper gets thrown away that could still be put to good use. Be kind to nature by getting more use out of scrap paper. Instead of throwing out (or even recycling) perfectly good paper that's only been used on one side, set up a scrap paper station in your home. Add all the worksheets and papers that come home with your kids from school. Add printed paper that you no longer need. If the paper has a blank side, you can still use it for lists, notes, drawing, coloring, and jotting down messages. It'll give that paper a little extra life before going into the recycle bin.
26. Know what's recyclable (and what's not)
Knowing what can and cannot be recycled in your area is one of the smartest things you can do to ensure that you are diverting as much of your waste from landfills as possible, while avoiding recycling contamination through proper separation. Here are the different categories of waste. Some of these categories can be recycled and others cannot. (1) Organic waste: food waste, grass, leaves, eggshells, coffee grinds, tea bags. (2) Glass: white and colored glass. (3) Plastic/metal: plastic bottles, plastic packages, jars, cans. (4) Paper: cardboard, paper bags, paper cups, paper. (5) Toxic waste: printer ink, lightbulb, batteries, electronic waste. (6) Residue: whatever doesn't fit the others, such as used diapers, animal waste. 
27. Spend time outside
Yup, even just spending time outside as a family in all the green spaces is being kind to nature. The more time you spend outside learning about nature and being a part of it, the more you'll learn to respect and appreciate it. Just make sure to leave the areas you enjoy better than you found it and Mother Nature will be happy.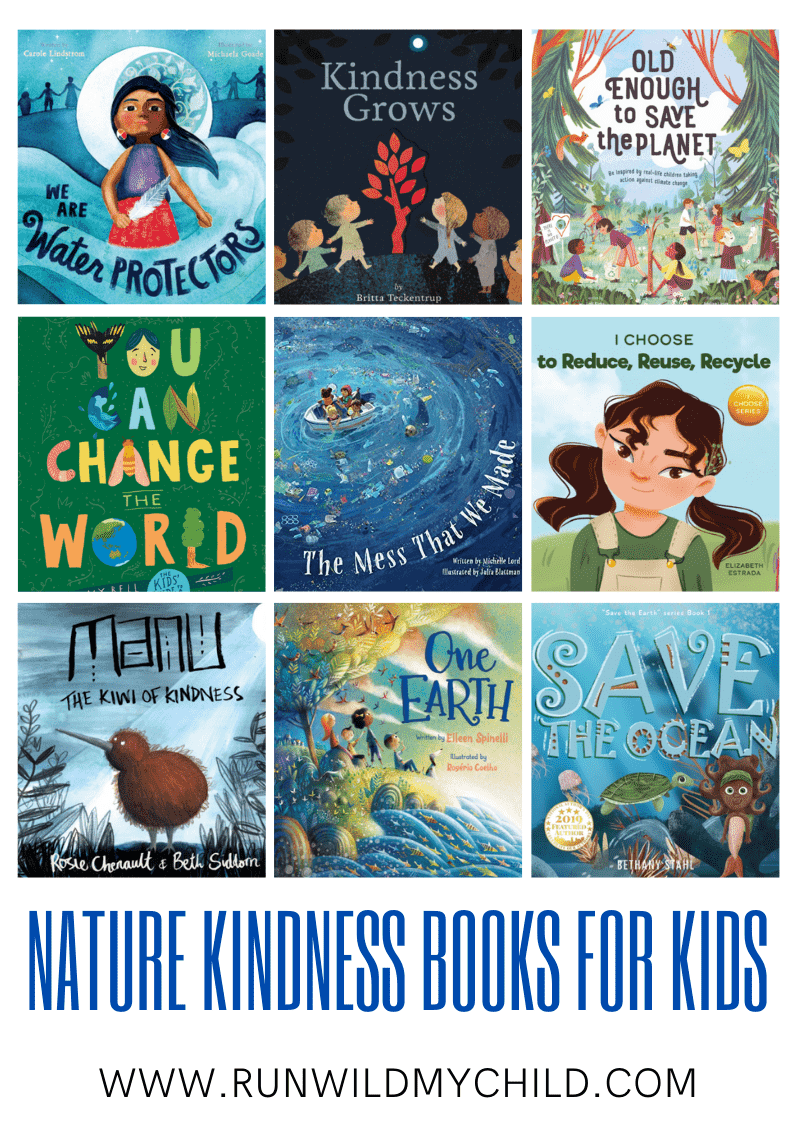 Kindness and nature books for kids
If you want to help inspire your children to find ways to give back and be kind to nature on their own, reading them books about kindness and the ways our planet needs help is sure to set them on the right track. Here are just a few of the many wonderful books available to get you started.
How do you plan to be kind to nature with your kids?
The post World Kindness Day: 20+ Outdoor Acts of Kindness for Kids & Ways to Be Kind to Nature appeared first on RUN WILD MY CHILD.