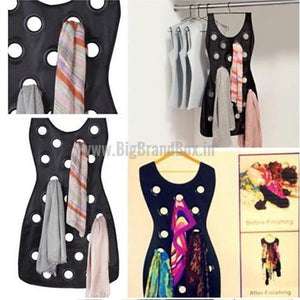 Little black Dress Hanging Scarf Organizer
Product Description
Polyester fabric body with plastic rings; swiveling metal hanger.

Holds up to 18 scarves, Undergarments (UG) ; hangs on closet pole, door or wall.

Dimensions: 18.8" x 0.5"

Keep your accessories organized with this Black Scarf Organizer.

This Little Black Dress scarf organizer offers a smart and stylish solution.

We live in a world where storage space is constantly shrinking.