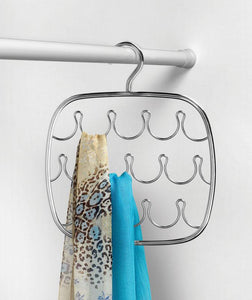 This Closet Scarf Organizer gives you a simple and stylish way to store all your scarves and other clothing accessories in any household closet. This accessory hanger features a simple wave design that allows you to hang scarves from the several metal holders that pop out or you can thread them through the u-shaped space. This scarf organizer is made from durable steel, features a stylish chrome finish and is designed to hang from standard sized closet rods or even a wall hook.
UPC: 010591036401
Manufacturer Part No:
Assembled Width: 10-1/2 in.
ACCESSORY ORGANIZER
Assembled Length: 12-1/4 in.
Assembled Height: 12-1/4 in.
Color Family: Silver
Product Type: Scarf Holder
Material: Chrome
Beautiful Chrome Finish
Length Range: 12.25 in.