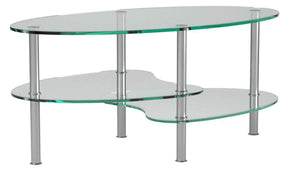 Brand: Ryan Rove
Color: Clear Top and Bottom
Features:
✅ MAKES A NICE CONVERSATION PIECE - Our elegantly designed metal and glass coffee table is a definite eye-catcher. It is guaranteed to elevate your interior decor with its unique two tier shelves.
✅ LASTS A LIFETIME - Made from high grade industrial stainless steel to provide you with a durable coffee table. Topped with a shock resistant, scratch proof and thermal proof tempered glass.
✅ SAVES TIME IN CLEANING - A strong and sturdy, yet lightweight steel frame makes it easy to lift and move around. The smooth tempered glass top cleans easily by simply wiping with a damp cloth.
✅ LOOKS GOOD IN ANY ROOM - Classy coffee tables bring out the aesthetic appeal of any room. It's ideal in living rooms, reception areas or as a corner display table. The possibilities are endless.
✅ IT HAS MULTIPLE USES - It is, first and foremost, a coffee table. Although, it could also be used to showcase our memorable family pictures and trophy's. Also use as a magazine and book stand. Dimensions: 38" W x 20" D x 17" H, Weight: 30 lbs.
Publisher: Ryan Rove
Details: A lot of factors come into play when we talk about interior decorations. Deciding on what to purchase and which goes where is an important step everyone has to take. After a long deliberation on paint color and curtains, we now go to furnishings. There is a wide array of furniture design options we can choose from. Modern popular furniture goes for a unique shape and style but usually compromises on comfort and functionality.
Package Dimensions: 45.5 x 24.3 x 3.9 inches