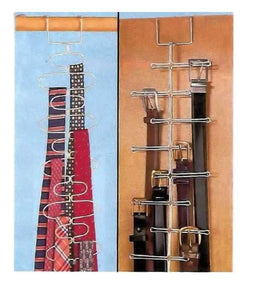 Brand: Trenton Gifts
Features:
FREE UP CLOSET SPACE. These space savers are a practical way to store caps and ties
MAKE USE OF SPACE OFTEN WASTED. Hang over the door or on a wall
HEAVY DUTY METAL. Vinyl coated metal wire for cap rack and Chrome plated steel for tie rack
MEASURES: Cap Rack - 26" x 6" x 1". Tie Rack - 20" x 6" x 3"
Publisher: Trenton Gifts
Details: Save space in your closet with an Over-the-Door Accessory Organizer. It's a smart and pratical way to store a specific type of item. The cap rack (26" x 6" x 1") holds up to 30 baseball-style caps. Vinyl coated meatl wire. Tie Rack (20" x 6" x 3") holds 20 ties. Chrome plated steel. Assembly required; assembly hardware included.
UPC: 707569050568
EAN: 707569050568
Package Dimensions: 23.2 x 3.0 x 0.8 inches