2021 Holiday Gift Guide for Everyone on Your List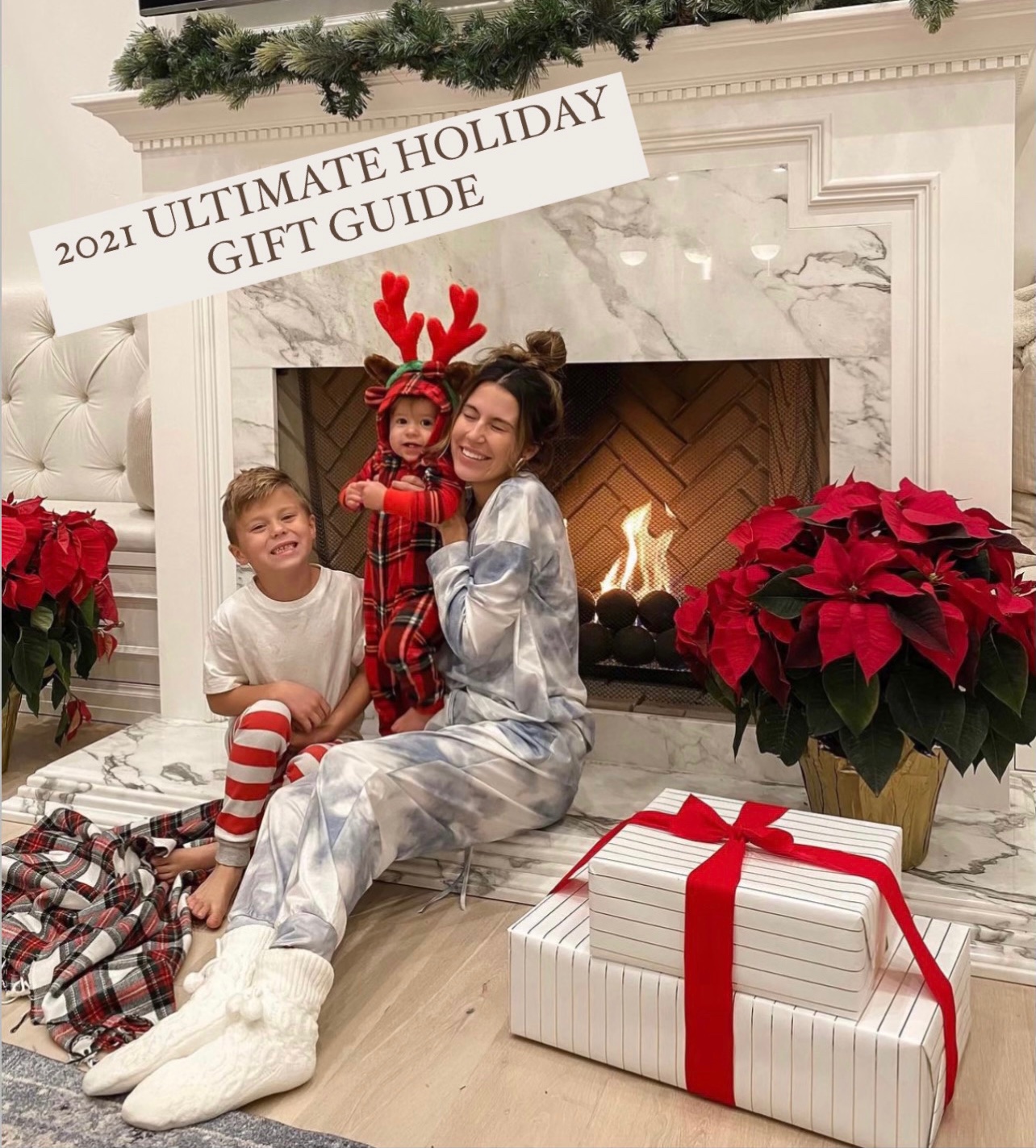 Pin It
Ok so I am dropping this post earlier then I ever before, but you've probably already heard how delayed things are with shipping and that they expect things to sell out pretty quick this year. So in case you are like me and already shopping, my team and I wanted to put together the ultimate gift guide source for everyone on your list. Holidays are my FAVORITE time of year, I LOVE giving people gifts, but that's not really what the season is about. It's about spending time with the ones you love, so I hope this guide can alleviate some of the stress of finding that perfect gift, so you have more time to be with the ones you love! We wanted to make this as easy as possible! You can click directly on any of the items you love right on the boards and it will take you directly to that product. The links are also listed below.
With that I drop you the 2021 Hello Fashion Ultimate Gift Guide! 20 Different Gift Guide Ideas!!
2021 NOW TRENDING GIFT GUIDE: (You can click directly on any of the items you love right on the boards and it will take you directly to that product. The links are also listed below

.)
1. PILLOW SLIDES (COMFIEST HOUSE SLIPPERS FOR MEN OR WOMEN)
2. SQUARE NECK BODYSUITS (UNDER $25)
3. OUAI CHILL PILL BATH BOMBS (I LOVE THESE!)
4. FLORAL STREET PERFUME SET
5. COOLING GLOBES
6. SHERPA BUCKET HAT (UNDER $20)
7. FRAME TV
8. NYX BROW GLUE (VIRAL ON TIKTOK – THE BEST BROW GLUE – UNDER $10)
9. TALL TAN LUG BOOT (OBSESSSSED!! WORN IN THIS POST)
10. FUZZY PAJAMA 3 PIECE SET
11. LED LIGHT THERAPY FACE MASK (ON MY LIST!)
12. BLACK CROC BOOTS
13. BROWN BAREFOOT DREAMS BLANKET
14. QUILTED LEATHER TOTE
15. GOLD CHOKER NECKLACE & INITIAL NECKLACE (WEAR THESE EVERYDAY! BEEN BEST SELLERS MONTH OVER MONTH)
16. BLACK CHELSEA BOOTS
17. CE FERULIC ACID (ONE OF MY HOLY GRAIL SKIN CARE PRODUCTS! SO MANY OF MY FRIENDS ARE OBSESSED!)
GIFTS FOR HER UNDER $100:
1. LEATHER JEWELRY CASE
2. TOM FORD LIPSTICK SET
3. SHERPA PULLOVER
4. YSL LIBRE PERFUME
5. SUNGLASSES
6. BLACK LOAFERS
7. PLAID SHACKET (ONE OF MY FAVE BUYS THIS MONTH – I GOT SIZE L)
8. HERMES LIP BALM
9. HEATED LASH CURLER
10. QUILTED TOTE BAG (OBSESSED WITH THIS ESPECIALLY FOR PRICE)
11. CHELSEA BOOTS
12. SILK PILLOWCASE (WORTH THE $$)
13. EARRINGS SET (COULD SPLIT BETWEEN MULTIPLE PEOPLE

)
14. SKIMS BOYFRIEND TEE & SHORTS
SPLURGE/INVESTMENT GIFTS FOR HER: A lot of these are on my list
or investment pieces I've had for a long time and love!
1. KELLY WEARSTLER LAMP (HAD THIS LAMP FOR YEARS WORKS IN EVERY ROOM)
2. MARC JACOBS TOTE
3. GIVENCHY SATCHEL
4. SMART MUG
5. DIOR THROW BLANKET
6. YSL BELT(ON MY LIST!)
7. CHANEL SUNGLASSES  (JUST GOT THESE AND LOVE THEM)
8. YSL TEE  (ON MY LIST

)
9. VACUUM (RECOMMENDED BY OUR CLEANING LADY)
10. APPLE WATCH BAND
11. CANADA GOOSE PARKA (HAD MINE FOR 5+ YEARS BEST INVESTMENT PIECE)
12. EYE PATCHES
13. CHANEL STUDS
14. CANDLE HOLDER
GIFTS FOR HIM: I feel like finding gifts for Cody is always one of the hardest! His love language is quality time, so I usually try to find an activity we can do together and then something more practical that he needs.
1. GLOVES
2. INITIAL NECKLACE (BUYING CODY THIS NECKLACE)
3. DEEP TISSUE MASSAGE GUN
4. ELEMIS MARINE CREAM
5. NIKE SHOES
6. BUTTON UP SHIRT
7. NIKE BOOK
8. GRILL & SMOKER
9. COLLAPSIBLE LADDER SET (GETTING THIS FOR CODY)
10. JOGGER SWEATS
11. SWIM TRUNKS (CODY HAS THESE THEY ARE HIS FAVORITE SWIM TRUNKS)
12. PORTABLE POWER STATION (HAS SUPER HIGH REVIEWS)
13. NECK & BACK MASSAGER (GREAT FOR PARENTS TOO)
14. NIKE SHOES
GIFTS FOR PARENTS AND IN-LAWS:
1. TAN SHEETS (SPLURGE ON NICE THINGS FOR THEM – THEY MAY NOT GET FOR THEMSELVES)
2. WINE GLASSES
3. CHINESE CHECKERS
4. KEYS WALLET & BAG FINDER (MY PARENTS HAVE!)
5. WILLOW TREE MOM SON FIGURE (I AM OBSESSED – ALREADY BOUGHT FOR MYSELF
)
6. AIR PURIFIER
7. HEART PHOTO COLLAGE (GOT THIS FOR MY PARENTS LAST YEAR THEY LOVED IT!)
8. CLEAR COFFEE MUGS (LOVE HOW THESE LOOK! GREAT PRICE TOO)
9. SPARKLING WATER MAKER
10. FRONT DOOR MAT
11. VINTAGE GAME SET (OUR FAM LOVES GAMES!)
12. GRANDPA JOURNAL
13. CUSTOM WOOD COASTERS (CUTE PERSONALIZED GIFT – YOU CAN DO BOTTLE OPENERS, COASTERS, KEY CHAIN)
GIFT FOR BOSS/CO WORKERS:
1. HERMES NAIL FILE KIT (SO PRETTY

)
2. ACRYLIC FILE SET
3. INITIAL MUG (UNDER $20)
4. PLANNER
5. SCISSORS WITH STAND (UNDER $15)
6. RIBBED VASE
7. ELECTRIC WINE OPENER
8. BLUELIGHT-BLOCKING GLASSES (UNDER $20)
9. MY FAVE CANDLE! (THESE CANDLES ARE THE BEST!)
10. MARBLE BOOKENDS
11. KEYBOARD COVER (JUST ORDERED THIS FOR MYSELF WHEN I WAS MAKING THE GUIDE HAHA – UNDER $10)
12. TRAVEL TUMBLER
13. MEMO DISPLAY
14. DESKTOP PLANNER PAD
15. LAPTOP CASE
16. ERASABLE MARKERS
GIFTS FOR HOMEBODY, NEW HOME, FAMILY WHO LOVES TO HOST:
1. ALWAYS PAN (WHO HAS AND LOVES THEIRS??)
2. BAREFOOT DREAMS THROW BLANKET (KARDASHIANS GOT ME HOOKED ON THESE)
3. AGATE COASTERS
4. WIRELESS DOCK CHARGER
5. MODERN VASE (UNDER $30)
6. GLASS MUGS
7. MATCH CLOUCHE (LOVE THESE!!)
8. ALABASTER ROLLING PIN (SENT THIS TO CODY TO BUY ME FOR CHRISTMAS

)
9. GLASS CARAFE
10. ALMOND KITCHEN AID (OBSESSED WITH THE COLOR OF THIS!! I WANT

)
11. GOLD FLATWARE SET (GOT THESE IN BLACK FOR OFFICE)
12. LIVE BEAUTIFUL COFFEE TABLE BOOK
13. MONEY BANK
14. PLUSH THROW PILLOWS (UNDER $20 FOR 2 – HAVE THEM AND LOVE! SO SOFT!)
GIFT FOR PET LOVERS, DOG MOMS, AND FURRY FRIENDS:
1. DOG MOM HAT (COMES IN TONS OF COLORS AND UNDER $20)
2. CLEAR DOG BOWLS (WE HAVE THESE FOR MIO- OBSESSED!)
3. FURBO TREAT TOSSER & CAMERA (WE ALSO HAVE FOR MIO – YOU CAN TALK AND GIVE YOUR DOGG A TREAT WHEN YOUR AWAY)
4. BAREFOOT DREAMS DOG SWEATER
5. TAN DOG BED
6. PORTABLE WATER BOWL (SAW ON TIKTOK – ITS VIRAL!)
7. CAMERA CHEW TOY
8. OUAI DOG SHAMPOO
9. BROWN DOG BED
10. LAMB TOY
11. CBD FOR DOGS (HELPS WITH ANXIETY – OR JOINT PAIN)
12. FOLDABLE DOG BOWL
GIFTS FOR YOUR BESTIE AND YOUR GIRLFRIENDS ALL UNDER $100:
1. BAREFOOT DREAMS SOCKS (LOVE THE PATTERN ON THESE)
2. NECESSAIRE BODY WASH
3. SATIN SCRUNCHIE SET
4. TRAVEL COFFEE MUG (UNDER $20- HAVE AND LOVE!)
5. SMALL GOLD HOOPS
6. SHERPA SHACKET (HAVE – BEEN LIVING IN THIS!)
7. CERAMIC MUGS ( ON MY LIST!)
8. BUBBLE CANDLE SET (LOVE THESE WOULD BE CUTE STOCKING STUFFER TOO)
9. JO MALONE PERFUME
10. THE LITTLE DICTIONARY OF FASHION BOOK
11. MARBLE GOLD COASTERS
12. LUX UNFILTERED TANNING LOTION (MY GO TO WHEN I NEED A BRONZE! DOESN'T SMELL!)
13. WATER TUMBLER 
14. WHITE PAJAMAS SET
15. LETS TOAST CANDLE
16. MARBLE WINE COOLER
17. HAIR CLAW CLIPS (VIRAL ON TIKTOK!)
SEPHORA STOCKING STUFFERS UNDER $25
1. BOBBI BROWN MINI LIP TINTS
2. PILLOW TALK LIP KIT (ONE OF MY FAVE LIPSTICKS)
3. VOLUSPA CANDLE
4. DAISY MARC JACOBS PERFUME
5. BOBBI BROWN HIGHLIGHTER
6. SUGAR CARAMEL LIP BUTTER
7. NARS EYESHADOW PALETTE
8. FLAWLESS FILTER HIGHLIGHTER (TIKTOK VIRAL! WOULD BE CUTE FOR TEEN OR COLLEGE GIRL STOCKING STUFFER TOO)
9. RARE BEAUTY LIQUID BLUSH (LOVE LOVE THEIR BLUSH)
10. LIMITED EDITION BEAUTY BLENDER
11. LANIEGE LIP KIT (MY FAVE LIP MASK)
12. BENEFIT GIMME BROW GEL
13. SUGAR LIP BALM
14. NUDE EYESHADOW PALETTE
15. ROSE QUARTZ FACE ROLLER
FITNESS GIFTS FOR HER:
1. WHITE RIBBED WORKOUT SET (HAVE & LOVE – UNDER $35 I WEAR SIZE SMALL)
2. QUILTED DUFFEL BAG
3. BLUE WATER BOTTLE (MY FAVE WATER BOTTLE TO HIT MY WATER GOALS – GOT FOR ALL MY KIDS LAST YEAR)
4. QUILTED JACKET
5. WEIGHTED BRACELET BANDS
6. BLACK LEGGINGS (UNDER $25)
7. BLACK CROP LONG SLEEVE TOP (UNDER $20)
8. NEON NIKE SNEAKERS (HAVE AND LOVE!)
9. AIRPOD STRAPS SET ( THESE ARE SO CUTE! – UNDER $10)
10. TAN DOUBLE STRAP SPORTS BRA (OBSESSED – UNDER $25)
11. BLACK BASEBALL CAP (HAVE THESE IN MULTIPLE COLORS – UNDER $10)
12. NIKE HALF ZIP PULLOVER
13. RIBBED CROP TANK (UNDER $25)
14. BALA BAND
5. SMART JUMP ROPE (ON SALE)
16. NIKE SNEAKERS
WINTER WARDROBE GIFTS:
1. TAN & CREAM LONG PUFFER COAT (HAVE AND LOVE! UNDER $100)
2. CASHMERE BEANIE
3. OVERSIZED SCARF (ON MY LIST!)
4. SHERPA LINED BLACK BOOTS
5. BROWN PUFFER COAT (LOVE THE COLOR – ONE OF MY BEST SELLING ITEMS THIS YEAR)
6. SHERPA MARC JACOBS TOTE BAG
7. MOON BOOTS (THE BEST SNOW BOOTS – I SWEAR BY THEM – COME IN LOTS OF COLORS!)
8. KNEE HIGH PLATFORM BOOT
9. MADE WITH LOVE SOCKS
10. SHERPA SCRUNCHIE SET (I WANT THESE!

)
11. NORTH FACE HOODED FLEECE COAT
12. FAUX FUR MITTENS
GIFTS FOR BABIES AND TODDLERS: (remember: you can click directly on any of the items you love right on the boards and it will take you directly to that product)
1. KID'S ELECTRIC MERCEDES  (THINK IM GETTING FOR OLLIE- HAS PARENT REMOTE THEY CAN CONTROL WHERE KIDS GO)
2. LOVEVERY WOOD BLOCK SET (ALL THEIR TOYS ARE AMAZING)
3. DUMP TRUCK SET 
4. INFLATABLE FORT (HAVE AND ALL OUR KIDS LOVE TO PLAY WITH IT – UNDER $50)
5. WOOD PULL PUP
6. FOAM CRAWL & CLIMB SET (WANT TO GET FOR OLLIE)
7. TRAMPOLINE
8. TODDLER FOAM PIT (I SEE THOSE ALL OVER INSTA THEY ARE SO CUTE! ANY KID WOULD LOVE! COMES IN MULTIPLE COLORS)
9. BALANCE BIKE (OLLIE HAS THIS BIKE – LOVE THE COLORS – UNDER $50)
0. MARBLE TOWER SET (WE HAVE HAD A MARBLE TRACK SINCE MARA AND WES WERE LITTLE – ALL THE KIDS LOVE!!)
TODDLER BOY FASHION GIFT GUIDE: Almost all of these are clothes Ollie has and we get questions about, so I wanted to put some of our favorite most worn pieces together

1. CORDUROY OVERALLS 
2. LOVE YOU MORE SWEATSHIRT
3. KIDS SNOW BOOTS (ORDERED THESE FOR BECKAM AND OLLIE)
4. QUILTED OVERALLS
5. RIBBED MATCHING SET
6. CARHARTT BABY BEANIE
7. SOREL SNOW BOOTS
8. GREEN KNIT ONE PIECE
9. BEAR PRINT PAJAMAS
10. SNOW GLOVES
11. BROWN RIBBED MATCHING SET
12. QUILTED WINTER ONESIE
13. STAR MATCHING SET
14. CLOUD MATCHING SET
15. GREEN CONVERSE
16. BABY AIR FORCE ONES
17. SWEATER SET
18. HOODED PARKA
19. FALL SOCK SET
20. CHECKERED CONVERSE (WANT TO ORDER THESE FOR OLLIE)
SCHOOL AGE KIDS GIFT GUIDE: A LOT OF THESE ARE ON BECKAM'S LIST
1. BOUNCE HOUSE (#1 ON HIS LIST THIS YEAR – ANY SORT OF BOUNCE HOUSE)
2. COVER YOUR ASSETS (TAUGHT THE KIDS TO PLAY THIS GAME IT'S THEIR FAVORITE)
3. HAND-OPERATED DRONE (KIDS GOT LAST YEAR AND LOVE – UNDER $20)
4. KIDS SMART WATCH
5. DOODLE BOARD (UNDER $15 – AMAZING REVIEWS!)
6. WALKIE TALKIE SET (ALSO ON B'S LIST)
7. ROLLER BLADERS (KIDS GOT FROM MY PARENTS 2 YEARS AGO AND THEY STILL USE A TON)
8. KIDS CRAZY STRAWS (UNDER $10)
9. MELISSA & DOUG SUSHI SET
10. CRITTER CAGE (UNDER $15 – B IS OBSESSED WITH BUGS!)
11. BLANK COMIC BOOK (UNDER $10)
12. NINTENDO SWITCH
13. STOMP ROCKET (BECKAM GOT FOR HIS BDAY LAST YEAR AND LOVED!)
14. KINETIC SAND (ALL MY KIDS PLAY WITH THIS STUFF)
TEEN BOY GIFT GUIDE:
1. LONGBOARD
2. NIKE SWEATPANTS
3. VANS SNEAKERS
4. INFLATABLE NERF BARRIER (SMALLER SET HERE) (THE KIDS LOVE TO HAVE NERF WARS SO THESE ARE ON THEIR LIST – SO FUN FOR FAMILY GAME NIGHT)
5. TABLETOP ARCADE GAME (THE CLASSIC ARCADE GAMES! WE HAVE AND LOVE!)
6. ELECTRIC SCOOTER
7. NIKE HIGH-TOP SNEAKERS
8. SPIKE BALL KIT
9. WIRELESS WATERPROOF SPEAKER
10. SKATE RAMP SET (UNDER $25)
11. MINI PROJECTOR (A SCREEN WOULD BE GREAT GIFT TOO- OUR KIDS LOVE OUTDOOR MOVIE NIGHT)
TEEN GIRL GIFT IDEAS:
1. DONUT BATH BOMBS
2. PLAID SWEATER VEST (ON MARAS LIST – SWEATER VEST ARE VERY TRENDY RIGHT NOW)
3. DIY BEAD KIT (PHONE CHARMS ARE SUPER POPULAR SO YOU COULD GET DIFFERENT CUTE BEADS FOR THEM TO MAKE PHONE CHARMS OR BRACELETS. I LOVE DOING THEM WITH MARA)
4. PLATFORM CONVERSE (MARAS FAVORITE SHOES)
5. SMILEY RING SET
6. GLOSSIER LIP KIT
7. FAUX FUR CHAIR
8. LOS ANGELES ZIP UP HOODIE
9. INFLATABLE SLED (LOVEDDDD THIS! WOULD BE SO CUTE FOR ANY AGE)
10. BEADED SHOE CHARM (SAW THIS ON TIKTOK – CHAINS FOR YOUR SNEAKERS – SO CUTE)
11. PEACH ROLLER SKATES
12. GOPOP (CUTE FOR STOCKING STUFFER TOO)
13. POCKET PRINTER (MARA HAS AND LOVES! )
14. BEADED BRACELET
15. INSTAX POLAROID
DISNEY GIFT GUIDE FOR THE DISNEY LOVER, MICKEY AND MICKEY AND MINNIE FANS:
1. GUCCI DISNEY SHIRT
2. DISNEY JIGSAW PUZZLE
3. DISNEY POPSOCKETS (COULD BE CUTE STOCKING STUFFER TOO)
4. POPCORN MAKER
5. DISNEY MUG (THIS IS SO CUTE!! – UNDER $20)
6. MICKEY TAN SWEATSHIRT (OBSESSED – WANT TO ORDER FOR OUR NEXT DISNEY TRIP)
7. DISNEY BABY CARRIER
8. MICKEY BASKETBALL
9. VINTAGE JIGSAW PUZZLE (WE DO A FAMILY PUZZLE EVERY HOLIDAY)
10. DISNEY BRACELETS
11. MICKEY EARRINGS
12. DISNEY WAFFLE MAKER (WE HAVE – MAKES A LOT OF WAFFLES AT ONCE AND OUR KIDS LOVVVE GETTING THIS OUT!)
13. KIDS PAJAMA SET
MY FAVORITE ITEMS: this is a few of my FAVORITE things I use a ton and love. (remember: you can click directly on any of the items you love right on the boards and it will take you directly to that product)
1. APPLE RAPID CHARGER (THIS CHARGES YOUR PHONE FULLY IN LIKE 40 MINUTES – EVEN 15 MINS ON YOUR LIKE HALF CHARGED! ITS WORTH THE $ VS. CHEAP CHARGERS THIS WOULD BE A GREAT GIFT FOR GUY TOO)
2. PEBBLE ICE MACHINE – I REGERT NOT PUTTING A MACHINE IN MY HOUSE SO I BOUGHT ONE LAST YEAR AND LOVVVVE IT!
3. CANADA GOOSE PARKA – HAD MY COAT FOR 5 + YEARS FOR SURE AN INVESTMENT PIECE BUT IT IS STILL IN PERFECT CONDITION!
4. WHITE KNIFE SET (UNDER $100)
5. TRUE & CO BRA (MY FAVE BRAS)
6. LIT VANITY MIRROR (JUST GOT THIS LAST MONTH AND LOVE IT! GET READY HERE EVERYDAY NOW)
7. GOLD HOOPS (UNDER $15)
8. GINGHAM INFLATABLE SNOWMOBILE SLEDS (OK WE HAD A DIFFERENT PATTERN OF THESE LAST YEAR BUT WE LOVVVVED THEM!)
9. LEVI'S DENIM (ONE OF MY MOST WORN PAIRS OF DENIM THIS YEAR)
10. LEATHER CHAIN BOOTS (THEEEESE BOOTS IVE POSTED SO MUCH – I JUST LOVE THEM!)
11. GREY SWEATSHIRT (UNDER $15) ( I GET IN SIZE XL – WEAR IT A TON ONE OF MY BEST SELLERS – EVERYONE LOVES A COMFY OVERSIZED SWEATSHIRT – ITS UNISEX TOO)
12. MICHELE GOLD WATCH (ANOTHER INVESTMENT PIECE I HAVE HAD FOR YEARS- DUPE VERSION HERE.)
13. LANCOME FOUNDATION (MY FAVORITE FOUNDATION ALSO USED FOR YEARS! I WEAR 360B )
14. BREAST PETALS (UNDER $10 – I GO BRALESS A LOT AND THESE ARE MY GO TO'S)
Thanks so much for reading! Did I forget any guides or still stumped on someone – let me know

You can also check out last years guide for more ideas here.
Happy shopping!
XX, Christine
The post 2021 Holiday Gift Guide for Everyone on Your List appeared first on Hello Fashion.