21 Funny Valentines Day Gifts
People usually get sentimental when it comes to Valentines Day gifts, but not all of us take Valentines Day gifts seriously. Some people like giving funny and sarcastic gifts because nothing is more appealing than a good sense of humor. So, instead of the usual chocolates, flowers, and romantic gifts, try something more creative and funny this Valentines Day. Here are some of the silliest, funniest, yet romantic gifts you can offer to your partner!
1. Gelid I Like His Beard/I Like Her Butt Couples Funny Coffee Mug Set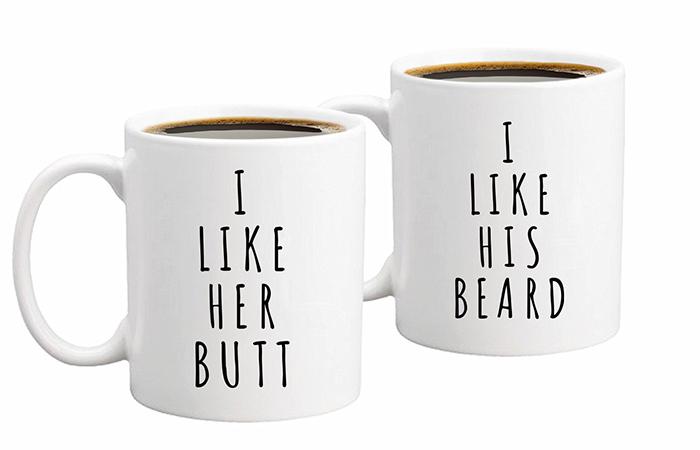 This Valentines Day, keep it light and cool with this funny coffee mug set. Remind each other what you like about each other with this conversation starter. This is a great Valentines Day gift for couples with a great sense of humor! The captions I like his beard and I like her butt are printed on both sides. This set makes a perfect gift for couples who genuinely like each others butt and beard!
Key Features:
Print that does not fade
Ceramic mugs
Dishwasher- and microwave-safe
2. JustPaperRoses I Love You From Top To Bottom Novelty Toilet Paper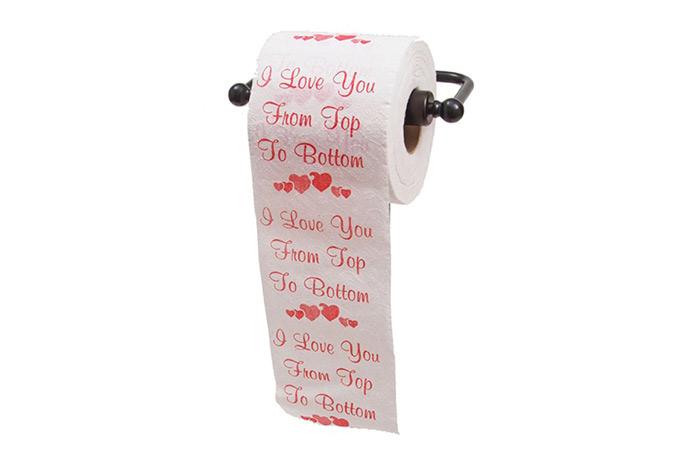 Who says Valentines Day gifts have to be sweet and romantic? Sometimes, its great to give something useful and funny to impress your bae. This adorably funny toilet paper will give them all the feels. Surprise your honey with this I Love You From Top To Bottom printed toilet paper roll in the morning, and they will have a good laugh. It is safe to use and functional, just like other toilet paper rolls!
Key Features:
The roll is printed using safe soy ink
3. LET IT. BEER Beer Chiller Sticks for Bottles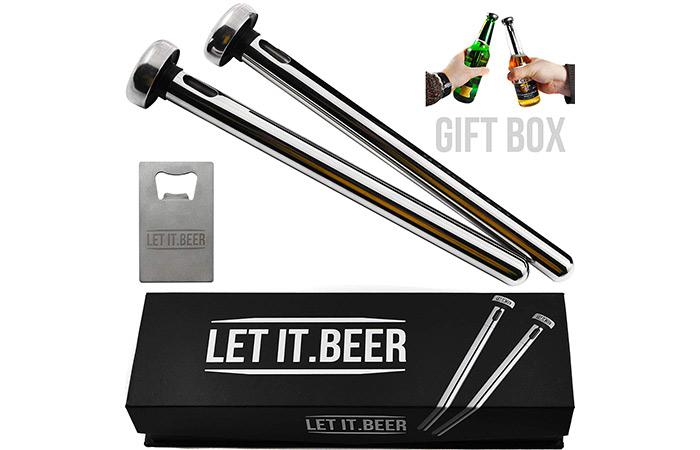 Heres a unique way to say I love you to your bae if you both love beer. Nothing will make them happier than these beer chiller sticks. These chiller sticks keep your beer chill no matter how hot the weather. Now this is a cute and functional gift that will elevate your partners beer-drinking experience to the next level.
Key Features:
The chiller sticks need to be refrigerated for 30-50 minutes before use
Comes with an airtight seal
Made using high-grade stainless steel
4. Beer Greetings Six-Pack Beer Greeting Card Boxes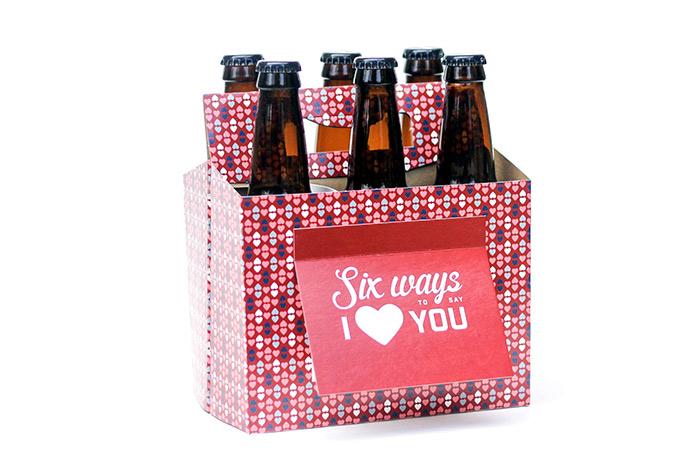 You know you have the right girl when she gifts you beer on V-Day! If you and your partner love beer, this cool gift set will make them happy this Valentines Day. If you end the day sipping some beer and munching on snacks together, these six-pack boxes with Valentines Day greetings printed on them will make their day.
Key Features:
Comes with a Six Ways To Say I Love You note cards
5. NobleWorks They Will Never Find Your Body Funny Valentines Day Card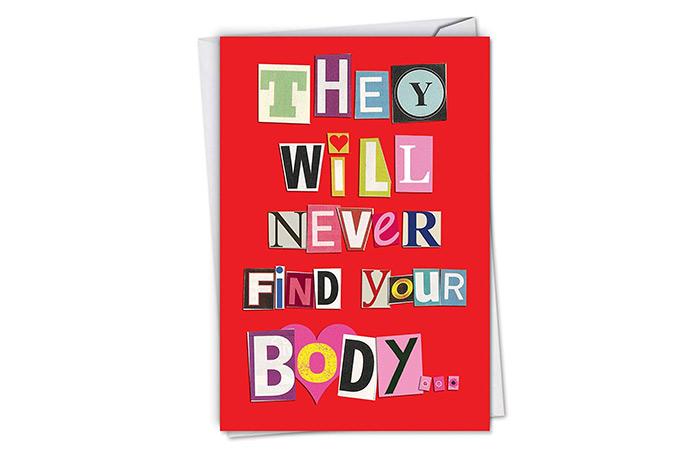 Give your partner some funny chills with this hilarious Valentines Day card. For the couples who like to keep it funny even on Valentines Day, this card is just the right gift. The card reads They will never find your body on the outside and as hot as I do! on the inside. It is perfect for a couple who has a twisted sense of humor. What better way to declare your love than to give this funny Valentines Day card?
Key Features:
63x6.75 inch creatively designed card
Made using 30% recyclable material and it minimizes waste
Funny and crazy gift for valentines day
6. ThisWear I Promise to Love You When Were Old And You Still Play Video Games Coffee Mug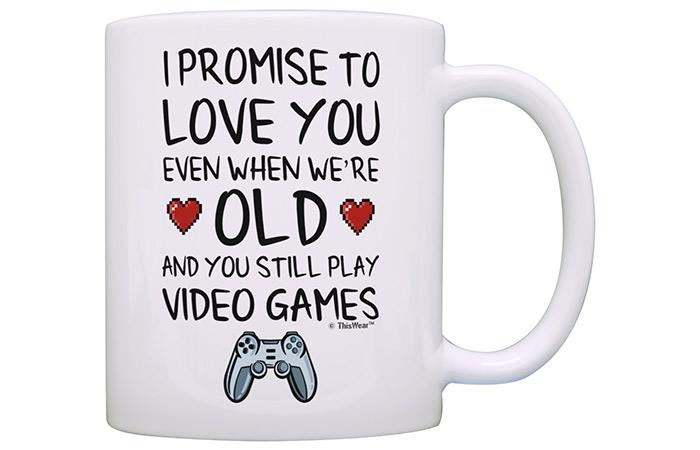 Getting your man the perfect Valentines Day gift can be a hassle. If he is not into cheesy and romantic gifts, heres a coffee mug that he will love. This cool coffee mug that reads I Promise to Love You When Were Old And You Still Play Video Games makes for a hilarious gift. If your man is a gamer and does not get off the couch on the weekends, he will love this mug.
Key Features:
11-ounce ceramic coffee mug
Long-lasting, lead-free, and vibrant print that does not fade
7. Hallmark I Love You This Much Love Card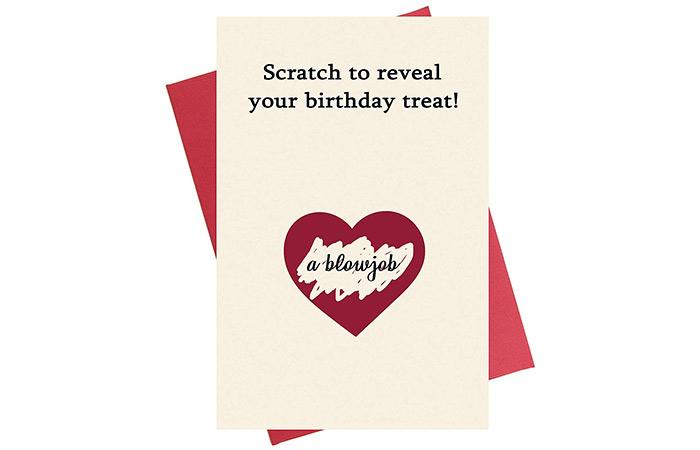 Whodoesnt love dinosaurs? This adorable card features a T-rex saying I love you this much on the front. On the inside, it reads Its more than it looks like. It comes with blank space on the inside, so you can write your own cutesy message and surprise your bae.
Key Features:
Card made using high-quality paper
8 x 7.2 card
8. Gelid My Girlfriend Is Hotter Than My Coffee Mug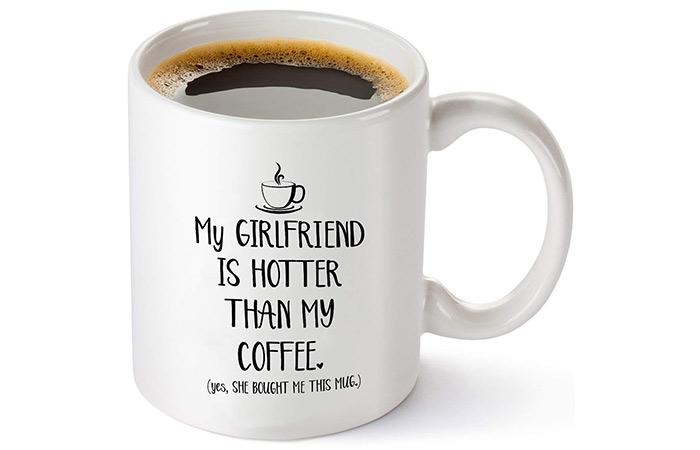 Your partner already knows what a catch you are, but theres no harm in reminding them again and again! The caption on this coffee mug that reads My girlfriend is hotter than my coffee is followed hilariously by Yes, she bought me this mug. This will surely make your partner laugh out hard.
Key Features:
High-quality coffee mug with a sturdy handle
Dishwasher- and microwave-safe
9. Customized Girl Personalized Property Of Mens Underwear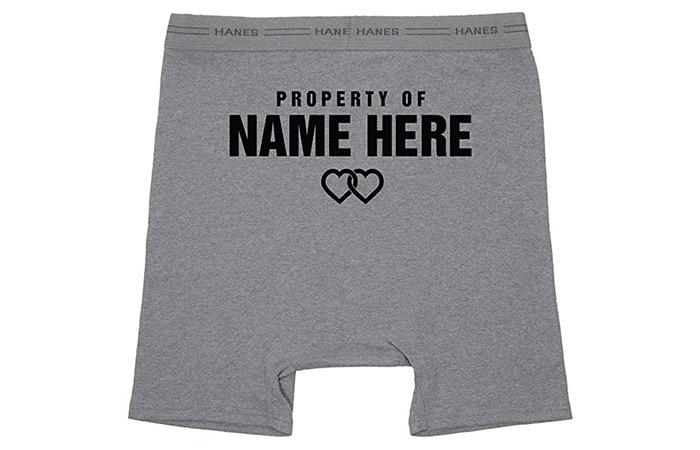 Cheesy romantic gifts are for kids. If you want to spice up your Valentines Day this year, this amazing pair of undies is all you need. Gift these personalized boxers to your partner, anditwill bring some laughter into his life! These undies will remind him of you whenever he putsthem on.
Key Features:
Stretchy and flexible waistband
Made using durable pre-shrunk cotton
Can be personalized with your name
10. Hallmark I Had No Idea What To Get You ForValentines Day Card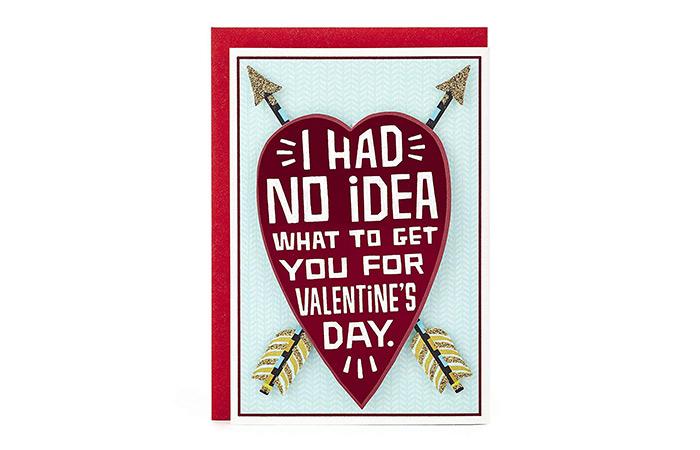 Remind your partner that they have you and need nothing more this Valentines Day with this funny card. The card reads I had no idea what to get you for Valentines Day on the cover and I mean, you already have me! on the inside. Its a memorable and funny way to make your partner laugh.
Key Features:
Metallic heart design
5 x 7.2 card
11. Love Bites Design Company Sorry This Beard Is Taken T-Shirt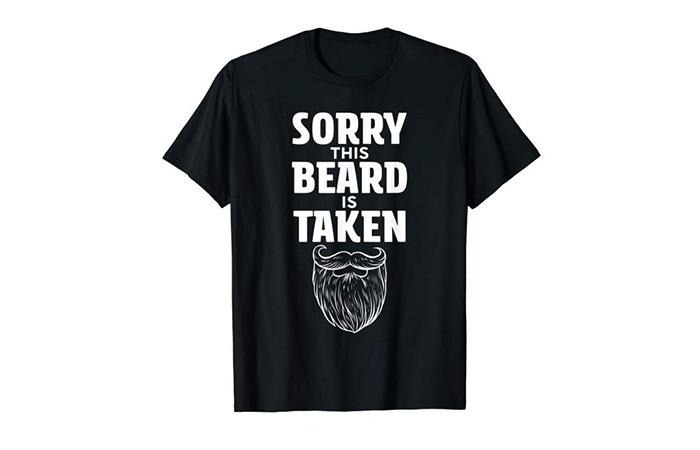 If your man loves his beard, here is a fun Valentines Day gift for him. Make sarcasm your language of love with this T-shirt that will give him a chuckle. He will especially love this T-shirt that reads Sorry this beard is taken if he refuses to shave no matter what.
Key Features:
Available in 5 different colors
Made from 100% cotton
Lightweight and classic fit
12. Nimab I Promise To Always Be By Your Side card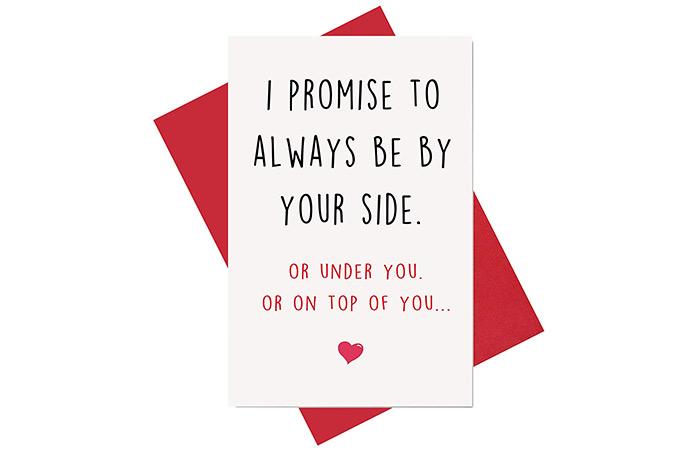 You can never get enough of funny Valentines Day cards. This is a card thatll bring a smile on your partners. Write your sweet and sexy message inside this card and avoid those long sentimental messages this Valentines Day. This is a great gift for a man who has a good sense of humor!
Key Features:
8 x 5.3 card
Folded card is blank for personal messages
13. MyCozyCups You May Be an A**hole But Youre My A**hole Mug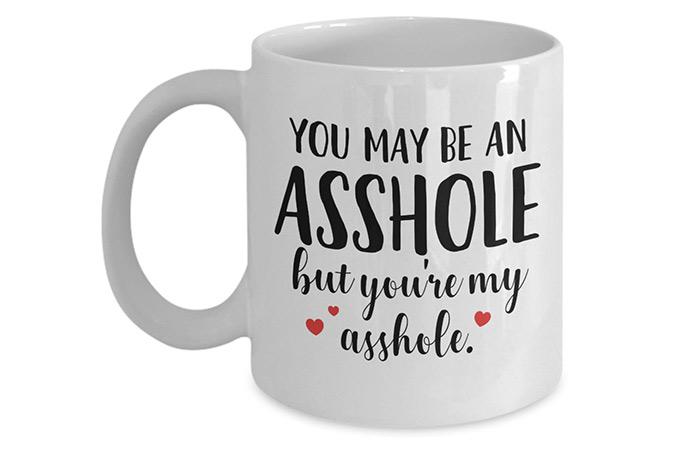 This is super gross but also super hilarious! Your love messages cant get goofier than this. If youve had enough of those long and romantic love messages, its time to try something new and surprise your partner with thishilariousmug. This best-selling mug is a great way to troll your partner and simultaneously show some love!
Key Features:
11-ounce ceramic mug
Dishwasher- and microwave-safe mug
14. Hadley Designs 15 IOU Love Voucher Coupons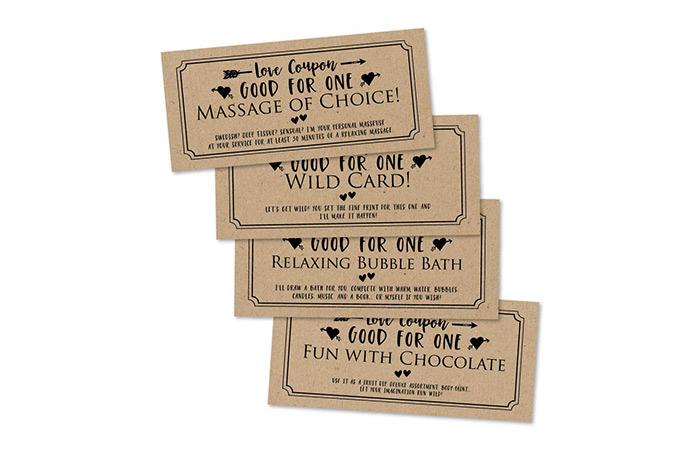 What can be a better way to treat your partner on Valentines Day than gifting them some amazing love coupons? Your partner will simply love to redeem this amazing set of 15 love coupons. The coupons are designed for different occasions to create some romantic adventures with your partner. Gift this coupon set to your loved one and turn this Valentines Day a little naughty!
Key Features:
Each love coupon comes with a romantic and bold task
Made of paper
15. Maad Valentines Bear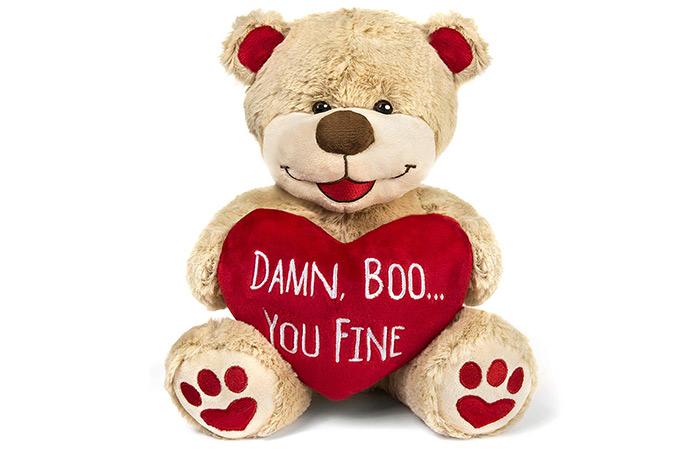 This awesome teddy holding a heart that reads Damn, Boo You Fine will make your man go LOL. This romantic bear is 8 tall and has a cute scarf around its neck. If you are looking for a cutesy novelty gift for your boo, this teddy bear is an adorable and great option.
Key Features:
8 plush teddy bear
Made using premium fabric and quality stuffing
16. Simply Savvy Designs After Sex Towel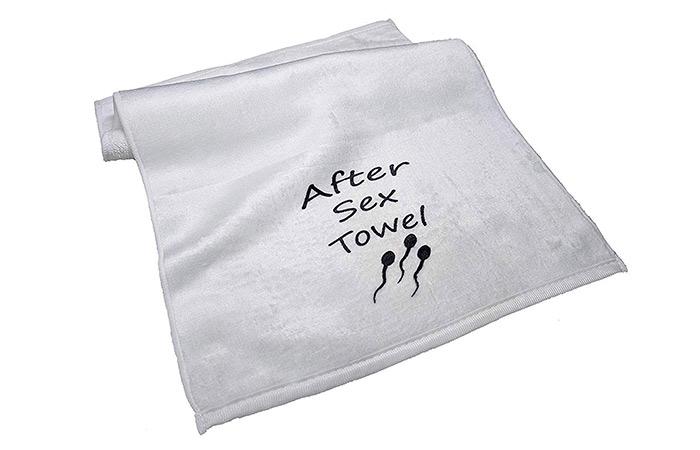 Can you find a better gag gift for your partner than this one? This goofy after sex towel will surely make him laugh. This soft and smooth towel is designed with sex in mind and will help your man clean up after a steaming session. Do we need to say more?
Key Features:
Made using high-quality and soft fiber
11 x 18 white towel
17. MyCozyCups DILF Coffee Mug
Scrolling for hours to get the perfect gift for your bae? Well, if you just cant get enough of your baes dad bod, show him how much you admire it with this awesome and hilarious mug. This is a great way to appreciate and show some love to the father of your children and make him chuckle a bit this Valentines Day.
Key Features:
Dishwasher- and microwave-safe
18. Miracu Once You Put My Meat In Your Mouth Apron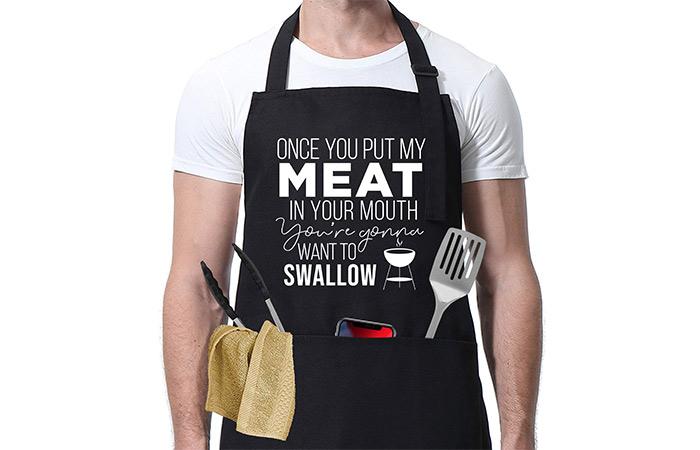 This little gag gift will make everyone laugh! If your man is a chef, a barista, or anamateur cook, this funny apron is such a great gift for him. The apron has a Once you put my meat in your mouth, youre going to want to swallow! quote and makes it a unique and bold gift for Valentines Day.
Key Features:
Made of high-quality and durable fabric
45-inch waist ties and 28.3-inch neck strap
Ideal for BBQ, baking, grilling, and cooking
19. Decolove I Wish I Were An Octopus Card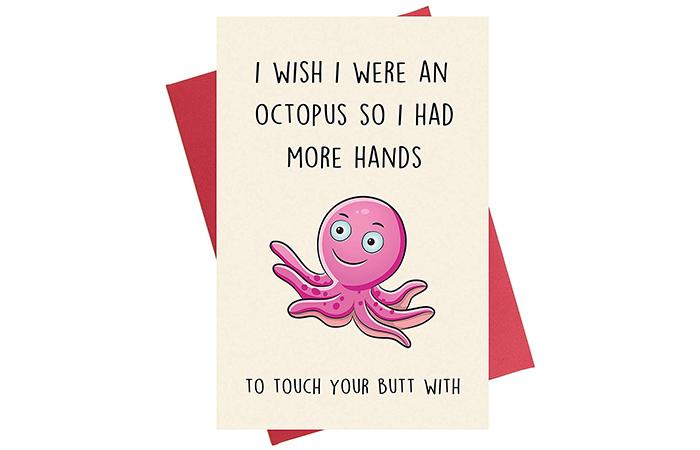 Cant get enough of your partners body? Gift this adorable and funny Valentines Day card that will convey your feelings to them! This funny Valentines Day card reads I wish I were an octopus so I had more hands to touch your butt with in the bottom. Is that adorable or what?
Key Features:
8 x 5.3 card
Digitally printed on 300 gsm paper
Comes with an envelope and is blank inside for personalized messages
20. Decolove Yay, We Still Like Each Other Card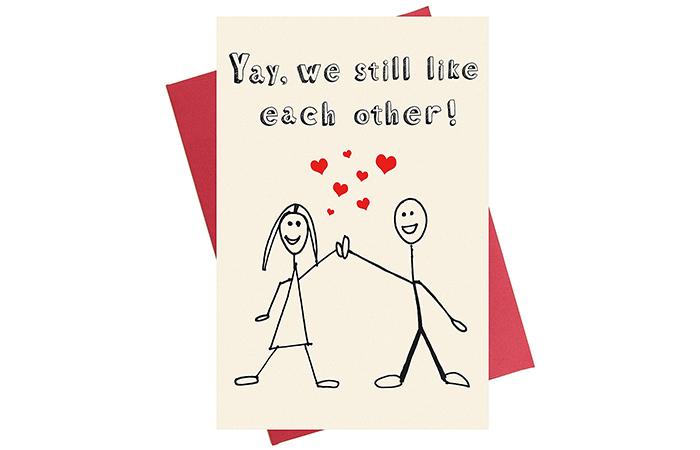 Love can be complicated, and when you make it through with your partner, its no less than an achievement. Celebrate your years of togetherness with this fun and amazing Valentines Day card. If you and your partner have been through many ups and downs together, this is a card that will spice up your relationship more than ever before! Its a cute and funny reminder that you both still like each other!
Key Features:
8 x 5.3 card
Comes with a blank page inside for customized messages
21. Define Design 11 Pillow Cases For Couples Pillowcases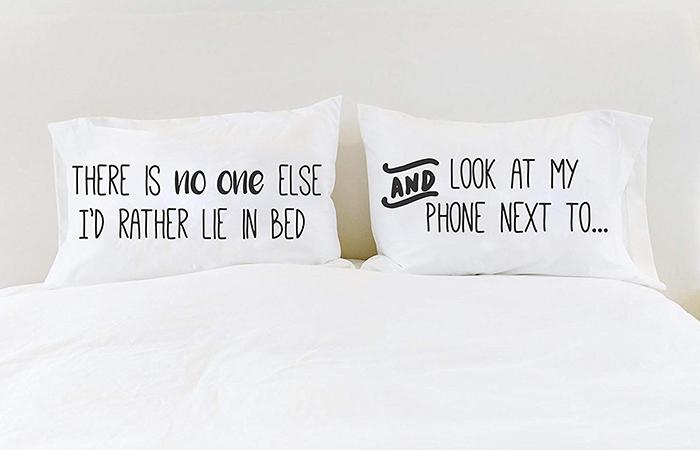 There is no one else Id rather lie in bed and look at my phone next to.This is one of the million ways to tell your sweetheart that theyre the peanut butter to your jelly and the cheese to your macaroni! These super soft and cuddly pillowcases will make your spouse smile and are a great addition to your bed!
Key Features:
High-quality pillowcases made using 100% cotton
20 x 30 pillows
You know that youve got the right partner if you spend a good part of your day laughing with them. Sarcasm is a great way to revive a romantic relationship. So this Valentines Day, ditch the sentimental gifts and try some fun gifts!
The post 21 Funny Valentines Day Gifts appeared first on STYLECRAZE.