25 Trendy Ways to Pull Off Short Faux Locs
If you are looking for a great protective style that you can do yourself or have done at a hair salon, then short faux locs can be the way to go. These locs don't require much maintenance and you can create so many amazing hairstyles with them. Today, we would like to show you some gorgeous ways to pull off short locs. So, these hairstyles will include long bobs, bobs, cute updos and more. Have a look and see which one you would like to recreate. We have locs for everyone and there are some cool accessories and colors as well.
Tips & Tricks
Before you see our list with ways to pull off short faux dreads, we recommend you check out our tips and tricks on how to recreate this chic style. We're sure you have a ton of questions, especially if you're getting this style for the first time. Installing short faux locs can take from 3 to 4 hours. The two most popular types of hair used to create short locs are Marley and Kanekalon. If you're going for a loose texture that resembles a natural looking loc, then we recommend Marley hair. This type of hair is perfect for chunky locs with texture. Opt for Kanekalon hair for a shiny and more smoother appearance of your locs. Short locs can last for up to three months if you maintain them properly. The longer you leave them in, the more they start to look real.
Short Faux Locs Pros & Cons
Here are some pros and cons of having short faux locs by Slim Reshae. She shared her experience about the style on her YouTube channel.
Pros:
They are not hard to do – the look can be easily achieved at home by watching step by step video tutorials.
Short faux locs are pretty cheap because you don't need to buy many packs of hair. You can easily achieve the look for less than 50 dollars.
The style is lightweight and not heavy at all. When you first get them done they'll feel heavy and stiff because you can't move them around that much, but that will go away after few days.
Short faux locs are low maintenance and easy to style. You can put them in a ponytail, create a half updo or an updo, and more.
The locs are very versatile. You can jazz them up with hair accessories like wire, cord, and charms.
Cons:
The hair can slide down very easily. Sometimes you might have to re-wrap the hair.
If you do the method where you burn the ends of the locs with the lighter, then the locs might take a while to get out.
1. Sleek Faux Locs Bob
The first hairstyle features sleek and simple short faux locs. These locs are in a long bob length which sits just below the chin, are chic, stylish and will suit everyone. Hair like this is great for busy ladies who need a gorgeous style that will suit any occasion. Recreate this or you can try a shorter length too. Maybe chin length for a classic bob. Hair used: Free Tress Wavy Faux Locs (12inch).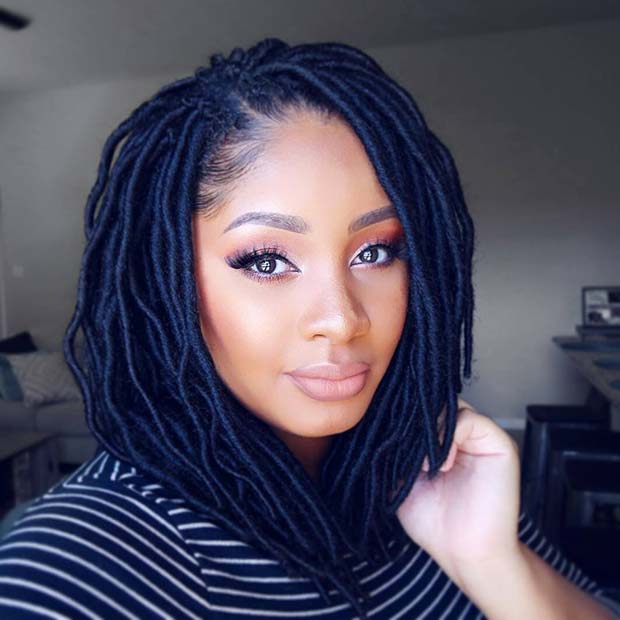 2. Asymmetrical Faux Locs Bob
If you like bob styles but want to jazz it up a bit, then you could try an asymmetric cut. When your hair is cut like this it will be longer on one side. The length change can be subtle or quite statement making like this. As you can see, the locs are longer one side with a side part which creates a chic, modern and trendy style.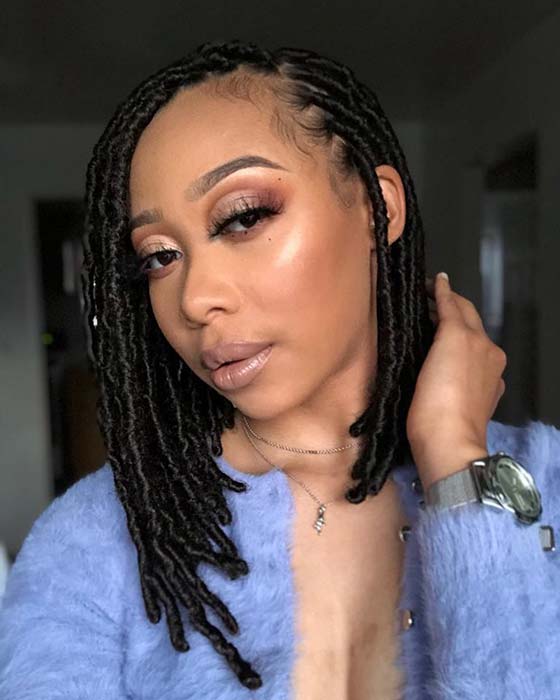 3. Cute Short Faux Locs
Next, we have short faux locs that have been styled in two cute ways. One hair idea features a classic hairstyle with one platinum loc. While the other features a stylish half up look. We love both versions of the hair and it shows how you can style your locs in different ways. If recreating the colorful loc, then you can choose any color if blonde isn't for you.
Faux locs are usually a little heavy when they are first done, but they will loosen up after three days. To minimize headaches, put a large scarf around the edges before you go to sleep and leave the hair loose. Unfortunately, we couldn't find the info about the hair used but we know that these are not crochet faux locs but instead all locs are hand wrapped by the stylist.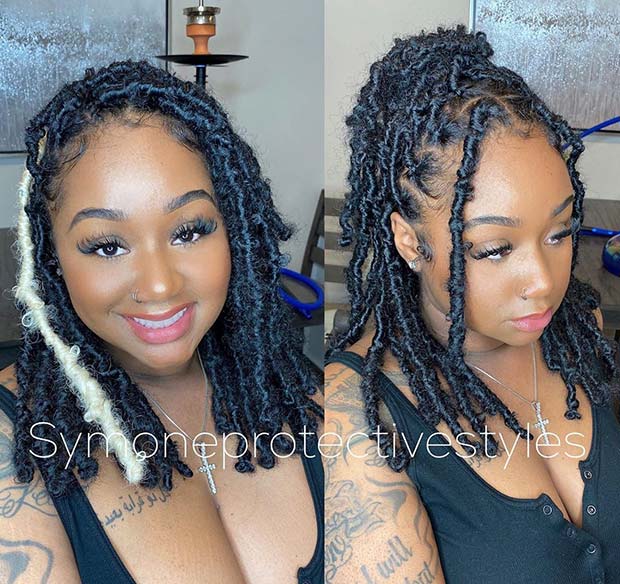 4. Chunky Locs with Shells
The next hairstyle is so cute and chic, it is one of our favorites. The hair is styled into chunky multi tone locs and is a mix of black and a rich brown shade. We love the color combo and the chunkier locs look gorgeous. This style is complete with accessories like shells. We love the shells and think they are perfect for the summer.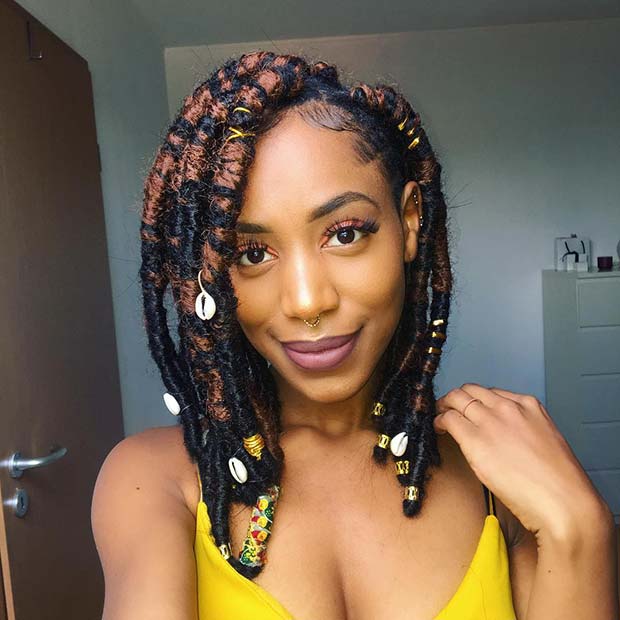 5. Blue Short Faux Locs
Glam up your look with a hairstyle like this one. Here we have blue faux locs that are accessorized with gold cuffs. The blue locs look so trendy and bold. A more daring color is perfect for those who like to make a statement with their hair. The blue faux locs are by Bobbi Boss and you can view a short video on how the style was created on the Instagram page below.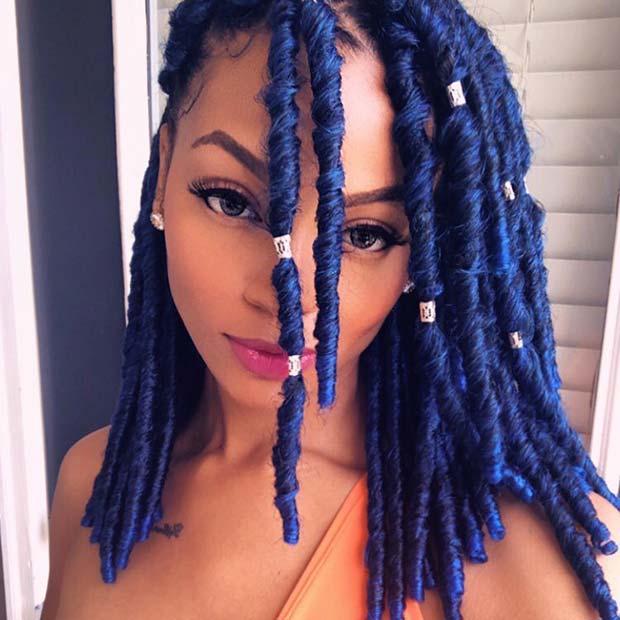 6. Half Updo Idea
Like the half up hairstyles? If so, check this out. This look features warm caramel tone locs which have been styled into a half updo. So, half the locs are left loose and half are up. We love the color of the locs and the style is so pretty and easy to wear. This hairstyle would be great for the spring and summer. Contact the stylist on the Instagram page down below to book your appointment (Riverdale, Maryland).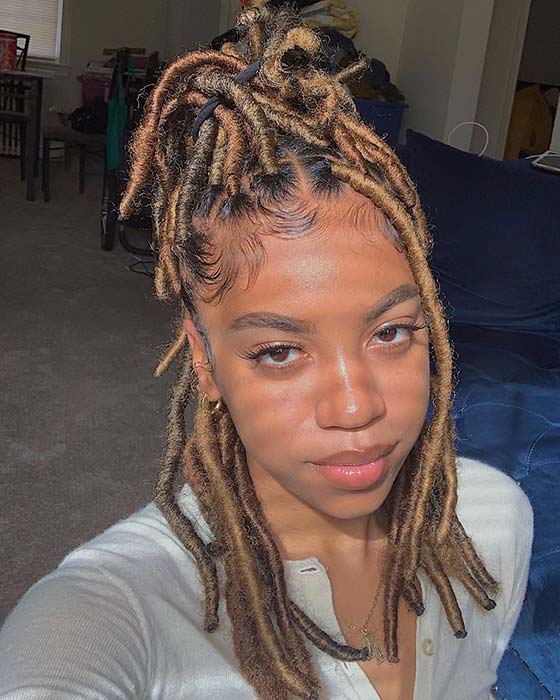 7. Side Part Locs with Charms
Another accessory that you could add to your locs is charms. Here is how to wear them in style! The hair is styled into side part locs. This look is complete with super cute dangling charms. There is a mix of gold and silver which gives you a trendy mixed metal look and some of the designs includes hearts and more. This is a pretty hairstyle and you can buy charms online. Hair used: Natural Babe Hair  (premium quality hair used for faux locs, twists and other protective styling).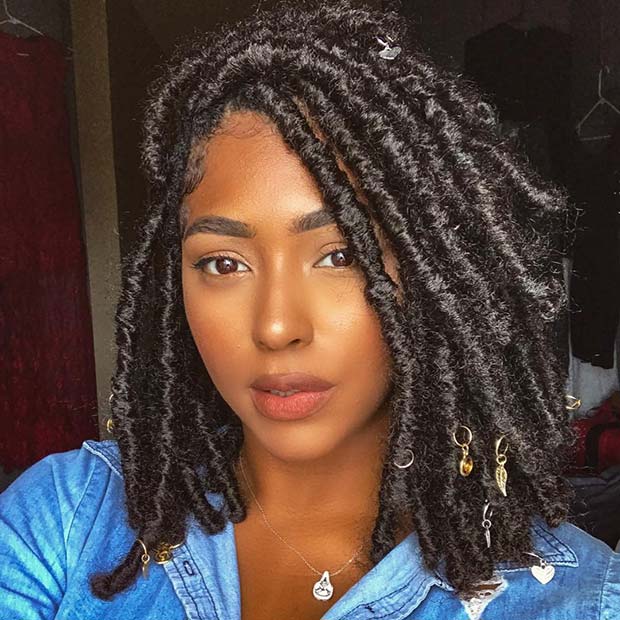 8. Bohemian Short Faux Locs
Next, we have another multi tone look to show you. The hairstyle features a bohemian loc bob and the colors are a mix of black and caramel. We love the color combo as that rich and warm tone looks stunning. This is a gorgeous hair idea and it will look amazing on everyone. Recreate this or you can try the bohemian loc bob in any color.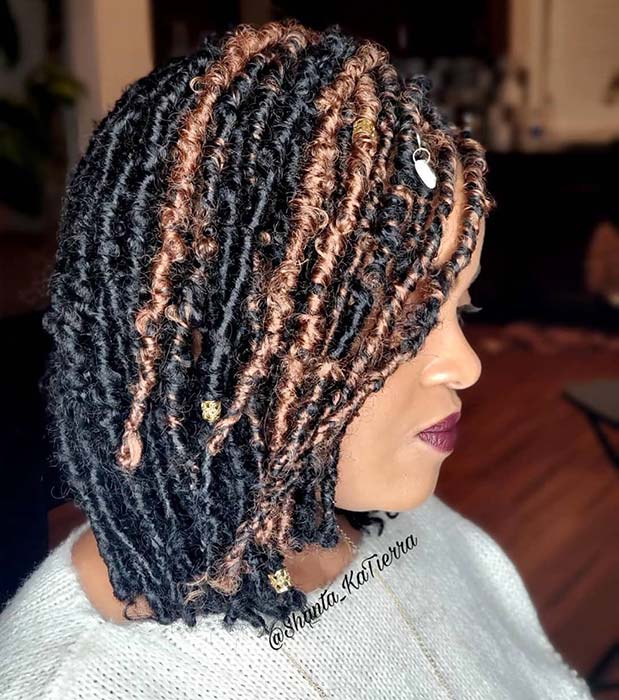 9. Long Bob and Jumbo Locs
The next hair idea features another long bob. Here we have chunky faux locs with a side part and the length of the locs is just below the chin. The hairstyle is finished off with stunning, gold accessories. This is an easy to wear style that will suit everyone. The hair can be recreated with or without the accessories but you will find all different types of cuffs online.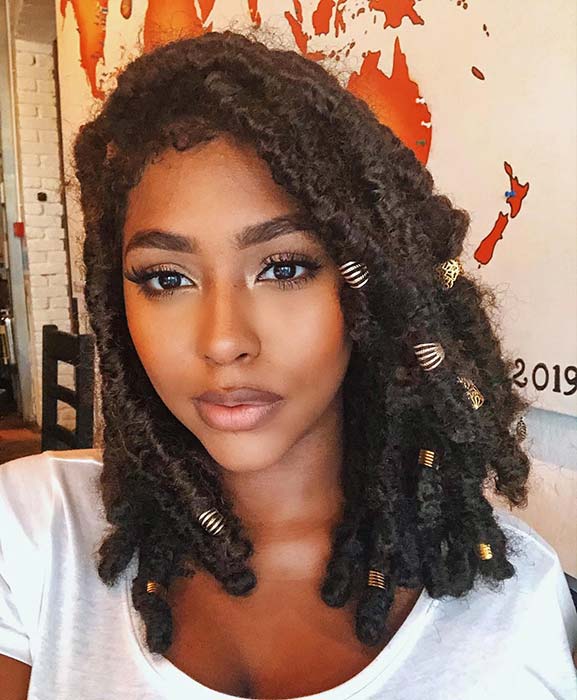 10. Wavy Locs
We love this next hairstyle! This look features stunning wavy locs. As you can see, the locs look beautiful and do have a slight wave. This just shows a different way to wear your hair and it is so chic and stylish. Keep it simple and gorgeous like this or you could try the waves in bolder color such as red for a more eye-catching style.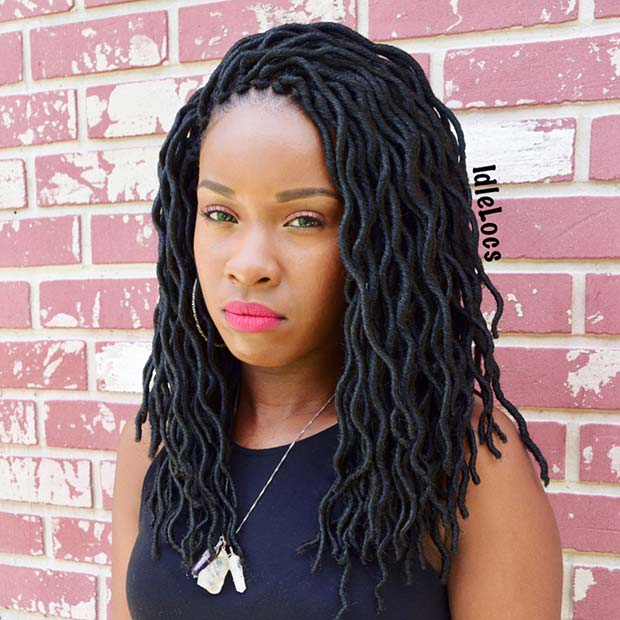 The post 25 Trendy Ways to Pull Off Short Faux Locs appeared first on StayGlam.