31 Classic Big Brother Moments Davina And Rylan's New Highlights Series Has To Include
Make the most of your time in lockdown with a daily dose of celebrity news and guides to the best shows. Sign up to the entertainment newsletter.
After two years off our screens, Big Brother is back... well, kind of. 
It's been announced that a new highlights series fronted by Davina McCall and Rylan Clark-Neal will showcase some of the show's classic episodes to mark 20 years since Big Brother debuted in the UK.
There's still a bit of a wait though, as Big Brother: Best Shows Ever Show won't air on E4 until the summer, which got us to thinking – which moments should they include?
1. Jackie "yeah, Jwackie" Stallone enters the house, much to the surprise of ex-daughter-in-law Brigitte Nielsen (CBB3, 2005)
The most iconic – and quoted – Big Brother entrance in history. 
2. George Galloway proves he's just a big old pussy cat (CBB4 – 2006)
This moment is still burned into our memories. 
3. Alison Hammond breaks the table (BB3 – 2002)
"I can probably bend it back..?"
4. The Big Brother bedsit (BB5 – 2004)
Emma and Michelle's stay in Big Brother's bedsit was iconic for many reasons – Emma's top falling down in the excitement of realising they'd not been evicted, Michelle screaming "no naked jacuzziness!" as she watched over her Chicken Stu.
But of course, it also spawned one of the most controversial moments ever seen on reality TV, when the infamous Fight Night broke out.
5. Kemal puts Maxwell in his place (BB6 – 2005)
Kemal's response to having water thrown over him in his bed is the stuff of BB magic.
6. David's dead! (CBB17 – 2016)
We still can't believe this actually happened.
7. Glyn cooks an egg "for the very first time" (BB7 – 2006)
Sadly, the actual footage of Glyn and his egg has disappeared from the web, but at least we have this fabulous remix.
8. Vanessa Feltz has a meltdown (CBB1 – 2001)
...and starts drawing in chalk on the dining room table while wearing a leopard print dressing gown.
9. Jayne Connery's Diary Room rant (BB17 – 2016)
"Are you fucking on drugs??"
10. Makosi thinks she's pregnant (BB6 – 2005)
Nothing encompasses the spirit of Big Brother 6 quite like Makosi looking straight into the camera and whispering the immortal line: "I could be pregnant."
11. Josie Gibson looks on the brightside (BB11 – 2010)
If we had a penny for every time Josie says "ripped off by a chimpanzee" in this clip, we'd have... well, we'd have three pennies.
12. Pete Burns' coat is seized (CBB4 – 2006)
This is why you don't come between a diva and his coat. 
13. Kim Woodburn blows her top (CBB19 – 2017)
When Kim made her late arrival, no one could have predicted quite how much things would escalate...
14. Mario and Lisa enjoy a biscuit (BB9 – 2008)
The last time we ever want to hear tea described as "juicy". The pinnacle in watch-through-your-fingers TV.
15. The box task (BB6 – 2005)
Who knew watching cardboard boxed could be so entertaining, but thanks to Science and Derek's arguing, it spawned one of the most famous BB moments ever. 
16. "Basic rations for a basic bitch" (BB16 – 2015)
Aisleyne called it exactly as she saw it when she encountered Helen Wood upon her return to the house in 2015. 
17. Cameron comes out to his housemates (BB19 – 2018)
A moment that proves when you put aside the showmances, petty squabbles and whatever else has made it such an easy target over the years, reality TV can still do a bit of good.
18. Leo Sayer loses it over some underwear (CBB5 – 2017)
Leo broke out via the fire exit and got into a tussle with security, after he accused Big Brother of withholding his underwear... that actually turned out to be in his suitcase all along. 
19. Non-celebrity Chantelle has to convince her celebrity housemates she's famous (CBB4 – 2006)
Altogether now, "I want it all, I want it right now".
20. Shell does a spot of gardening (BB5 – 2004)
Who could forget Shell mowing the lawn with just a scarf to protect her modesty?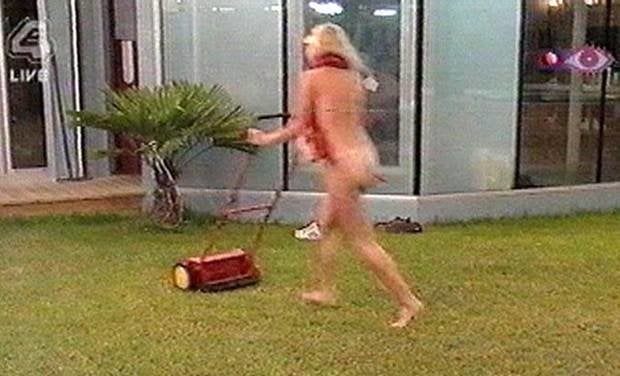 21. "He's mugged you off, dallin'" (CBB13 – 2014)
Casey Batchelor's mum was the greatest housemate that never was. 
22. Jade Goody's verruca (BB3 – 2002)
The late Jade's cries of "am I minging?" became synonymous with the third series.
23. Nasty Nick is exposed (BB1 – 2000)
Nick became the original Big Brother villain off the back of this scene, which actually seems rather tame now, compared to some of the action that would follow in the series to come. 
24. Tiffany Pollard vs Gemma Collins (CBB17 – 2016)
The HBIC got very animated when she discovered that the GC had already taken back a pair of shoes she'd given her.  
25. Fight Night 2.0 (BB9 – 2008)
Rex Newmark smudging some pizza on a painting sparked one of the nastiest rows to ever engulf the house. 
26. Helen and Paul's romance (BB2 – 2001)
They were the original Big Brother couple and their sweet relationship was far from some of the showmances we saw in later series.
27. Nadia can't have her cigarettes (BB5 – 2004)
A camo-clad Nadia fuming over her lack of cigarettes is one of the moments from BB5 that we can still quote to this day. 
28. Every single thing Gemma Collins said and did in the house (CBB17 – 2016)
Just give us this whole season in full, in all honesty. 
29. Big Brother does bondage (CBB13 – 2014)
Yes, that really is Lionel Blair in a PVC police uniform. 
30. Kinga gets better acquainted with a wine bottle (BB6 – 2005)
What is there to say really?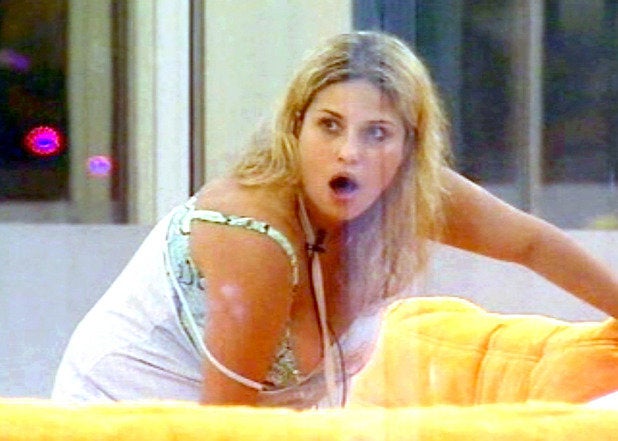 31. Nikki Grahame vents in the Diary Room (BB7 – 2006)
And what better way to end than with a compilation of Nikki's best Diary Room moments?