40 Bohemian Bedrooms To Fashion Your Eclectic Tastes After
With an array of color and prints, varying textures, billowing fabrics and layers of worldly decor, boho style is one of the most fun to create from the ground up. If you're looking into adding some funky nooks and crannies throughout your home, we've definitely compiled a beautiful assembly of inspiration for you.
These 40 bohemian bedrooms will definitely help you in your redesign. Fashion your eclectic tastes after any one of these setups!
What Exactly Is Bohemian Style?
Bohemian styles are characterized by an absence of organization, favoring carefree layers of different colors, textures, and patterns. While there are some common behaviors associated with the bohemian appearance, unlike with modern or minimalist styles, there are no absolute laws for you to follow. The bohemian aesthetic is fundamentally individualized and laidback. Boho styles are created solely for your enjoyment.
Interior design in the Bohemian style began in the nineteenth century in Paris. It was founded on the belief of artists, authors, nomads, and performers who all claimed creativity is more important than money. 
By fusing their separate cultures, values, and refusal to submit to conventional wisdom, they unintentionally launched an interior design trend. Thus, the boho style was born, and it was named after those wandering artists, created to subvert conventional beauty standards by eschewing norms in favor of the unexpected.
How Do You Get a Bohemian Look?
There are three things that you need to focus on when you're looking to bring that boho aesthetic to your house: colors, furniture, and decorations.
Colors
While there are no restrictions in Bohemian decorating, you will notice that certain colors are more popular, especially metallic and earthy tones. Consider greens and deep browns as the foundation hues, then embellish with vibrant purple, flaming orange, and electric blue. The way colors are combined and layered is what distinguishes this style.
Furniture
One of the most notable characteristics of the Bohemian style in interior design is that inviting feel. Whenever you step into a boho room, it feels cozy and welcoming, and furniture is definitely one way to achieve this look.
Typically, bohemian furniture is not found in stores. Because these rooms are typically packed with furniture accumulated through time, second-hand and vintage things fit nicely in. Every furniture piece that you opt for has to be unique and convey a message. Have fun exploring old shops in your neighborhood and selecting each piece independently. If you adore it, it will naturally fit in.
With comfortable couches and chairs in vivid colors, both you and your visitors will experience the Boho vibe. Floor pillows and throw rugs will help create an inviting ambience for floor seating. Furthermore, while a Boho space should evoke a sense of coziness, sleek furniture pieces will not work here. Choose pieces that are comfy and relaxing, such as daybeds or chaises. 
Decorations
Boho is the polar opposite of simple, modern, and sleek. It adheres to the "more is more" attitude. The secret to mixing and matching decorative items in a Boho environment is to experiment. 
Burlap and sisal are both natural, basic fabrics that can be blended with chenille and silk. Materials used to recreate the boho style, while having a worn appearance, shouldn't be damaged, but they should also not be sparkling and new. Pillows, drapes, and throw rugs all work together to create a cozy, culturally inspired hangout. 
Bohemian Style vs. Hippie
When it comes to fashion, it's essentially about what you want to wear or how you want to mix and match your items. These garments will primarily fall under the casual category. 
Thus, nobody would instantly adopt a hippy or bohemian look, unless they were attending a themed party. Thus, there are individuals that wear various styles of fashion on a daily basis. You may frequently ask why this is the case. Although it is not entirely typical, they appear to take pleasure in showing their attire.
Boho-Chic Look – The Do's and Don'ts
Do: Opt for rustic finishes.
The boho-chic look has some very strong hippie influences, which are naturally showcased in how you decorate your home. The influx of accessories made of natural or raw materials, including the likes of rattan, wood, or hemp, is very common in boho-chic interior decor. Consider woven wall art, macrame plant hangers, sisal area rugs, leather footstools, or a stylish ladder.
Don't: Use too much black.
If you're going for a trendy bohemian look, avoid massive black pieces of furniture or large pieces of furniture in extremely dark woods. Continue to use light, vibrant woods.
Dark woods are quite substantial, whereas light bleached woods create an airy feel and a clear canvas for the textures, patterns, and colors you'll be adding to your home. If you follow this route, you should still remember to incorporate one or two darker objects to serve as an anchor for your room.
Do: Think global.
Given the heritage of boho culture as a celebration of roaming artists, global-inspired home accessories are critical in a bohemian-inspired room. Buddha sculptures, Moroccan lamps, tribal prints from India, they all contribute to the cosmopolitan look.
If you're fortunate enough to travel to exotic locations, look for beautiful souvenirs that can help you create an ethnic-eclectic feel in your home with authentic pieces.
Don't: Go crazy with patterns.
If you're stuck, try selecting an overarching color palette and working within it. Violet and gold, for example, or rust and blue, or red and mandarin. Remember to provide a resting space for your eyes as well; otherwise, visual overload can occur.
Therefore, if you have a large vibrant rug, keep the base furnishings very simple with only a splash of accent color that complements the rug's bold color statement.
Similarly, you could drape a tapestry with a large burst of colors for your sofa. Maintain a neutral sofa and blend the tapestry's colors into whatever throw pillows you choose for the room.
Do: Go for low-profile seating.
The boho ideology is all about unwinding, unwinding, and unwinding. Floor cushions, leather poufs, plush ottomans, and bean bag chairs are all excellent low-level sitting alternatives, as they urge guests to sit and stay awhile.
Do: Opt for a mixture of lights.
String lights, lanterns, eccentric chandeliers, and candles are all great options.  I constantly emphasize the significance of lighting in every décor style and considering lighting when creating a boho room is no exception. You may mix and match any type of light source you choose, but I've found that natural fiber pendants work best for the bohemian style.
Chic Boho Bedroom Decor Ideas
1. With Macrame Tapestry
Filled with natural sunlight, pretty bed prints and a macrame tapestry for a bout of interest on the walls, we're loving the eclecticism and easiness of the room. Also, those open shelves filled with greens and succulents really add a beautiful, organic vibe to the area as well.
2. With Salt Lamps & Beadwork
This cozy little nook really is filled with bohemian style, in all kinds of ways. From the multiple tapestries hanging from the ceiling to the intricate beadwork on the throw pillows, there's a lot to get excited about here. The neutral bedding contrasts well with all of the accents around it, making for a truly cozy place to rest your head.
3. With Twinkle Lights
For an extra bit of whimsy, take a note from Urban Outfitters book and don some twinkle lights around the room. Paired with patterned bedding and deep, earth tones, you'll create a room that's both boho and relaxing. There's a magical bit of flair inside this bedroom that's really appealing to all who wander inside.
4. With Distressed Brightness
Go all out with the bright tones when creating your bohemian abode, but pay attention to the details. Go for prints and distressed styles as a way of incorporating that eclectic and easy spirit. This find from Decordemon gives us a crisper take on the hippie-infused design we're used to.
5. With Rustic Value
This gorgeous bedroom combines both bohemian flair with rustic value. All of those wooden furniture pieces are dressed so beautifully alongside the earthy tones and textures of the room. Those bohemian prints are also taking center stage offering up both interesting and interior design worth.
6. With Modern Greens
Thou Swell showed off a boho bedroom with a definite modern twist. It's green, black and white color palette speaks to that timeless, classic fashion. But it's organic nuances and homage to the outdoors fits the hippie-flavored bill quite nicely.
7. With A Starburst
Check out this gorgeous setup we found over at Maggie Overby Studios. The cranberry and emerald green tones play beautifully together. The starburst over the bed adds an air of modern art that we're loving too. But the boho flair comes out in the way the fabrics and prints blend so nicely.
8. With Industrial Charm
We are absolutely swooning over this beautiful blend of bohemian and industrial style. The exposed ceilings and brick are a match made in heaven. But the space, plays so nicely with the bohemian prints and bedding choices.
9. With Vintage Photos
A collection of vintage photos on the wall with chartreuse and teal tones popping out of every corner, this room from Lonny makes quite the scene. It's eclectic, free nature shows off its boho vision while all of those antique accents on the walls give it a unique charm and grander personality. We love all the mixing and matching happening in this small space!
10. With Christmas Spirit
A boho-inspired bedroom with a bit of holiday spirit intact. Not only are we loving the neutral, romantic palette. We also love how easily the Christmas cheer was sprinkled around the room in such an eclectic sense.
11. With Some Glam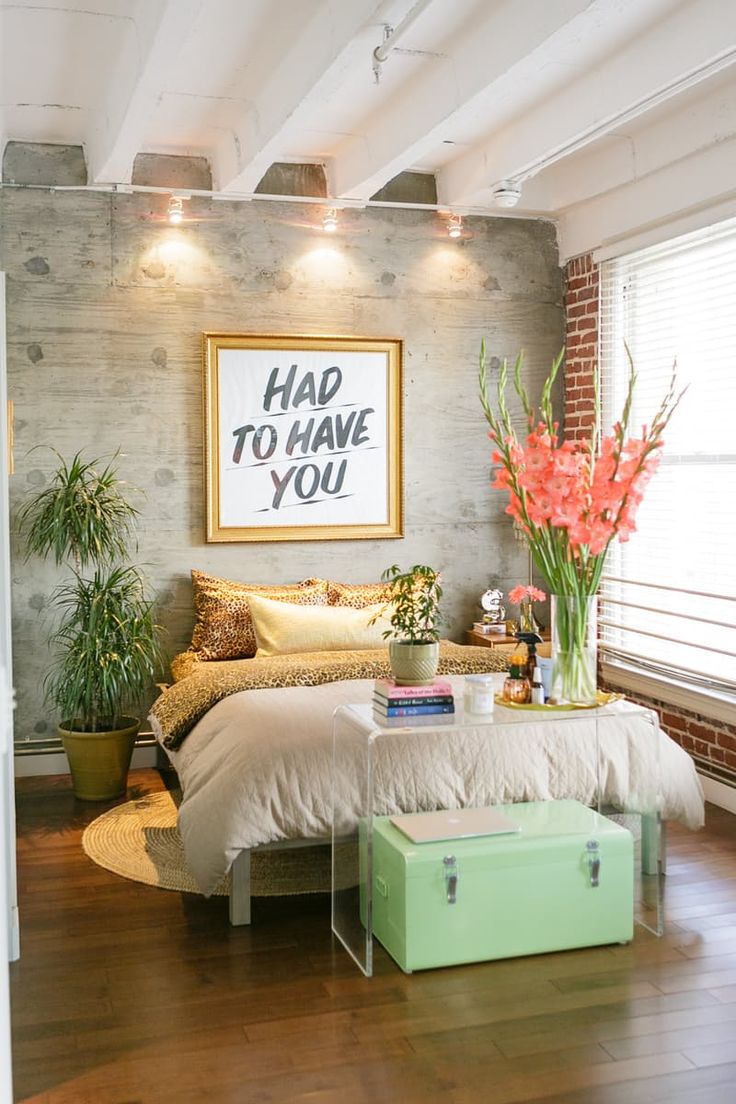 You can still create a bohemian abode with a bout of glam attached to the vision. With the mixing of cheetah prints, acrylic and fresh greens, you get a natural and vivacious look to fall in love with. We love the natural tones used throughout this interesting space as well, adding to its subtly.
12. With Black & White
Yes, even a classic black and white room – with a pop of royal blue – can shape into something that's a bit more bohemian. This design rom Emily Henderson feels both timeless and carefree ins spirit. We love the printed walls and the neutral palette on the bed. It makes for quite the relaxing and welcoming bedroom, don't you think?
13. With Hanging Chair
Paper To Stone created a space that's filled with funky odds and ends that don't quite mesh but still compliment each other. Photos on the wall, prints on the bed, a wooden headboard and a hanging chair filled with bright colors, it's a boho lovers dream. But we love how minimalistic the space is as well – too much clutter would take this look over-the-top.
14. With Yellow
HGTV brings us this light and bright beauty. Filled with crisp, timeless colors, the details are what makes this such a gorgeous, bohemian example. The textures and worldly prints pair and compliment seamlessly. We love the meshing of styles here and how sophisticated you can create this kind of vision.
15. With A Fireplace
Life Unstyled served us up a beautiful bohemian bedroom filled with a lot of accents and details to swoon for. The focus may be around the fireplace but it's the stunning mix of texture and print that give this space its personality. And the high ceilings that's filled with natural sunlight is the topping on the cake.
16. With A Chandelier
Boho vibes can be created around ultra modern chandeliers as well. This dollop of contemporary style tops off this trendy and feminine room quite nicely. The colors, the textures and the subtle nod towards bohemian spirit makes this design from Nautically Prep one of our favorites.
17. With Tassels & Sunlight
An accent wall that's actually a window and tassels all around, this fun and bright bedroom is a great bit of inspiration for our teenagers. Pay special attention to the wood and neutral foundation that's been topped off by mixed prints and bright colors.
18. With Hot Pink
Check out this hot pink beauty we found while scrolling through Apartmenttherapy. The hot pink pops right off the creamy foundation. To add extra interest there's a medley of prints and textures sprinkled throughout as well.
19. With An Aztec Rug
Start your boho room design out with a gorgeous Aztec rug on the floor and build up from there. This minimal space puts focus on that unique print and the extra bouts of greenery only help to add a fresh, organic air.
20. With Stacks of Books

Keep things personal by allowing your favorite bits to be used as accents. Those stacks of book are not only easy to grab but add an unpolished, carefree touch to the bedroom. Those feelings are exactly what should be encompassed in a bohemian bedroom. And this space really help us envision a truly "lived-in" design.
21. With Reindeer
Natural elements are always welcome inside a bohemian space. Whether that's with the inclusion of fresh, potted plants or canvas prints depicting the best part of Mother Nature is on you. And with this particular design you get an edgy, more masculine take on this interior design genre.
22. With(out) Space
HGTV follows with a picture perfect boho nook that's highlighted by a beautiful shade of blue. This space is especially cozy and welcoming to its guests. And that's why it has made for such great inspiration when it comes to our guest bedrooms.
23. With Floral Prints
From the wallpaper to the chair, this bedroom is filled with funky floral prints. The mixing and matching bring in so much fun and vivacious personality. Adding ins one antique finds help create a more personalized, flea market vibe as well. Take some pointers from this spirited space from Lonny!
24. With Velvet & Crochet
We've gushed about this spot before on Homedit. Easy blues and soft textures, this is definitely one of the more mellow and relaxing of spaces on our list. The wooden furniture rounds out the subtle finish. And that crocheted tapestry on the wall adds just the right amount of girlish charm.
 25. With A Dreamcatcher
A glowing bohemian bedroom that we immediately swooned for. The pink lights add whimsy and that dreamcatcher on the wall lays the foundation for a quintessential "gypsy" style.
26. With Polka Dots

One of the most feminine on the list, we're falling for this Dailydreamdecor find. Polka Dots give flavor to the low and easy bed. Rose compliments the creamy colors while the fur rug and exposed bring brings in a more carefree, unpolished look to the rest of the room.
27.With Moroccan Influence
Check out that light fixture! This design and we were immediately drawn to its Moroccan influence and lively colors. It also makes for some great dorm room inspiration.
28. With "More" Morrocan
If you like that kind of Moroccan influence inside the bedroom then you'll definitely love this setup. It's a step further than its predecessor with an eve more specific vision in mind.
29. With A Textured Ceiling
The smaller details can really be what brings a room to light. The accents here in this Interiors by Jacquin setup are purely bohemian. But that textured ceiling and blue carpet really bring the vision full circle.
30. With Upcycled Wood
Are you a fan of some rusticism within your home decor?! An upcycled wood piece on the wall, neutral shades and every nook filled with touchable texture, this bedroom gives a welcomed bohemian flat we're inspired by.
31. WithA Pair
Even a bedroom for two can be dressed in boho tones. Again, we have a series of mixed prints and interesting artistic choices filling the corners. COCOCOZY easily inspires our kiddos' room redesign with this one.
32. With Small Petals
Another right and inspired space filled with romantic, gypsy-flavored charm. The small, delicate floral design give it a more  youthful flow as well as all of the natural sunlight the space will be receiving throughout the day.
33. With A Metal Bed
Your bohemian vision can easily be paired with vintage pieces – big or small. We've seen hose accents and nuances sprinkled throughout the room above. But this bedroom feature brings in an antique, metal bed frame as its main focus and we love it!
34. With Billowing Fabrics
Fabric hanging from every inch of the space will help to add that easy, carefree spirit us bohemians love. This fresh bedroom from Apartment Therapy has a revitalizing quality to it and although filled, it doesn't seem cluttered or overwhelming at all.
35. With White & Simplicity
This gorgeous example from Royal Furnish shows us that bohemian style can be accomplished in the most simple of ways. a beautiful neutral, plush fabrics and  romantic elements like the canopy and fresh greens, it all comes together in such an easy way!
36. With Tradition
You don't have to go all in with the boho vibes. Instead just use touches to spruce up your more traditional space. This bedroom is crisp and quaint but it have been personalized by a pop of funk in its print and exposed wood ceiling.
37. With Gray
And grey is still one of the most popular and versatile neutrals around. Even in this carefree space, it holds its own despite the excitement (& tapestries) surrounding it.
38. With Golden Hardware
Combining contemporary style with bohemian flair doesn't have to be frustrating or hard! Just look at this design from Lonny, for example. Its golden hardware adds just the right amount of sophistication to the pattern-covered room.
39. With A Shag Rug

This patterned, shag rug has us falling in love and giving this offbeat, sage-covered room a fun foundation. Bohemian in vision, this is definitely a simpler, more subdued take on the interior design genre.
40. With Candles & A Ladder
A lot of fun elements within this bedroom that we're drawn to. The hanging plants are a beautiful addition to the window dressing. The ladder in the corner, prints on the wall and candles on the trunk all create personal, eclectic touches.
10 Beautiful DIY Boho projects to decorate with
With tassels and mirrors
Tassels are super easy to make, even easier than pom-poms and you can use them as cute decorations in lots of cool and creative ways. For example, you could use a few to decorate a mirror and to turn that into a beautiful accent piece for your cozy bedroom. What's great about this project is that you can customize it in lots of different ways, with all sorts of colors and combinations. Check out all the details on craftberrybush.
With bunting
Macrame is bohemian by nature so it makes lots of sense to make use of this if you want to add more charm and character to a space like the bedroom for example. If you're not familiar with the techniques and tools used here don't worry because it's a simple project perfect for a beginner. All you need is some cotton yarn, a cardboard template for tassels and a size D crochet hook. You can find all the details you need for this project on picotpals so have a look before you go shopping.
With a handmade ottoman
If you've never had an ottoman or a footstool in your home you're missing out because they're really comfortable and quite versatile as well. A really cool idea is to build your own ottoman from scratch. There's a great tutorial on lilyardor which shows how you can make one with built-in storage. It's made out of a plastic bucket and it's really cute and covered in a rag rug which gives it a bohemian, shabby chic kind of look.
With a boho wreath
Wreaths are of course the go-to type of decoration for a lot of different occasions, like Halloweem Thanksgiving or Christmas. The typical ones that you usually find in stores however tend to lack character and style so if you want your wreath to look chic and to have a boho look, you better make it yourself. This one has such a beautiful and simple design. Check out the tutorial on lynnchanglewis to find out how to make a macrame wreath for yourself.
With cute planters
Adding a little bit of greenery to a room is always a great idea but it's not all about the actual plants that you choose but also the way in which they're displayed and the containers that they're placed in. With that in mind, we think you'll appreciate these lovely boho planters made out of cheap glass bowls and colored ribbon. They're super easy to make and would look lovely on your bedroom windowsill. Check out peoniesandpears for more details about the project.
With floating candles
Candles are another go-to element that we immediately think of when figuring out ways to make a room look more cozy, warm and inviting. They come in lots of different styles, shapes and sizes and there are many interesting ways in which you can display them and make them a part of the décor. One particularly cool idea is to make floating candle holders like the one featured on acoastalbride. You can hang these not just in your bedroom but in other spaces as well including outside.
With yarn wall hangings
Here's another really cool idea for a decoration that you can make and pass as a wreath or just a stylish wall hanging with a boho design. It uses some rather unusual materials. The base for instance is a brass scarf organizer. You may be able to find something similar to this or come up with a different idea for your own unique design. The decorations are simple, just a pine branch, some sparkling bits and a bunch of yarn. Check out the instructions on maggieoverbystudios for more details.
With a boho advent calendar
Call is an advent calendar or a Christmas countdown, it doesn't really matter as long as you make it cute and you turn it into a lovely decoration for your home. This one is super easy to make and has a bohemian design thanks to the yarn and the tree branch that make up the base of it. The Christmas printable add color to it and you can customize these however you want. Head over to placeofmytaste for more details and ideas.
With a branch jewelry holder
Using tree branches as decorations is a very boho thing to do and there are many interesting and cool ways in which you can incorporate these into your bedroom décor. For example, you can turn a branch into a jewelry holder for your favorite necklaces and bracelets and you can hang this on a wall so it also serves as a decoration. You can find out all about this on thesoccermomblog.
With a hanging chair
Few things can change a room and make it feel as cozy as a hanging chair can. It's the perfect thing to add to the corner of your bedroom and if you want it to also add a bohemian feel to the space go with a macrame or a woven rattan chair. You could even build one yourself if you wanted to. Check out this stylish model featured on dreamgreendiy for inspiration.
The post 40 Bohemian Bedrooms To Fashion Your Eclectic Tastes After appeared first on Home Decorating Trends - Homedit.