8 Black Loafer Outfit Ideas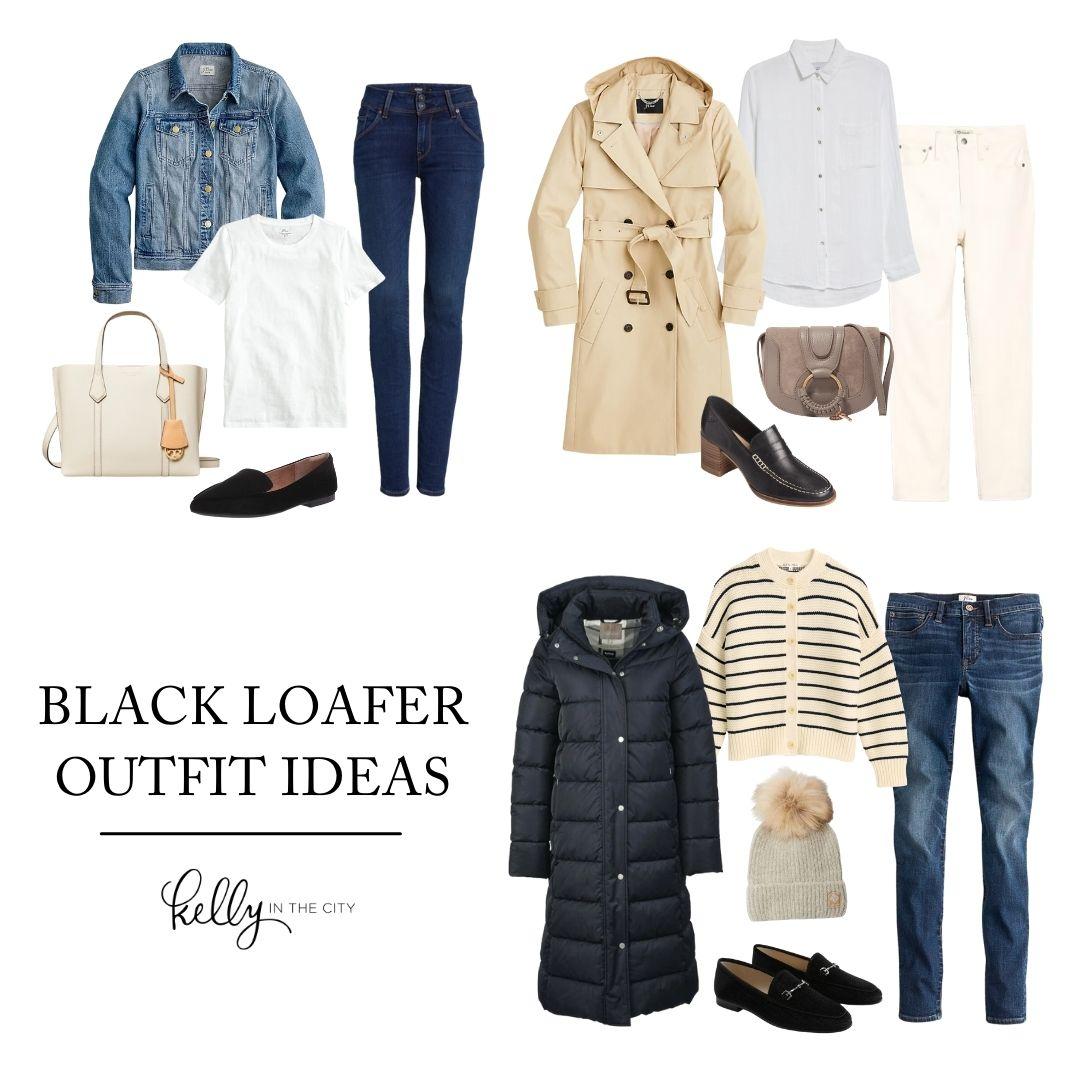 When it comes to being fashionable and versatile, black loafers are undoubtedly a wardrobe essential. They exude a sense of prep and sophistication while still maintaining an air of effortlessness that makes them perfect for both work and casual outfits. One of the main reasons I am drawn to them is that they are so easy to style! 
The round-up of outfit ideas I am sharing with you today is a mix of casual and chic, summer to winter, and everything in between. Oh, and make sure you don't forget to wear ankle socks or these no-show ones!
8 Black Loafer Outfit Ideas
Weekend Warrior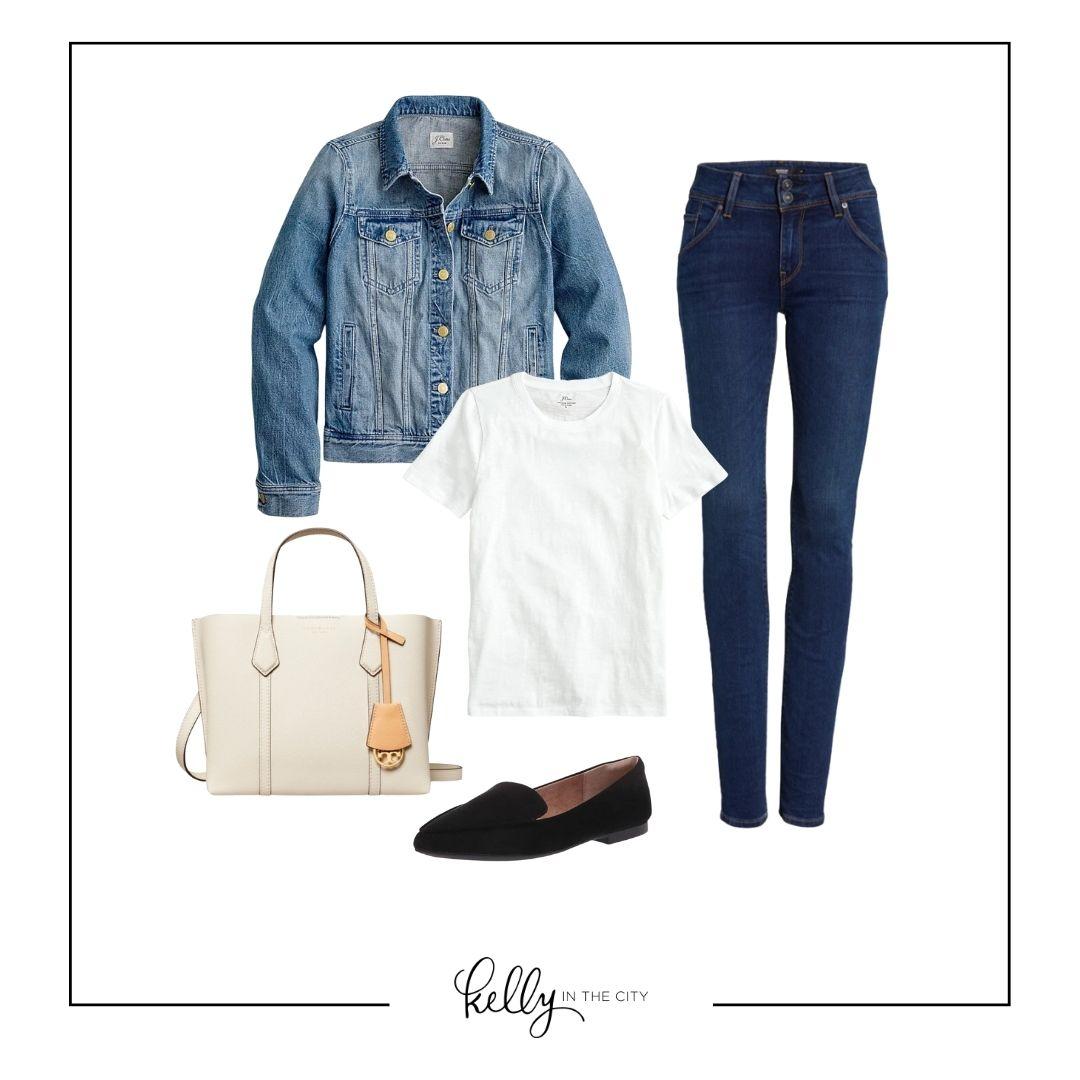 Black Leather Loafers / Dark Denim Jeans / White Cotton Tee / Denim Jacket / Leather Tote
For those perfect weekend adventures, wear your black loafers with straight-leg jeans, a white tee, and a denim jacket. Such a casual spring outfit that can never go wrong. You'll look effortlessly cool while you brunch, shop, or explore your favorite city spots. This outfit is an absolute favorite of mine, which always brings out my favorite pair of loafers by Madewell. More spring shoe picks HERE. 
Casual Date Night Charm
Oversized Blazer / Classic Penny Loafer / Black Wool Dress Pants / Beige Blouse / Black Crossbody Bag
Got dinner plans but don't want to go too fancy? Pair your black penny loafers with dress pants, and a lovely beige or white button-down blouse. You'll look stylish and relaxed – an A+ date night combo! Add a black oversized blazer (I also love this beige sweater cardigan for a more relaxed look) for your colder weather dates.
Cozy and Fashion Forward
Faux Leather Leggings / Black Suede Loafers /  White Crew Neck Sweater / Plaid Scarf
Sometimes, we just want to be comfy without sacrificing style. If that's your vibe, wear your black loafers with leggings, a sweater, and a statement scarf. Now you're all set for a cozy day at home or a laid-back afternoon at your favorite coffee spot.
Business Casual
Black and White Striped Top / Black Pleated Skirt / Sara Flint Loafers / Faux Leather Tote
This casual outfit is perfect for any professional setting where business casual attire is expected. Choose a black and white top for a classic and timeless look, or experiment with a pop of color or pattern for a more modern twist. It's both comfortable and stylish, and the black loafers add a touch of elegance to the overall ensemble. 
Winter Holiday Party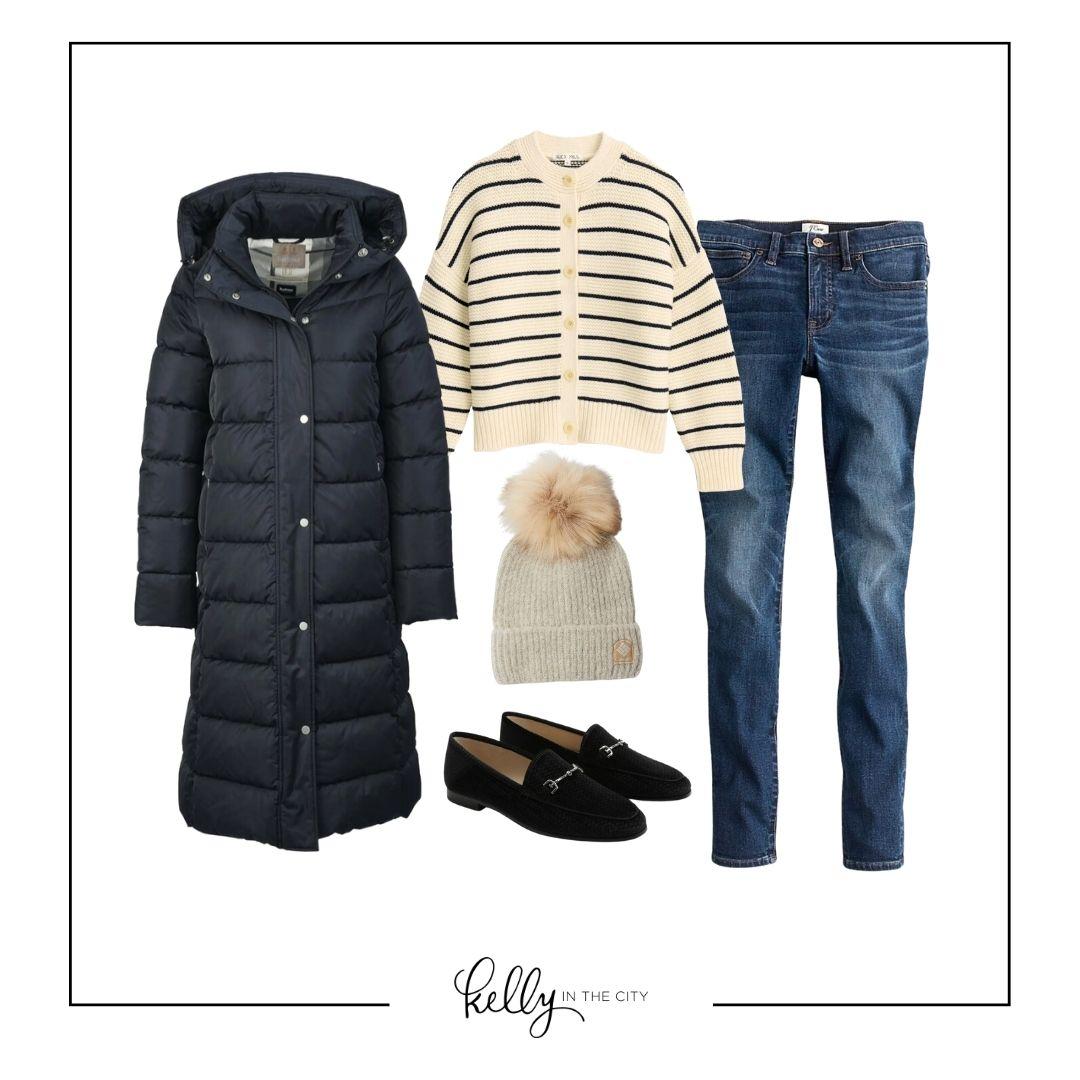 Striped Cardigan /  Cropped Jeans / Black Leather Loafers / Puffer Jacket / Pom Pom Beanie
For a stunning Thanksgiving outfit or holiday event outfit, pair a striped cardigan and skinny jeans with your favorite black loafers, which serve as the perfect complement to this look with their classic yet trendy style. Keep extra warm with a puffer jacket for protection from Old Man Winter!
Boho Babe
Floral Mini Dress / Microsuede Loafers (similar here) / Suede Tote Bag / Gold Hoop Earrings / Gold Adjustable Bracelet 
The ultimate summer outfit for a music festival or a day out with friends. Suede materials mixed with a lightweight dress are my kind of relaxed, preppy, summer fashion. Plus, these black loafers are seriously so comfortable for walking around downtown or the Farmer's Market. 
Day to Night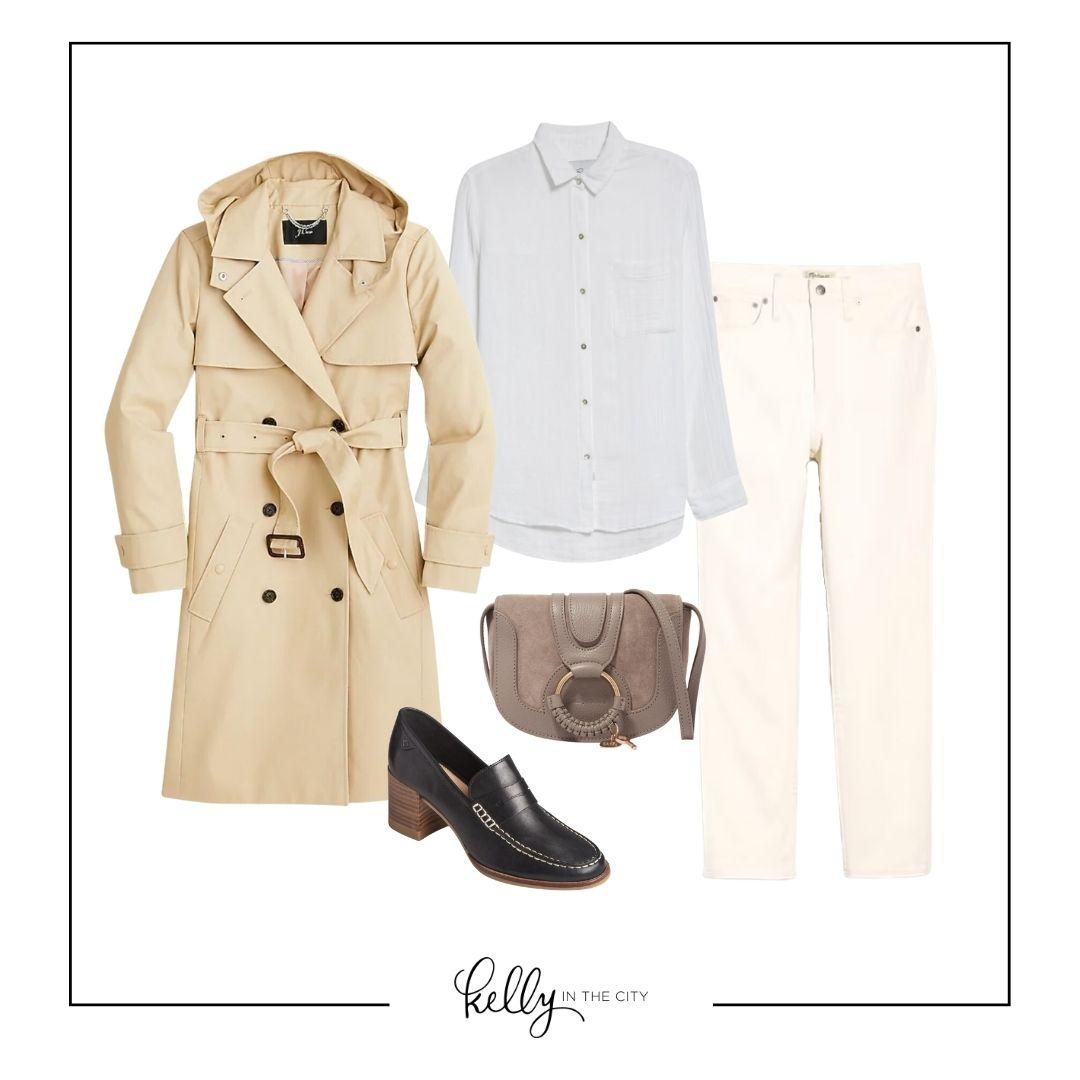 RAILS Shirt / Beige Trench Coat / Block Heel Loafers / White Jeans / Crossbody Bag
There is something about putting on a spring jacket over a plain tee and white jeans with a pair of chunky loafers. I can't even begin to count how many long days I've had that consisted of multiple errands and events. Like, do I have time for an outfit change? A plain tee and jeans are the perfect daytime casual ensemble, but heeled loafers and a spring jacket take you right into evening casual effortlessly. 
Gucci Chic
Button Down Shirt / Black Shorts / Gucci Loafers / Leather Belt
I know what you're thinking… and I'm going to interrupt your thinking to tell you, "You deserve it!" Having that one luxury item that makes you feel like a million bucks every time you put it on is so worth it. That is exactly what these Gucci loafers do to me. Seriously, they feel exactly how I imagine walking on a cloud feels. You can achieve the full Ivy League preppy look with black sheer tights or knee highs.
What's your favorite way to style black loafers?
If you haven't already invested in a pair of black loafers, I highly recommend you do so! As you can see from the outfits I've shared with you today, they are incredibly versatile, lending themselves to a variety of styles and occasions. Whether you're going for a chic business casual look or a trendy street-style ensemble, black loafers are the perfect finishing touch to any outfit.
So what are you waiting for? Experiment with different outfit ideas and find the loafer outfits that work best for you. And don't forget to have fun with it! Fashion is all about expressing yourself and showing off your individuality. So go ahead and let your personal style shine through! 
Shop the post below + some other color options in case you decide to step on the wild side! Plus, visit the blog for more style inspiration!
The post 8 Black Loafer Outfit Ideas appeared first on Kelly in the City.