A Tennessee Christmas Porch: Decorations For Winter That Play Up The Nostalgia
The holiday season is officially upon us and Im fully decking the halls. My first project of the season has been spreading the Christmas (and generic Winter!) cheer to my neighbors. I achieved Neighborhood Elf Status by decorating our front porch.
Today, Im showing you how to decorate a historic homes facade for Winter with my Tennessee Christmas theme. Its really log cabin decor but since Im a Tennessee gal, humor me.
Ive also joined a group of fantastic bloggers to show off their porch and outdoor holiday decor.
First things, Im going to admit that the outside of our house isnt looking great these days. Just before it got cold, I removed the storm windows and doors that were blocking the view of our homes original historic details. Then it got cold and I couldnt patch and paint the holes that were left behind. Right now, were stalled. So all I really can do out here at the moment is decorate. Everything else will have to wait until Spring.
We purchased this house in July 2019. For more details on why and where we moved, check out this blog post: Our 1924 California Bungalow Home Tour
Luckily, the front facade looks just fine when you step back a little bit. Plus, by decorating the porch for Christmas, Ive essentially distracted the eye from even noticing the blemishes on the siding. Its a two-for-one deal!
THREE EASY WAYS TO DECORATE YOUR FRONT PORCH FOR CHRISTMAS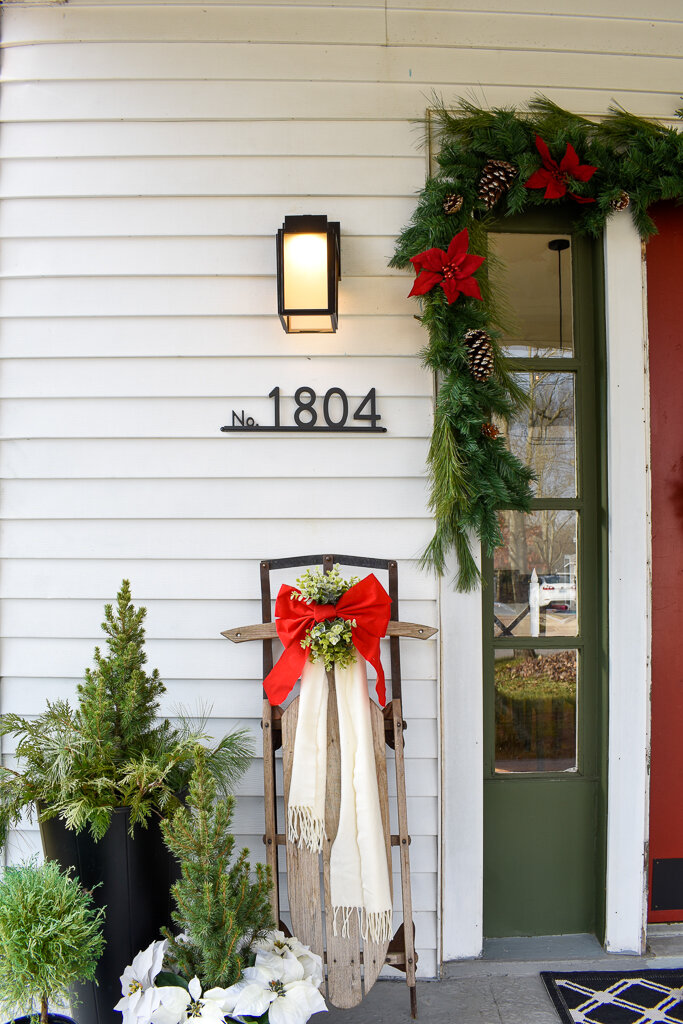 USE vintage holiday decor
Even the least sentimental person would have a hard time staying cool when theyre faced with adorable reminders of the winter season from their childhoods.
This vintage sled is a hand-me-down from my mother-in-law. Ive used it in my porch decor for the past five years and it always gets the most comments. Sprucing it up this year, I hung a simple white scarf and a mistletoe ball from the top to give it a little holiday cheer.
Ive been showing snippets of my porch on my Instagram Stories and Ive had so many people message me to let me know about their childhood memories of Rock City! If youre not familiar with the Rock City barns, you probably never travelled through the south as a kid. They were everywhere!
My Rock City birdhouse was a perfect Tennessee addition to the porch and it even ended up giving me a color scheme.
This past Halloween, we installed a large sign over the bench on the porch and it looked great! It added such personality to an otherwise boring space on the wall. So I knew I would need to fill this space with something charming. Since Lookout Mountain and Rock City go hand in hand, I decided to dub my porch the Lookout Mountain Lodge when I created this vintage style porch sign for Christmas.
The crate is a family heirloom from Kentucky (my wifes family hails from Southern Indiana / Louisville). While its not Tennessee, it does look perfect out here and its holding all of the items I removed from our porch and replaced with Christmas decorations.
GIVE FAKE CHRISTMAS GARLAND A REALISTIC LOOK WITH TREE CLIPPINGS
Every window and the door frame is covered in greenery. I also filled the pots on my front porch with greenery, pine cones, and wood slices to fill the space and bring in nature.
While it might look expensive, it was actually incredibly affordable. Why? Because I customized cheap store-bought Christmas garland by adding clippings from our own tree and a fallen branch at our neighborhood park!
Because I used evergreen stems and branches, from far away, all the garland looks full, natural, and real! I simply tucked the real branches behind the faux garland and used floral wire to join the two together.
ADD SOME COZY FOR CHRISTMAS
No matter where (in the Norther Hemisphere) you live, Winter is going to be colder than Summer. When we think of Christmas, we imagine plush throws and evenings by the fire, no? Since your outside is cold, why not warm it up with some plush throws?
I love to be outside and I dont want a little chill to stop me from enjoying my front porch. So every Winter, I use inexpensive but nice-looking throw blankets that I use for outdoors.
Hanging untraditional Christmas lights on the front porch also helped to cast a cozy glow. Instead of stringing small twinkle lights, I opted to use our existing patio lights and save some money.
With all the vintage elements, I think these Edison bulbs really just add another layer of nostalgia to my front porch decorations. I also live in a historic home that could feasibly justify these lights all year long. So I may not even need to take them down after Christmas!
I completed my porch as part of the Festive Christmas Porch Tour, sponsored by Amy of Atta Girl Says. Here are the details on all the bloggers who are showing you how to decorate your outside spaces today.
Please go show them some love and let them know how you feel about their ideas and decor.
More Christmas Porch Inspiration
Be sure to visit all the participating bloggers for festive decorating inspiration for your front porch, patio, sunroom and screened-in porch.
Atta Girl Says // The Frugal Homemaker // House of Hawthornes // Southern State of Mind
2 Bees In a Pod // The Chelsea Project // Virginia Sweet Pea // T. Moore Home
Top Row: Our Crafty Mom // Postcards from the Ridge
Bottom Row: Cottage at the Crossroads // Worthing Court // Major Hoff Takes a Wife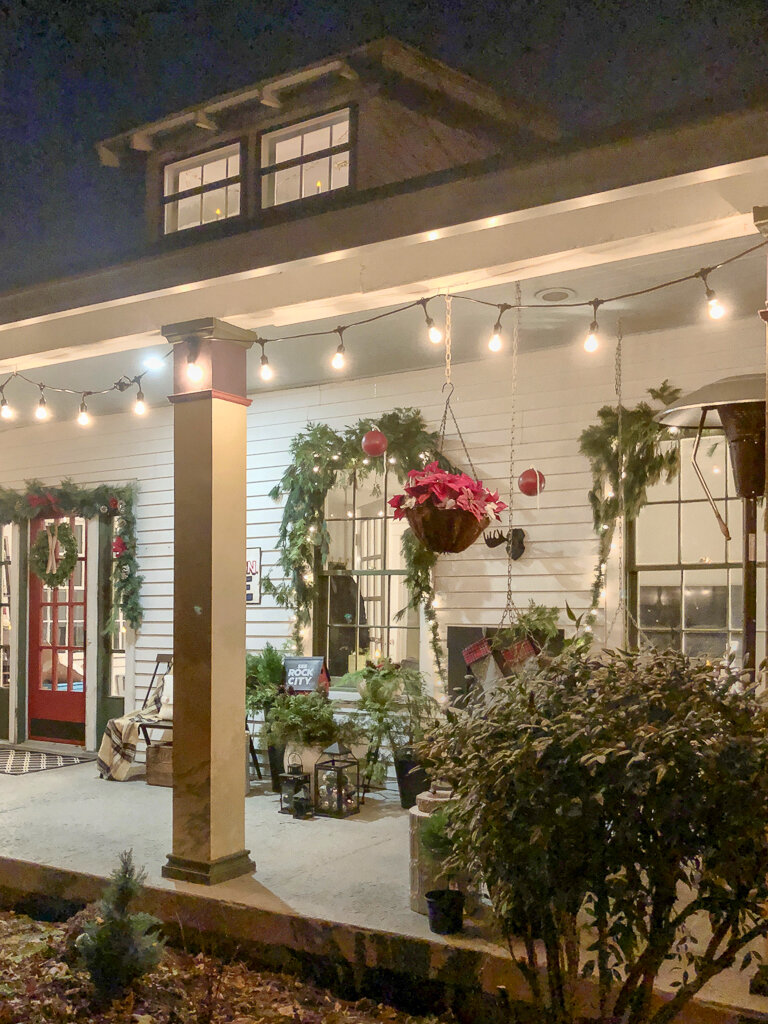 MORE SEASONAL DECORATING INSPIRATION
Ready to make some updates in your home? Check out these posts to get you started.
DECORATING AN OLD HOME ON A BUDGET ISNT ALWAYS EASY BUT IM HERE TO HELP.
Commenting on this post is disabled so I can focus on our upcoming projects + client designs but that doesnt mean that I dont want to hear from you. Send me your questions and comments on Instagram by either commenting on my latest post or sending me a direct message. I really love to chat it out!
GET POST REMINDERS + EXCLUSIVE UPDATES!
Ill never share your email address with any other companies or people.
Thank you!