Alaska cruise packing list: What to pack for a sailing up north
Packing for an Alaska cruise does not have to be a stressful experience. Yes, you will be visiting some places where the weather may be chillier than back home, but you will not encounter truly Arctic conditions. Away from the view sites of magnificent glaciers and icefields that brought you to Alaska, you may even encounter weather suitable for shorts and T-shirts.
If you're used to cruising around tropical islands, you'll find your Alaska cruise packing list is different from your Caribbean one. Spend some time learning about what you should pack for an Alaska cruise so you're prepared for the changeable weather and terrain of the 49th State.
For cruise news, reviews and tips, sign up for TPG's cruise newsletter.
What to pack for an Alaska cruise
Alaska weather can be unpredictable and varies by elevation. In temperate Southeast Alaska, which is the main cruising area, summertime temperatures may be in the 30s (Fahrenheit) when you are close to glaciers such as Glacier Bay National Park, Yakutat Bay (home to the gigantic Hubbard Glacier) and College Fjord, but rise into the 60s or above in the fishing town of Ketchikan, the Gold Rush town of Skagway or Juneau, Alaska's capital city. Juneau can hit 80 degrees some days. Nights in these towns are cooler.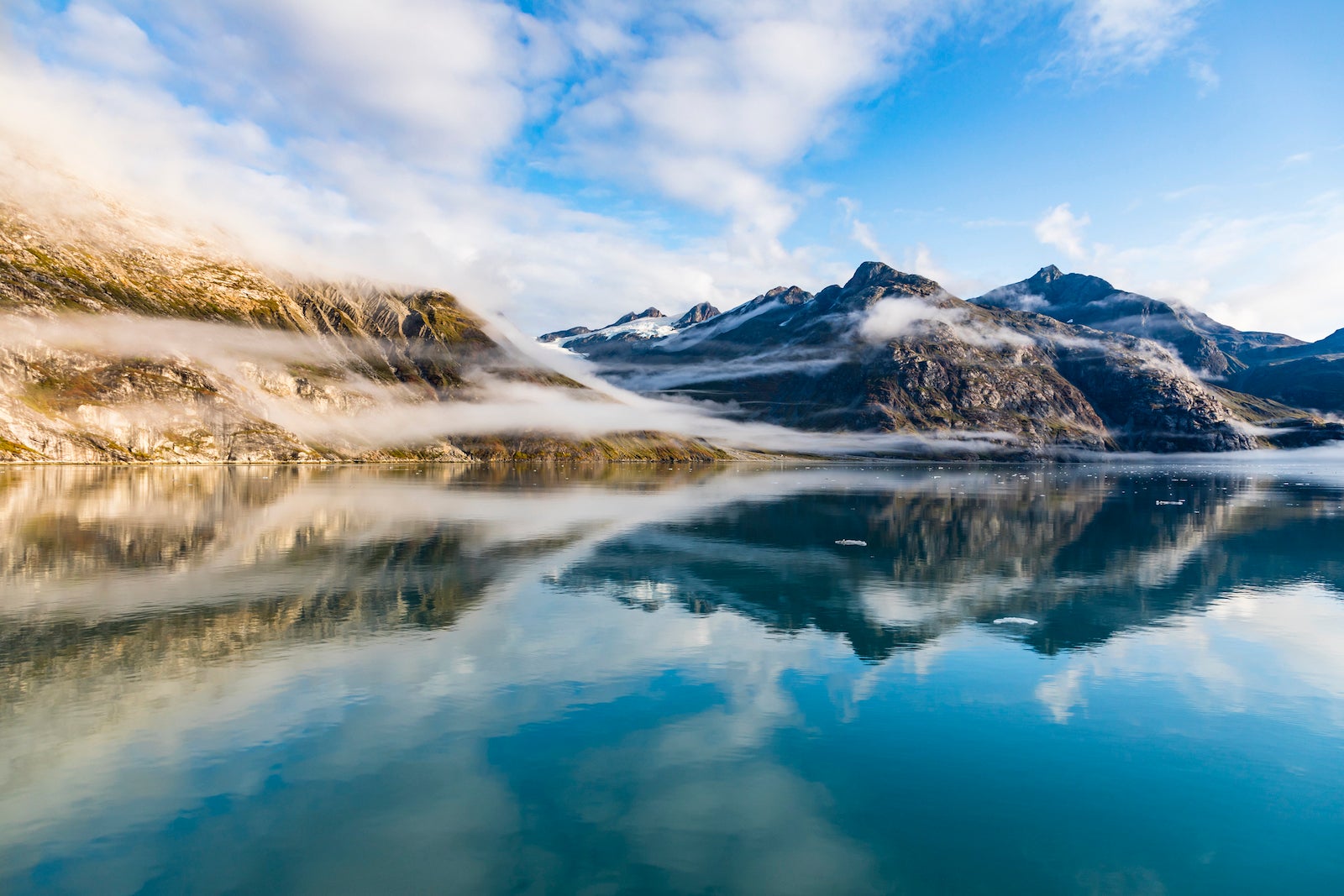 The key is to wear layers of clothes you can put on and peel off to help you deal with temperature fluctuations.
Warm and waterproof layers
Rain likely will be in the picture, particularly if you cruise during the popular months of July and August. (Want to avoid rain? Here's the best time to cruise Alaska.) Waterproof jackets and shoes or boots, umbrellas and hats will serve you well.
In April, you may encounter snow; anything goes in the fall. There is a reason you'll encounter many Alaskans throughout the year wearing waterproof XTRATUF boots, otherwise known as "the Alaskan sneaker." Warm parkas, gloves, hats and scarves will come in handy during early and late cruises, as well as when you're outside on deck watching glaciers calve.
Outdoor clothing
You will want to pack a variety of outdoor clothing options. The good news is you probably have these things in your closet already: Think fleece jackets and vests, zip-off hiking pants and rugged footwear. If you're not planning any adventurous Alaska activities, you likely won't have to gear up in advance at a retailer such as REI, Dick's Sporting Goods or L.L. Bean or scour Amazon for the right gear.
Also know that if you are doing a shore excursion in Alaska where you are likely to get cold or wet — such as a dog-sledding tour on top of a glacier (highly recommended) — the tour operator will provide specific, necessary gear such as parkas, waterproof pants and boots. If you do a water activity such as kayaking, the operator will loan you waterproof gear.
Eveningwear
While casual is the order of the day on your ship, your cruise line may have specific suggestions on what to wear at night, with lines such as Princess Cruises and Holland America hosting both casual and dress-up nights.
While some lines take the always-casual approach to eveningwear in Alaska, other cruise lines designate certain nights as informal, smart casual or "elegant chic," meaning you are expected to get slightly dressed up, such as a nice sweater or blouse for women or a sports jacket for men.
While many cruisers these days enjoy capping dress-up at that, a few lines offer the opportunity for guests to get gussied up even more for "formal" nights. Cunard and Crystal Cruises, and to a lesser extent Holland America, are lines in Alaska where some passengers tend to relish dressing for dinner – even in some cases with suits and gowns. Itineraries longer than one week tend to attract more of the cocktail dress and tuxedo crowd.
If you don't want to get dressed up at all, you have the option of dining in your ship's more casual eateries. Or, if your ship is doing a late-night stay in an Alaskan town, you may want to seek out the best place for king crab, wild Alaska salmon and other local delicacies on shore. Alaskans tend to dress for comfort at restaurants — even those with fancy menus.
Accessories and gear
You don't have to pack for an Alaska cruise as if you are going camping, but it's important to bring the appropriate amount of adventure and travel gear. A camera with a zoom lens or a cellphone that takes good quality photos is probably already on your list, but make sure you have chargers and enough memory for the hundreds of photos that you will likely want to take. A portable charger is useful for full-day trips where you might burn through your cellphone battery.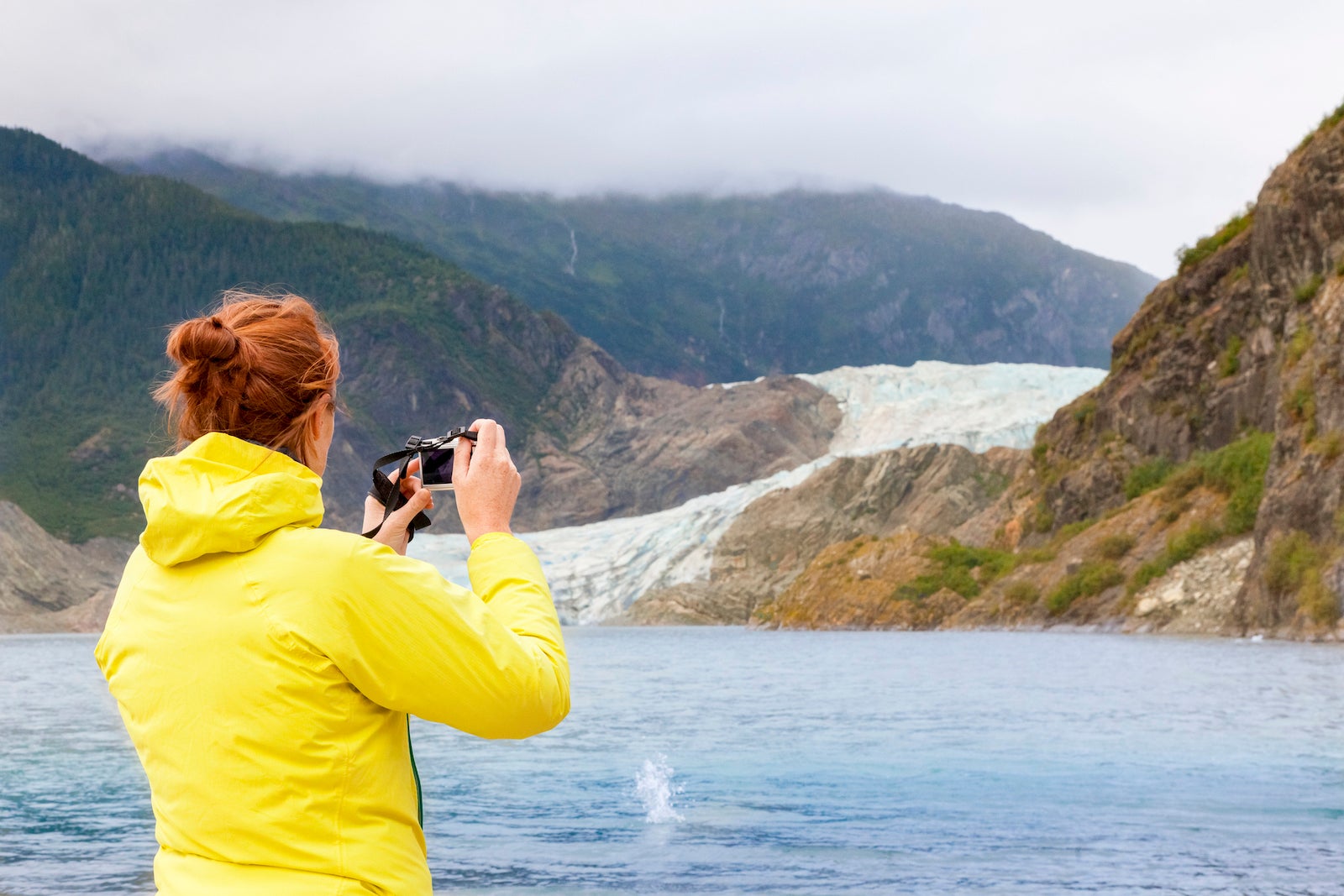 Binoculars are essential. Your ship may stock some, but you'll want your own for spotting whales, bears, eagles and other wildlife and for close-up views of glacial ice and other wilderness from the ship and on shore. If you plan to do a lot of hiking, you may want to bring a retractable walking stick for uneven surfaces.
It may sound counterintuitive, but the sun shines brightly in Alaska, so don't forget sunscreen. You will also want bug spray, since Alaska has a prolific mosquito population.
It's likely you'll encounter rain or take a water-based shore excursion on your trip up north, so you'll want to bring a dry bag or dry pack to protect your equipment. For drier days, you'll still want a day pack where you can stash any extra layers you're not currently wearing. Pack your bag with packaged snacks brought from home. Cruise lines don't typically provide them, and they come in handy, especially if you are traveling with kids, on long train or bus tours.
Tips for taking the stress out of Alaska cruise packing
When packing, keep in mind that your ship may make available to guests a self-serve, complimentary or coin-operated laundry room, as well as offer send-out laundry and dry-cleaning service for a fee. You'll find this particularly useful if you are extending your cruise with a land tour (or cruise tour) in Alaska. You don't need to pack for the entire journey if you can clean your clothes during the trip.
If you forget to pack something, you'll be able to make purchases with U.S. dollars in the Alaska towns and cities you will visit. You'll find familiar brands at stores and pharmacies.
Alaska cruise packing list
With all this in mind, here is a suggested packing list for your Alaska cruise vacation:
A lightweight waterproof jacket or raincoat (not a parka or bulky winter jacket, that would be overkill).
Heavy sweaters, sweatshirts or fleeces (for a layer under the jacket).
A selection of T-shirts or other casual shirts (some long-sleeved).
Two or three pairs of jeans, khakis or leggings.
A pair or two of good walking shoes that you don't mind getting wet or muddy (sneakers are OK, though if you are a big hiker you may want to bring your waterproof hiking boots).
A hat and gloves (you'll want them when your ship brings you close to the walls of a glacier).
An umbrella.
Shorts (especially if you are the type of person who starts wearing them in anything over 65 degrees).
A swimsuit (you'll want one for your ship's hot tubs, pools or waterslides; some small adventure ships may present the opportunity for a polar plunge).
Sunglasses, sunscreen and a baseball hat or other sun hat (the long lingering midnight sun shines bright in Alaska, especially when reflected off ice).
Bug spray (Alaska has a crazy bug population that includes some 55 different kinds of mosquitos).
An assortment of evening attire and footwear for dinner, based on your ship's suggestions (check your cruise line's website for details).
Accessories (a belt, scarf or fun jewelry can transform a simple outfit so you may repurpose it).
Gym clothes (if you plan to take classes or use your ship's fitness center).
Binoculars.
Toiletries and prescriptions (pack these in your carry-on).
Underwear, pajamas and socks (including some thicker wool socks for hikes or treks into higher elevations).
Your cellphone or camera, preferably with a zoom lens.
Chargers for all your electronics plus a multi-plug extender, so you can power up multiple devices at once.
A portable charger in case your cellphone runs low on an excursion.
A dry backpack or bag to protect your cellphone or camera and stash your extra layers and snacks.
An e-reader or books, games and cards, as Alaska cruises involve a few days at sea without port visits (look, too, for interesting selections at local Alaskan bookstores or Alaska-themed novels, such as "The Great Alone" by Kristin Hannah, "Alaska" by James Michener or "The Snow Child" by Eowyn Ivey).
Your own wine or Champagne (this can be a cost-saving move, but check your cruise line policy for how many bottles are allowed; corkage fees may apply).
Bottom line
Pack with a focus on versatility — and prepare for a wide range of temperatures and weather conditions — and you'll be all set for a cruise to Alaska. When in doubt, prioritize outdoor gear over formalwear. And remember: You'll be able to pick up in port most things you inadvertently forget to bring on your trip up north.
Planning an Alaska cruise? Start with these stories:
Featured photo of the Island Princess in Glacier Bay, Alaska courtesy of Princess Cruises.