Art Basel To Hold 'Online Viewing Rooms' Including First-Timer Global Galleries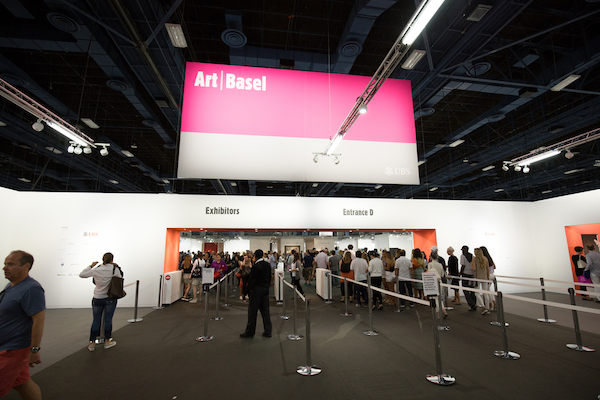 Image via Mia2you / Shutterstock.com
Renowned art fair Art Basel returns with its second edition of
Online Viewing Rooms
in June to allow galleries to connect with collectors around the world amid the
coronavirus pandemic
.
The Online Viewing Rooms will present a global lineup from 279 galleries from 35 countries. In the selection, 10 of the galleries will be first-timers at Art Basel: Lars Friedrich from Berlin; Emalin and Union Pacific from London; Bridget Donahue, Yancey Richardson Gallery, and Queer Thoughts from New York City; Loevenbruck from Paris; LambdaLambdaLambda from Prishtina; Hosfelt Gallery from San Francisco; and René Schmitt from Westoverledingen.
Similar to the physical fairs, the digital version will be displayed in sectors with various subjects in focus. The sectors include a main gallery section with paintings, drawings, photography, video, installation and sculpture, 'Edition' with prints, 'Feature' with curated presentations of works by artists from the 20th and 21st century, and 'Statements' for emerging artists.
The Online Viewing Rooms event will take place from 19 June 2020 to 26 June 2020 on
Art Basel's website
and its app. Its preview days will run from 17 June 2020 to 19 June 2020. Check out the full gallery list
here
.
View this post on Instagram
Discover the 279 galleries showing in Art Basel's Online Viewing Rooms. (Stories link in bio) — Similarly to Art Basel's physical fairs, the second iteration of the Online Viewing Rooms will be structured into sectors, each with a distinct focus. The main sector, Galleries, will feature an eclectic selection of pieces by 20th-century masters and contemporary artists alike. So will Edition, dedicated to prints and multiples. Statements will focus on emerging voices and the young galleries championing them, and Feature will showcase curated presentations of works by 20th- and 21st-century artists. Stay tuned via #artbaselOVR, in our feed & stories, and the Art Basel website. The second edition of Online Viewing Rooms opens to the public on Friday, June 19, 1pm CET / 7am ET / 7pm HKT and will be accessible by logging in with your Art Basel profile. Visit artbasel.com/signup to register now! — Inga Meldere, 'Scarf. L.D. figurines', 2019, UV print, oil, acrylic, ink, canvas, framed, 181 x 181cm. Courtesy the artist and @TemnikovaKaselaGallery, Tallinn. #ingameldere #artbasel
[via
Art Fix Daily
, cover image via
Mia2you / Shutterstock.com
]