Best high waisted bikinis that are chic & stylish
Swimsuit styles come and go. But one is definitely here to stay. High-waisted bikinis were firmly on-trend in the glory days of Hollywood glamour – think Marilyn Monroe on the beach in her iconic white bikini. And, they're having a style moment this summer too. Let's take a look at the best high waisted bikinis for your next trip to the pool or beach.
Why choose high-waisted bikinis
First, what is it about high-waisted bikinis that make them so iconic?
They're universally flattering
High waisted bikinis provide more coverage than other styles helping to smooth out any lumps and pumps and covering your tummy. They tend to end at your natural waistline so will flatter you no matter what your body shape.
A high-waisted bikini can help to create the illusion of curves if you are a rectangle shape or an inverted shape, it can help to cover your tummy if you are an apple shape and can flatter your curves if you are a pear or an hourglass. This retro styling can be particularly flattering for the hourglass. For a pear, you can choose a darker bikini bottom and bright top to downplay your bottom and hips.
Shauna @chicover50 above (read her style interview here) looks fabulous in her deliberately mismatched bikini.
Check out these bikini sets from ZAFUL, Adisputent and ninovino. Also check out these similar earrings and sunglasses.
high waisted bikinis fit better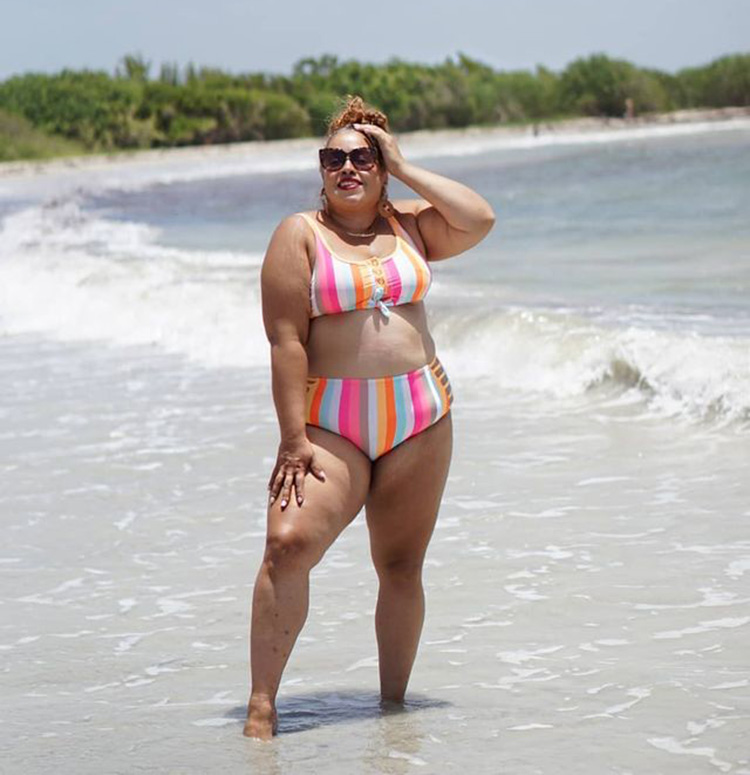 Because high-waisted bikinis sit on your natural curves, they tend to fit better and offer more support. So they're more likely to stay where they should, even if you dive in.
Sandra @lapecosapreciosa above opts for an on-trend cut-out style.
Check out these striped bikini sets from Aleumdr, Honlyps and Milumia, sunglasses from Brightside and earrings from Etsy.
They're good for long torsos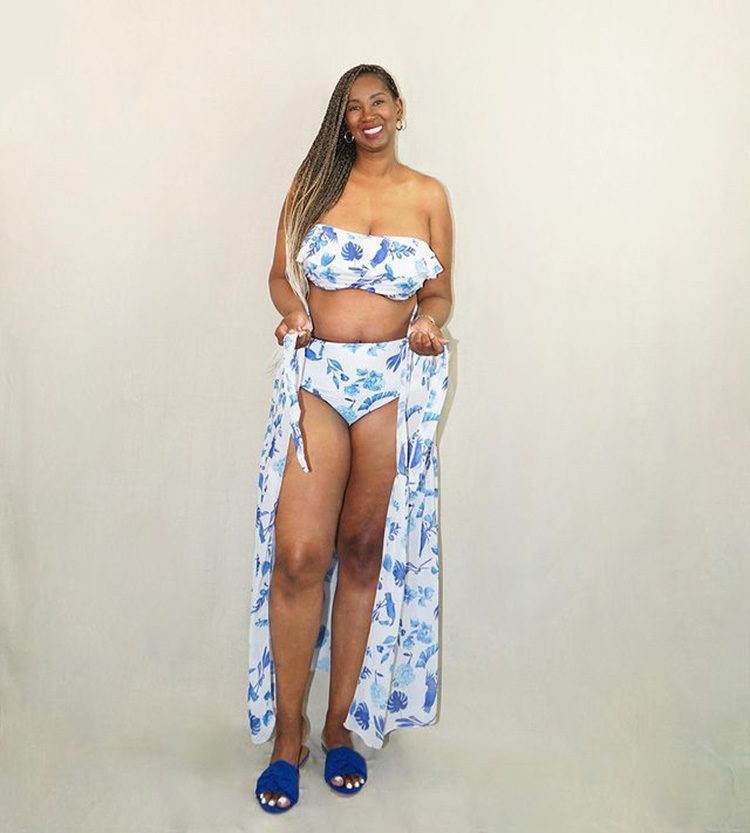 If you have a naturally long torso, a high-waisted bikini can help you look more in proportion – in the same way as a pair of high-waisted pants. You may also want to take a look at this article on vertical body types.
Tanasha @prettytallstyle above matches her floral bikini to her cover-up.
Check out these bikini sets from MakeMeChic and SOLY HUX. Here is a similar pair of flats and hoop earrings.
They won't go out of style
High-waisted bikinis have been adding glamour to the beach or pool-side for decades so they're not going to go out of style anytime soon. You can be sure that your high-waisted bikini will be on trend for many years to come. So, you can continue to be in style summer after summer.
High waisted bikinis you could choose this summer
Let's move onto some of the best high waisted bikinis you could opt for to look amazing on the beach this summer.
bikini sets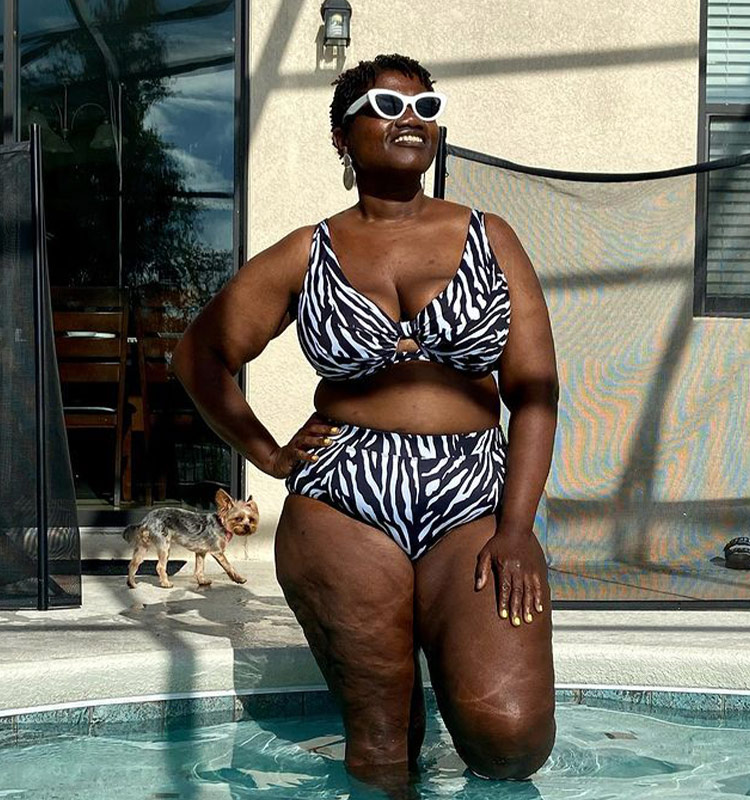 Georgette @grownandcurvywoman above (read her style interview here) looks stunning in her animal print bikini.
Check out these bikini sets from Etsy and AVOVER, sunglasses and earrings.
Wrap bikini set
With more than 20,000 mainly positive reviews the Suuksess wrap bikini (below) comes in some 30 different colors. You can choose a matching set, or opt for a different print on your bikini top and bottoms. Reviewers say it's incredibly flattering for curvy figures.
Cupshe ruched bikini
The Cupshe ruched bikini (below) features a ruched tummy area to disguise any wobbly bits, and a draped bikini top to provide extra coverage. The top would be perfect if you want to add curves if you have a smaller bust or to balance out wider hips if you are a pear shape. Wearers say it provides great coverage without feeling frumpy in any way.
CUPSHE High Waisted Falbala Bikini Set
Bikini with sleeves
Not only are bikinis with arms on trend but they offer a little extra coverage if you prefer to cover your upper arms. Reviewers say the ruffle high waist bikini (below) is a great fit on women with "real bodies".
SPORLIKE Ruffle High Waist Swimsuit
Twist front style
If you want a bikini with classic styling, a twist front option is a good choice. The Beachsissi bikini (below) comes in a good choice of block colors. Reviewers say it is perfect for a "mom bod".
Beachsissi Twist Front High Waisted Swimsuit
Retro halter neck bikini
High-waisted bikinis already have a retro feel, and the Tempt Me bikini (below) feels vintage yet modern. Reviewers say it is beautiful, comfortable and flattering.
Tempt Me Retro Halter Ruched High Waist Bikini
Tassel bikini
If you like to add a touch of bohemian style to your vacation looks, the tassel swimsuit below is perfect.
Bdcoco High Waist Tassel Swimsuit
One-shoulder bikini
If you're as much of a fan of asymmetry as I am, you could look out for a one shoulder bikini. The bikini below has a high waist but it also has a high cut on the legs, which can make your legs look longer.
MOOSLOVER One Shoulder High Cut Swimsuit
Crossover bikini
The bikini bottoms of the crossover bikini (below) have a ruched tummy area, and you can alter the way you tie the wrap top to create the most flattering effect for you. Wearers say the ruching is just right to hide a tummy and you can make sure the top is secure on your bust with the ties.
COCOSHIP Ruching High Waist Bikini Set
Button bikini
If you want to make sure you have all of your tummy coverage, the high-waisted button bikini (below) manages to be modest while still having sex appeal. The twist top is a flattering style for your bust. Reviewers say it is a great choice if you want a swimsuit that doesn't put too much of your body on display but that still feels sexy.
COCOSHIP Twisted Front High Waisted Bikini Set
Tie side bikini
The Sweaty Rocks bikini (below) is another way to add some asymmetry to your swimwear because of the tie at the side. Most reviewers say the top is supportive and the bikini bottoms are high waisted enough to provide tummy coverage. Some say these are a little "cheekier" than some options on the list.
SweatyRocks Tie Side High Waisted Bikini Set
Trina Turk bikini
If you're happy to invest in your swimwear and you want a high-waisted choice, Trina Turk is a good place to browse. The gold accents add glamour to the bikini bottoms (below).
Trina Turk Empire Bandeau Bikini Top – Empire High Waist Bikini Bottoms
Boden bikini
Boden is another great place to take a look if you're looking for a flattering swimsuit with enough coverage. The color block bikini (below) is a modern option for the beach.
Boden Portofino Cup-size Bikini Top – High Waisted Bikini Bottoms
Summersalt bikini
Another great place to shop for bikinis that you won't see lots of people wearing on the beach is Summersalt. The bow on the shoulder of the bikini below adds a romantic touch.
Summersalt The Bow-Shoulder Ruched Sidestroke Bikini Top – The Ruched High Leg High Rise Bottom
bikini bottoms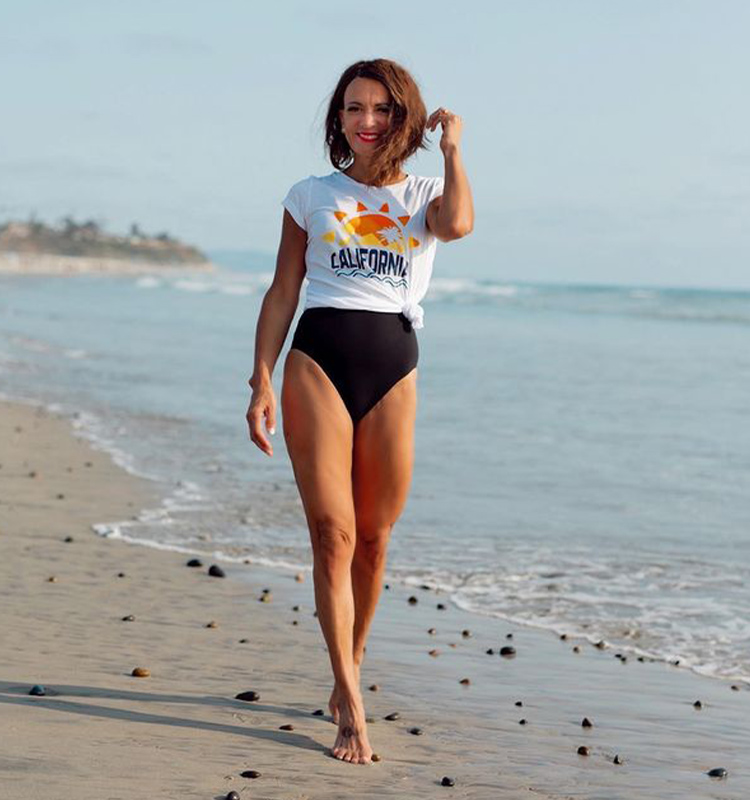 Another option if you have bikini tops that you love but don't find the bottoms flattering is to just buy a pair of bikini bottoms and add those to your existing tops. Sylvia @sylviacolella above (read her style interview here) looks great in her swimsuit and t-shirt.
Tie side bikini bottoms
The tie side of the Zimmerman bikini bottoms below adds a modern, asymmetric flair. Navy should go with any of the bikini tops you already have.
Zimmerman Separates Sculpt Scarf High Waist
COS bikini bottoms
COS' swimwear tends to be high-waisted so is a good store to look at if you want a style that is simple, modern and provides some tummy coverage.
Ruched bikini bottoms
Choosing a pair of bikini bottoms with ruching is a great way to disguise a little bit of a tummy in a chic way.
Tempt Me High Waisted Ruched Bikini Bottom
J.Crew bikini bottoms
You'll find classic, high-waisted bikini bottoms at J.Crew that are truly timeless.
J.Crew Ruched High-Rise Full-Coverage Bikini Bottom
Spanx bikini brief
Spanx is renowned for its shapewear but you can also choose a pair of Spanx bikini bottoms which has double layer fabric to keep everything in place.
Miraclesuit bikini bottoms
Miraclesuit is renowned for making flattering swimwear for women. The ruching on the tummy area will help to cover a belly bulge.
Miraclesuit Bronze Age Norma Jean Tummy Control Swim Bottom
shop more of the best high waisted bikinis here:
Continue reading:
Do you prefer to wear bikinis or swimsuits? I'd love to hear if you have recommendations for high-waisted bikini styles and brands.
Like this article on the best high waisted bikinis? Share it on Pinterest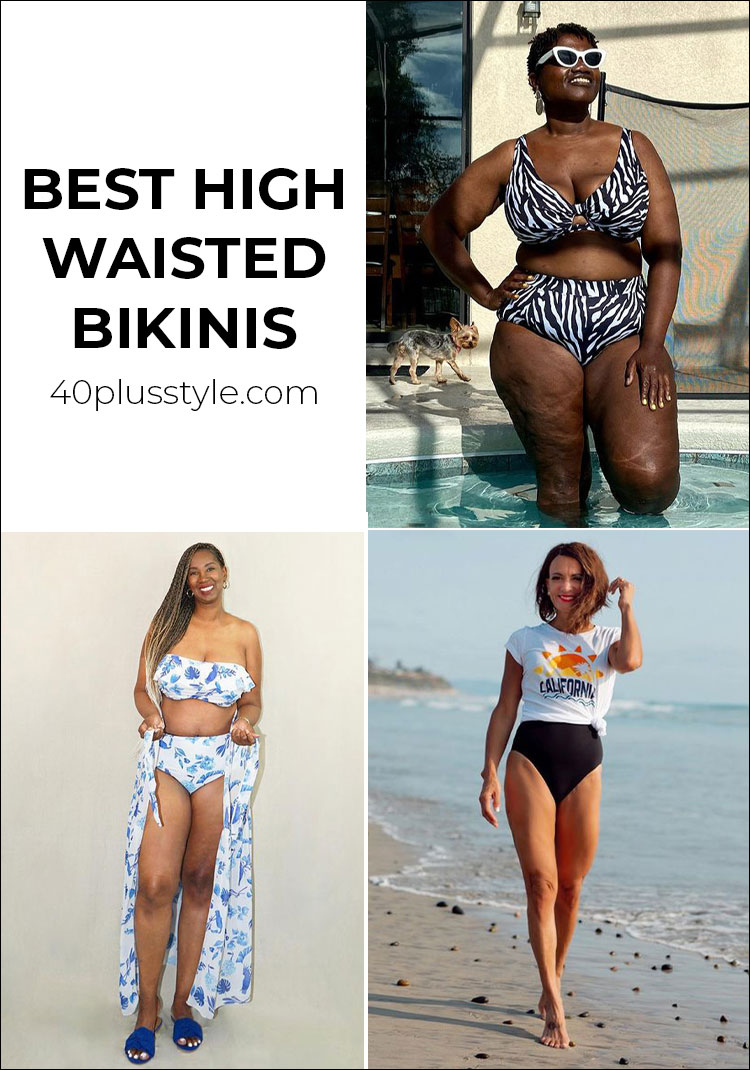 Feature image by Georgette @grownandcurvywoman
The post Best high waisted bikinis that are chic & stylish appeared first on 40+ Style.