Burger Cup '21 Recap: The Top 12 and Then Some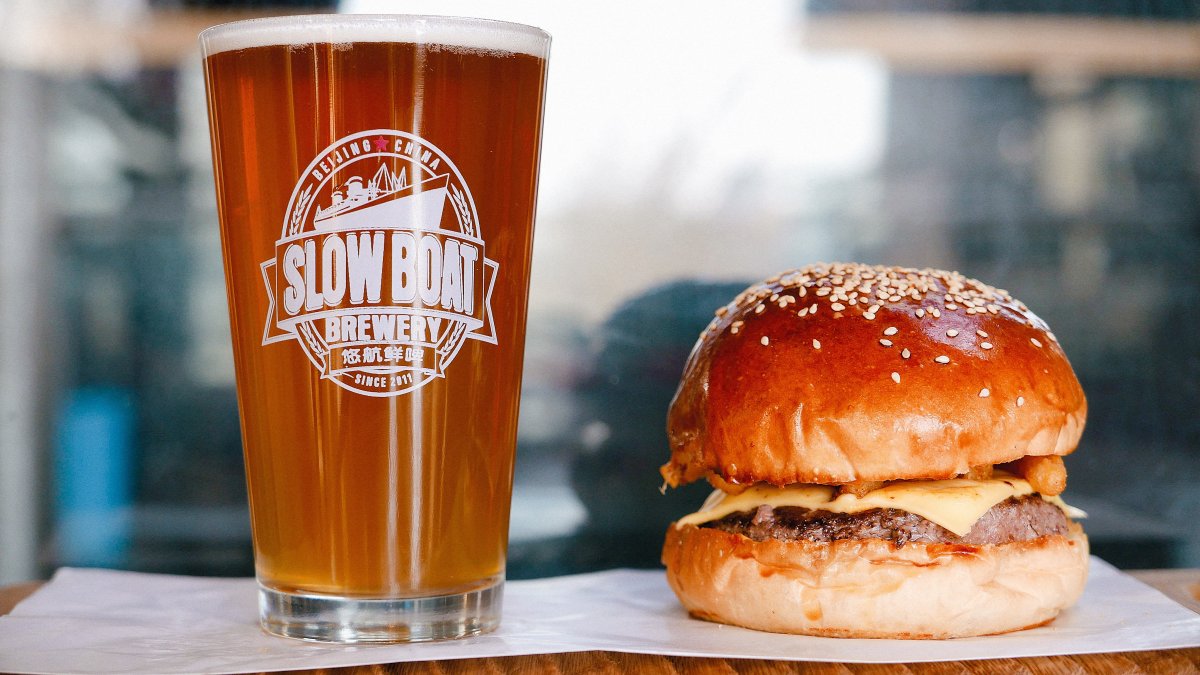 Though the 2021 Burger Cup came to a close a few weeks ago, here at the Beijinger the mouthwatering competition is still fresh in our minds. Simply put, we just can't get over how bomb all those burgers were!
This year's cup didn't disappoint, especially near the final rounds, when it seemed as if upstart Slider Nation – which had attended previous Burger Fests as Sliders by Henry – seemed poised to become a Cinderella story, knocking out last year's champ Side Street before moving on to take out Great Leap Brewing.
However, their hopes were dashed by 2017 champs Q Mex, who wound up placing an admirable second to Slow Boat Brewery, the Burger Cup's most decorated winner with an impressive five titles to date.
Each year, we compile a recap of the Top 12 Burgers in Beijing to give burger lovers far and wide a handy list if they've not tried any – or all – of them. This year, though, we're mixing things up with a new category: Best New Burger, which goes to the two top-ranked newbies in our annual Burger Cup. This year's honorees are:
Best New Burger: Burge's Bistro & Bar
Their must-try burger: Burge's Beef Burger (RMB 78)
We're a sucker for a burger that fancies itself...well, fancy, and Burge's Beef Burger does not disappoint. Just feast your eyes on this Wagyu beef patty topped with melted buffalo mozzarella cheese, wine-caramelized onions, and a balsamic mustard sauce. They took a simple 'ol burger from 0 to 100 real quick.
Runner Up, Best New Burger: Niu Burger
Their must-try burger: Beef & Mushroom Burger (RMB 58)
It's likely these fellas got to where they are for the uniqueness of their creations, and specifically this one. Hear us out: a regular cheeseburger with all the fixings, topped with a hearty mushroom encased in a layer of cheese and deep-fried breading.
And now… drum roll please… the Top 12 Burgers of 2021 are as follows:
No. 12: Fatburger
Their must-try burger: Triple Burger (RMB 90)
The only international chain that made it onto our list, Fatburger hails all the way from Los Angeles, where it was founded in 1947. They keep it simple but big: cheese topped beef patties with chopped lettuce, tomatoes, and onions, sandwiched between a mustard-coated bun.
No. 11: Arrow Factory Brewing
Their must-try burger: El Ranch Hand Burger (RMB 88)
This burger spices things up with a trip south of the US-Mexican Border – featuring sour cream, salsa, guacamole, Sriracha, chorizo crumble, cilantro, and a tortilla "haystack" all piled high on a beef patty.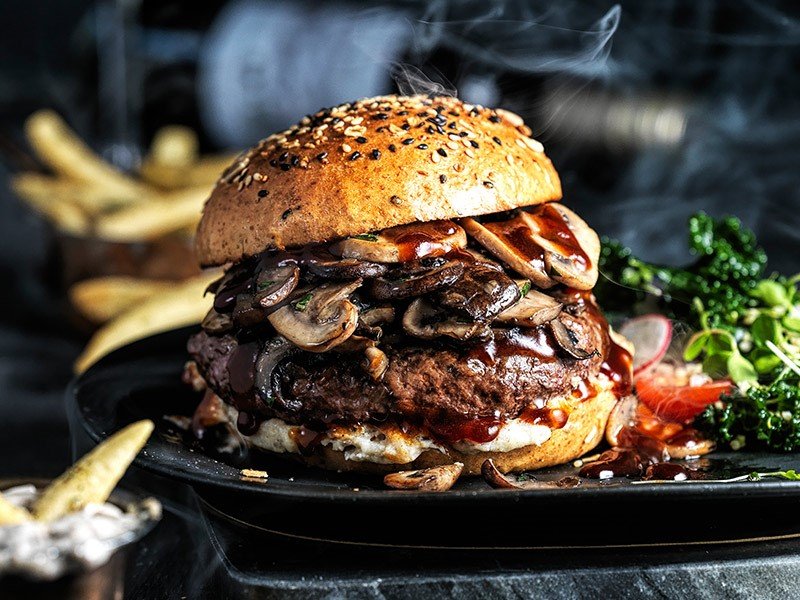 No. 10: Blue Frog
Their must-try burger: Truffle Mushroom Wagyu Burger (RMB 128)
One of Beijing's OG burger slingers delivers yet again with a hamburger steak meal on 'roids in sandwich form. This monster consists of a Wagyu beef patty with sautéed mushrooms, truffle flavored mashed potatoes, and teriyaki sauce. Decadently mouthwatering to say the least.
No. 9: Side Street
Their must-try burger: The K.O. (RMB 78)
Arguably the best of the burgers from the 2020 Burger Cup champ is the K.O., with its two smashed beef patties topped with two different melted cheeses, caramelized "IPA" onions, and a rich, tangy with hints of peanut K.O. sauce.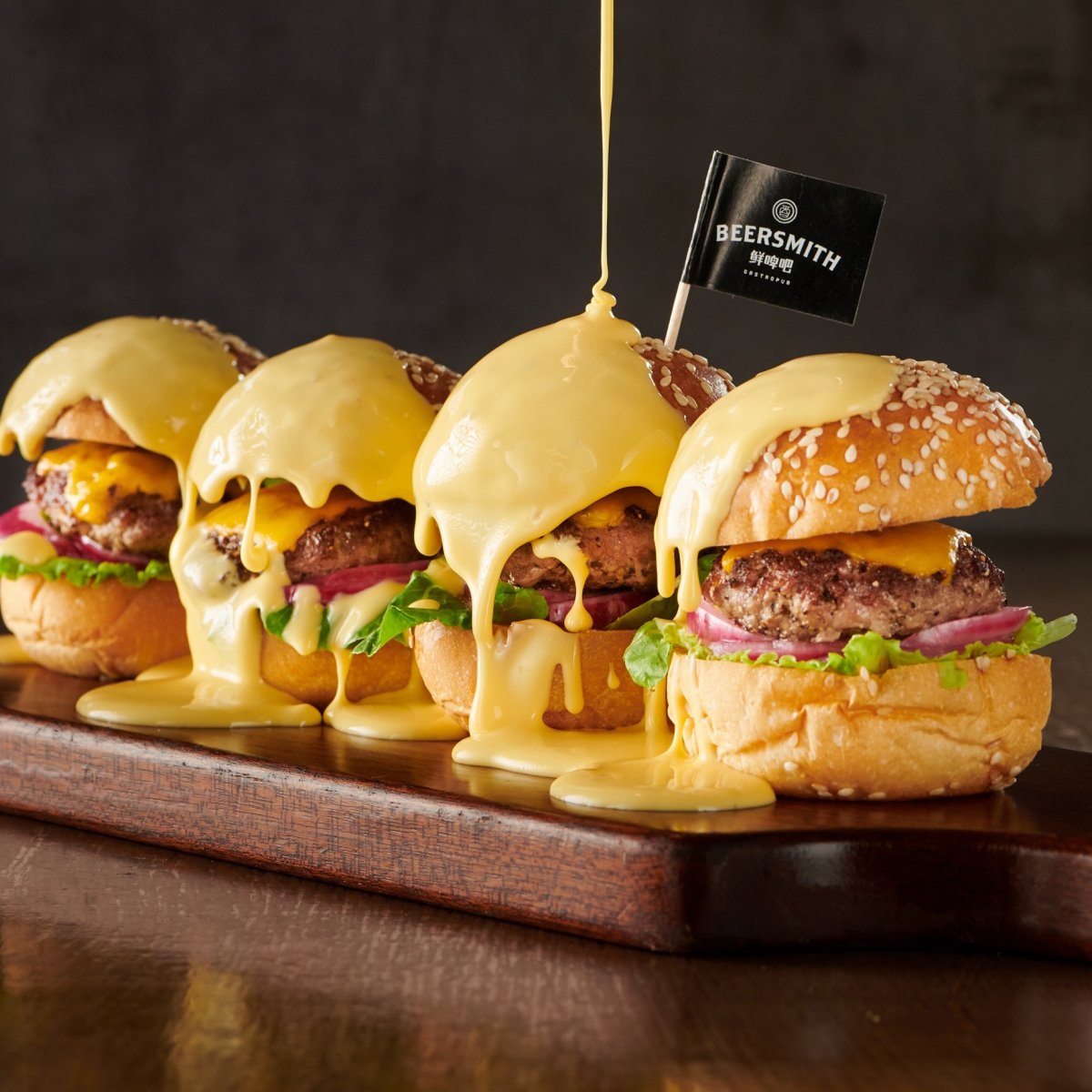 No. 8: Beersmith Gastropub
Their must-try burger: Wagyu Beef Sliders with Special Cheese Sauce (RMB 148 for 4)
Beersmith takes the mini-burger – aka slider – formula and dials it up a notch, drenching each of their Wagyu beef patties topped with lettuce and tomato in a melted cheese sauce for a rich, gooey eating experience.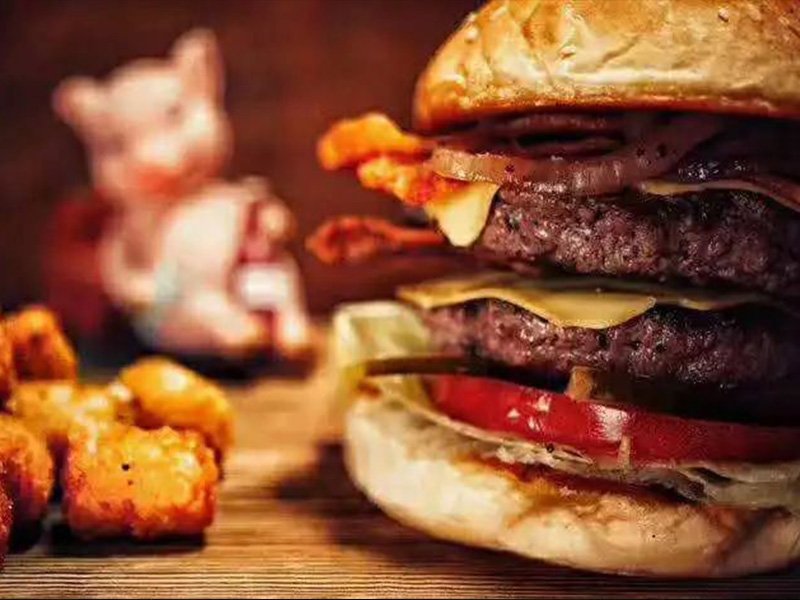 No. 7: 3 Little Pigs by Andy's Craft Sausages
Their must-try burger: Double Bacon Cheeseburger (RMB 98)
3 Little Pigs' double bacon cheeseburger packs a punch. It's made with two American Black Angus Chuck Steak and Wagyu patties, which is topped off with Wisconsin cheddar cheese and their house dry-cured bacon, caramelized onion, and slices of homemade kosher dill pickles.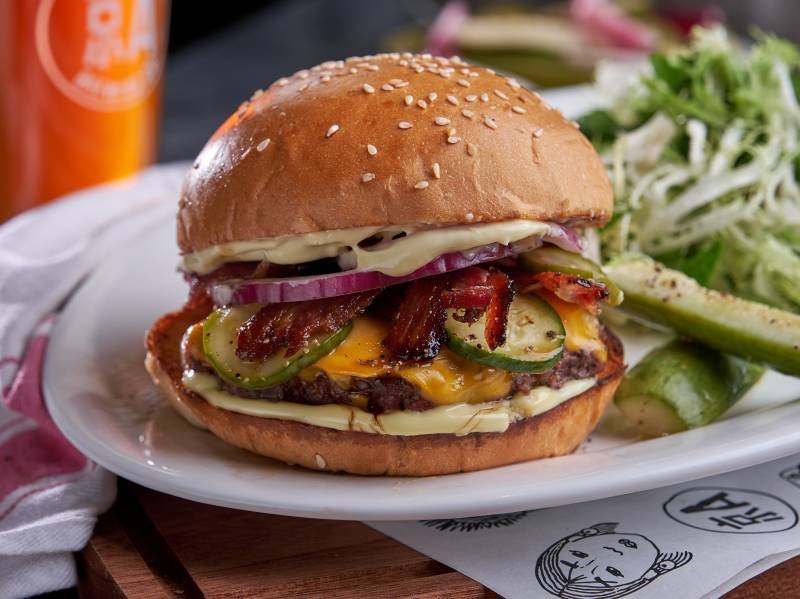 No. 6: Jing-A
Their must-try burger: Stout Bacon Cheeseburger (RMB 85)
This burger pairs well with Jing-A's unique brews. An Australian beef patty smothered in American cheese and a special Black Velvet Stout syrup, topped off with bacon, mayo, red onion, and pickled gerkins.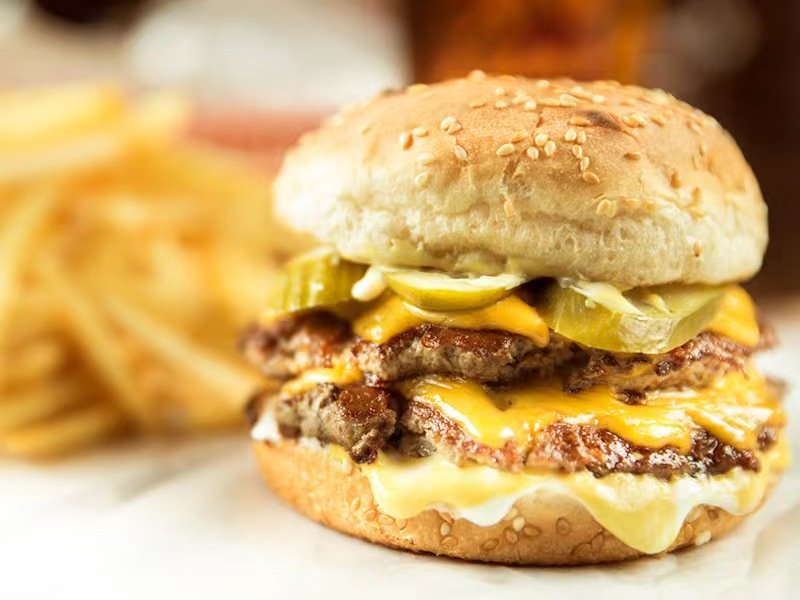 No. 5: Great Leap Brewing
Their must-try burger: The Cheeseburger (RMB 75)
Great Leap's burgers seem simple on paper but always come packed with surprises. Case in point: The Cheeseburger. Two cheese-topped Australian beef patties, a fancy sauce, and house-made pickles between a "soy milk" sesame seed bun.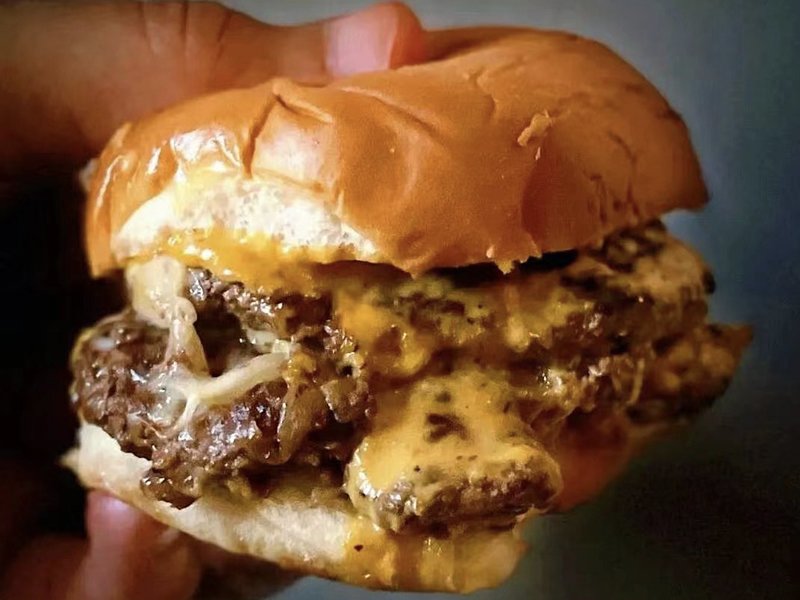 No. 4: Slider Nation
Their must-try burger: The H2 (RMB 165)
Sliders are an art form in and of themselves in the burger world, and Slider Nation does them justice. The H2 is a pack of these burgers – six small Wagyu beef patties topped with cheese, pickles, and a special "crack" sauce, all inside their own fluffy Hawaiian rolls served with a heaping side of duck fat fries.
No. 3: Home Plate BBQ
Their must-try burger: Pulled Pork Burger (RMB 55)
Home Plate's Pulled Pork burger is American South-style barbecue done right. Their signature, juicy, slightly sweet pulled pork gets topped with a crisp and tangy coleslaw on a sesame seed bun. Easy to scarf down and ask for more with this one.
No. 2: Q MEX Bar & Grill
Their must-try burger: Double Burger (RMB 68)
Q MEX has some interesting takes on the burger (chorizo patties anyone?) but we'll place our bet on their classic Double Burger. It features two cheese topped Australian beef patties, mayo, special sauce and a side of coleslaw and fries. Doesn't get much simpler than that.
No. 1: Slow Boat Brewery
Their must-try burger: The Fryburger (RMB 64)
And here are the champions, Slow Boat. The number one Best Burger in Beijing, as decided by you! The Fryburger sees a medium rare beef patty with a slightly pink middle, resulting in a slightly softer bite, all working together with the cheese and the added crisp of the beer battered fries and twang of their signature "ayi-oli" sauce. Definitely worthy of the Best Burger title for a fifth time.
READ: Return of the Champ: Slow Boat Earns Fifth Title with 2021 Burger Cup Win!
Images courtesy of the venues