Carole King's Pandemic Performances From Home Are Beautiful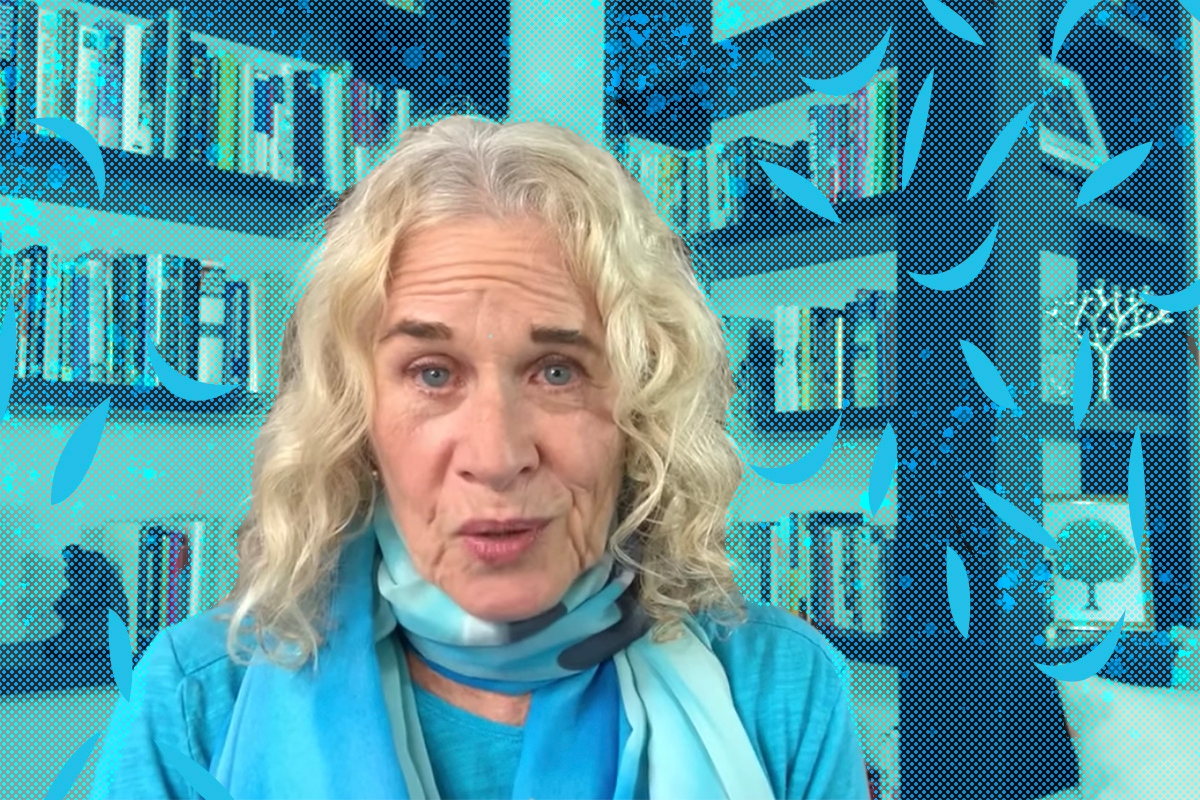 Just in case you missed the memo: Carole King is an absolute legend. The Jewish songstress from New York, who revolutionized the music world with her brilliant lyrics and incredible voice — and who has written and co-written more than 100 billboard top songs —  is still just as fierce and inspiring at 78 as she ever was. (Not that we ever had any doubt about that!)
And now, the Jewish musician (and mom of four) is using her incredible gifts to bring us some light and beauty during the coronavirus pandemic.
Since the shelter-in-place orders began, King has been recording videos of her gorgeous songs, changing the lyrics to reflect our current reality. Each video starts with a sweet message from King. Now, I've never been fortunate enough to see this legend perform live, but there is something so sweet and human and touching about these messages — she looks directly at the camera and even though we know she's at home, it truly feels like she's talking to all of us.
These spoken messages are enough of a gift — dayenu!  But then, she belts out her songs and it is just transcendent. Her vocals give me chills, and, yes, at times, they have even made me cry.
She started the series of in-home performances on March 30, with "So Far Away," from her iconic second studio album, "Tapestry." It's a song that, just as it was written, truly captures how hard it is to be distanced from our loved ones right now. That's true even for those of us who may live in very close proximity to their extended family or BFFS, but, thanks to social distancing, they all feel oh so far way.
Nonetheless, King gave her new version a special 2020 touch: She changed the lyric "Doesn't anybody stay in one place any more?" into "Everybody has to stay in one place any more."
Watch it and prepare to be moved — and don't miss the beautiful silver menorah behind her!
In a second performance, King starts by talking about how she's thinking of all those who have died, and all those who have lost a loved one at this time, and about how sorry she is.
"I sometimes don't know how to express myself in words, but I can often find the song," King says, and sings a song from the movie A League of Their Own, called "Now and Forever." She sings, "I miss the tears, I miss the laughter," and it is enough to give anyone goosebumps:
In another video, King is wearing a beautiful blue colorful scarf as she sings "Home Again," also from Tapestry. "I've got a song on my mind. It's a song with a lyric that isn't really germane to our situation right now, at the time it's being recorded, we're all staying home, but I thought I'd have a little fun with the lyrics."
She adds: "I also want to take this opportunity to thank all the people who are going into a job every day or every night or both to keep the rest of us going, it means so much, and thank you, just from the bottom of my heart, and I know you all join me, if you're not one of these people. If you are one of these people, stand back and accept our thanks and take a break for a second — just feel the love."
I can't imagine a more perfect message — you can really see that it comes directly from her heart. And then, King opens the song with some updated lyrics: "Sometimes I wonder if we're ever not gonna be home again."
King ends the video by saying, "Take care of yourselves, and take care of each other." And just in case you're not a puddle on the floor after hearing her sing this song, King also tells us all "I love you" in a way that is so moving and disarming.
Of course, King also gave us a cover of "Beautiful," dedicated to everyone feeling isolated right now. "If you live alone and feel alone, you are not alone, in your solitude you are making the world safer and better and you are helping others," she says. "And we are so grateful, we want you to remember that you are resourceful, you are strong, and you are beautiful."
Then she belts out her most iconic song:
And you are beautiful too, Carole! Thank you for sharing with us your earnestness and the gorgeousness that is your voice.
The post Carole King's Pandemic Performances From Home Are Beautiful appeared first on Kveller.