Channel The White Lotus Season 2 With These High-End Vacation Looks
Welcome to Travel Week, a seven-day stretch where we celebrate our wanderlust with the best buys on everything from stylish packing cubes to keep you organized to once-in-a-lifetime vacations. Whether you're planning a local staycation or traveling across the world, adventure awaits. Away we go!
Unless you've been living off the grid for the last couple of years (kudos if you have), then you've definitely heard all of the buzz surrounding The White Lotus. The popular HBO Max show departed Hawaii for the Mediterranean in the second season, following guests, hotel employees, and locals — and how their wild lives intertwine during their stays at The White Lotus resort in Sicily, Italy. And as much as the stunning seaside and countryside landscapes are a vision, the characters' vacation wardrobes play just as big of a part in making the show a marvel to watch.
In the second season, each character approaches vacation style in their own unique way, whether striving for European opulence and quiet luxury or channeling quirky Y2K fashion and nightlife style. The female characters especially each have awe-inspiring styles with their flowy maxi dresses, statement sunglasses, and jaw-dropping swimsuits. So if you've found yourself furiously scouring the internet for Dolce & Gabbana dupes to look as luxurious as Jennifer Coolidge's iconic character, Tanya, or for funky crocheted pieces to mix and match like her assistant, Portia, we don't blame you. In fact, we're actually here to help you!
We've curated a vacation outfit style guide to help you channel your inner White Lotus guest. Whether you want to dress like the show's tourists or locals (and whether you'll be vacationing in Sicily or traveling to literally anywhere this summer), you can take inspiration from The White Lotus fashion. Scroll on to find near-identical clothing, accessories, jewelry, and shoes to the ones seen in the show to recreate your own White Lotus outfits. Some spoilers ahead!
Daphne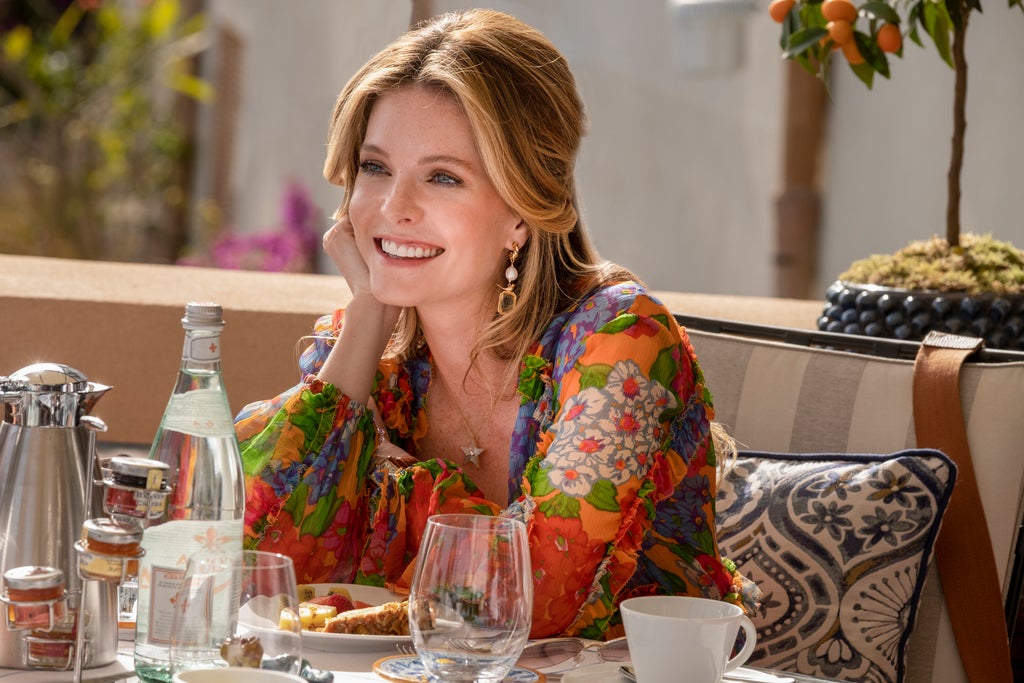 The second season of The White Lotus opens with bubbly hotel guest Daphne raving about her stay while relaxing on the beach in a printed yellow one-piece swimsuit. This foreshadowed her equally colorful and whimsical style throughout the season. Channel Daphne by attending dinners in bold printed maxi dresses, slinking around the seaside in beautiful sarongs, and topping off elevated looks with statement jewelry.
Portia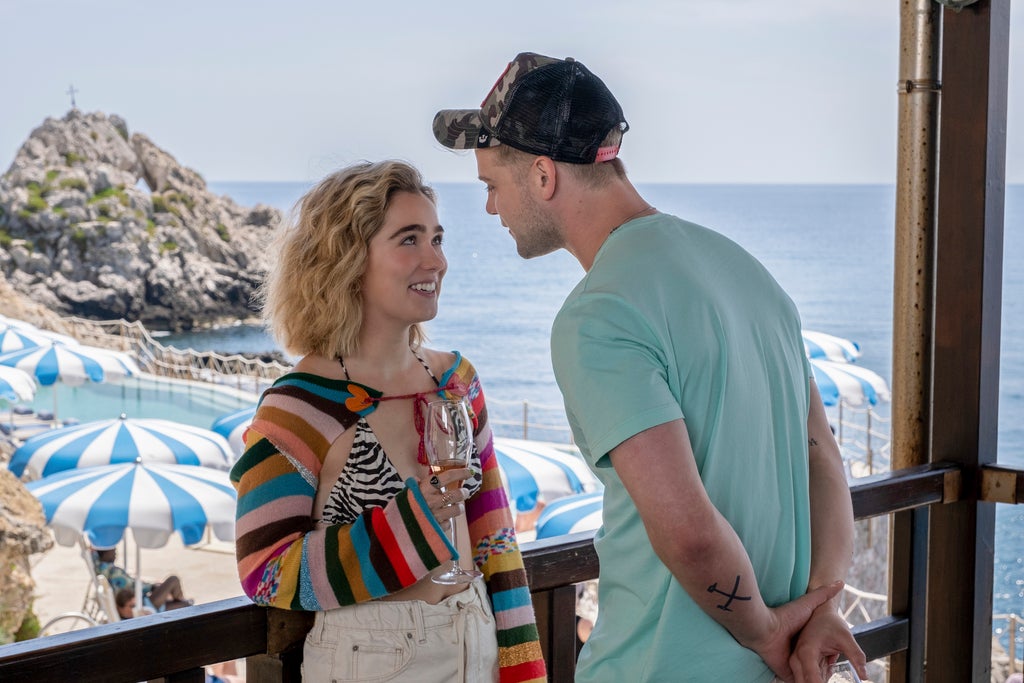 Portia's outfits caused quite a stir on the internet since she mixed and matched a ton of prints, textures, and pieces that seemingly don't go together. While her Y2K-meets-grandmother aesthetic may be wacky, it's definitely charming. And you can take on aspects of her Gen Z vacation wardrobe by styling crocheted and knitted pieces, embracing color, and sticking to trustworthy walking sandals. Embrace your wildly fun and playful look, and enjoy.
Harper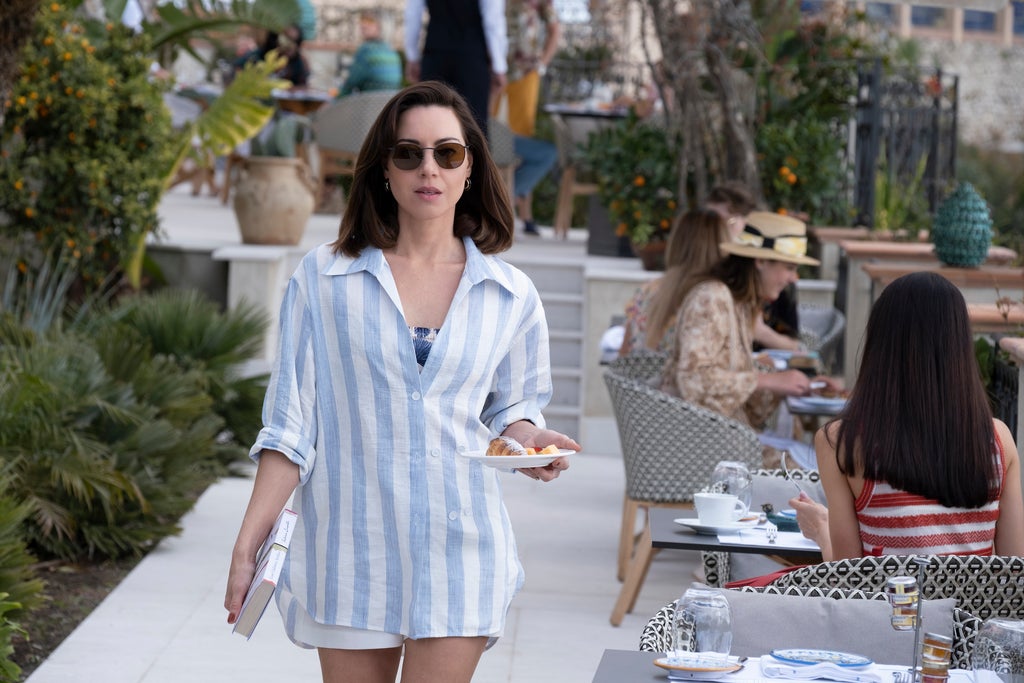 Harper may have the tamest White Lotus style, but that may be quiet luxury oozing from her. She opts for basic pieces like oversized button-down tops over itty-bitty bikinis and simple linen dresses. Her wardrobe also mostly consists of vintage pieces, so go thrifting or look out for retro silhouettes and details to pull off her effortlessly chic wardrobe. You can also use a bandana as a neck scarf or a headband to recreate some of her iconic looks.
Tanya
Tanya openly channels Italian actress Monica Vitti and her classic '60s style. Her grand, theatrical outfits have romantic details like flowy sleeves, tulle, and plenty of florals. Overall, she doesn't do "casual" and is always put together. If you also want a super glamorous vacation wardrobe, wear bold printed long-sleeve dresses, throw on a cape for a dramatic opera moment, and stay mysterious behind a pair of oversized Versace-lookalike sunglasses.
Lucia
Lucia is bold, fiery, and seductive, which is perfectly reflected in her clothing and accessory choices. The Sicilian local tends to wear low necklines and short hemlines. And after gaining an impressive sum of money from a father-son duo staying at the hotel — and unlimited access to their credit card — Lucia shops until she drops. Throw on some cat-eye sunglasses and a gold charm necklace to elegantly bask like she does.
Valentina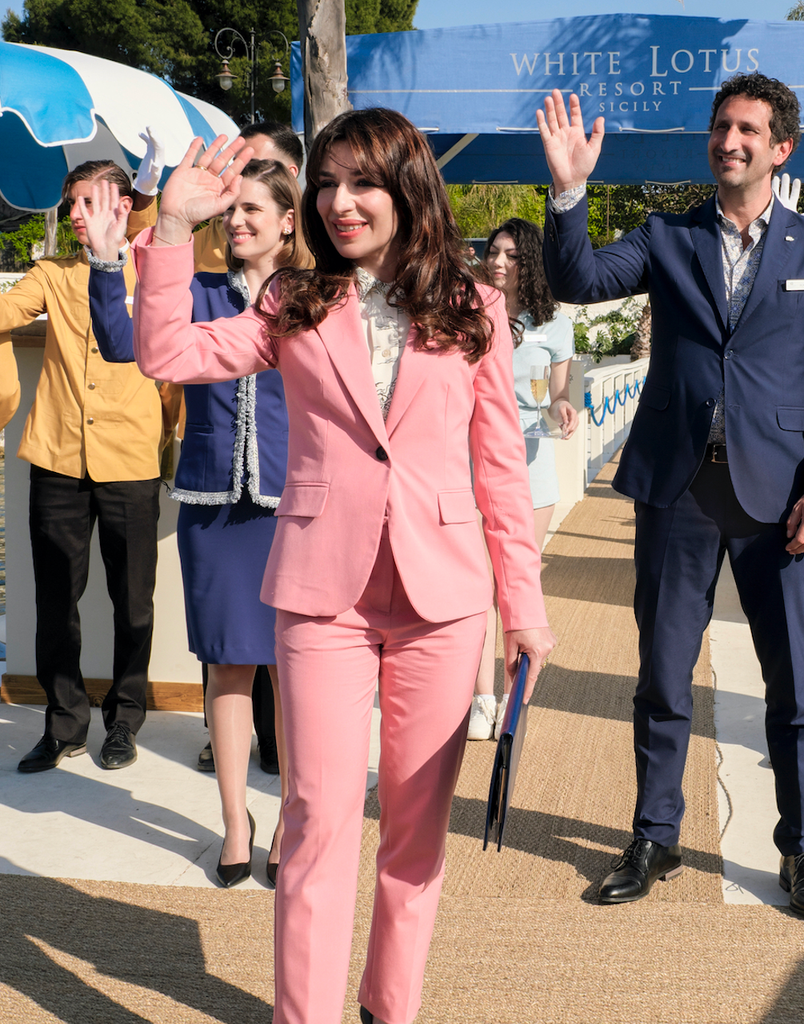 Valentina is The White Lotus' hotel manager and always does her job in impeccable style. She usually wears bright monochromatic suits with a fun printed shirt underneath, always with a pair of pristine pointed heels. To mimic her professional style with a more vacation-appropriate feel, try swapping trousers for tailored shorts or go for two-piece sets. And if you want to feel like a boss, we've got you covered with a mini briefcase purse.
Mia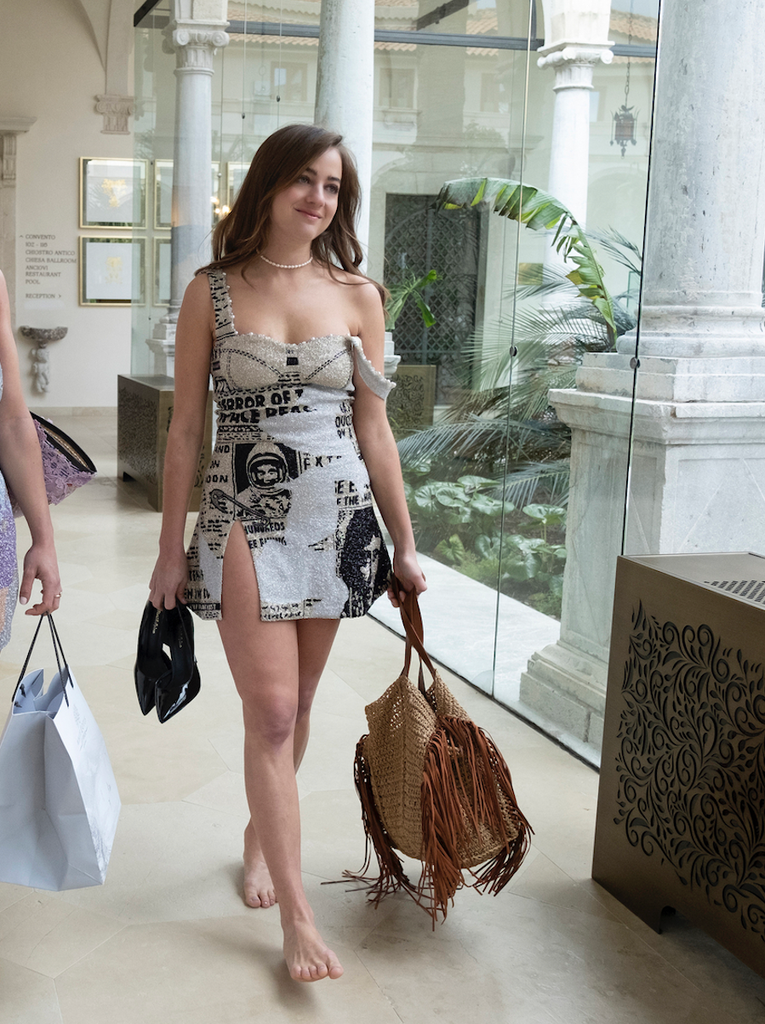 While viewers may think Portia's outfits are chaotic, I think Mia has her beat. During the day she goes for oversized cut-off tops and sweatshirts; at night, she wears cocktail dresses to finagle her way into singing at the hotel. She also usually carries a large straw tote bag to hold all of the free goodies she and Lucia acquire. And while she's typically barefoot, she wears a pair of bright orange espadrilles at one point that we'd happily walk cobblestone streets in.
At Refinery29, we're here to help you navigate this overwhelming world of stuff. All of our market picks are independently selected and curated by the editorial team. All product details reflect the price and availability at the time of publication. If you buy something we link to on our site, Refinery29 may earn commission.
Like what you see? How about some more R29 goodness, right here?
5 Chic Outfits To Wear On Your Next Vacation
The Best Shoes For Traveling, According To Experts