Cross Country Skiing with Kids
Cross-country skiing with kids is a great way to get outside in the winter months, explore your area, and get physically active! And it's easier to get started than you might think! Today, Executive Team member and California mom of three, Araceli Gonzalez, is here sharing her family's recent experience cross-country skiing for the first time! Araceli's family took a cross-country skiing lesson with the experts at Wylder Hope Valley and is here passing on all the great tips and advice they received to you! 
*This post was sponsored by Wylder Hope Valley. Activities and accommodations were exchanged for review purposes. All opinions expressed and all photos contained herein belong to the author.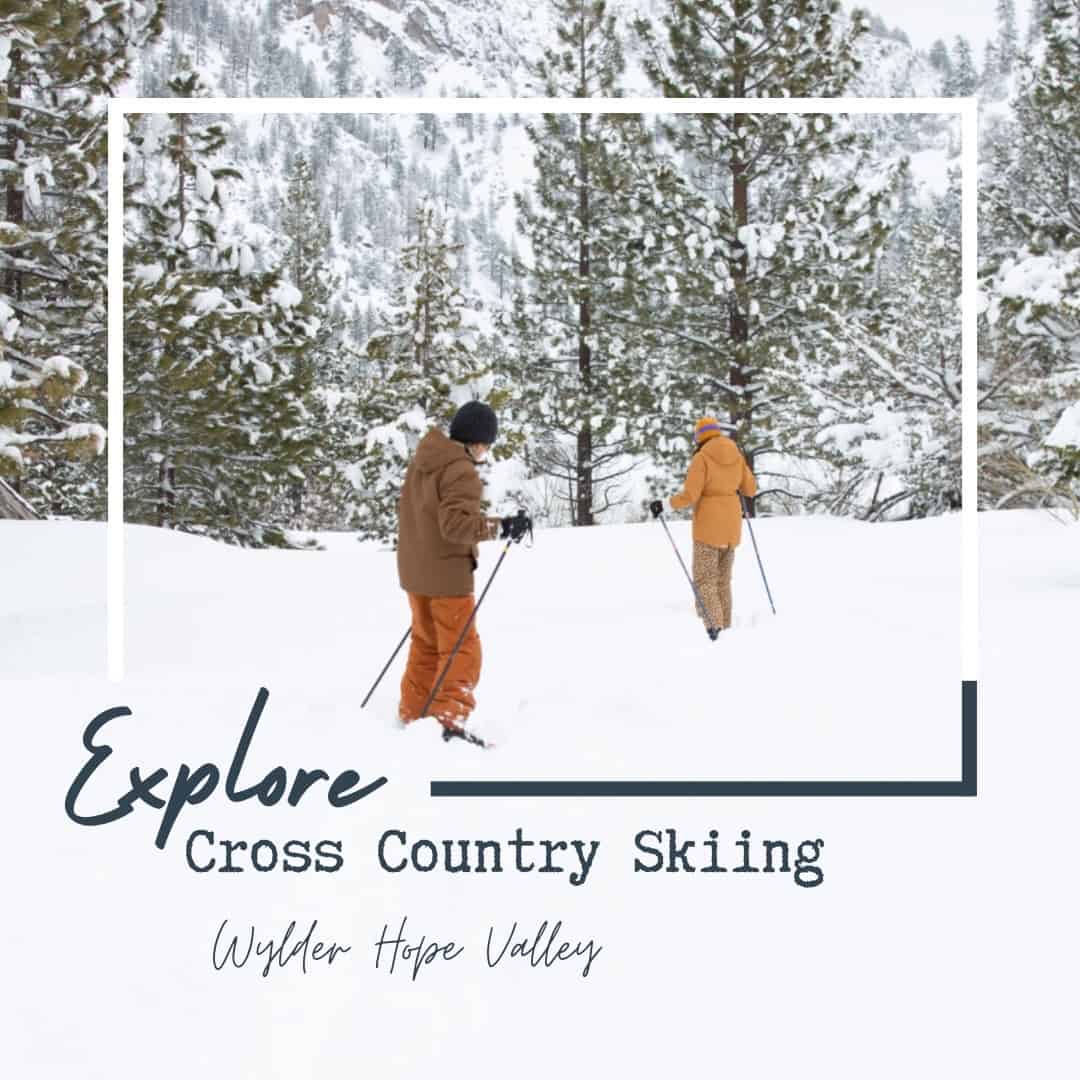 Cross-country skiing with kids
Are you looking for a fun way to get outside, explore, and be active with your kids during the winter months? Looking for an activity that is accessible to beginners and does not require much gear to get started?  Well then, we have a great option for you!
Cross-country skiing with kids is such a great sport to try this winter.  With very little (or no!) experience, this is a great winter outdoor activity for children and a great way for the whole family to explore during the cold winter months together!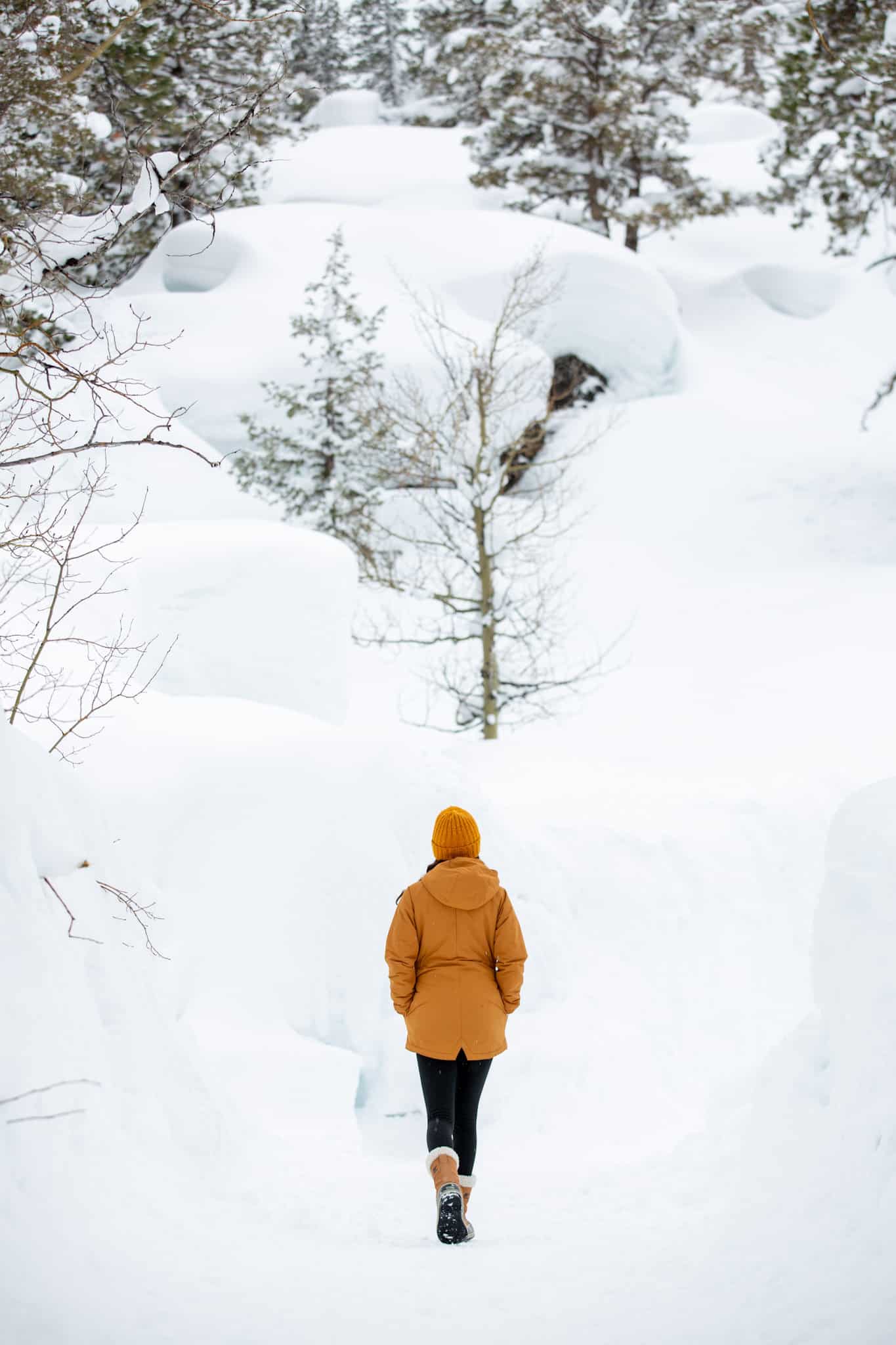 What is cross-country skiing?
Unlike downhill skiing, cross-country skiing involves gliding across relatively flat terrain, relying on your own power and strength to move yourself from point A to B. The classic style of cross-country skiing entails shuffling your legs back and forward (as if you're running). The more-complex skating method involves moving your legs side to side in an ice skating-like motion. 
Cross-country skiing is a sport you can try on your own, with a friend, or take lessons from a professional instructor.  Most ski resorts offer cross-country ski rentals, coupled with lessons. Cross-country skiing is definitely less daunting than traditional downhill skiing or snowboarding, more affordable, and much more accessible. 
Benefits of cross-country skiing for kids
Cross-country skiing is a low-impact sport and an excellent form of cardiovascular exercise. Sliding across snow-covered trails is much more strenuous than it looks! Cross-country skiing works every single muscle you have and helps improve balance, coordination, and agility. 
Cross-country skiing is also an activity that's easy to pick up at any age and can be done together as a family. It's a great way to get outside and explore together during those cold dark winter months when kids can really benefit from fresh air and physical exercise. The mental benefits of spending time outside also apply, such as a reduction of stress and anxiety.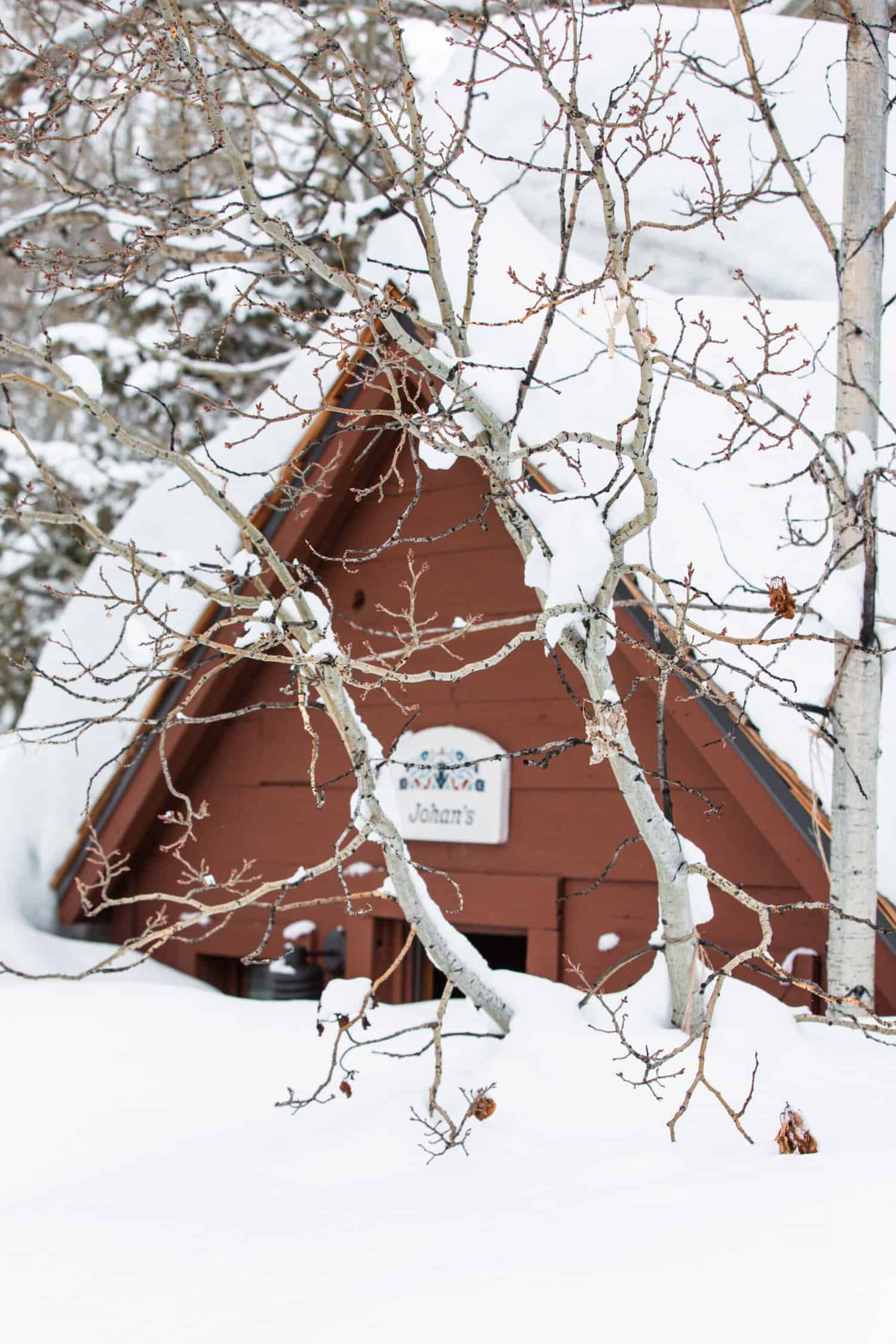 Wylder Hope Valley
We had the opportunity to visit a beautiful resort that offers cross-country skiing sessions, along with many other family-friendly winter activities.  We love to discover destinations where access to adventure is easy for the entire family. Let me introduce you to Wylder Hope Valley; it is an all-season resort tucked away in the Sierra Nevada Mountains in Alpine County, California, right in the middle of Hope Valley.
Alpine County (and Hope Valley), is only a 20-minute drive from South Lake Tahoe, but it feels like you're in another world. This majestic area will take your breath away. Located on the eastern slope of the Sierra Nevadas, northeast of Carson Pass, Alpine County is California's least populous county. The US government owns 96% of Alpine County, the highest percentage in the state, including 3 national forests: Eldorado, Stanislaus, and Humboldt–Toiyabe. And because of its sparse population, Hope Valley is one of the best places in all of California to stargaze!
Located along the banks of West Carson Fork River and nestled in a grove of aspen trees, Wylder Hope Valley offers a variety of lodging options, such as cabins, traditional campsites, RVs, and custom yurts. Most of the adorable cabins were brought in from around the world, themed, and impeccably outfitted.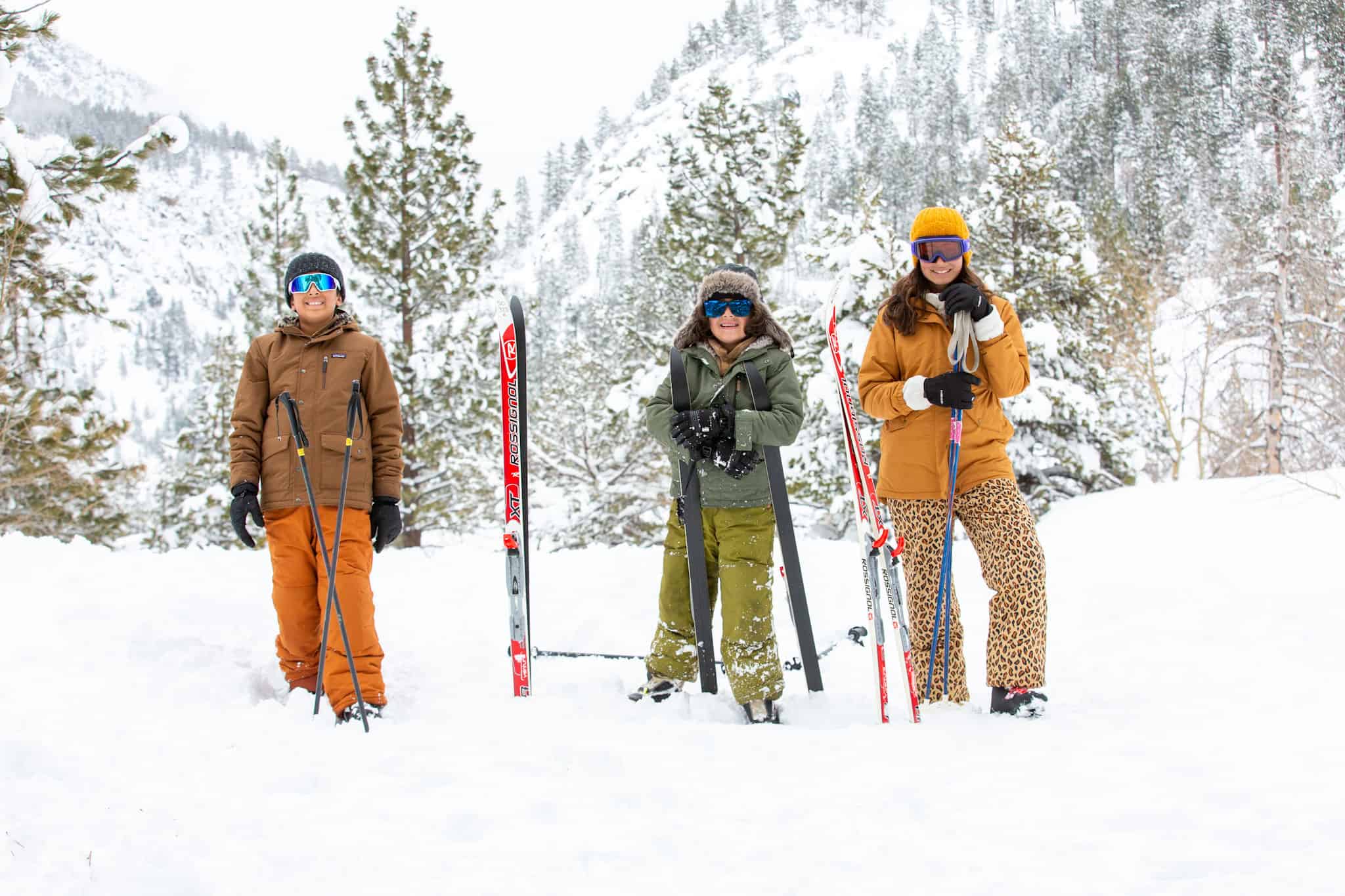 Cross-country skiing with kids at Wylder Hope Valley
Wylder Hope Valley offers wonderful activities for the whole family all year long! Enjoy fly fishing, wildflower hikes, and mountain biking during the spring and summer months.  Hope Valley is a popular destination in the fall for its picturesque autumn colors and aspen groves.  You can explore the area's gorgeous trails and fall colors, taking in views of all the beautiful aspen trees and fall foliage. 
In the winter, the area turns into a literal Winter Wonderland! You will find amazing views and snow-capped mountains, wide-open valleys, and pristine rivers. During the winter months, snowshoeing and cross-country skiing are popular activities. 
We took advantage of all the snow we've gotten and decided to give cross-country skiing a try! We booked a lesson through Wylder to learn the basics, which we're now passing on to you! Joyce and Todd manage the ski shop and have over 30 years of experience skiing and teaching. Joyce set us up with the equipment we needed, and we were on our way!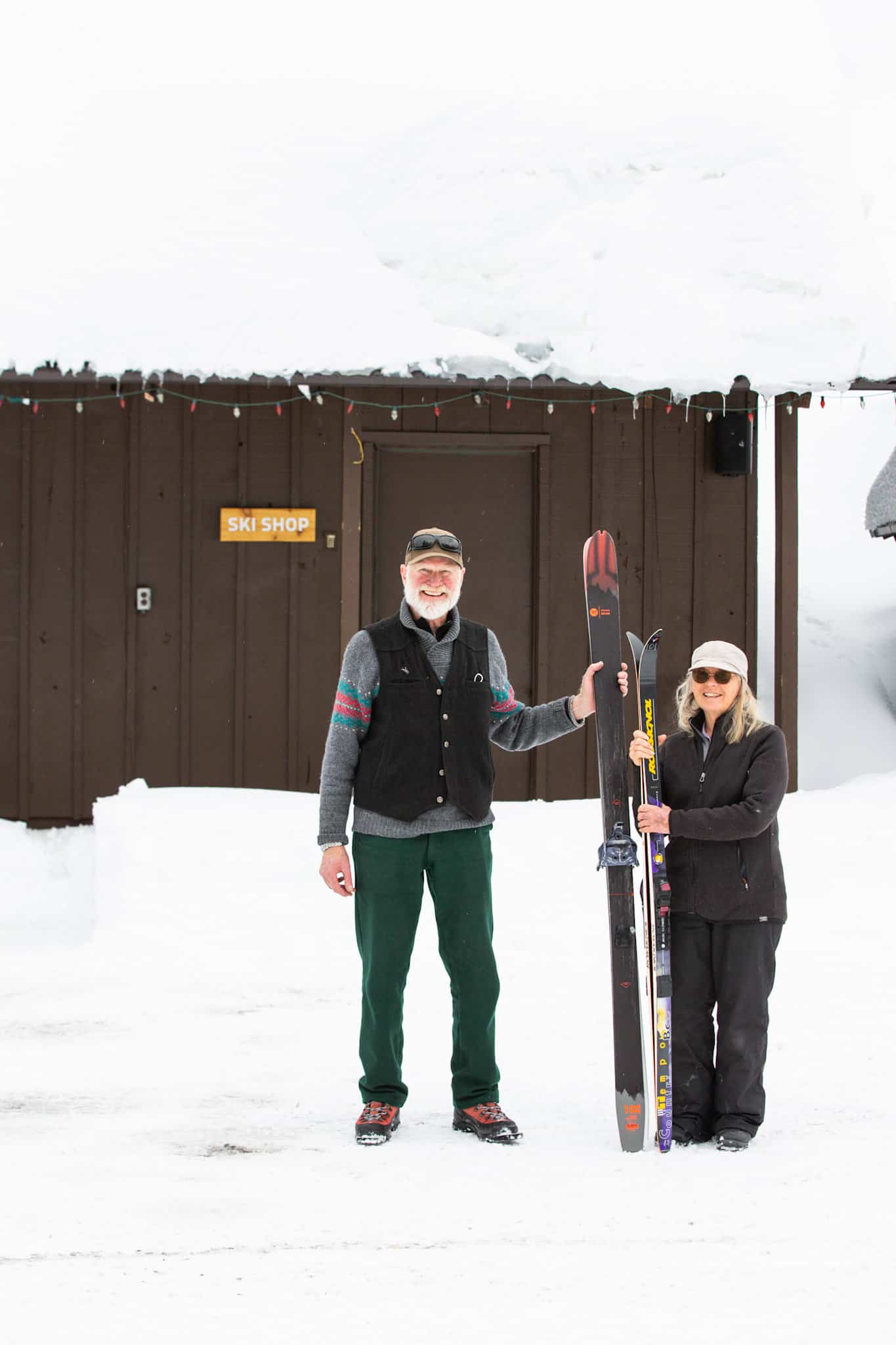 What you need to cross-country ski with kids
You will need the following gear and equipment to cross-country ski:
Skis – two styles, classic or skate (see below)
Boots – must be compatible with your skis 
Poles – it is important that they are sized correctly 
Base layer – made for snow conditions 
Snow jacket and pants
Warm socks
Waterproof gloves – when skiing with kids, warm hands and feet are of most importance 
Eye protection (sunglasses/ski goggles) – really important even on cloudy days
There are two styles of cross-country skis, classic and skating. We opted for classic skis, these are usually made for trails that are already groomed, and you move them in a similar motion like walking or running.  Skate skis are made to move faster and at higher speeds.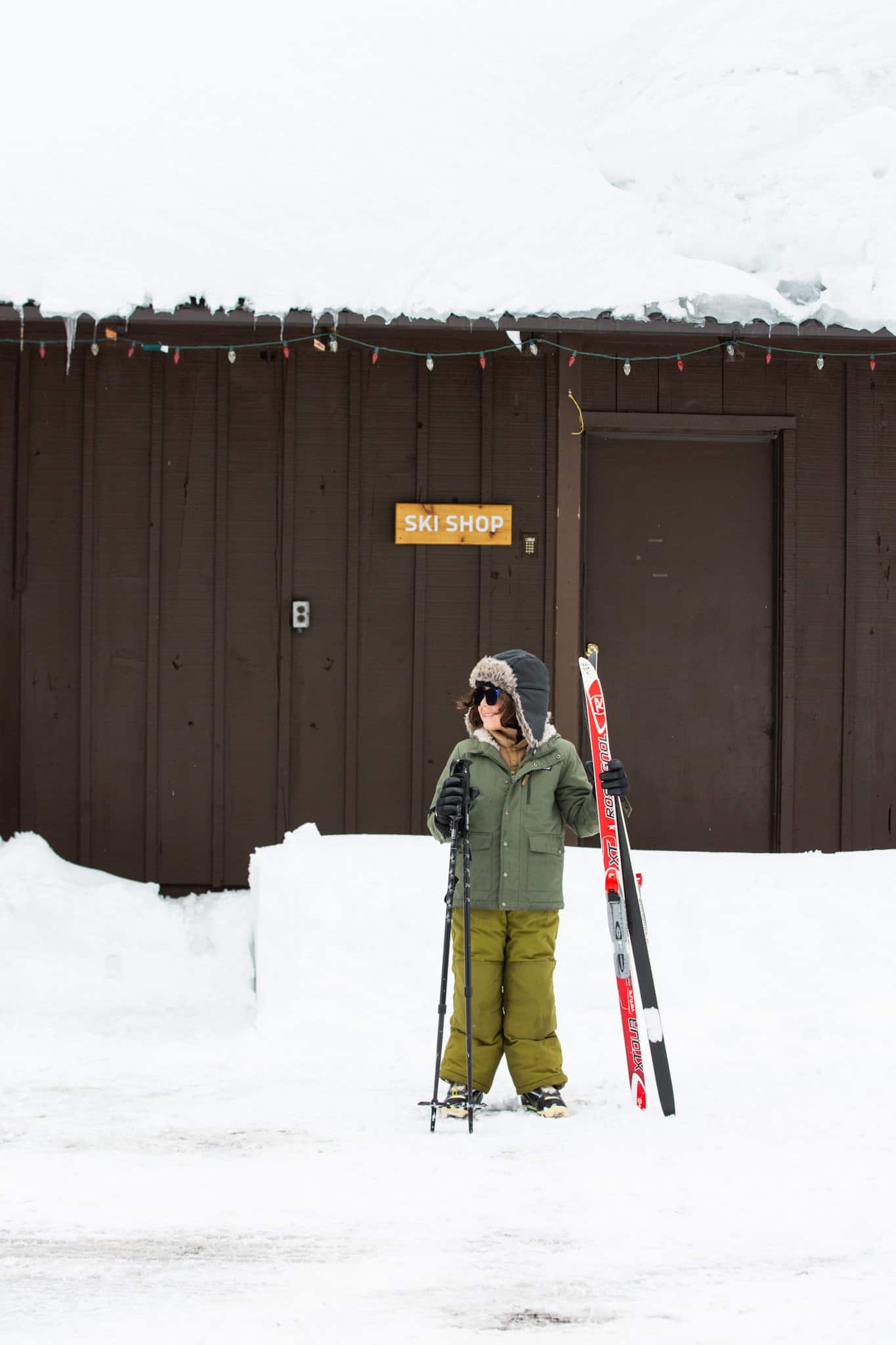 Dress for the weather
It is important to dress in layers that you can remove as you move through your session.  It's very cold when you're just getting started, but by the middle of the session, our kids were ready to strip down to their base layers.  It is quite a workout, and you will work up a sweat! We highly recommend a good merino wool base layer because it's naturally breathable and can absorb large quantities of moisture (so you don't feel wet and cold). 
When it's cold outside, your child's head, ears, hands, and feet are most prone to cold exposure. Extremely cold weather can cause two potentially serious conditions: hypothermia and frostbite. To ensure they stay toasty and warm, make sure you have heavy socks, waterproof boots, waterproof gloves, a scarf, and hat, and/or ear muffs on hand depending on changes in weather. For older children and toddlers, gloves are needed when the weather is 40°F or lower.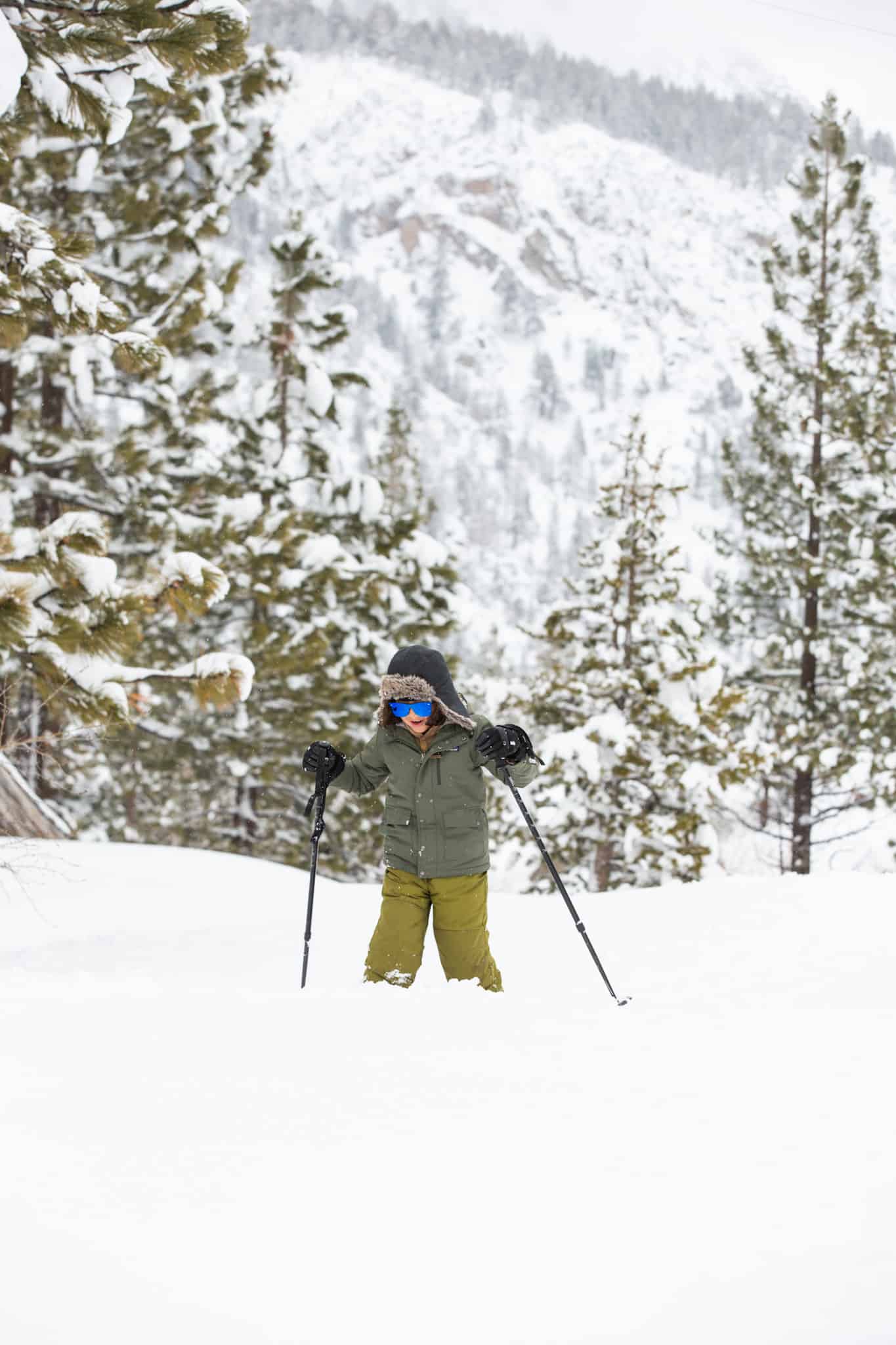 Additional items to pack for cross-country skiing
Here are a few extra things to consider bringing with you when skiing with littles.  We brought along a backpack and carried a few extra items that came in handy during our session.
Snacks 
Sunscreen – even on cloudy days
Hand and feet warmers 
Water 
Phone 
Extra change of clothes – which you can leave in the car to change into afterward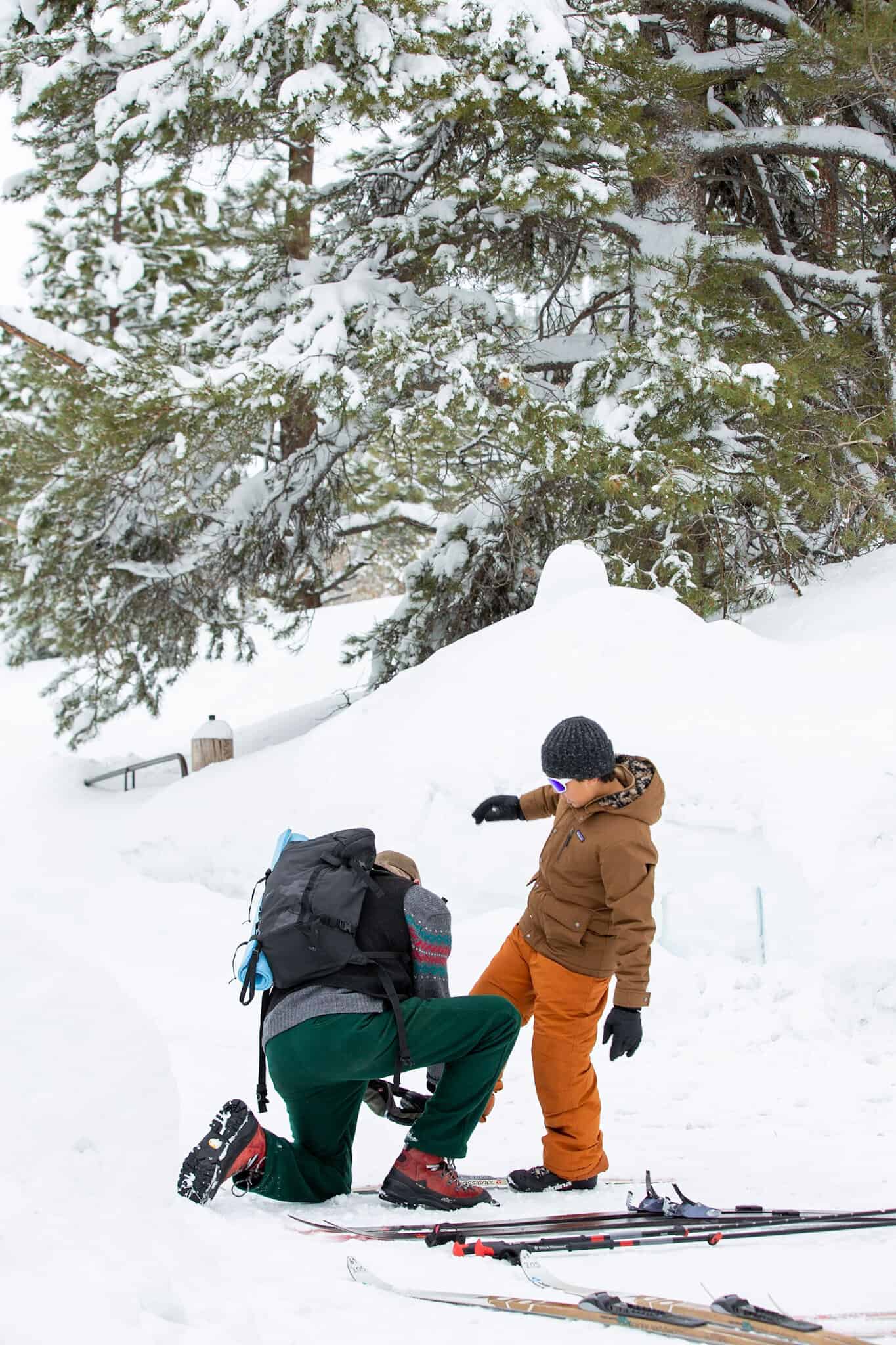 Cross-country skiing basics
Todd, our amazing instructor, was super patient with us and gave the kids plenty of time to play in a flat area to familiarize themselves with their skis before we got started. We then moved right into the lesson and started working on the basics of cross-country skiing.
We started by learning how to put on the skis and move around on skis, making our way around a flat area. The kids practiced shuffling around and walking back and forth to get a feel for how the skis move. Similar to downhill skiing, balance is very important when cross-country skiing.  We learned how to shift and move our weight correctly so that we could move in the direction we wanted and use our weight to our advantage. 
Next, we learned how to use our poles. Our poles were strap-wrapped around our wrists correctly to avoid getting tangled up or lost. If you have little kids (under age 8), you might even start them out without poles. Sometimes poles just get in the way for younger kids who are just learning how to balance and move around. 
Finally, we learned how to fall (and get back up again). Practicing this makes falling into less of a fail and more of a game.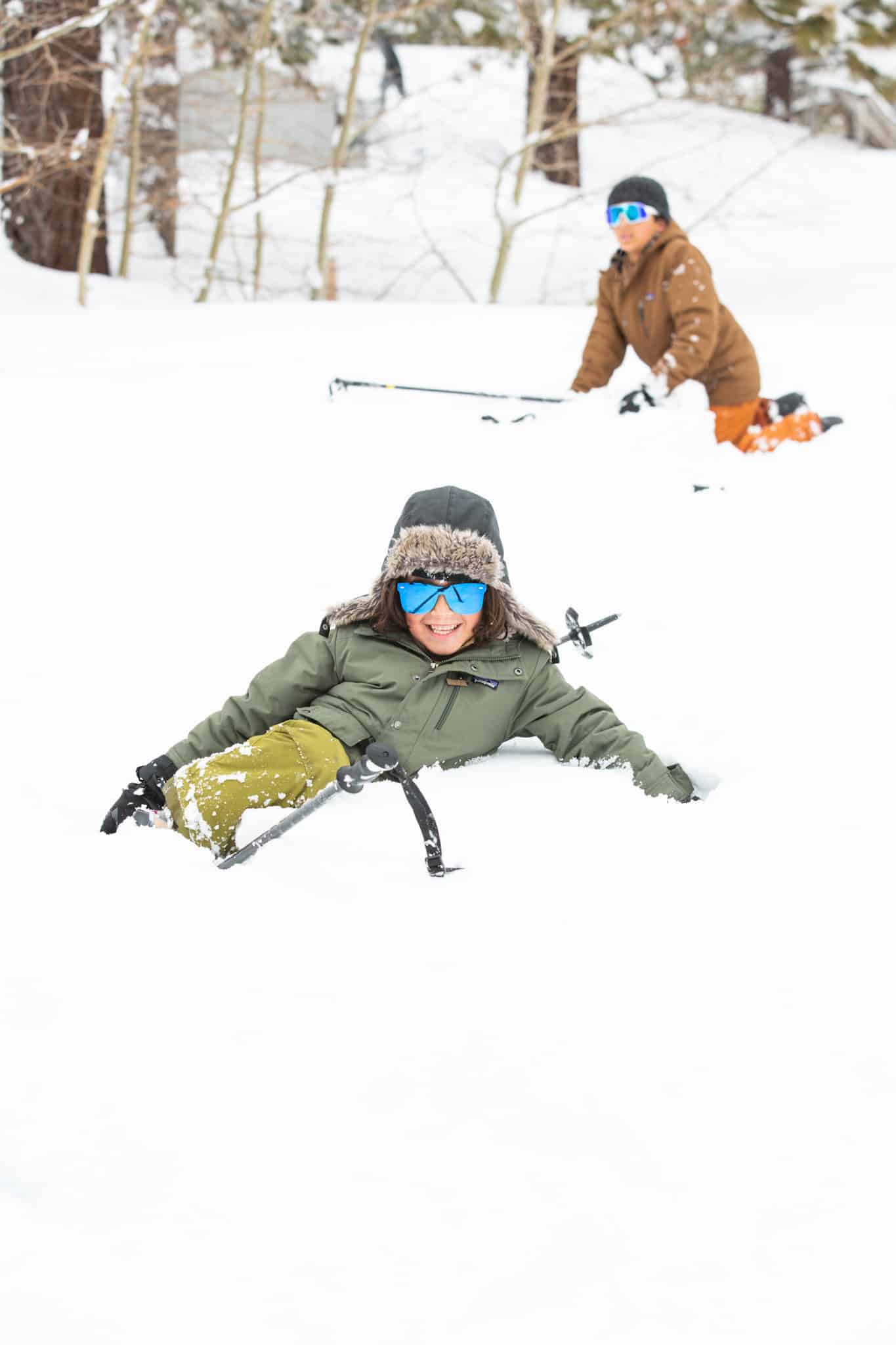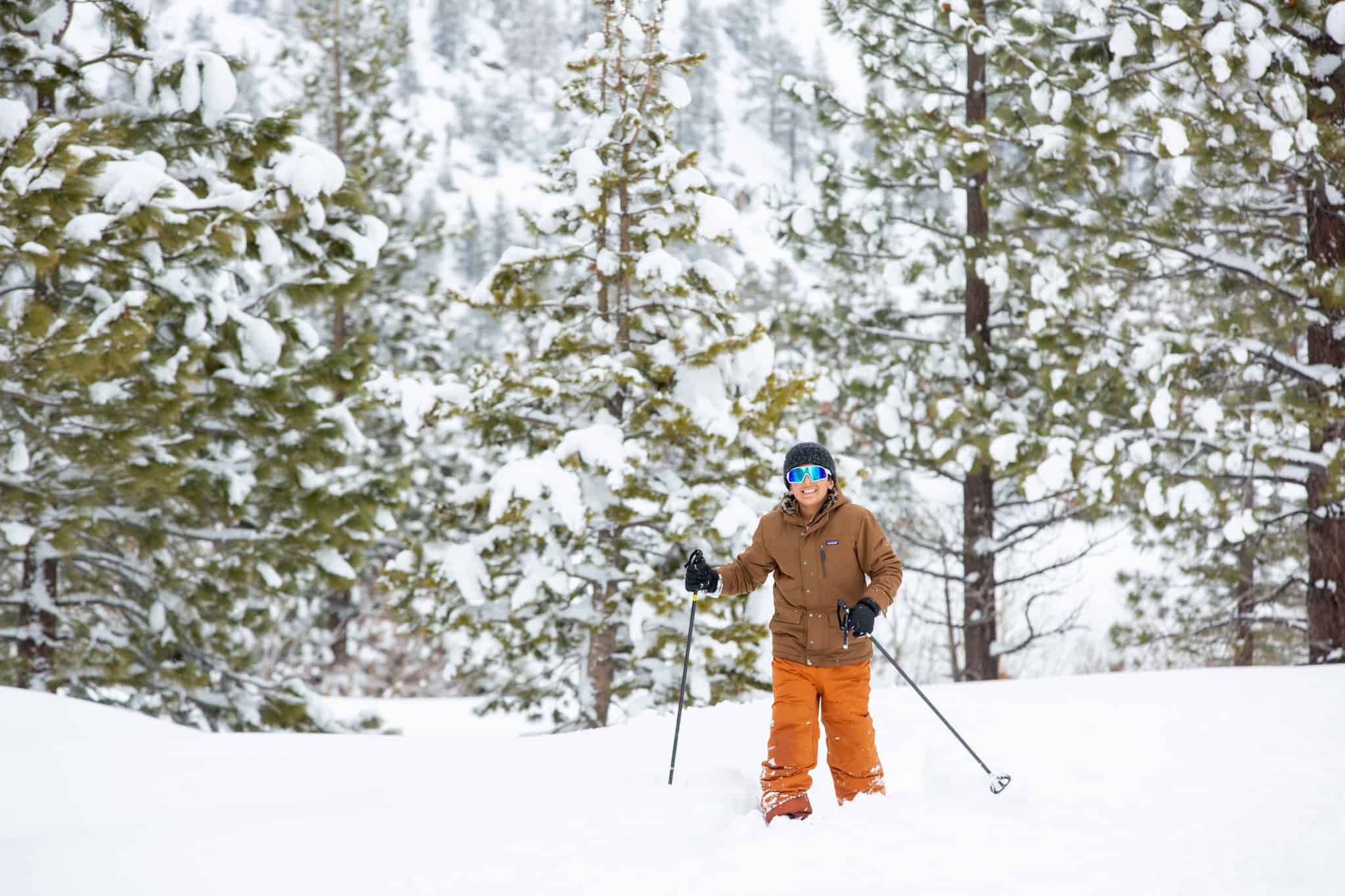 Hitting the cross-country trails
Once we had the basics down, we set out along some groomed trails.  The kids got the hang of it pretty quickly.  The most challenging part was getting up after a fall, but after a few times, they mastered the skill.  They made their way through pretty deep snow-covered trails.  It was definitely a workout, and by the end of our adventure,they were completely exhausted! (I call that a win!)
There was an incredible amount of snow on the ground due to recent storms, so it was pretty difficult to move through so much fresh snow. However, we managed to learn the basics and still had so much fun. We didn't even mind the cold weather.  The mountains, the fresh air, and something about being out in the middle of this valley made this such a memorable experience. We can't wait to come back again and put our new skills to good use!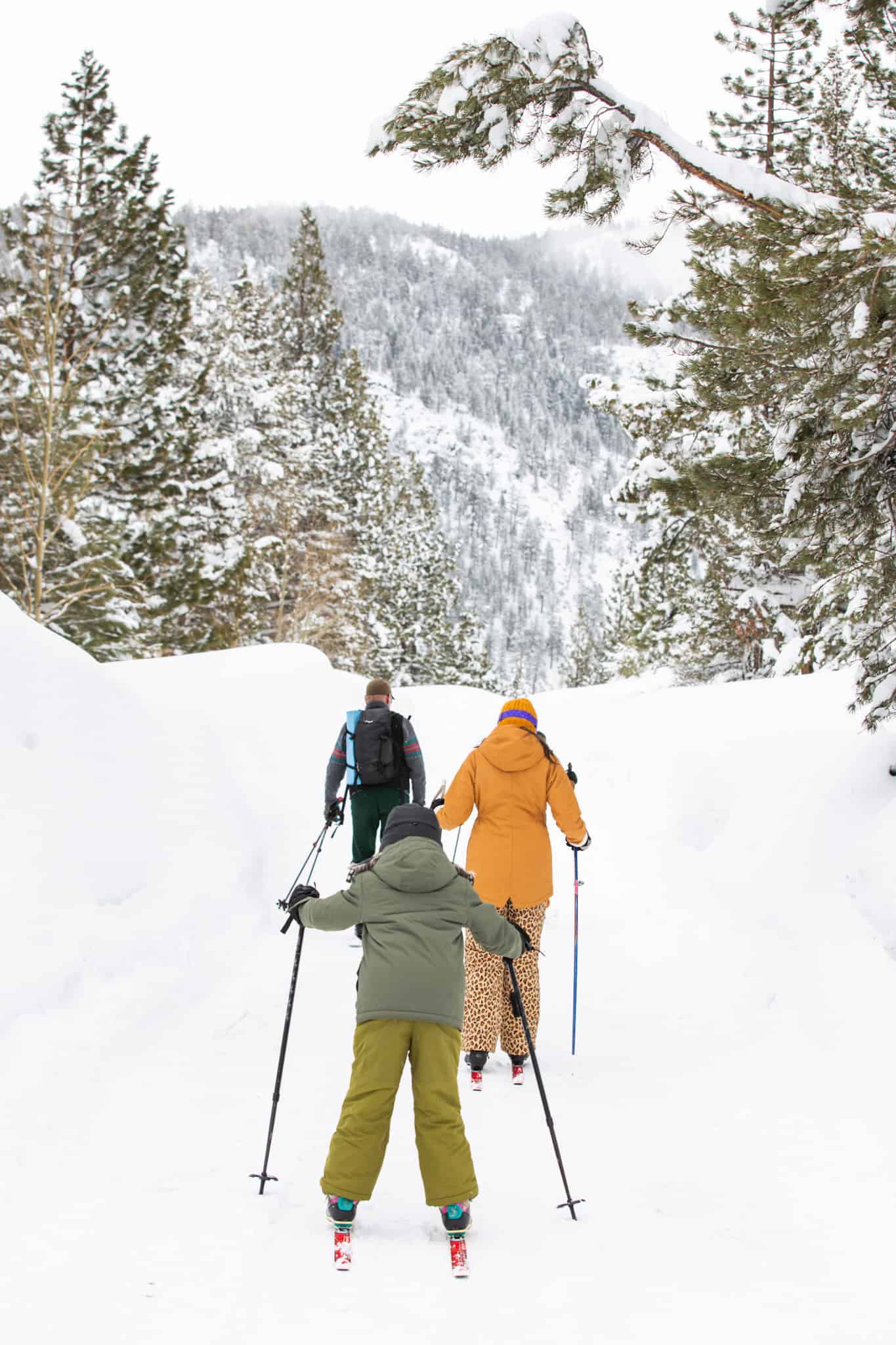 Cross-country skiing safety 
When you're heading out into the elements with kids, it's really important to take weather and snow conditions into consideration. Check weather information ahead of your trip and continue to do so the day of. Selecting the right area for skiing is key.
Choose an area that matches your skill and comfort level.  Staying on groomed trails is a much safer option; only experienced skiers should venture out into backcountry trails where the risk of going off trail is higher.  As a beginner, it is important to stick to areas that are marked and closely monitored.  While it is a pretty low-risk sport, and almost everyone can enjoy it, it is important to know our limitations.  
Ultraviolet radiation is something to consider and, therefore, it's super important to wear eye protection and sunscreen.  
Last, consider animal safety and familiarize yourself with the area and carry appropriate safety items such as bear spray.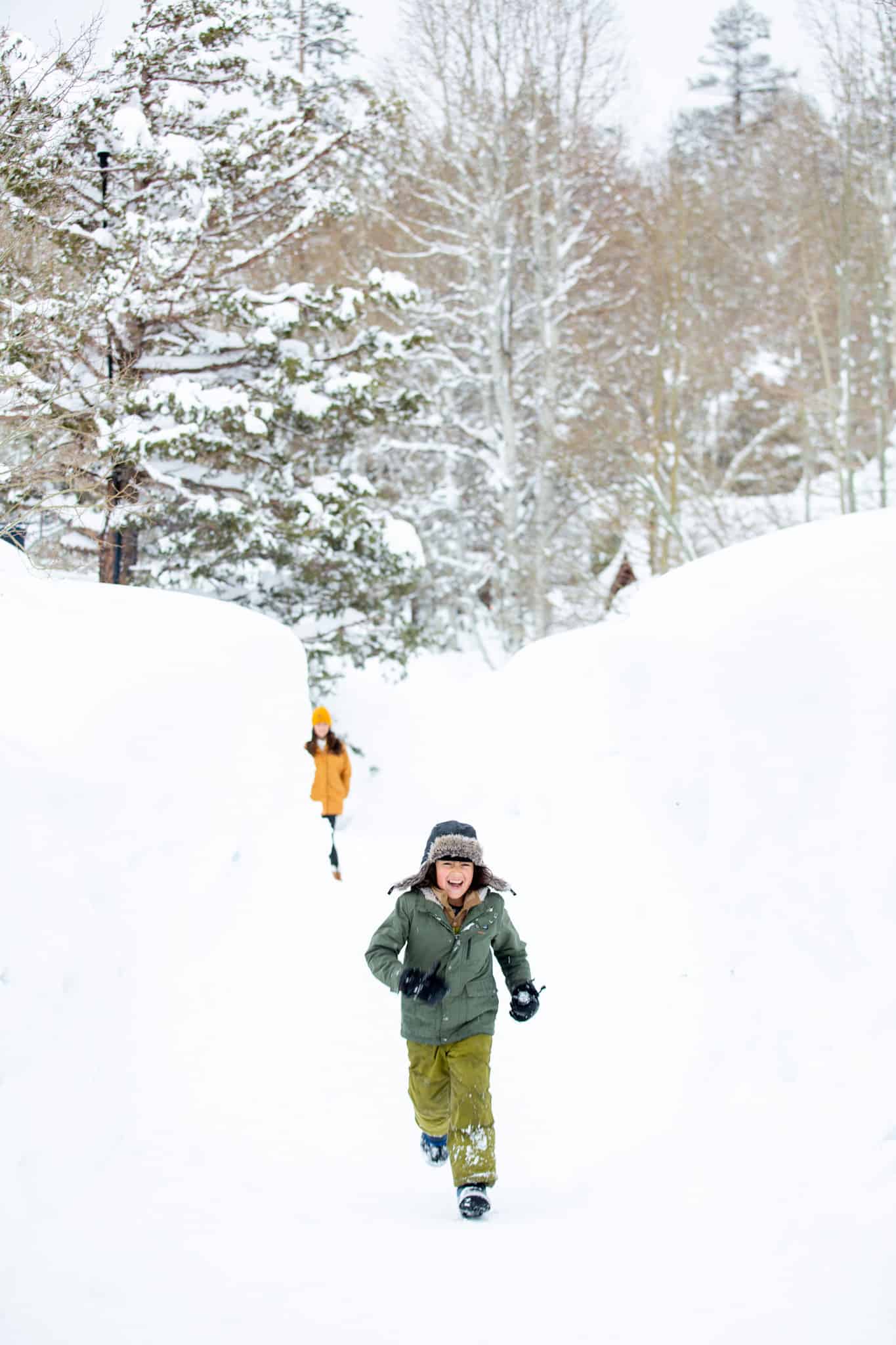 After skiing fun at Wylder
After a full day of adventure, we went back to our cabin at Wylder to relax and unwind.  Whether you are looking for a cozy rustic log cabin, a camping weekend, or a glamping experience, you will find it at Wylder! We enjoyed the most amazing dinner onsite at Sorenson's Cafe, which offers seasonal home-cooked meals all year long. Their homemade tomato soup hit the spot after a cold day out!  We picked up a cherry pie from the General Store (right by the Ski Shop) and enjoyed it by a cozy fire back at our cabin. 
Like so many families, we are constantly seeking out wild destinations where adventure is easily accessible.  We love places where it is easy to get outside, create memories and disconnect in nature; Wylder Hope Valley offers that and so much more. We have now added a new activity to our skill set and look forward to returning to Hope Valley to put our new skills to use!
Wylder Hope Valley
1425 CA-88
Hope Valley California 96120
Phone: 530-694-2203
guestserviceshv@wylderhotels.com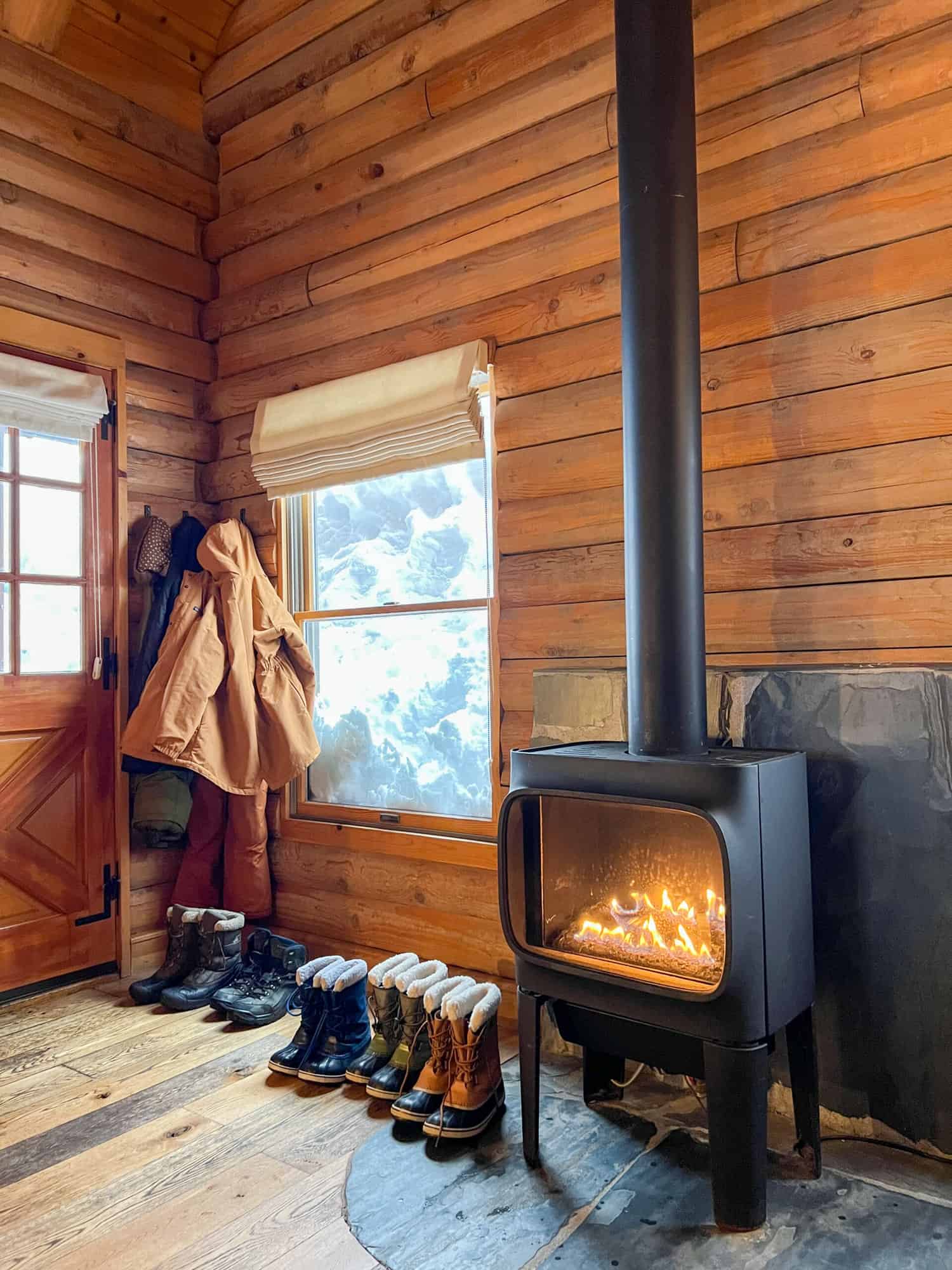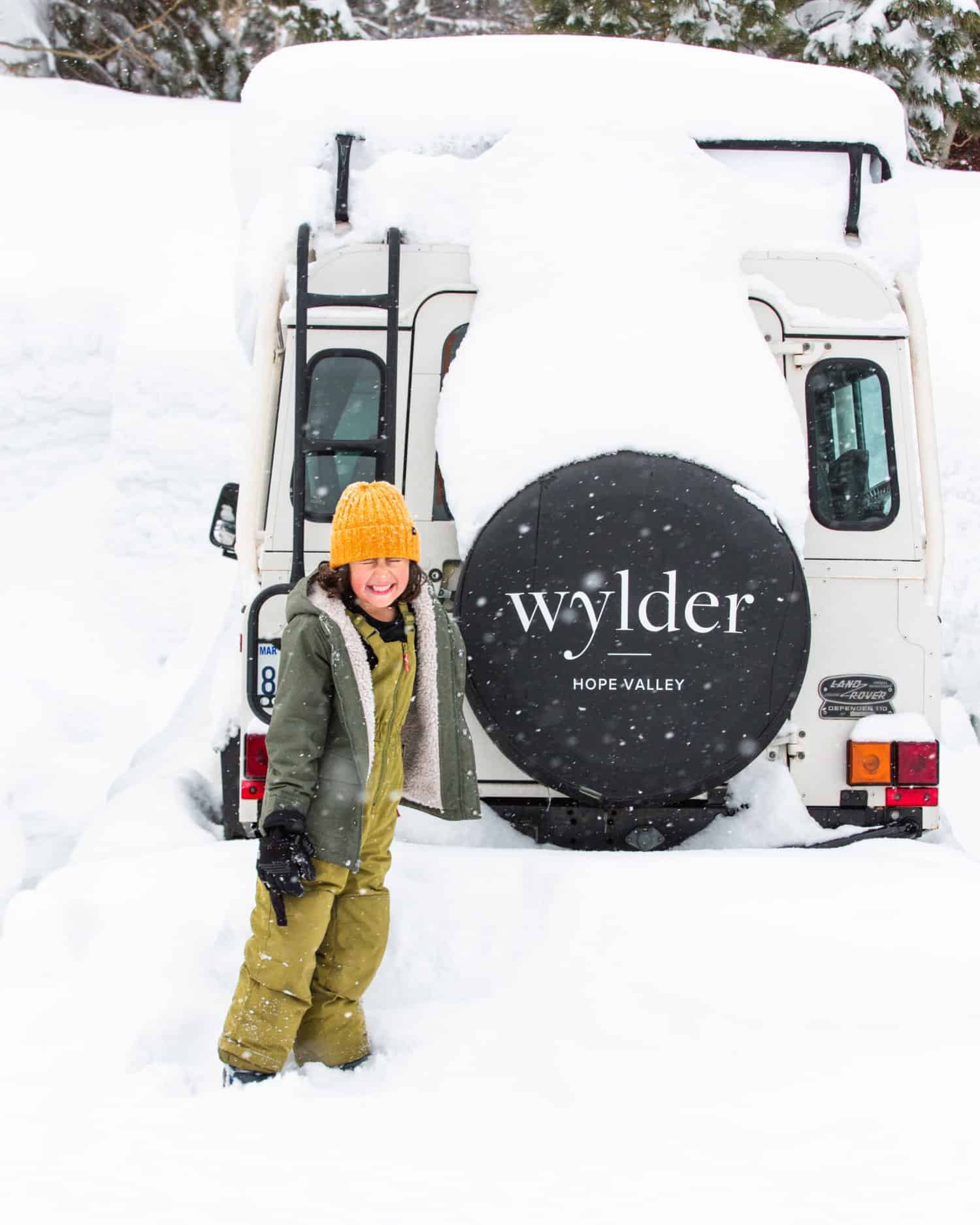 Have you ever been cross-country skiing?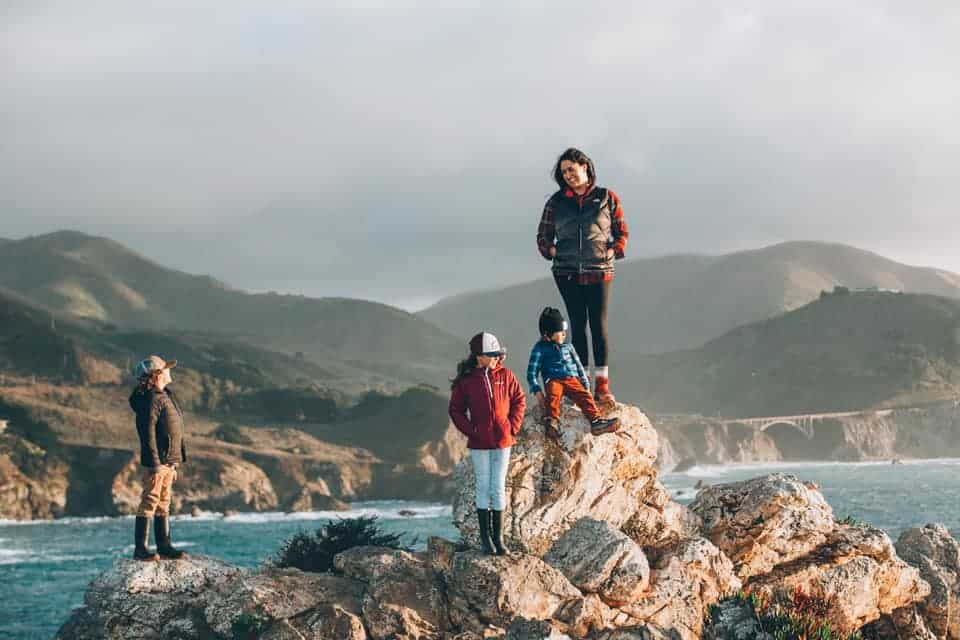 About the author
Araceli is a wife and momma to three wild and adventurous littles. She believes that nature and free play are truly the foundation of a beautiful childhood. Araceli and her husband have made it a priority to raise their children with a strong bond to the great outdoors. Araceli is a working mom with an extensive career in Project Management. She's creative, crafty, and loves collecting houseplants. As a family, they love exploring wild places, and she loves documenting their adventures.
Find more from Araceli in the following locations:
Instagram: @roaminggonzalez
All RWMC posts: Araceli Gonzalez 
The post Cross Country Skiing with Kids appeared first on RUN WILD MY CHILD.