DECEMBER STYLE BEE READER FAVOURITES
Happy New Year everyone! I hope your 2022 is off to as good of a start as we can hope for in these tricky times. There's been some disappointing news here in Ontario with closures and restrictions back in place but I hope you're still able to find some joy throughout the day. I loved this sentiment about a New Year's Resolution to enjoy our "nicest" things, regardless of the occasion. Count me in!
The first post of the year is a light one and I hope this roundup of reader favourites brings you a bit of style inspiration and *maybe* even the motivation to get dressed in something that helps you feel your best.
Now onto Style Bee Reader Favourites from December & a bonus style session using this months items!
---
This post is not produced in partnership with any brands mentioned but does contain affiliate links. If you see something you like and decide to shop through the links included, I may earn commission on a sale at no additional cost to you. All opinions are always my own and I only share items I love and think you might too. Thanks for supporting Style Bee!
---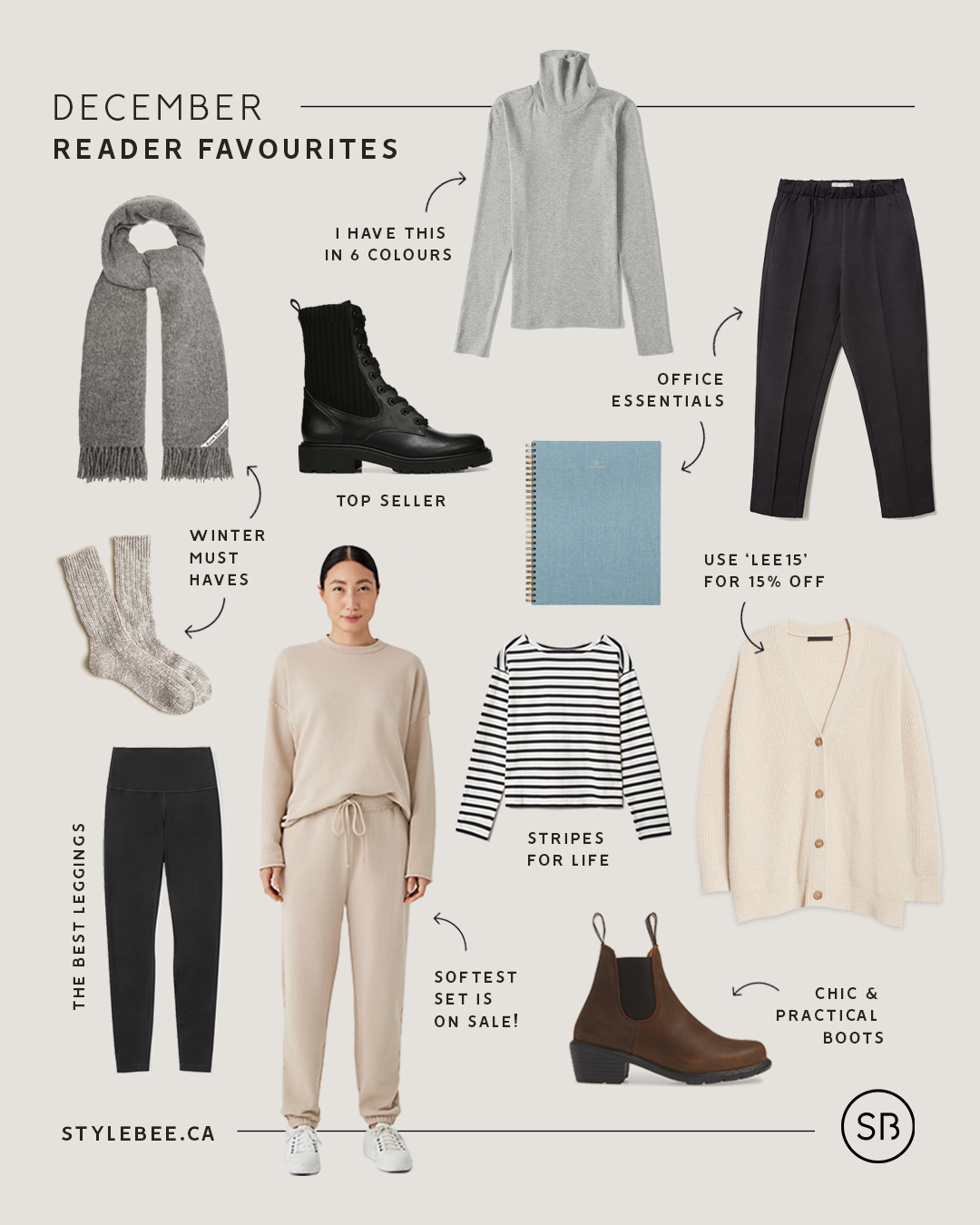 ---

---
DECEMBER STYLE BEE READER FAVOURITES
---
1 // THE CANADA SCARF – This piece is hands down my favourite winter accessory. I've got it over my shoulders as I type this! It also comes in navy, black and a gorgeous caramel brown.
2 // LYDELL MIXED MEDIA COMBAT BOOT – These were an option I shared as an alternative to an old pair of combat-style boots I have. I love the proportions of this boot, the tall shaft is great for styling with different pant lengths and the ribbed ankle material looks like it would be super comfortable.
3 // THE PIMA MICRO RIB TURTLENECK – This was a favourite option last month too and I've been wearing my own collection of these non-stop this winter. The fit is true to size and I really cannot recommend them enough as a base/thermal layer. They're fully stocked in black, white and grey.
4 // THE DREAM PANT – I shared this in this workwear style roundup and think they're a great option for a workwear capsule. With a silk shirt, sweater blazer and a pair of glove boots they'd be perfect for any type of corporate setting.
5 // HARDCOVER SPIRAL NOTEBOOK – Appointed makes my absolute favourite office stationary and notebooks. I've been using their planners, notebooks, journals and other office organization tools for many year. Shop the full collection here.
6 // MARLED CAMP SOCKS – No winter wardrobe is complete without some cozy camp socks. I've had a few pairs of these marled camp socks for years now and they're still a favourite for inside my winter boots.
---

---
7 // THE PERFORM LEGGING – I don't know what I'd do without these leggings. They're an essential thermal layer in the winter and my go-to for activewear all year round. I shared them in this post on winter layering 101 and it seems like they fit the bill for a lot of readers.
8 // ORGANIC COTTON FRENCH TERRY CREWNECK & JOGGER (On sale!) – This set has been in my weekly rotation since September. I'm a huge fan of matching lounge sets for weekends and after work to signal relaxation time while still offering elevated simplicity.
9 // MODERN BRETON STRIPE TEE – I have the toasted almond and black version (nearly sold out) and honestly, if I was ordering over again, I'd go for the black and white instead. It's such a classic and the boxy, slightly cropped shape feels fresh and contemporary. With jeans and heels under an oversized cardigan or blazer, c'est parfait.
10 // CASHMERE COCOON CARDIGAN – This is a month over month favourite and it's certainly a personal one of mine too. You can read a full unsponsored review here and use LEE15 for 15% Off any Jenni Kayne order, anytime!
11 // BLUNDSTONE 1673 CHELSEA BOOT – This was a surprise favourite for the month since I've only shared a link to these boots once, in this post. That said, we are definitely in Blundstone season here in Ontario and this style is a great option for the city if you want something practical but still a bit elevated.
---

---
FAVOURITES STYLED
Here are a few ways I'd style this month's favourites into outfits!
---
1 – The Canada Scarf + The Cocoon Cardigan + The Pima Micro Rib Turtleneck + The Dream Pant + The Combat Boot

---
2 – The Cocoon Cardigan + The Breton Stripe Tee + The Perform Legging + The Camp Socks + The Blundstone Chelsea Boots

---
3 – The Canada Scarf (as a shawl) + The Breton Stripe + The French Terry Jogger + The Camp Sock + The Combat Boot

---
4 – The Pima Micro Rib Turtleneck + The French Terry Crew (over shoulders) + The Dream Pant + The Blundstone Chelsea Boot

---
SOLD OUT & LOW STOCK FAVOURITES
---
There were a few favourites that have mostly sold out so I didn't include them in the list. The most notable ones were: The Dayana Water Resistant Stretch Bootie (a rollover favourite from last month), The Oversized Blazer, Wool & Recycled Cashmere Turtleneck Dress and The Averdon Herringbone Coat (another roll-over favourite).

---
Thanks for tuning into our little Reader Favourites corner here on Style Bee!
I really appreciate your support when you shop through my links and never take for granted the trust you put in my recommendations.
Cheers to a 2022 of style that helps you live your best life!