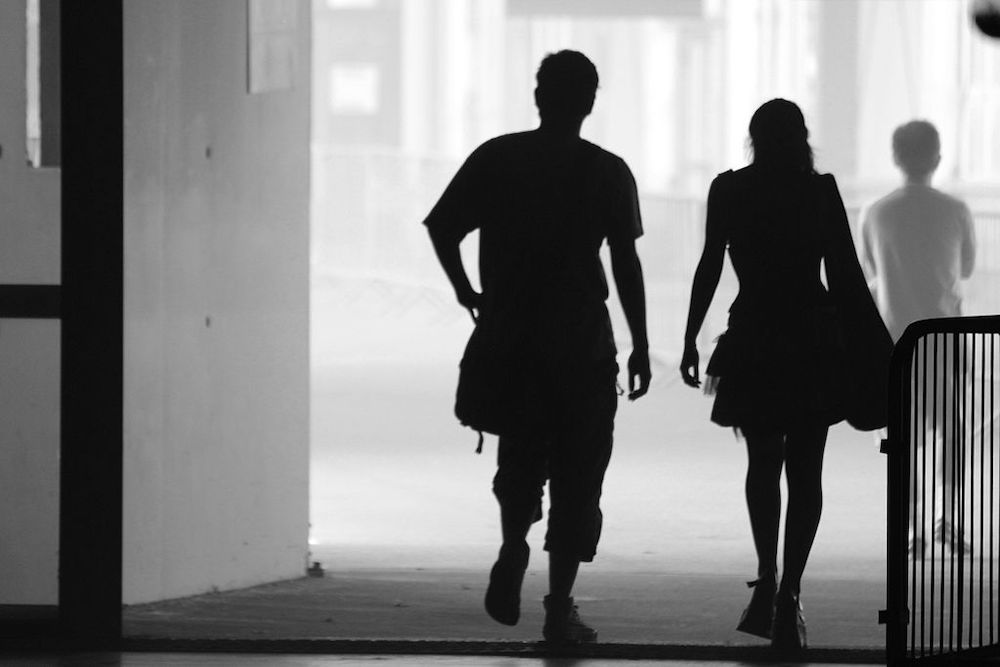 It is not incorrect to say that, for years, the way my family grieved my mother was to avoid acknowledging her altogether. It is not incorrect to say that we hardly invoked her name or told stories about her.
Shortly after college, my father, Caroline, and Steph descended upon my cleared-out group house in Washington, D.C., for Thanksgiving. In my childhood home, my father's stacks of clutter multiplied until they overtook the space that my mother had so carefully cultivated; it crowded my sisters and me out. I reacted efficiently, diligently, which is to say that I pretended that trips to Steph's apartment in Rhode Island or Caroline's in California were just a chance to visit another part of the country.
We'd decided to exchange Christmas gifts a month early, since we wouldn't be together in December.
Caroline, dressed in a key-lime-green onesie, handed Steph and me sets that matched hers.
"They're actually really comfortable," she said. She smiled toothily and pulled up the hood to show us the outfit's ears, her faded highlights a spray of lavender around her face.
The onesies were from the kids' section, which was fine for us since everyone in our family, including our father, was small and roughly the same size. Steph and I donned ours, and I was grateful for anything to distract from how cobbled together holidays had become since my mother's passing. My sisters and I stood on my front stoop to take a photo of us modeling our new outfits. In the photo, Caroline and I jam our hands into our pockets while Steph is wedged between us, her arms thrust into the air. We look so much like sisters, not just because, in this image, we are dressed identically, but because the ways we hold our mouths enthusiastically, wryly, are the same.
Afterward, Steph passed out slender boxes.
"I thought this might be good for everybody to open last," Steph said. There was a question in her voice, a preemptive apology that made me tense.
She had gifted us each a framed photo of our family. It showed all five of us, including my mother, in Seattle the summer before she died, and it was one of the last photos we'd taken together. We stand on a pier. The sky is muted and filled with the gray wash of color that comes from dragging paintbrush water across a canvas. It looks windy, and though it's the end of summer, we must be cold, because we're wearing long pants and sweatshirts. We huddle around my mother, who has her hands clasped in front of her stomach.
"Oh," Caroline said as she pulled the wrapping paper off hers, her eyebrows shooting up her forehead as she examined the photo.
I shivered and said nothing. Our time with our mother was a past life—some version of ourselves from which we'd become estranged. When I replayed memories of her, it was as if hearing someone else recount stories of their own mother.
"What's this?" our father asked, still working his fingers underneath the paper. He looked at my sisters and me, confused by our sudden shift in mood, not understanding this context. "Oh. A photo of our family?"
We held the wooden frames like they were made of blown glass. I studied my mother's face and sat in a glum silence, unsure what to say, fighting the urge to turn the photo away.
When I consider the ways images can wrench our grief to the surface, I think of Diana Khoi Nguyen's poems, which are wrapped around photos of her family in her collection Ghost Of. The book is dedicated to her siblings, including her brother who committed suicide. He is cut from every photo. Nguyen plays with these silhouettes. She cocoons him with her grief and her memories of him. She inhabits the negative space with her despair.
Why should we mourn?
Isn't this the history we want
one in which we survive?
The first time I read her poems, I assumed that she had sliced her brother out of the photos. I thought she didn't want outsiders to be privy to his body. No. Nguyen told an interviewer that her brother, in a fit of anger, carved himself from all of the family photos hanging in a hallway of their childhood home. Afterward, he carefully slid the photos back into their frames.
"They foreshadowed his death, and after his death, the missing shards in the frames wounded me deeply," she said in an interview. "I avoided walking down that hall, I avoided returning to the house."
When I learned this, her grief crept into me. I avoided walking down the hall, I avoided returning to the house. Why head down a hall of memories if it leads to a perpetual reminder of death? I felt as though Nguyen, with her poetry, had inhabited the void that her brother had left behind, the way I now inhabit the one created by my mother.
For many years, I could not look at photos of my mother. I wrapped the one from Steph in a scarf and tucked it into my bedroom closet, underneath a box of clothes I no longer wore. The way I endured grief was to think only of the after, and not the before.
As a kid, I was certain that the images we had of our dead relatives were taken in caskets: a photographer pried open the deceased's eyes and held them there with double-sided tape. Their cameras clicked, the dead person cartoonishly wide-eyed, mouth gaping. I couldn't conceive of the idea that these photos were taken in some version of the past, when the subject was alive. Looking at these ancestral photos gave me a whole-body chill, like I had come across a dead animal—one of our parakeets sprawled at the bottom of the cage, a fish floating at the top of its tank in the pet store—uncanny, a small fright pulsing, my body retracting.
Two years after her brother's passing, Nguyen decided to tackle with words the empty spaces that her brother left behind in those photos. She said that in her work, she was trying to mourn, not exorcise. When I first read this, I was startled by how much it resonated. I have never wanted to exorcise you. I am too attached; my inclination is to preserve you—to taxidermy you—like you wanted.
But, Mommy, grief is a container of contradictions. I want to expel something, though I do not know what. I want to rid myself of this heaviness, just as much as I want to keep your ghosts. Writing about you is a strange act. I am perhaps afraid of it, or at least, I dread it. Yet I feel compelled to write you into being. I am hopeful, though; I spin you out of myself and into something else.
Kat Chow is a writer and journalist, and the author of Seeing Ghosts (forthcoming from Grand Central Publishing on August 24, 2021). She was a reporter at NPR, where she was a founding member of the Code Switch team. Her work has appeared in The New York Times Magazine, The Atlantic, and on RadioLab, among others.
This excerpt is adapted from Kat Chow's forthcoming book Seeing Ghosts, published by Grand Central Publishing on August 24, 2021.