From dentist to style influencer: A Style Interview with Jodie
When Jodie sold her dentist practice, she knew that she wanted to do something that was a bit more FUN. She started a blog and decided to have lots of fun with style and fashion (and her friends).
Let's discover more about Jodie and her style journey.
Can you tell us a little bit more about yourself?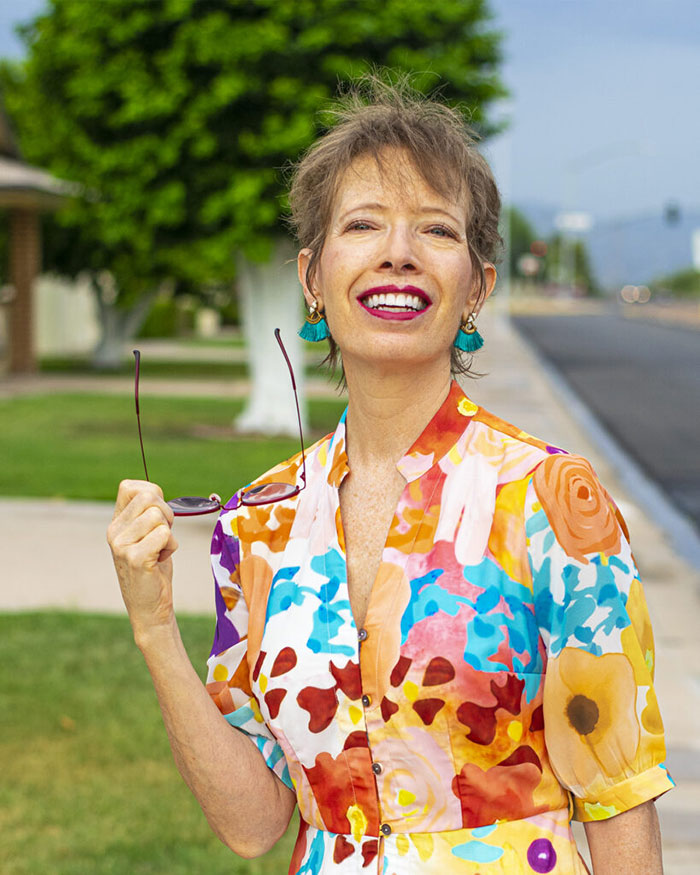 Check out this button down printed dress and tassel earrings for a similar look.
I am a retired cosmetic dentist who has always loved clothes. In fact, I always say that the nut doesn't fall far from the tree because my mother is a style maven, so it only makes sense that I love clothes too.
My husband, mother, and I moved to Phoenix, Arizona from Denver, Colorado 2 years ago. We brought our 2 rescue kitties with us who are both senior cats but keep us well entertained. 
Besides loving clothes and all things related to style, I also love to knit. In fact, I try to share my knitted creations on my Instagram account @jtouchofstyle most Saturdays. My favorite things to knit are sweaters, but I feel like I've knitted almost everything except a swimsuit, LOL!! 
As a point of reference which age group do you belong to or perhaps you are willing to share your age?
I am 55 years young!! Part of my motto is we should be proud of our birthdays and embrace the changes that come with them.
Can you tell us a bit more about your blog and why you created it?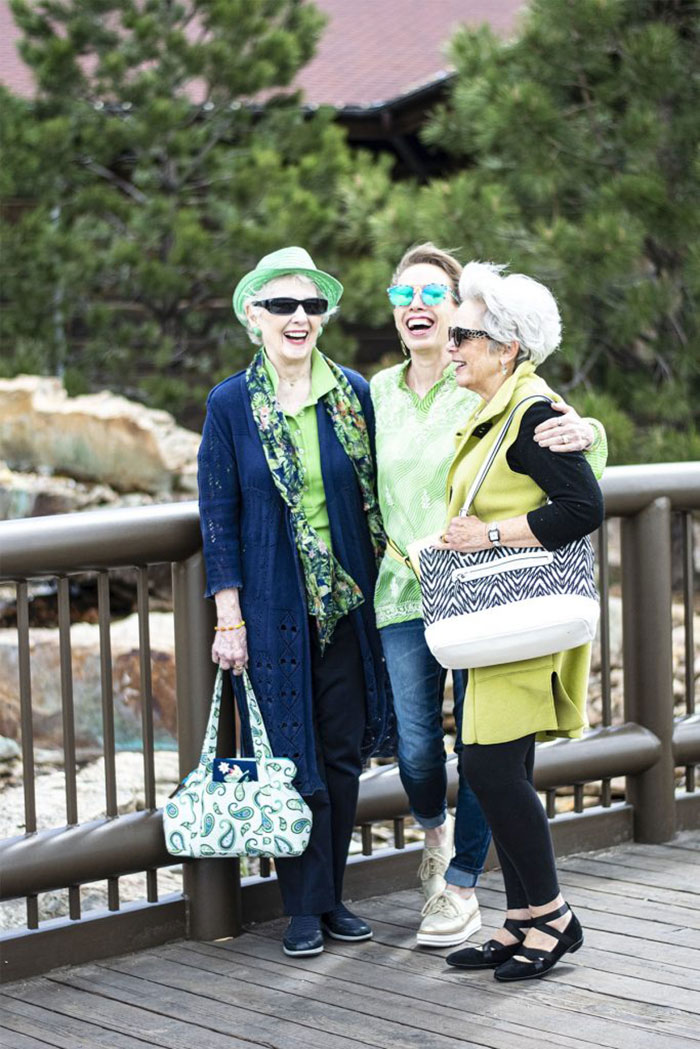 On Charlotte (similar items): shirt, knitted cardigan, pants, flats, scarf, and hat. On Jodie (similar items): vest, jeans and shoes. On Nancy (similar items): top, cardigan vest, leggings and flats.
After I sold my dental practice, I thought it would be fun to be a personal shopper for women who don't like to shop. With that idea in mind, my husband suggested I start a fashion blog. 
When I started researching fashion blogs 7 years ago, there weren't many with older women as the focus. But I know not everyone is my size or style, so I decided to have my mother, Charlotte, and stepmom, Nancy be involved also. 
The fun part about that decision is we are all in different decades of our life, different shapes for our body shape along with having different likes and dislikes. This was when we were living in Denver. 
Since we have now moved to Arizona and my stepmom stayed in Colorado, we have been including my friend, Lesley as our third model. 
How would you describe your own personal style?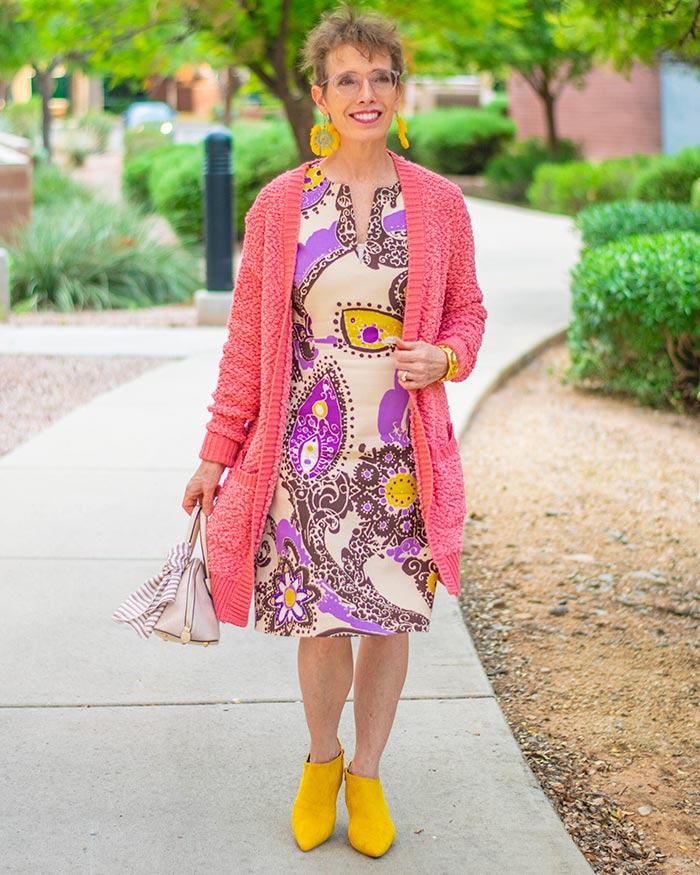 Check out this similar dress, cardigan, booties, earrings and handbag.
My personal style has changed considerably from my working, professional years.
When I was working as a dentist, I felt the need to be very subdued and professional. In fact, I thought there was only ONE RIGHT way to dress. Now, I laugh at that concept, because we are all so unique, that we should all dress to fit our personalities instead of a rule that has been marketed to us by someone else. 
What that means for my style is I LOVE to change up my style. Some days I'm more feminine, some days I prefer to be edgy.
The one factor that I tend to incorporate daily is color and my love of accessories. Although I will say that I try to switch those details occasionally too just so I don't always look the same.
What would you consider the most important components of your style?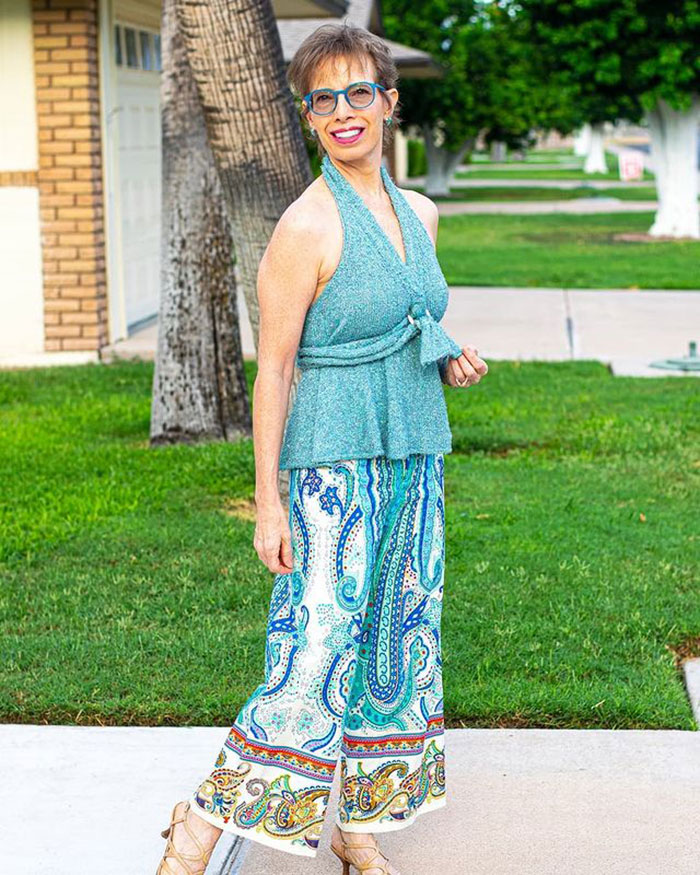 Recreate her outfit with this similar halter top and wide leg pants
I would say that fit and fun are components that I really try to concentrate on with every outfit. 
My mother is a master seamstress so I have learned so much about alterations and how the fit can make a huge difference in an outfit. I do some of my own alterations yet I'll still beg her to help me on many!! 
The word fun may not be in most people's description when they talk about their style, but it has become part of mine. And there's a reason for that. 
Growing up, I was always such a serious kid. Then I became a serious professional. There wasn't much fun included in those years. SO now that I've retired, I feel like it's time for me to embrace the fun in life. Life is really too short otherwise. 
Where do you live and how does that influence your style?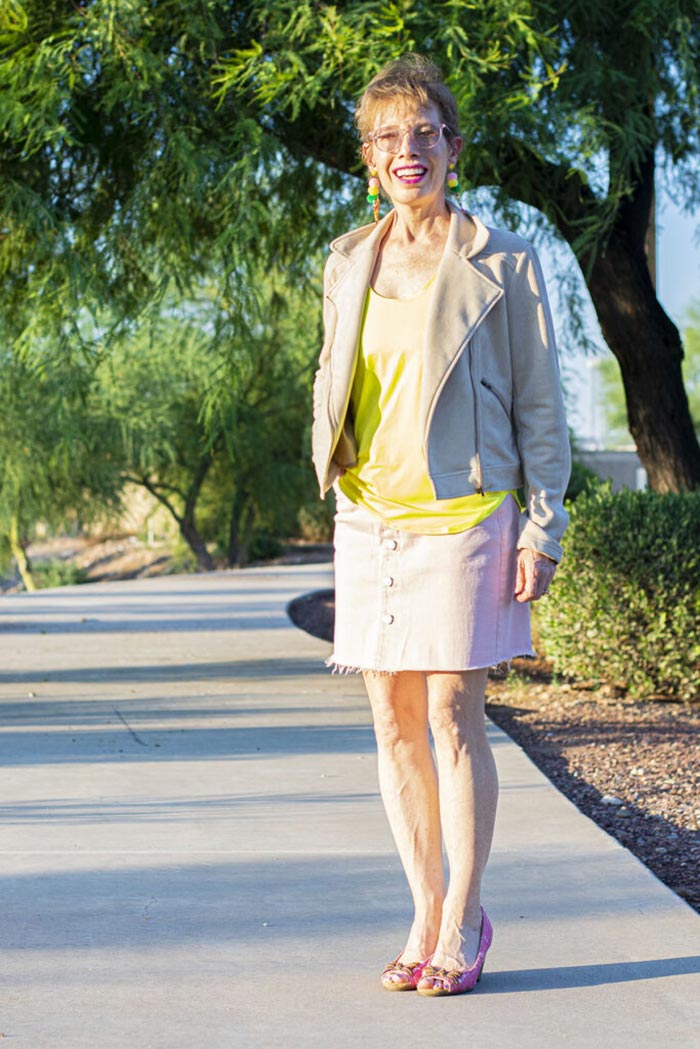 Steal her look with this similar top, moto jacket, skirt and pumps.
I know I said we moved to Phoenix, Arizona 2 years ago, but the detail I left out is we are living in Sun City which is a retirement community.
There are two things that have influenced my style with our recent move. First and foremost is the heat. My wardrobe has changed quite a bit in concentrating on lightweight materials, collecting more sandals, and becoming bolder with exposing my midriff and legs. 
The other detail is that I see so many older women in our community who look like they have given up on style. And that makes me so sad. Because I've met many of them, and they are wonderful humans. I think our style should reflect the fabulousness that is inside of us, so it hurts me to see them in frumpy clothes. This has influenced me to make sure I don't fall into that trap. In fact, I challenge myself to get dressed in wonderful outfits every day even if I'm just staying at home.
Do you feel you have a signature style?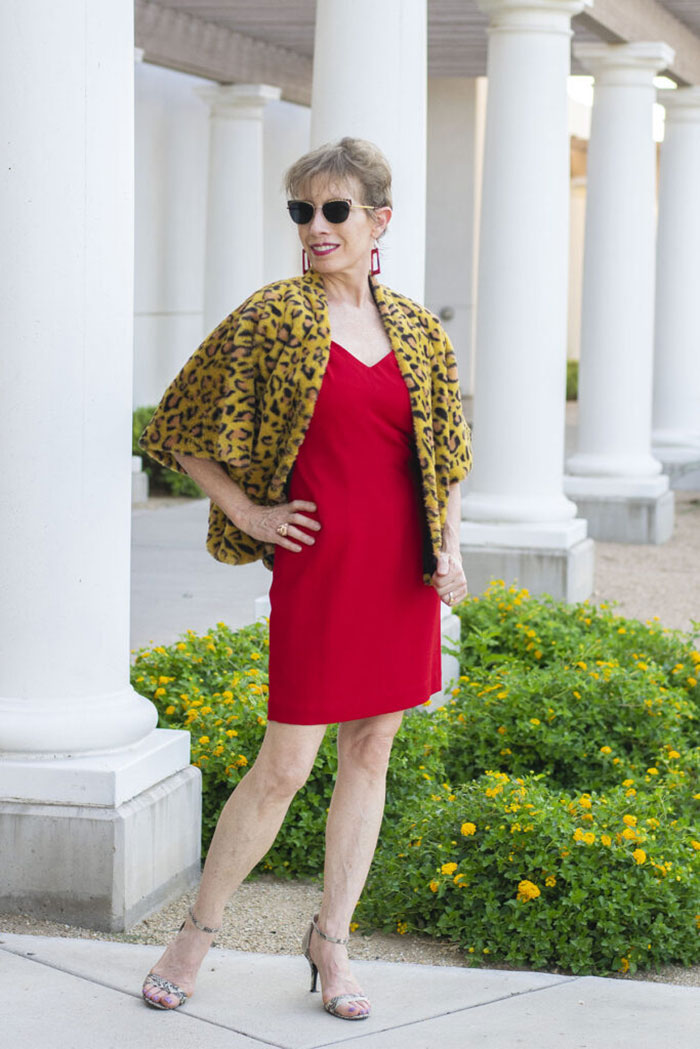 Get her look with this similar dress, sandals, jacket and earrings.
That's a good question. I feel like I go through phases just like anyone. In our hot, hot summers (our average temperature is 100+ degrees), I think you could say my signature style is to wear flowy dresses and sandals. 
When it cools down, I almost always have on a jacket or sweater with ankle boots. 
Yet I work hard to vary my style enough that I don't look the same. That being said, I had a friend send me a couple of colorful dresses because she knew they were my style!! So I guess in one word, I'd say colorful!! 
What inspires your outfit choices the most?
While I always want to be stylish, there are two other factors that I think about.
One is the weather. I consider it silly to dress for the calendar instead of what it's really going to feel like. And second is the event or occasion.
For our blog, many of the outfits are taken as we are out exploring our area. That means we need comfortable shoes and weather-appropriate outfits.
Our outfits might be very different if we were modeling just for the sake of modeling. That's one of the reasons I always say we are real women with real style.
Do you take things like color profiling or body type into account when you dress?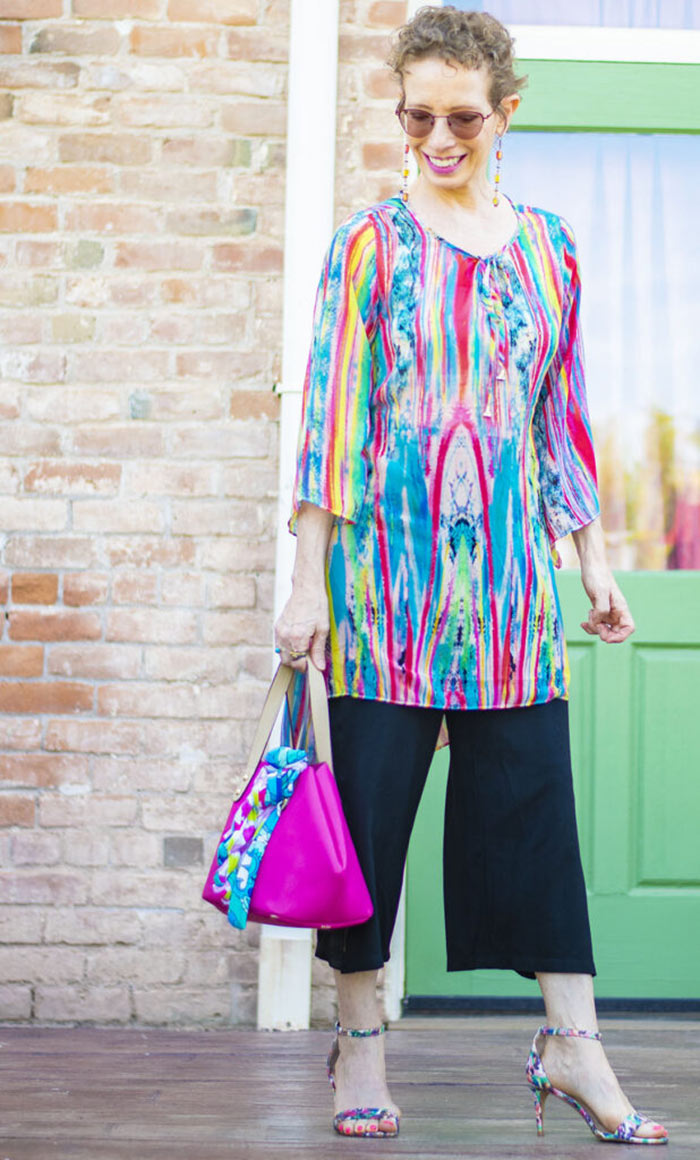 Check out this tunic top that you can wear with this similar pants, sandals and handbag.
I do prefer to wear colors that I think look better on me. That's one of the reasons why you rarely see me in black. I've had my colors analyzed in person and even online, and I rarely buy anything that isn't a warm color.
It's taken me years to figure out the difference between warm and cool colors, but I think it makes a huge difference. Sure, I realize you can find ways to "cheat" and still wear your bad colors. Heck, I've even blogged about that subject, but I still try to buy my better colors. 
As for body type, I never really think about it. In fact, it's one of those rules I tend to disregard. Does that mean sometimes my outfits are unflattering?? Probably. However, I've decided I don't need to look slimmer or taller. My goal is to have fun with my style. 
What is your current body type and height and what are your best tips for dressing for these?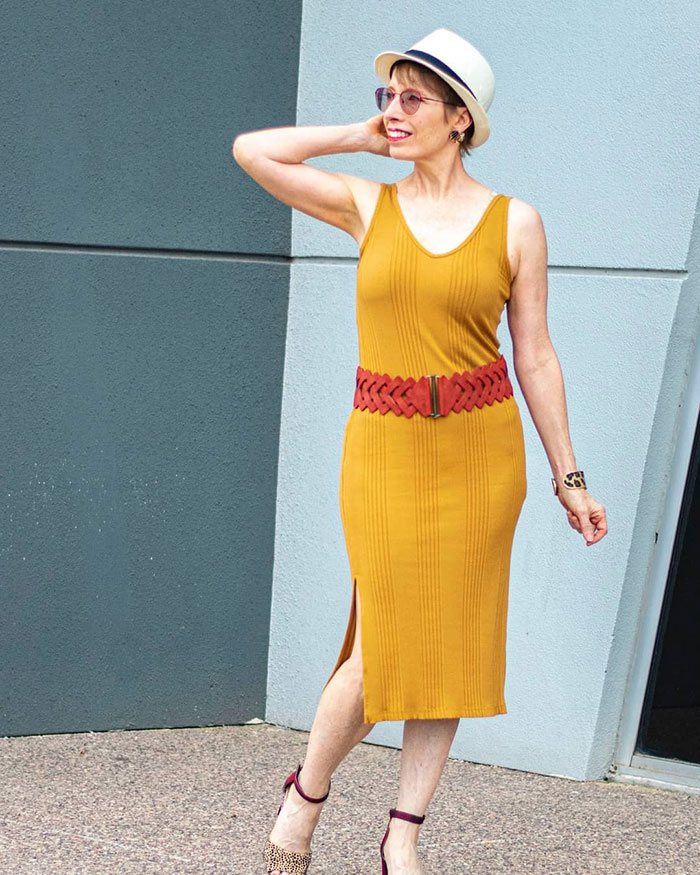 Steal her look with this similar dress, sandals, belt and hat.
My current body type is a petite, hourglass figure. In fact, all three of us on the blog are petite in stature. Yet you will see all kinds of clothing styles and looks from each of us. 
My biggest tip for anybody is more about making a statement. I think as we get older, we tend to think we need to fade into the background, and that's the opposite message I try to get across. While my husband says I'm swimming upstream by saying this, I want us all to stand out as the incredible, unique humans that we are.
Do you have any favorite brands?
I am an equal opportunity clothing brand person. In fact, the three of us on the blog recently styled items from a young girl's store (Old Navy) and then from an old lady's store (Talbots). 
I should also say that we tend to buy second-hand pieces quite a bit, so we get a wonderful variety of brands that way. It's also important to me to support small businesses since I used to be a small business.
That being said, I buy what I like no matter the brand. 
Has your style changed at all after turning 40?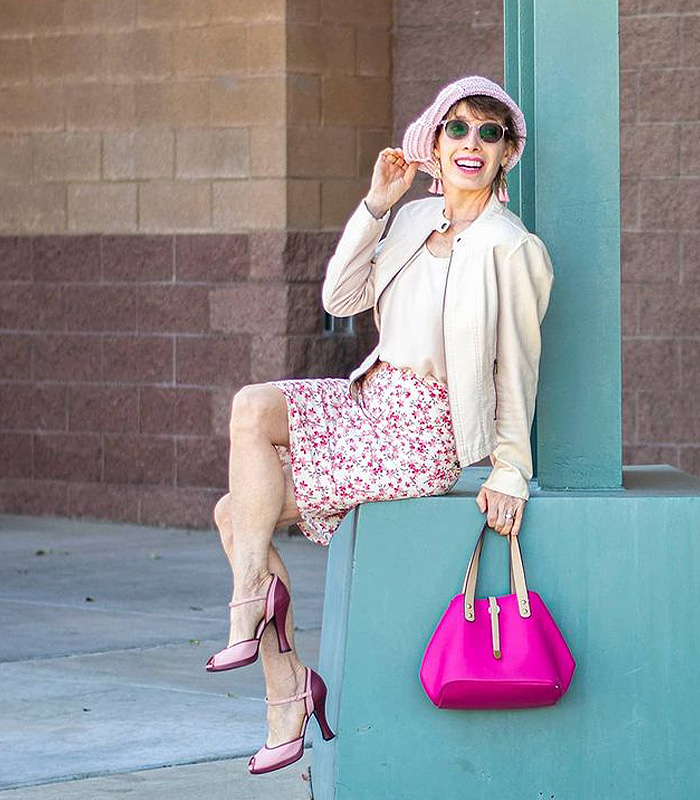 Get her look with this similar top, jacket, skirt, heels, handbag, beret and earrings.
My style change was more a product of retiring and blogging and not age.
I think blogging and social media have opened my eyes more than anything to the possibility of other ways to dress and look great.
Gone are the days when I followed those fashion rules about wearing this to look taller or the fact I'm a certain age and shouldn't wear a certain piece of clothing.
To me, it's all pure silliness because we are all such different humans. 
Do you believe in dressing 'age appropriately' and what does it mean to you?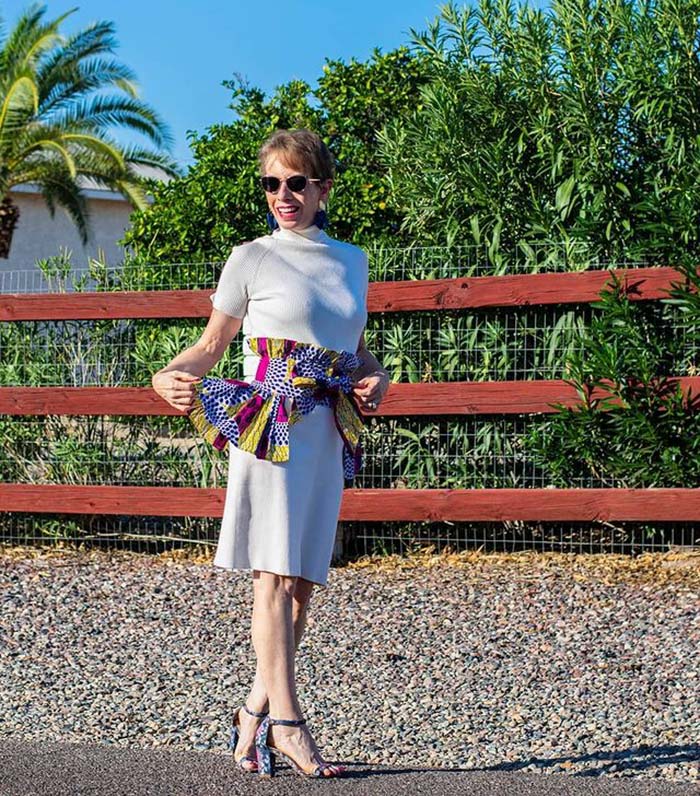 Recreate her outfit with this similar dress and sandals.
Age-appropriate is one of those terms that makes us become too judgemental. I wish we could all agree that nothing is one size fits all.
What is age-appropriate? I think it's learning that we shouldn't worry about what others think of our outfits, but how our outfits resonate with us!! In fact, I believe that with each birthday we should try a new style, add more color and overall be bolder. 
Would you say that at this stage of your life you are now more, or less interested in fashion, style and the way you look?
I'm sure it comes with the territory of being a fashion blogger, but I am definitely more interested in all things fashion and style-related. 
Why is the way you look important to you?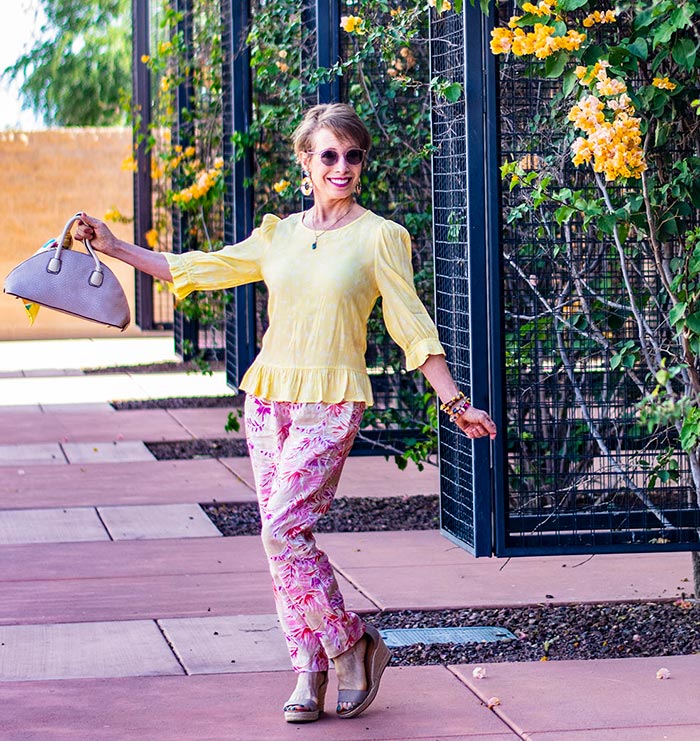 Check out this similar top, pants, espadrille sandals, handbag and earrings.
Our looks are often classified as fluff by some people. Of course, I am a huge advocate that kindness and love are the important ingredients in life, but the fact of the matter is we are visual animals.
There is no shortage of research studies that have proven that the better we look, the better we feel.
Having a purpose in life makes us want to jump out of bed in the morning, and we can fulfill that purpose much better if we feel good about ourselves. 
What is your beauty routine and what are your favorite beauty products?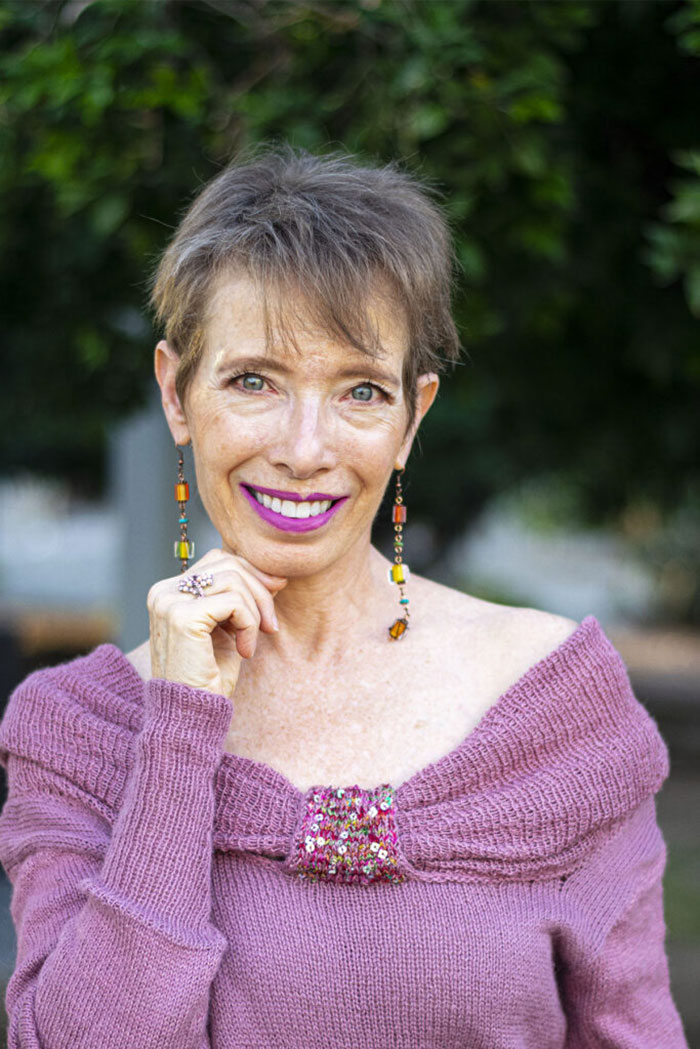 My beauty routine is short in the morning and longer in the evening.
In the mornings, I try to keep it minimal with a brush through my hair (after using my hair serums), and my morning skincare that takes 5 minutes.
I always wear mascara (because I use an eyelash serum to make my lashes long, so I want to show them off) along with lipstick. There's never a day, I don't wear lipstick. In fact, I pretty much only use all-day lipstick so I don't have to reapply along with the fact, then it doesn't bleed into the fine lines around my lips. I blogged about it here. 
In the evenings I take more time with a variety of skincare products. As a retired dentist, I also make sure to take care of my teeth. In fact, I've shared my advice on the blog before. 
Do you follow trends? And if yes, which trends excite you at the moment?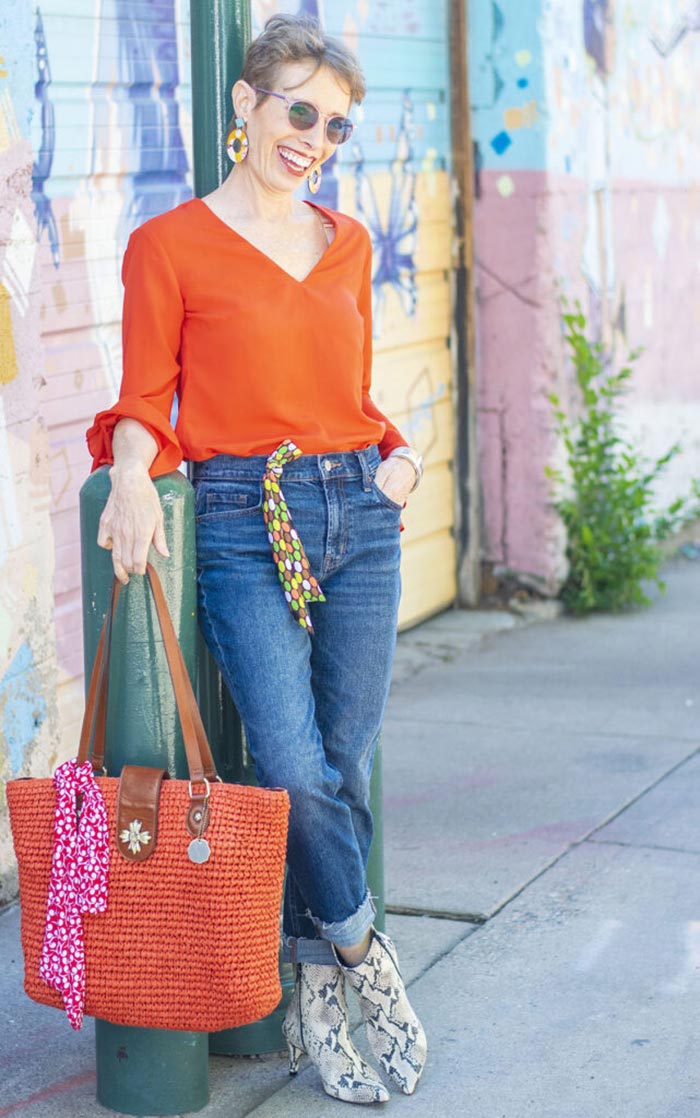 Steal her look with this similar top, jeans, booties, tote and earrings.
Would it be bad to say that I adore seeing the new trends that come out? I crave variety and so I consider it fun to try them all or at least think about them.
My two favorite trends right now are sweater vests. I'm sure I'm biased since I'm a knitter and I'm going to start borrowing many of the hand-knitted sweater vests that are hanging in my husband's closet.
The other trend that is exciting is to see all of the different denim jean silhouettes. Not that I think skinny jeans are going away, but having variety is the spice of life. I especially LOVE the wide-leg pants because they make more of a statement. 
Do you have any fashion and style tips for women over 40?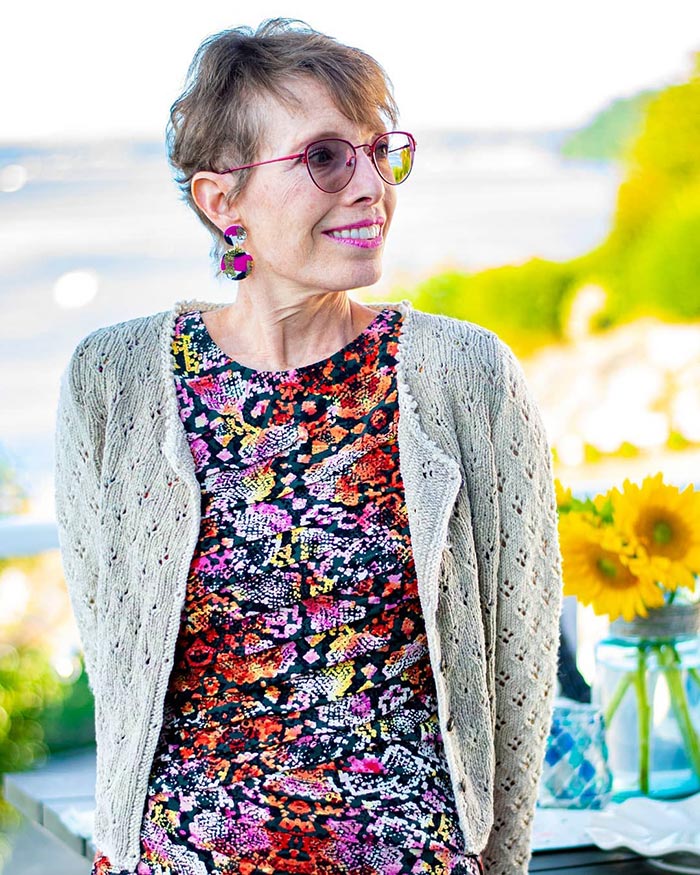 Recreate her outfit with this similar dress and cardigan.
My biggest tip is to challenge yourself. Sure, it's nice to find someone with a style like you, but then we don't evolve or grow.
Two of my favorite quotes are:
"It's better to be a lion for a day than a sheep all your life." Sister Elizabeth Kenny
"Every now and then a man's mind is stretched by a new idea or sensation, and never shrinks back to its former dimension." Oliver Wendell Holmes Sr.
What are your plans for your blog and how do you see it develop over the coming years?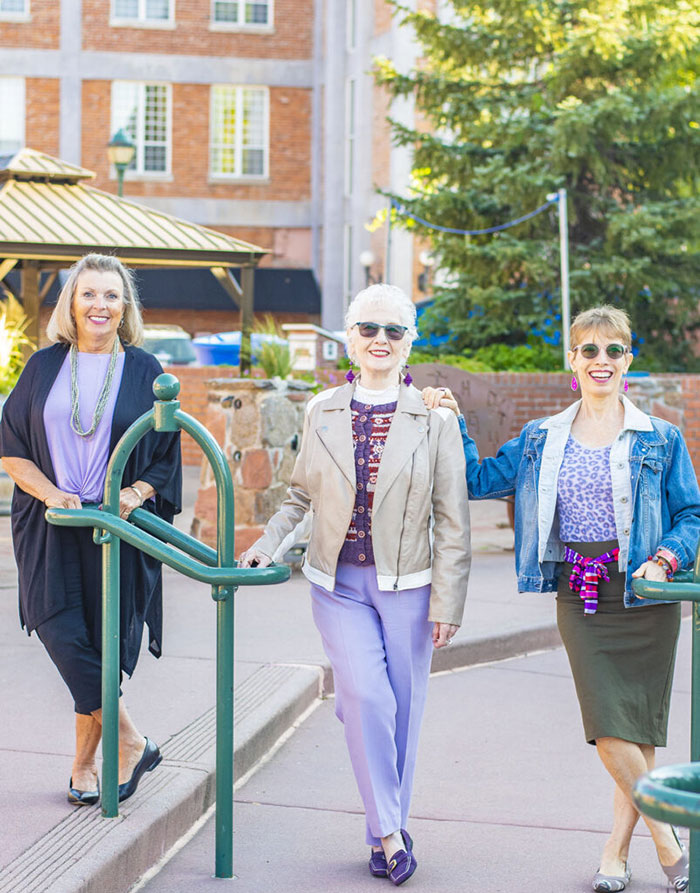 On Lesley: similar cardigan, tee, pants, flats. On Charlotte: similar jacket, pants, loafers. On Jodie: similar top, denim jacket, skirt and flats
I hope to continue this journey for no better reason than it makes me happy.
Not only do my mom, Lesley and I get to play dress-up every week, but it's been a wonderful excuse to explore the area around us. We also are each other's cheerleaders and we all need that. 
Anything further you would like to add?
Thank you SO much for allowing me to ramble on this way. I hope you all sign up for my email because it's where I share many of my personal insights that aren't always fashion-related. 
Want to know more about Jodie, read her blog: Jodie's Touch of Style or visit her Instagram.
Which of Jodie's outfits is your favorite look?
Continue reading:
Like this style interview of Jodie? Save it on Pinterest!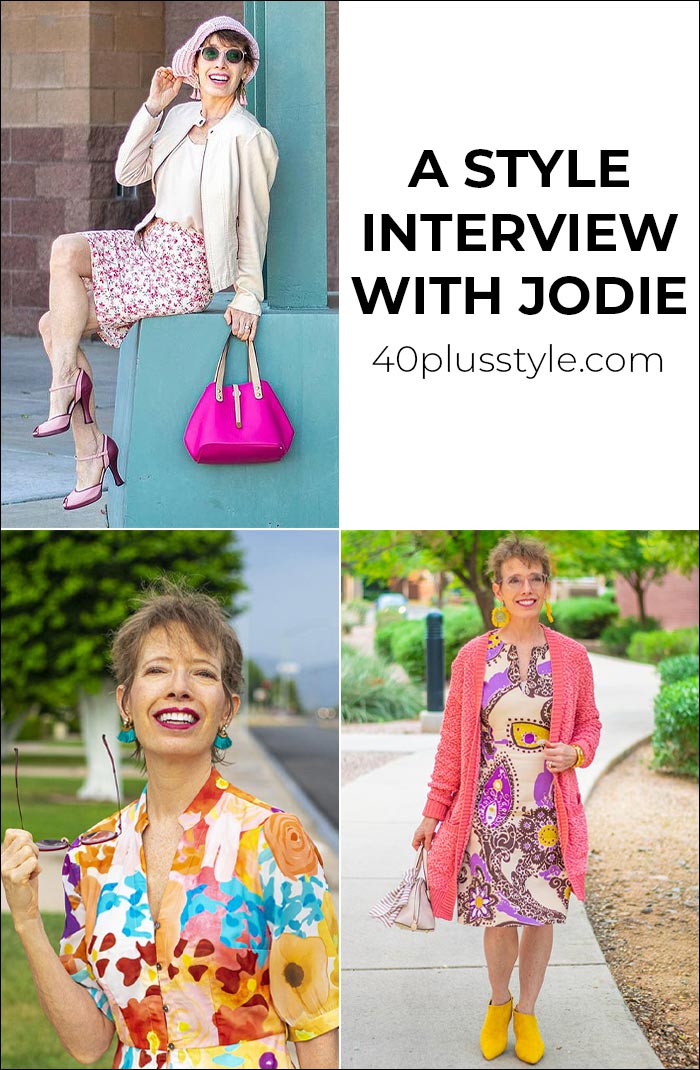 Photos from Jodie: Blog – www.jtouchofstyle.com Instagram: @jtouchofstyle
The post From dentist to style influencer: A Style Interview with Jodie appeared first on 40+ Style.