Gift Guide: Giving Tuesday
With Turkey Day come and gone, were in the final stretch as we approach both Christmas and Hanukkah! But dont get us wrong, were soaking in and savoring as much of this season as possible. As the years go by, we find ourselves extra excited over giving rather than receiving. That being said, todays shopping holiday has us in the spirit more than ever. Giving Tuesday is near and dear to our hearts, especially because we know the impact that conscious shopping can do for communities all around the world. As you check off your nice list, we encourage you to take a peek at some of our favorite gifts that will not only spread holiday cheer but give back to the artisans that handmade them just for you.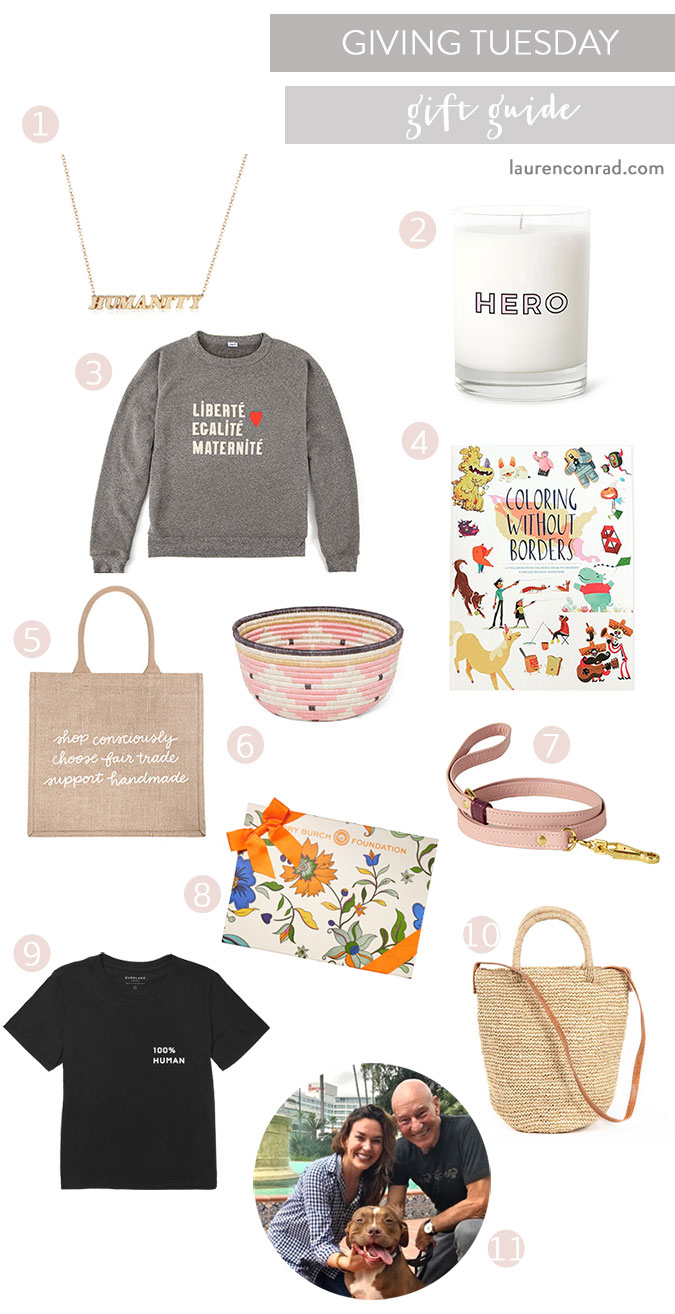 1. Ariel Gordon AGJ X This Is About Humanity Necklace,$595
For every purchase of this solid 14k gold necklace, Ariel Gordon will donate 100% of the net proceeds to the This is About Humanity Fund, which works closely to meet the needs of immigrants, refugees, and asylum seekers.
2. The Little Market Put the Her in Hero Candle,$34
For every purchase of this candle, $17 will be donated to CARE, a leading humanitarian organization that believes female empowerment is key to our global fight against poverty.
3. Clare V. CV Every Mother Counts Sweatshirt, $125
100% of net proceeds of this extra-soft, boyfriend-fit sweatshirt from Clare V. go back to Every Mother Counts, a charity working to make pregnancy and childbirth safe for everyone, everywhere.
4. The Little Market Coloring Without Borders Coloring Book, $25
This coloring book helps children separated from their families. For every purchase, The Little Market will donate $25 to support Families Belong Together, a collaborative group of organizations that works to permanently end family separation and detention, seeks accountability for the harm thats been done, and advocates for the immediate reunion of all families who remain torn apart.
5. The Little Market Shop Consciously Shopping Tote, $20
Making a statement while you shop is easy with this tote from The Little Market! Each purchase empowers artisans at CORR The Jute Works in Bangladesh.
6. The Little Market Woven Trinket Bowl, $64
Store your baubles in style in this hand-woven catch-all from non-profit fair trade shop The Little Market. Each purchase empowers artisans at All Across Africa in Rwanda.
7. Yark Harlow Leash, $117
If youre a dog lover like all of us here at Team LC, youll love shopping Yark for your pups needs! Every Yark purchase supports a global community of animal advocates and nonprofits.
8. Tory Burch Foundation Seed Box, $98
Tory Burchs annual Seed Box features a curated selection of products made by female entrepreneurs. Items include a scarf designed by Tory Burch, bath soaks, natural tea bags, and so much more. 100% of all net proceeds benefit the Tory Burch Foundation, which advances womens empowerment and entrepreneurship.
9. Everlane The 100% Human Woman Box-Cut Tee, $22
Every purchase of this Everlane 100% Human Collection tee helps protect human rights by donating $5 towards the ACLU.
10. The Little Market Raffia + Leather Crossbody, $118
Give us all the natural woven bags from The Little Market! Each purchase of this raffia and leather crossbody empowers artisan women at Razafindrabe Collections in Madagascar.
11. Wags & Walks Giving Tuesday Fundraiser
We have a huge place in our hearts for rescue dogs, and were always happy to be supporters of Wags & Walks. This year Sir Patrick Stewart and his wife created a fund to benefit senior dogs and theyre matching up to $10k in Giving Tuesday donations. Wow!
So, why not give back while you shop? When you choose brands and gifts that are ethically made and sourced, youre helping to provide a living wage to those that need it most this holiday season. In addition to shopping, there are so many impactful ways to give back. Click here for some of our favorite ways to do so. Now its your turn
What are some of your favorite brands or ways to give back during this time of year?
Wed love to add more to our list so leave your recommendations in the comments below!
XO Team LC
Affiliate links may have been used in this post.
The post Gift Guide: Giving Tuesday appeared first on Lauren Conrad.