Halloween Wine Tote Sewing Tutorial

Celebrate Halloween Sewing and sew our fun Wine Tote! In just a couple hours of sewing, you'll have a fun and festive wine tote to add to your Halloween table decor.
Halloween Wine Tote Supplies

Halloween Wine Tote Sewing Tutorial!
Finished Size Approximately 4″ x 6″ x 14″
All seam allowance are 5/8″, unless otherwise stated.
Our NEW! Glowing Ghosts Wine Tote, by The Nancy Zieman Productions Team, may be sewn in as little as two or three hours – and is made from just two Halloween Fat Quarters, or 1/2 yd. each of two different fabrics.
Make sure you are subscribed to the Team NZP E-news—so you won't miss a thing. Sign up today! And join us on Facebook, Pinterest, and Instagram.
Prepare Fabrics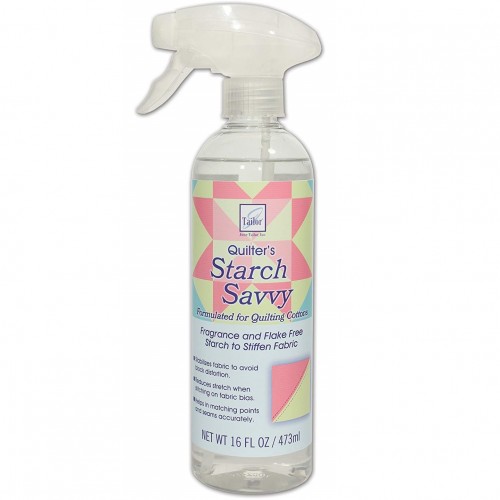 Prepare all fabrics by pressing and starching with June Tailor's Starch Savvy. Press and starch, press and starch.
Cut Fabrics & Interfacing







Position wine tote pattern onto fabric rectangles, using Pins or Shape Weights to hold pattern in place.

Cut two wine tote lining pieces.
Cut two wine tote outer pieces.




Pin or Wonder Clip outer wine tote section to lining fabric section, right sides together, along curved edges.

Stitch outer wine tote section to lining fabric section – along curved edges.

Extend the life of the cutting mat, and cut on the "reverse side" of the mat – when rotary cutting with a pinking blade! 



Pin or Wonder Clip front and back sections together at sides: Pin right sides of outer fabric to outer fabric. Then pin right sides of lining fabric to lining fabric.
Turn wrong sides out. Press.
Meet lower edges. Pin or Wonder Clip all lower edge layers together – along lower edge.
Using sewing machine, or serger, stitch all layers together – along lower edge.
Create Lower Gussets
Fold lower corners of front and back, meeting right sides together and matching lower seam to side seams.
Mark a line 1-1/2″ inside corner, as shown.
Stitch along marked lines – using a Stilletto/Awl to assist feeding seams under presser foot.

Using an Open Toe Presser Foot makes it easy to stitch directly on the marked line!

Optional: Create curved lower gusset seams by tracing a salad plate, marking curve at previously stitched line, as shown.
Stitch along curves lines.

 Use The Big Jig – to keep presser foot level – when sewing multiple layers!
Trim away excess seam allowances.
Serge or zigzag seam allowances.
Turn right side out, and the wine tote is complete! Optional: Topstich around curved seams.

Our Halloween Wine Tote holds one or two standard wine bottles, and also makes a great gift bag – with a built-in handle!
Sew our Coordinating Spooky Spiderweb Table Runner! with Team NZP's FREE! Spiderweb Stitching Guide Printable PDF!
Sew a Set of our Coordinating Halloween Applique Coasters and download the FREE! Spooky Halloween Applique Printable!
Sew Mary Mulari's Reversible Crisscross Apron from one yard each of two coordinating NEW! Halloween Fabrics!
Reversible Crisscross Apron Pattern: Front
Reversible Crisscross Apron: Back
Related Sewing Tutorial Posts
Create a Spooky Spiderweb Table Runner our with FREE! Spiderweb Stitching Printable PDF!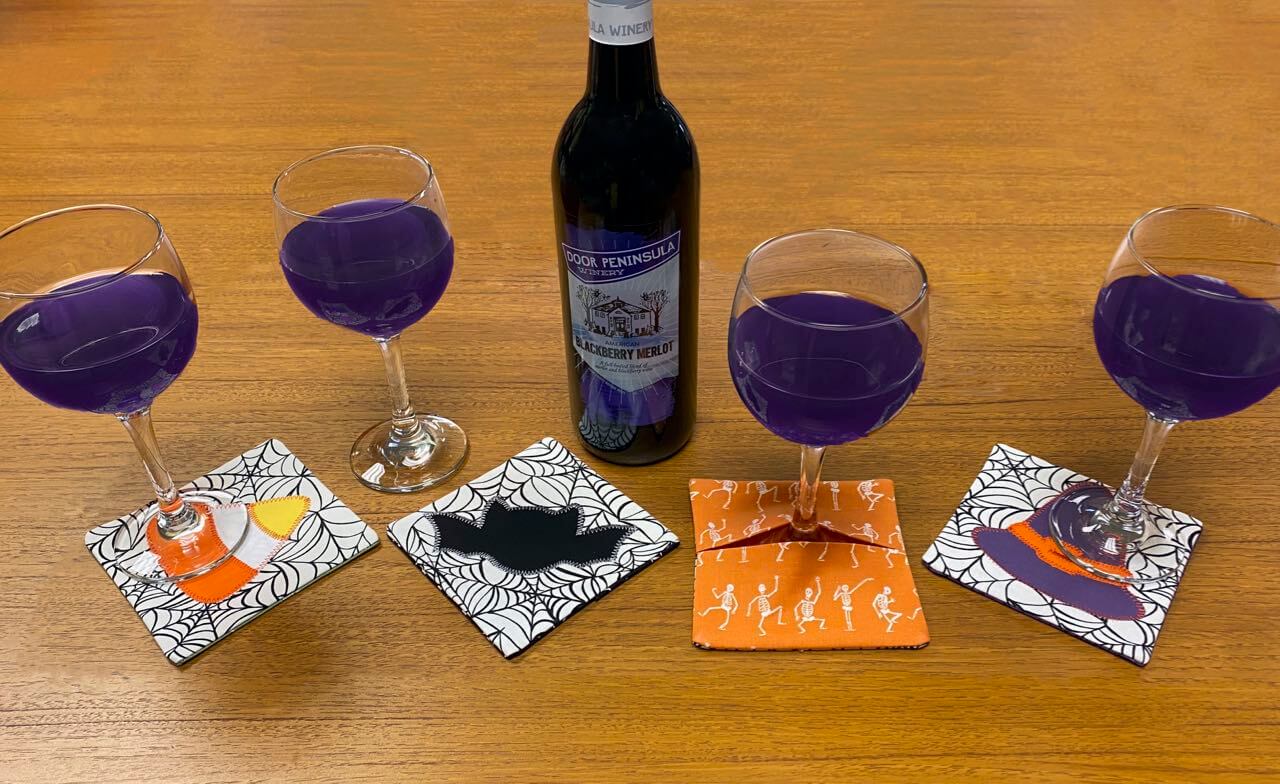 Stitch a set of Reversible Appliquéd Coasters with our FREE! Halloween Appliqué Printable Patterns PDF!
Make our 30-Minute Turtleneck Scarf with a Serger Overlock Machine!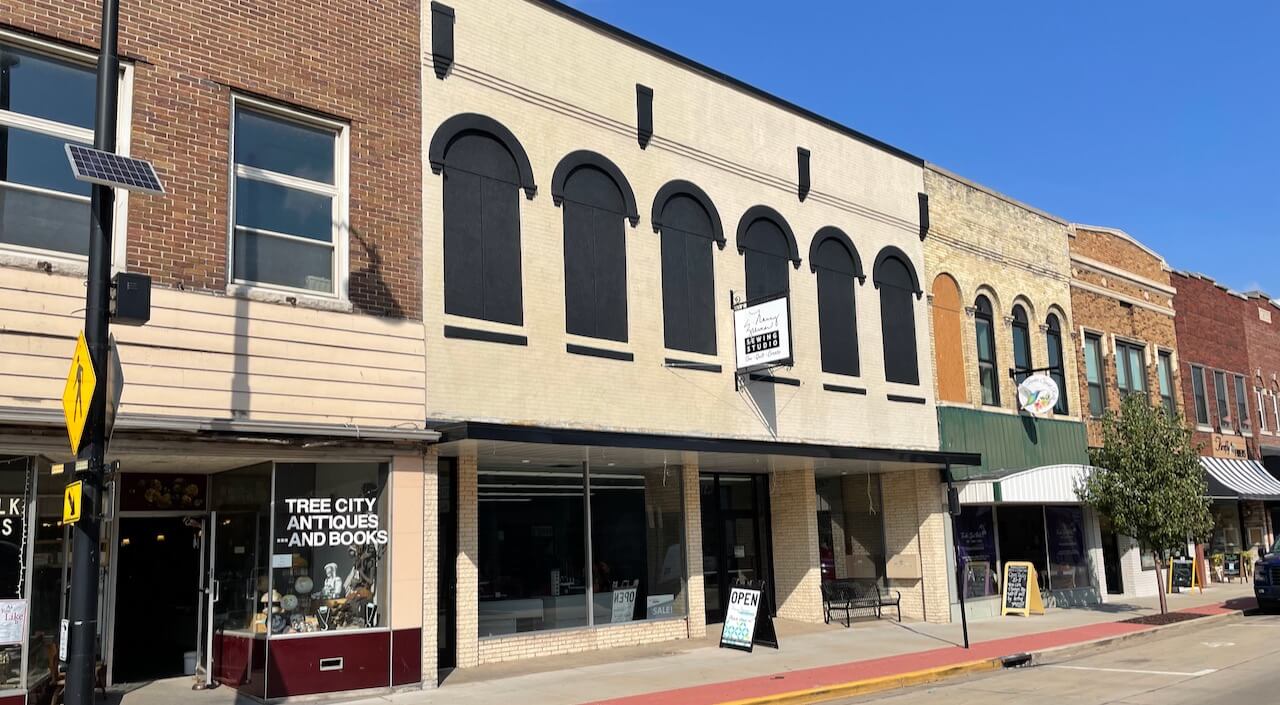 The NEW! Nancy Zieman Sewing Studio is Now OPEN at 120 Front Street – in the Fine Arts District in Downtown Beaver Dam, Wisconsin! Plus Announcing our Store Opening Event, October 14-16, with Mary Mulari! Team NZP is pleased to welcome you, along with Mary Mulari to our very special Store Opening Event – in-store and online!
Join us for our Special Store Opening Event at Nancy Zieman Sewing Studio with guest appearance by our friend Mary Mulari! Sign up for Mary's Recycle, Repurpose & Restyle Seminar at ShopNZP.com. Limited Seating.
Store Opening Events, October 14, 15, & 16
•RECYCLE, REPURPOSE, AND RESTYLE SEMINAR with special guest MARY MULARI
•PRIZE DRAWING GIVEAWAYS!
•SPECIAL EVENT 3-DAY SALE — SAVE 10%, 20% or 30% OFF SELECT SEWING & EMBROIDERY TOOLS, S!S BUNDLE BOXES, QUILTING SUPPLIES & FABRICS in-store and online at ShopNZP.com!
•SCHMETZ NEEDLE DEMOS by RHONDA PIERCE
•PRODUCT DEMOS by the Stitch it! Sisters®!

Register Today! for Recycle, Repurpose, and Restyle Seminar by Mary Mulari
•Recycle, Repurpose, and Restyle Seminar with Mary Mulari; Fri. Oct. 15 at 9:00 a.m., 2:00 p.m., and Saturday Sat. Oct. 16 at 9:00 a.m. 
Live In-Person Seminars With Mary Mulari at the Nancy Zieman Sewing Studio in Beaver Dam, WI.
Note: Live In-Person Seminar is located at the Nancy Zieman Sewing Studio in the fine arts district in downtown Beaver Dam WI.  Face masks required. Limited seating!
NANCY ZIEMAN SEWING STUDIO • 120 FRONT STREET • BEAVER DAM, WI 53916 INFO@ZIEMANPRODUCTIONS.COM • 920-356-9546.
Happy Halloween Sewing!
Team Nancy Zieman
Nancy Zieman Productions. LLC.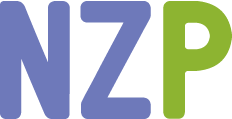 Stitch it! Sisters is a production of NZ Productions LLC. Content in this feed is © copyright 2020 by Nancy Zieman Productions, LLC and may not be republished without written permission. You're welcome to forward the email to a friend or colleague but it's not okay to add the RSS feed automatically as content on a blog or other website. The FTC requires us to tell you that Nancy Zieman Productions, LLC has provided products by other companies in the course of doing business. The FTC requires us to advise you to take this information into consideration when reading this posting.