New York fashion week may have ended on Wednesday night, but on Thursday there was only one place to be, the soon-to-be Herms store uptown, which for one night only was transformed into an adult (but not adult ) wonderland I will call Heureka's castle. The French luxury goods label asked a group of artists: Playtronica, who create musical instruments out of unlikely objects, the choreographer Madeline Hollander, the multi-disciplinary artist Jean-Simon Roch, the creative studio Pinaffo & Pluvinage , the interdisciplinary art collective Lab 212, as well as the choreographer Michele Ann De Mey and her husband, the director and playwright Jaco Van Dormael, who work together as Astragales in experimental performance and filmmaking; to create works related to the topic of "Innovation in the Making.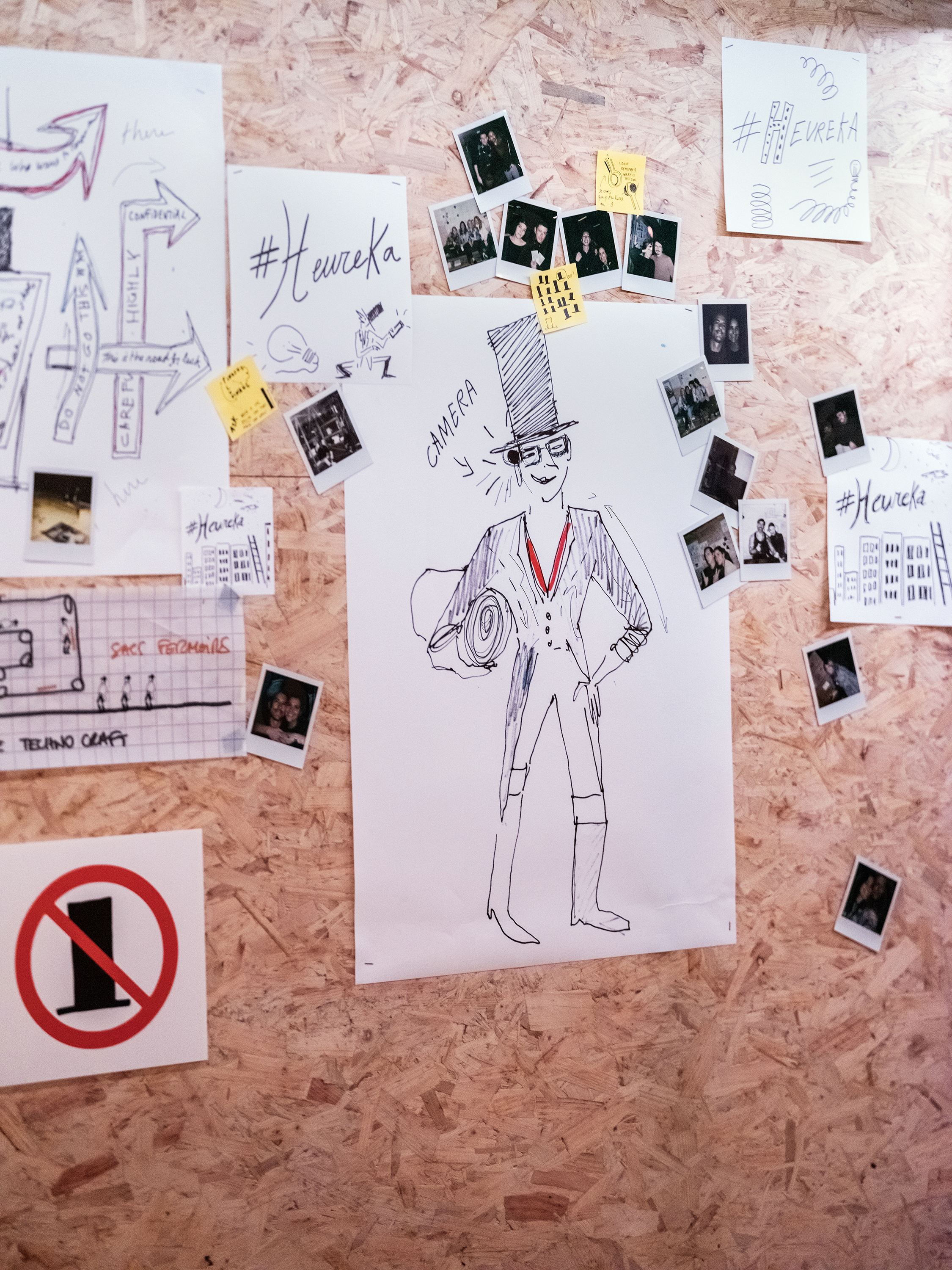 A drawing of the men in the very tall hats that functioned as guides throughout the evening. Photo by Carol Sachs Courtesy of Herms
These days the buzzword on everyone's lips is "activations." Audiences want experiences! They want meaning! And throughout the evening, Herms delivered. Men in very tall top hats walked around speaking in a tones reserved for childrens education shows or maybe amusement park rides. Are you familiar with our two-sided scarf?, said one such man to me while I observed Hollanders choreography unfolding throughout the first floor of the building, dancers dressed in all white turning beautiful silk scarves back and forth in unison, showing off the new technology that allows Herms to print on each side of a scarf. Its not two scarfs bonded together!, the man in the hat assured me.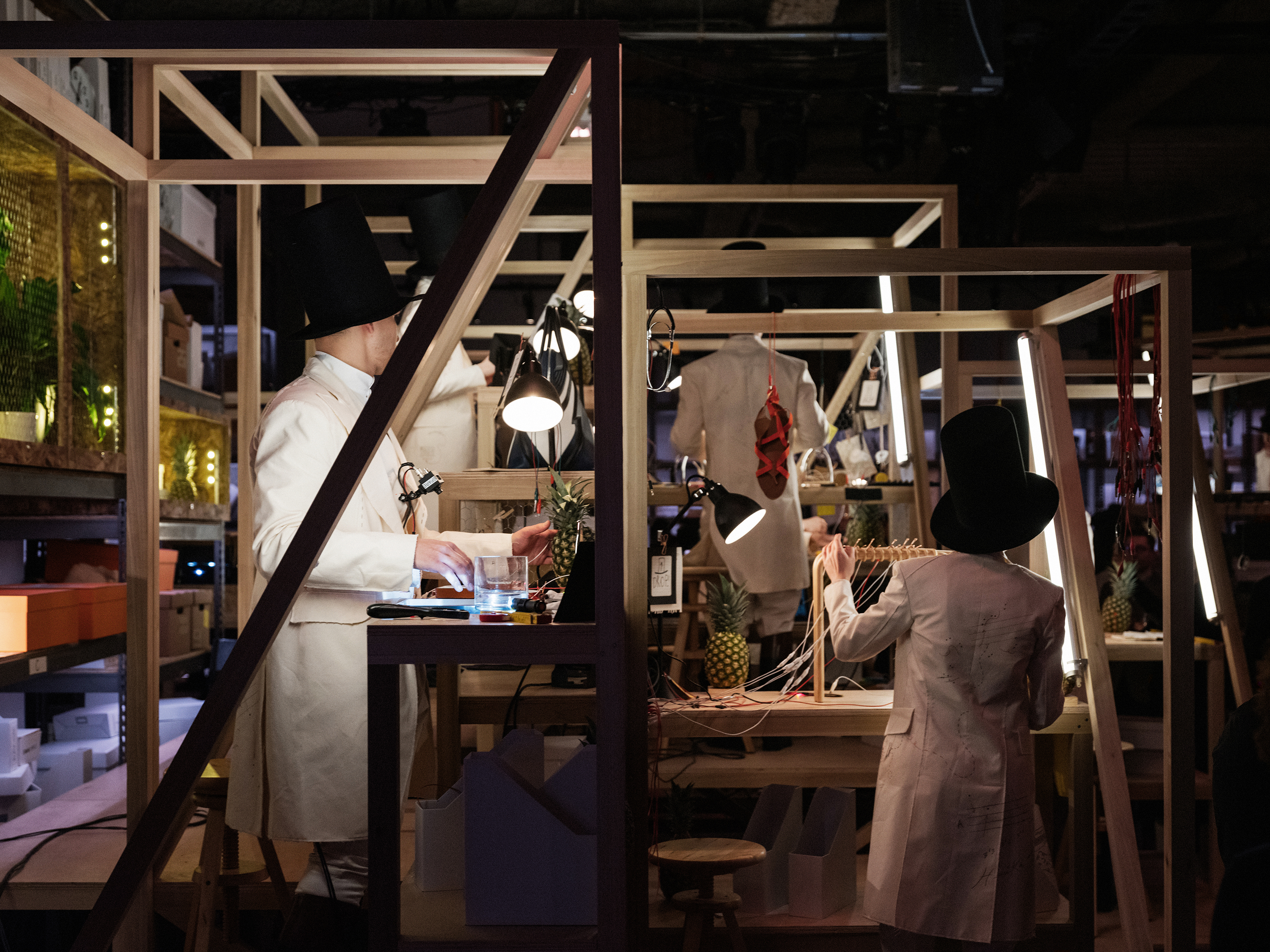 Enjoying the soothing sounds of the pineapple. Photo by Carol Sachs Courtesy of Herms
I look up and notice a group of musicians playing music out of a pineapple and a Kelly bag? It was very groovy. A different man in a tall hat walked up to me to talk to me about the new technology that allows them to make their classic Collier de Chien bracelets with aluminum instead. A sign nearby informs me about the new bamboo technology that is used to strengthen some of their furniture offerings. In the third floor, guests could ride a saddle hung from the ceiling, experiencing weightlessness and also the perfect photo-opportunity (hashtag #Heureka!).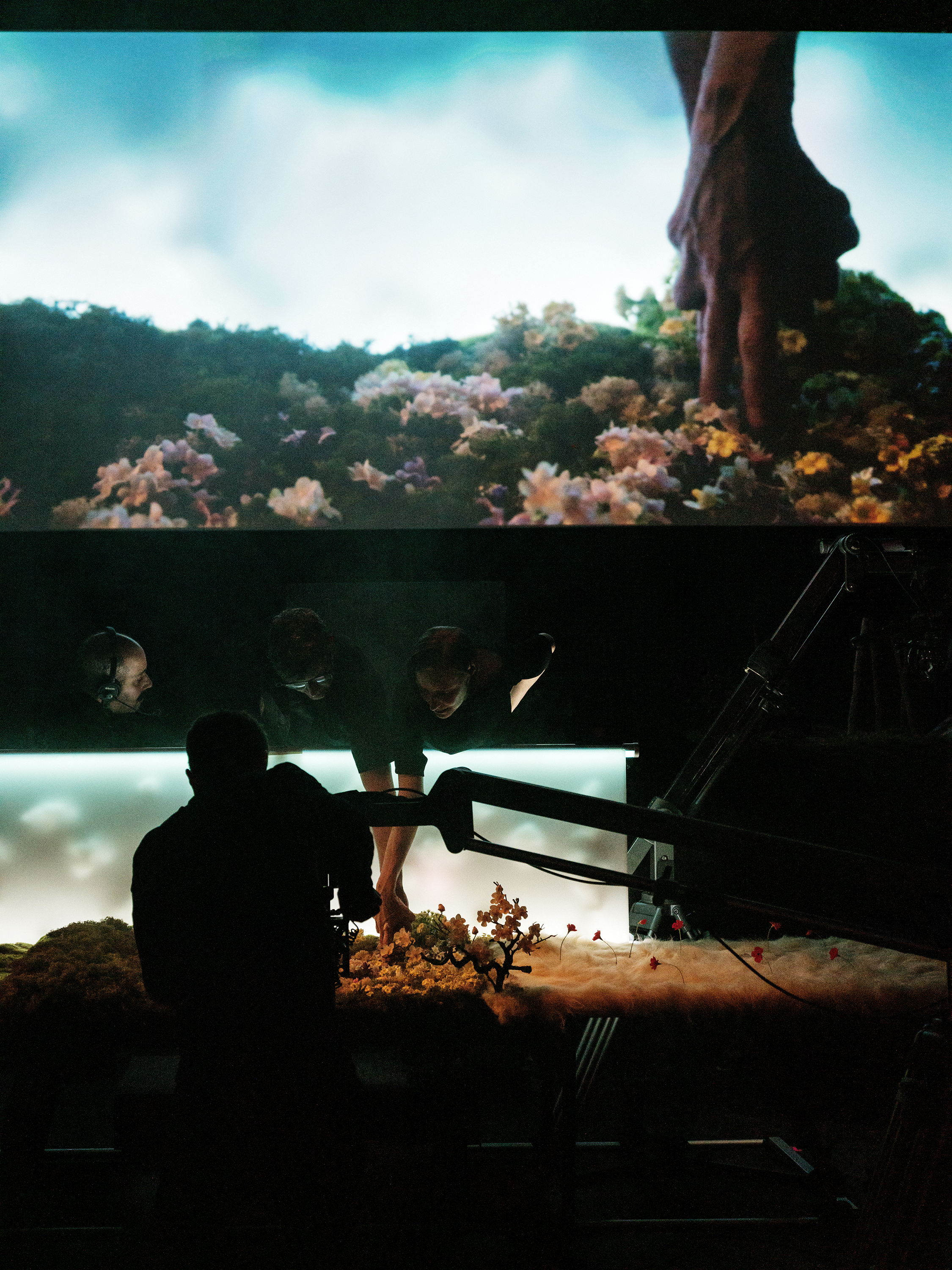 A performance by De Mey and Van Dormael. Photo by Carol Sachs Courtesy of Herms
In the fourth floor, the performance by De Mey and Van Dormael truly had the crowd electrified. A movie plays in a giant screen above the crowd: hands walk through a field strewn with flowers, flowers rain inside the face of a clock, then a woman floats inside it, a moon is reflected inside the many shapes of a kaleidoscope. Its positively enthralling. But look closer, whats going on in front of the screen? The movie is being performed livethe woman floating inside the clock? She is laying on a bed a few feet away from the clock with the glass face, a camera moves back and forth on a dolly to film the action. The people are walking their own hands through the carefully decorated dioramas, carefully lowering silk scarves that have been put on stretchers behind glass to create the kaleidoscopic effect. Its like peering through the curtain at Oz, but Oz is actually the main event. Days later, Im still thinking about it how marvelous it was, but more importantly I wonderis it finally time for me to buy an Herms scarf? It seems there's also innovation in figuring out new ways to make people realize their aching need for beautiful scarves. Heureka!