Hosotsuji Ihee Museum in Kyoto, Japan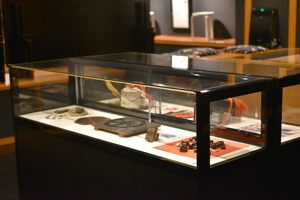 Tenugui is a sort of traditional Japanese towel, literally meaning "hand wiper," but often used for other purposes than simply wiping one's hands. Historically, it was an all-purpose piece of cloth; some wore it as a scarf, some wrapped bento boxes with it, while it was also used in place of a belt, bandage, apron, and diaper.
One of Japan's oldest continuously running businesses, Eirakuya was originally established in 1615 by fabric merchant Hosotsuji Ihe'e, a favorite of Oda Nobunaga—one of the most illustrious figures in Japanese history. The shop's name derives from Eiraku Tsūhō, a Ming dynasty coin that widely circulated back then, so common that Nobunaga adopted it as one of his crests. Men of the Hosotsuji clan also wore the coin crest to show their loyalty to the samurai warlord as they joined his war to unify Japan in the 1570s.
Initially dealing in silk fabrics, Eirakuya eventually shifted to selling cotton as it became more and more popular in Japan. The business proved to be quite a success, and by the modernized Meiji era (1868-1912) it had become a huge company with hundreds of people in employment. Today, it boasts nine shops around Kyoto and continues to produce a wide variety of tenugui for modern consumers, some with unique, cute, and humorous designs by its CEO, Hosotsuji Ihe'e XIV.
In 2018, the Hosotsuji Ihee Museum was founded by the Eirakuya company to showcase the diverse art and craftsmanship of tenugui as well as to archive the history of the shop. It exhibits Eirakuya's past designs and offers a glimpse into its history, as well as into the future of the art.
The most unique part of the museum, though, might be its ticket system. Upon entering and purchasing a ticket, a visitor will be given a white tenugui with a simplified calligraphy reading "Hosotsuji Ihee Museum" printed on it. Then, perhaps to your shock, the reception clerk will cut a narrow strip off the ticket-tenugui. It does not fall apart from such a small tear, however, and it's only a display of the durability of the intricately woven tenugui. You can take this sustainability-friendly ticket back home as a souvenir and use it for whatever purpose it may serve.