How to cruise with just a carry-on
One of my favorite aspects of cruising is the idea that you only have to unpack once. However, I don't let that lure me away from my minimalist packing tendencies. Whether it's an ocean voyage in the sunny Caribbean or a European river cruise during the month of November, I always stick to a one carry-on only rule.
Why just one carry-on? There are a few reasons lightening your load is a great way to go. If you're flying to the cruise port, you don't have to worry about your luggage getting lost on the way or waste time at baggage claim waiting for it. It's also super convenient to have instant access to all your belongings should something unforeseen interrupt your travel plans.
For more cruise guides, news and tips, sign up for TPG's new cruise newsletter.
From planning and organizing to packing and accessorizing, let this guide be your way to carry-on freedom for your next cruise vacation.
Planning and preparation
The key to avoid overpacking is in the planning stages. Whether you're prepping for your first cruise or 20th one, you can always streamline your items and pack less. Here are a few tips to help you achieve your carry-on-only dream on your next cruise.
Organize your clothing
Depending on the line, suggested attire runs the gamut from super casual to elegant. Formal nights have largely been tossed out the porthole, but some luxury lines still offer them — and often host more than one during longer sailings.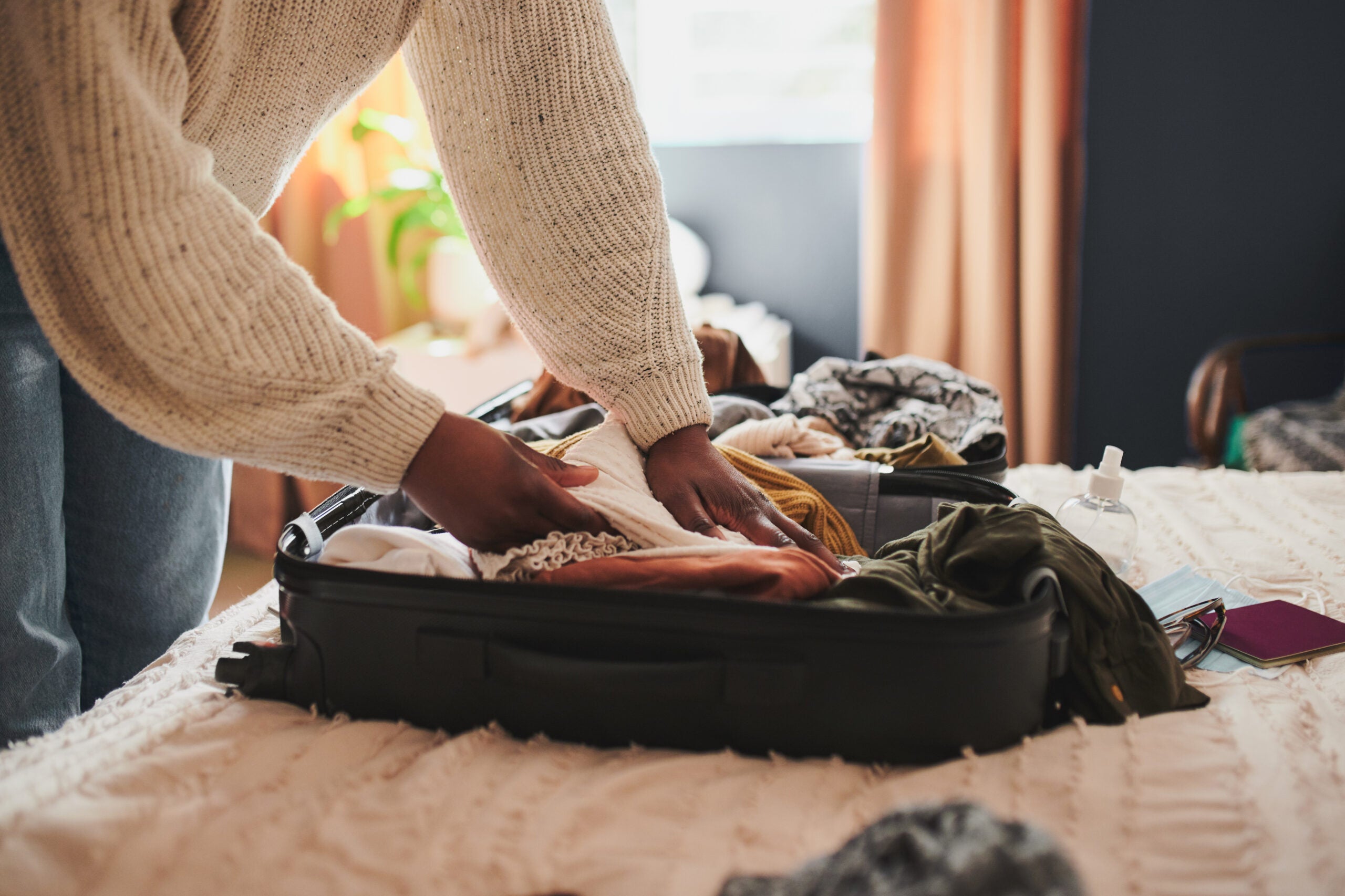 While brands like Carnival Cruise Line, Norwegian Cruise Line and Disney Cruise Line don't have a designated formal evening dress code, dressier attire is generally encouraged (collared shirts, jackets and nice slacks for men; dresses, skirts and pantsuits for the ladies).
Don't let dress codes derail your commitment to carry-on-only travel. Instead of packing individual pieces, organize your clothes by outfits. Aim to have a few basic pieces you can stretch into two or more different outfits.
My travel packing mantra is: These people will probably never see me again, so do I really care if they see me wearing the same outfit twice? Honestly, I don't remember what I had for breakfast last week, much less what my fellow cruisers wear from day to day.
That little black dress can go a long way. Add a jacket, cardigan or scarf and change up your jewelry for a completely different look. For men, a basic collared or button-up shirt could work with a nice suit or paired with khaki pants or shorts.
Don't forget to plan and organize accessories, too. A large scarf can serve many purposes. It can keep you warm on the plane or in the dining room, serve as a casual bathing suit cover-up or add a touch of flair to your LBD.
Related: Cruise packing list: The ultimate guide to what to pack for a cruise
Plan your excursions and activities and pack accordingly
What part of the world you'll sail and the diversions you take part in will largely dictate your wardrobe. The more you pack for your actual cruise activities, the less extra clothing you'll be tempted to pack "just in case."
Planning to do mostly water-based excursions in a warm climate? You can likely get by with T-shirts and shorts. Resist the urge to pack more than one cover-up for beach days.
In Europe, many sacred sites like mosques, temples or cathedrals won't let you enter with bare shoulders and legs. You'll want to pack something modest to accommodate those types of excursions. Handle this situation with a scarf or long-sleeved layer that you can re-wear on board rather than an entirely separate outfit.
When it comes time to pack, group outfits according to day and activity. You want to get granular here and include socks and undergarments with each outfit. Anything that doesn't go with a specific wardrobe need can be left at home.
Related: Shore excursions: What new cruisers need to know
Let's talk about shoes
Maybe it's just me, but shoes are my biggest nemesis when I aim to be a minimalist packer. They're a bulky necessity. Case in point: I own these glorious red chunky platform sandals I like to wear on warm destination cruises, but they take up precious real estate in my bag. If it's a short or direct flight and I don't have to sprint to another gate, I will wear them on the plane to avoid packing them.
My Chacos sandals serve me well in my minimalist vacation wardrobe. They're my hiking, kayaking, beach day, walking tour, multi-purpose shoes. Any high-quality waterproof sports shoes are a good investment if you want to pare down the number of shoes you require. I usually pack my tennis shoes for workouts or morning ship walks, too. A pair of flat, strappy sandals doesn't take up much space and works well with skirts or can level up a pair of shorts for a dressier look.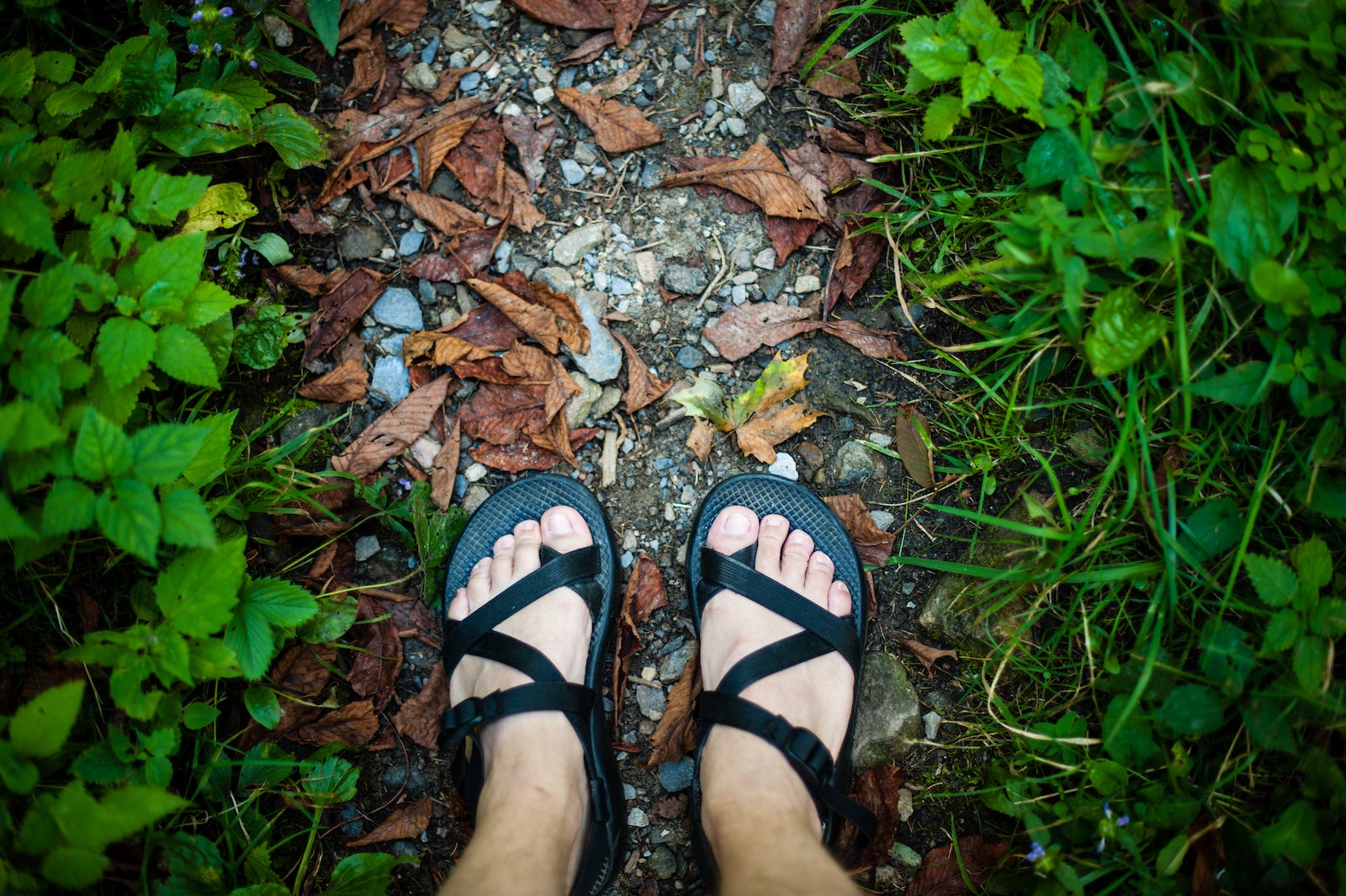 For cooler or colder climates, I replace my Chacos with sturdy tennis shoes and swap my platform sandals for ballet flats.
A tried-and-true hack for maximizing the space in your suitcase is to fill your shoes with smaller items like belts and socks, among other things. Hygiene tip: Place your shoes in a plastic bag to keep the rest of the contents in your luggage dirt- and germ-free.
Related: The 14 best travel shoes for your next trip
Wear it, don't pack it
The more you wear, the less you have to pack. If you're flying to the cruise port, strategize your on-the-plane outfit. Wear some of your bulkier items on the plane or dress in layers, like a pair of jeans worn with a versatile cardigan or comfortable blazer.
Flying to a cold climate cruise? Wear or carry your coat onto the plane. Brands like Patagonia and Arc'teryx offer a good selection of lightweight, but well insulated jackets perfect for cold weather excursions. Wear your hiking boots or heavier shoes on the plane, too.
Related: 7 cruise ship packing mistakes you want to avoid at all costs
Wash it and wear it again
Throw in some travel-sized laundry detergent for hand washing items you can rewear. SinkSuds Travel Laundry Detergent Liquid Soap (available on Amazon) or Sea to Summit Trek & Travel Pocket Laundry Wash (available at REI) are two worth considering. Also, many cruise lines offer some type of laundry service — self-serve or paid laundry, pressing and dry cleaning.
Time to pack
How you pack is just as important as what you pack when it comes to saving space and traveling light.
Clothes
Gather the outfits you've organized. Lay down the largest piece of clothing first, then stack the rest so the smallest item is on the top. You'll fold those pieces inward to create a fold and then roll up the outfit. All your rolled outfits should fit nice and snug in your suitcase.
You can also place each outfit into a packing cube. No cubes? Gallon-sized Ziploc bags work well, too.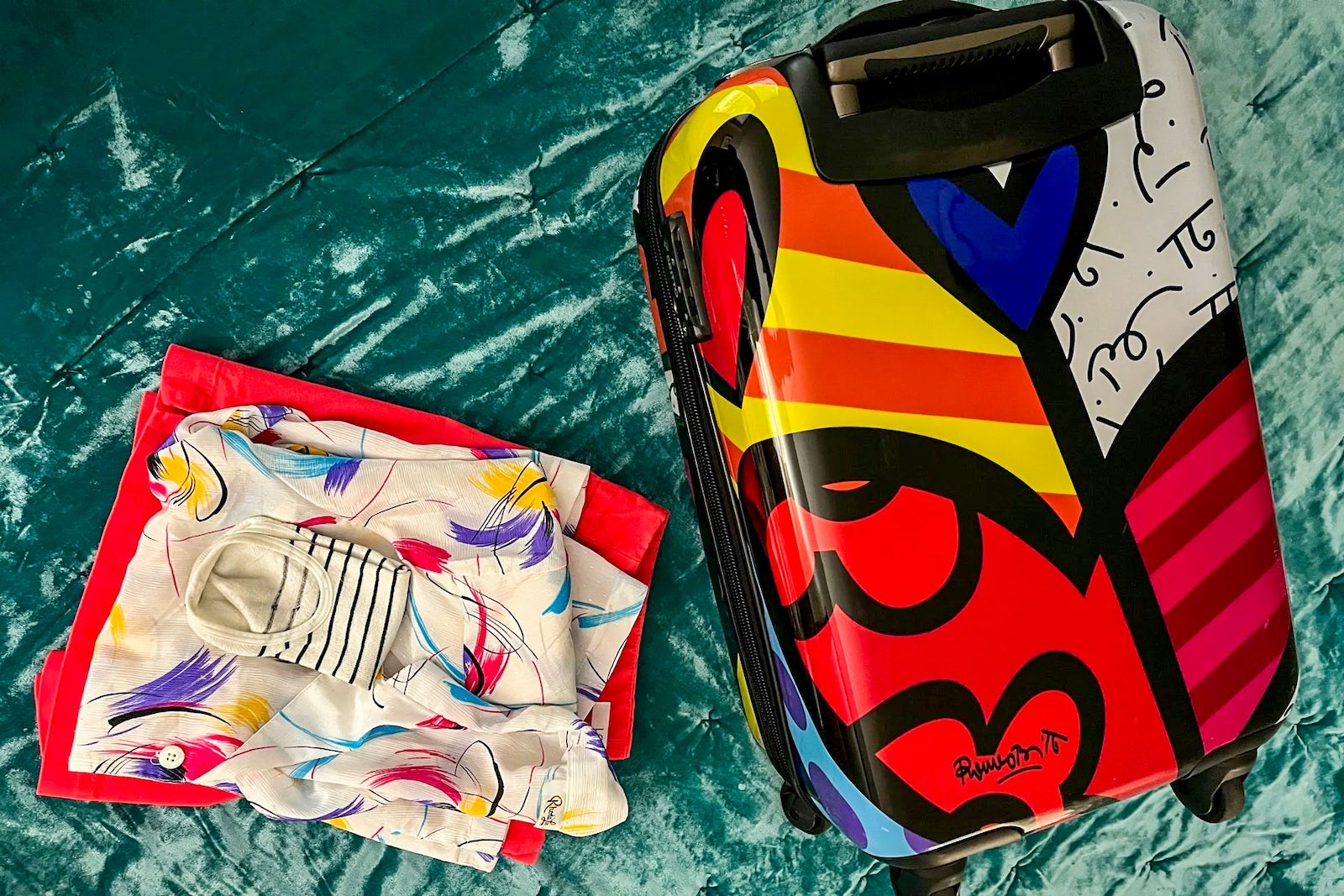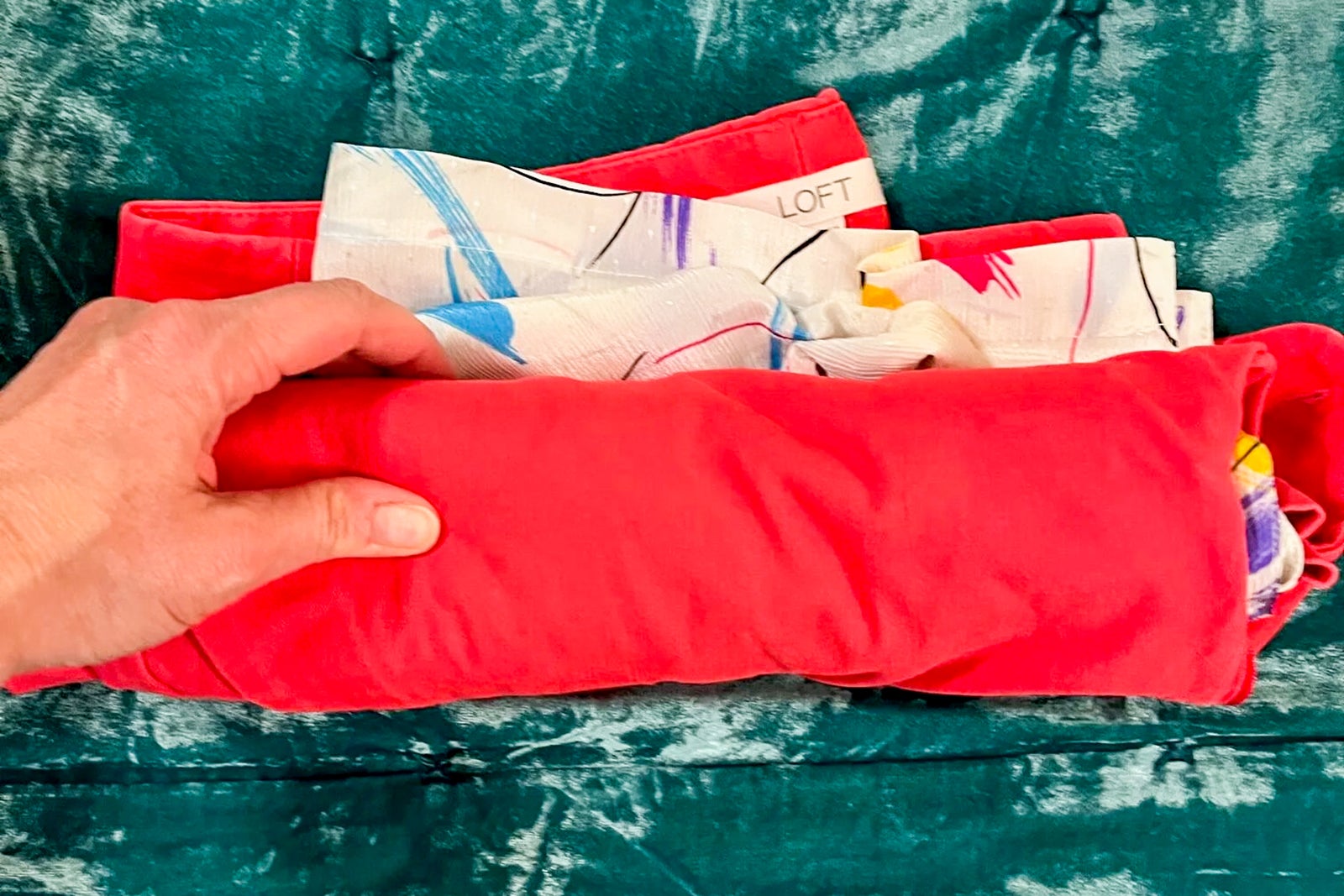 Accessories
Smaller items like toiletries, make-up, brushes and medicine also can be corralled in a packing cube or Ziploc bag. To save even more room, I use small, stackable containers and fill them with my liquid foundation, moisturizer and other items that come in larger bottles.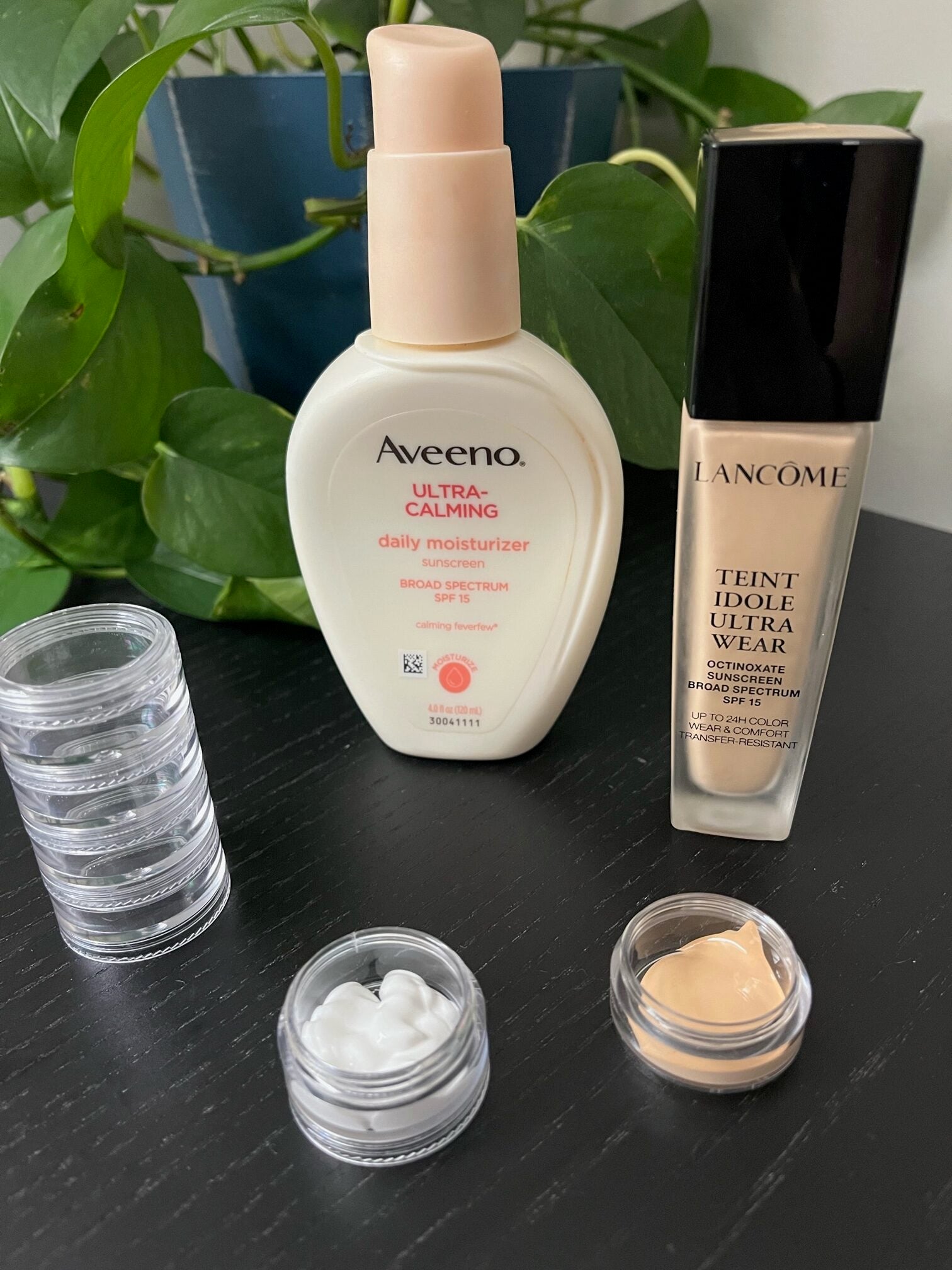 Compile your own first aid kit in a packing cube or zip bag. Things to include: activated charcoal (great for stomach bugs), pain reliever, Band-Aids and itch relief cream.
Pack an empty water bottle, too, so you can stay hydrated during your cruise without burning through all those single-use plastic bottles. Many cruise lines have completely done away with plastic water bottles, so you should be able to find water stations throughout the ship or use the "water" option at the juice machine. Make the most of your space with a collapsible water bottle. It stores flat in your bag or can easily fit in the outer pocket of your backpack or personal item.
Related: 10 unexpected items I won't cruise without
Backpack
When I cruise, I typically replace the purse I usually carry with my backpack. It's easier to manage than a traditional purse. The weight is evenly distributed on your back and stays in place, as opposed to that one purse strap that tends to slide off your shoulder.
If I'm flying, I make sure to pack my backpack light enough to still fit under the seat in front of me. It holds all my electronic devices and accessories, travel essentials like my passport, ID, credit cards, insurance card, face mask and hand sanitizer. I also include my sleeping mask, earphones, a book (or my Kindle). If I'm traveling with my laptop, it goes in there, too.
My backpack accompanies me on hiking, snorkeling and beach day excursions, so I don't need to bring separate bags for those activities. I do pack a smaller, empty travel purse or wrist wallet for walking tours or other activities that don't require a backpack.
Related: TPG readers recommended their favorite travel backpacks — here's what I chose
Bottom line
There is such freedom in having everything with you when you travel. It's nice to only have to unpack once. It's even nicer to unpack in under five minutes, so you can jump right into cruise mode and enjoy your favorite onboard activities.
Planning a cruise? Start with these stories:
Featured photo by freemixer/Getty Images.