How to wear a beret and look effortlessly chic
The beret can be one of the trickiest hat styles to wear because you can find yourself constantly adjusting and readjusting it to try to get the angle just right. But, worn well, the beret can add style to any outfit and make you look effortlessly chic. Take a look below at how to wear a beret in he most stylish ways.
What is a beret
First, let's think about what sets a beret apart from other hat styles. Soft and round with a brim, and often with a tab in the center, berets are associated with military uniforms and with a stereotypical 'French' look. But you don't have to look like a cliche when you wear a beret.
Faye Dunaway famously wore a beret in the Bonnie and Clyde movie, and the beret has enjoyed a renaissance recently with everyone from Jennifer Aniston and Minnie Driver to Beyonce and Cher spotted in berets.
how to wear a beret at Just the right angle
A beret is designed to be worn at just the right angle. But, what is the right angle, and how do you get it? Let's take a look…
1. Put your beret on!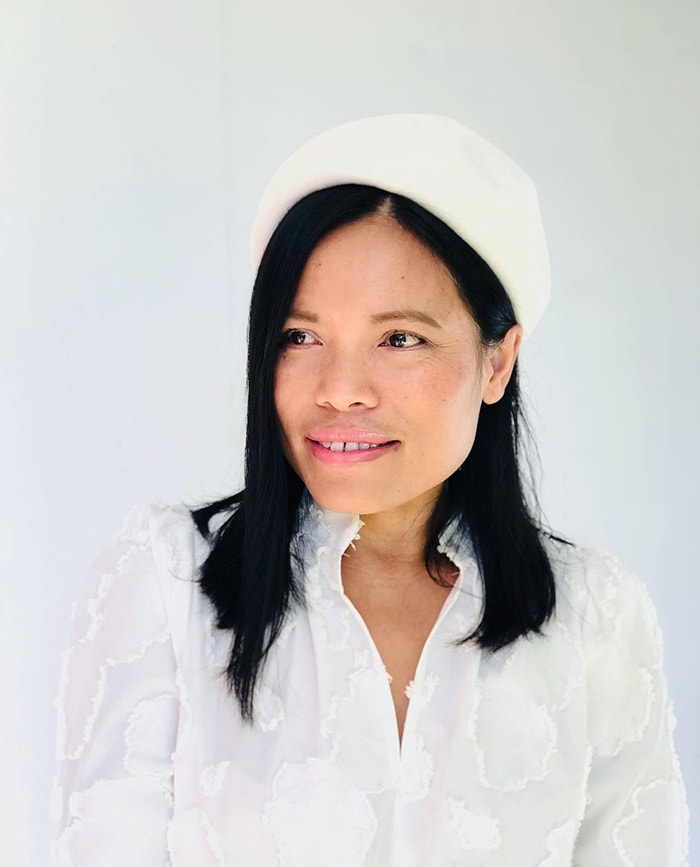 The first step, and it's an obvious one. Pop your beret on so you can start to play around with the angles. Place it around three-quarters of the way up your forehead so the back comes down towards the back of your neck.
Souri @fabfemme_australia above (read her style interview here) shows how you can wear a beret without very much angle at all if you prefer. She wears hers quite far back on her head keeping the front of her hair out of her hat. Here is a similar beret you can buy from Amazon.
2. Tuck in the brim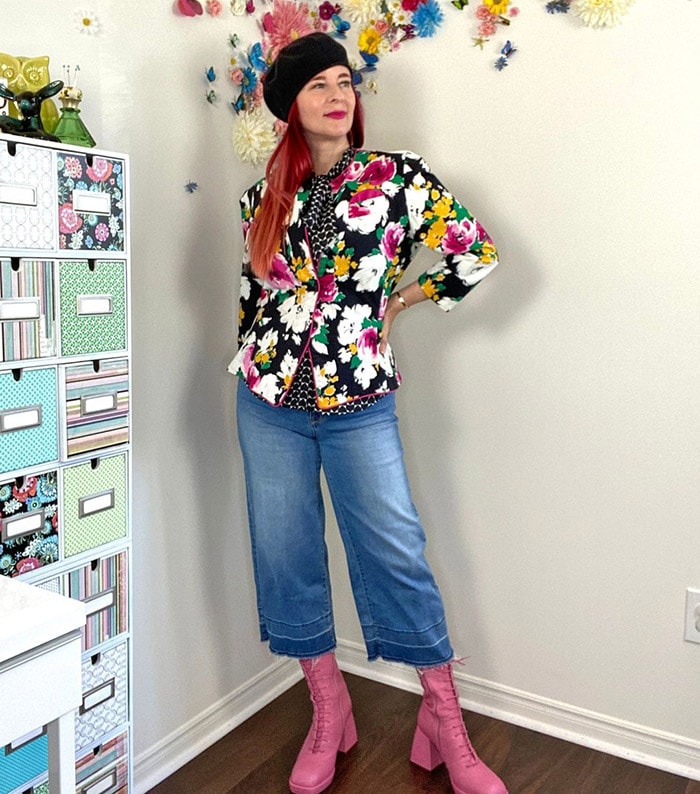 Most berets have a small brim. Tuck this in so it doesn't show, pulling it down and under.
Suzanne @suzannecarillo above (read her style interview here) keeps her beret low over her forehead and matches it to the background black of her floral blazer.
Steal her look with this similar floral blazer, jeans, boots and beret.
3. Pull one side down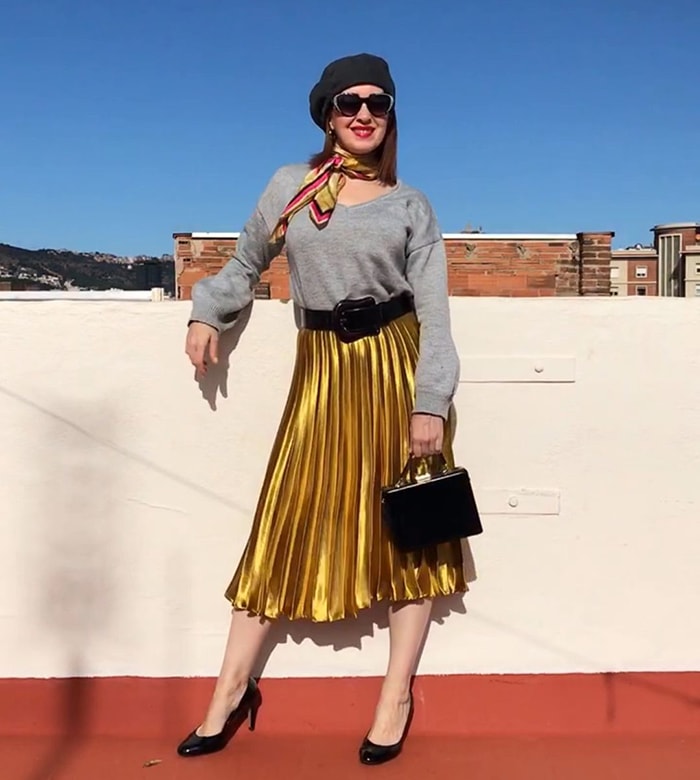 You can choose whatever side you prefer. Pull your beret down over one your ear so it is angled properly.
Patricia @madamechicbcn above (read her style interview here) is a big fan of berets to add the perfect finishing touch to her glamorous outfits.
Check out this similar long sleeve top, pleated skirt, pumps, handbag, belt and neck scarf.
4. Play around with it to suit your face shape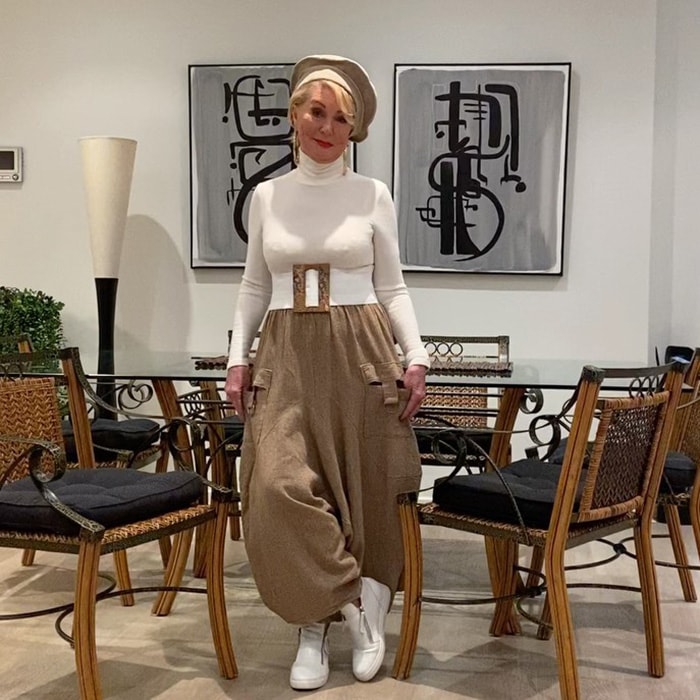 Of course, everyone doesn't have to wear their beret at exactly the same angle. You can play around with exactly how far down your forehead, to what side and the amout of volume you want on top for the most flattering effect for your face shape.
Sharryn @hestylishwoman above (read her style interview here) keeps some volume on top of her beret, which offsets the volume of her pants.
Recreate her outfit with this similar long sleeve top, pants, sneaker bootie, beret and belt.
There is more advice in this article on the best hat styles for all face shapes.
how to wear a beret: The best berets to choose
So, now that you're thinking about how to wear your beret in the most flattering way for you, let's look at the most stylish berets in stores now that you could choose to finish off your outfit.
leather beret
Berets are generally thought of as being felt, but you could choose a different material. A leather or faux leather beret will add a little edginess to your look.
WETOO Beret Hat PU Leather Beret 
crochet beret
Another common beret style is the crochet beret. You can style this in a similar way to the beanie hat. But, rather than pulling straight back and down, you could keep your beret at an angle.
The BG beret (below) is available in a huge range of bright colors, pastels and neutrals. One reviewer said she loves this hat so much, she has it in five colors.
BG Soft Lightweight Crochet Beret
pearl beret
If you want to add extra glamour to your look, you could opt for a beret with pears like the Bestoyard hat (below) which would work well with evening outfits.
denim beret
Another material you could look out for is denim. If you're wearing wool or leather outerwear, denim will add an additional texture to your outfits.
Ganni Organic Cotton Denim Beret
WOOL beret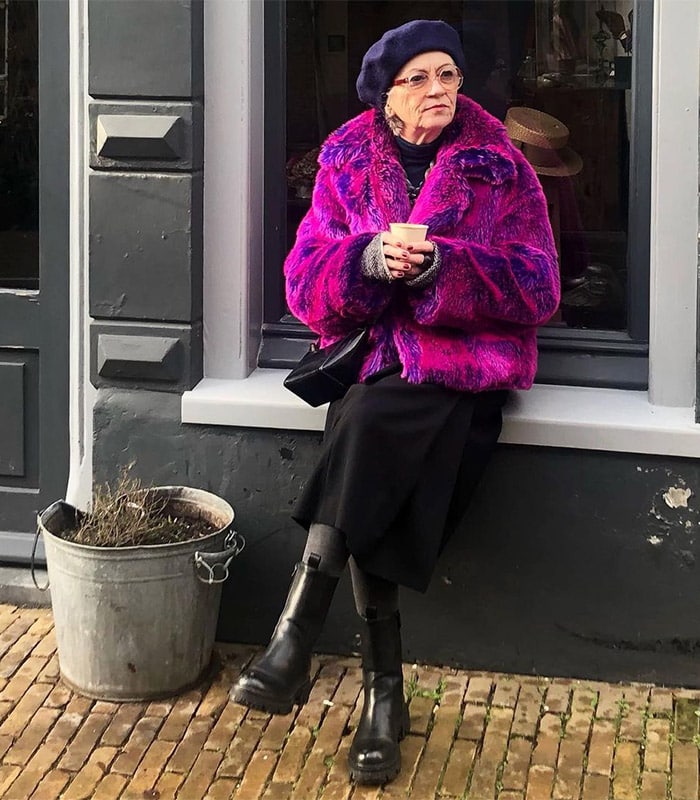 A wool beret is a true classic. Misja @misjabeijers above (read her style interview here) matches her beret to the undertones in her jacket.
floral beret
You could add some embellishment to your beret, either by adding a brooch or choosing a beret which is already adorned with an extra adornment such as the Betmar floral beret (below) which comes in neutral tones as well as red.
check beret
If you want to make your beret the star of your outfit, you could choose a pattern option. I think the check beret (below) would look good with a monochrome outfit and a pop of red.
Urban Outfitters Checkered Beret
slouchy knit beret
For a slightly more casual feel, you could choose a slouchy knit beret like the Free People hat (below) which comes in red or turquoise.
Free People Chateau Slouchy Knit Beret
leopard beret
Another print option for you, leopard print is a print that won't date and will add glamour to any outfit, whether you wear it during the day or with your evening looks.
2 pack of berets
If you find you really love the look of berets, then you could choose a pack of two to make sure you have options for winter and fall. The crochet berets (below) come in a huge range of colors. Reviewers say they are soft, light and stylish.
& other stories
Green is one of the major color trends for fall and winter 2021, and an easy way to add a new color to your outfits is with your accessories.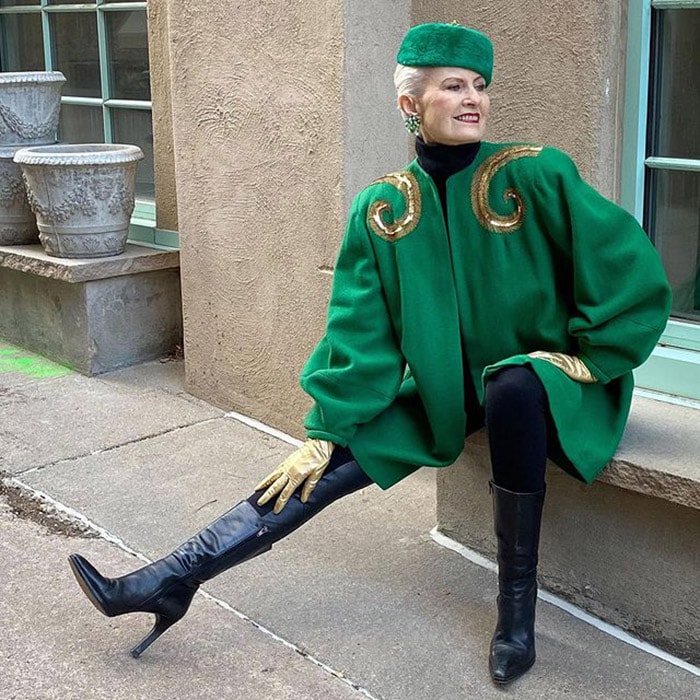 Judith @stylecrone above (read her style interview here) looks fabulous in her green coat and matching beret.
Steal her look with this similar sweater, coat, leggings, boots and beret.
black beret
Black will go with anything in your closet. The Bronze Age beret (below) has been inspired by traditional Japanese hat designs.
Classic beret
The Gllut beret below comes in a truly classic style with the tab in the middle. Choose from more than 30 colors.
light gray beret
Another classic style for you, the Hats To Socks beret comes in subtle shades like this pale gray hat (below) or bright colors including orange, pink and red.
Hat To Socks Wool Blend French Beret
solid color beret
Another good choice if you want to make sure you have plenty of color options is the ZLYC beret (below). One reviewer said she ordered five different berets to find the perfect fit, and this one was the winner.
Do you have a beret in your closet? What is your preferred way of wearing a beret?
Continue reading:
like this post on how to wear a beret? share it on pinterest!
Feature image by Misja @misjabeijers
The post How to wear a beret and look effortlessly chic appeared first on 40+ Style.