How to wear a trench coat and the best trench coats in stores now
Lets talk about a fashion staple every woman should own: the womens trench coat. In this article you will find inspiration on how to wear a trench coat with just about any outfit.
The right trench coat keeps you warm and dry in spring, summer and fall when the weather is still a bit unpredictable. Trench coats are big again but honestly, when did they ever go out of style?
Reasons to invest in a trench coat
So if you havent already got one in your closet, why might you want to add a trench coat as one of your outerwear options?
Read on to find plenty of reasons you might want a trench, as well as the best trench coats in stores now, and 12 different ways to wear the same classic trench coat.
First, onto why you might like at least one trench coat in your closet
A trench coat is timeless
Trench coats are truly a timeless option that will never date, so they always make a great investment.
With a history dating back to 1820s, the trench coat has been around for centuries and is going nowhere soon. Designers Burberry and Aquascutum are best known for their trench coats.
Burberry Kensington Long Trench Coat
The trench coat has been worn by everyone from Audrey Hepburn in Breakfast at Tiffanys to Meryl Streep in Kramer vs Kramer.
Trench coats are flattering
The best trench coats for women are tailored in a way that gives any body shape a nice hourglass figure, a slim waist and a polished look.
A trench coat is versatile
There are few items for your closet that are as versatile as the trench coat. It is equally at home as part of your formal outfits as it is with your casual attire.
You can pop over your evening dress or over your jeans and t-shirt.
You can choose a trench to suit your style
The classic trench coat is beige. And, a beige trench does look fabulous. However, you can choose a brighter color, material or a style which is patterned or embroidery, for example, to suit your style personality.
What more can you ask for? The best trench coats for women offer style, ease, weather protection and a more shapely you.
A womens trench coat is definitely worth investing in.
So now that youre either thinking about digging out your own trench coat from your closet, or considering adding one, which one should you choose?
The best trench coats in stores now
1. Olive trench coat
You dont have to choose beige as your neutral. An olive green will work with just as many outfit choices.
The gun flap at the front of the coat is not only a stylish option, but it helps any rain to run off your coat without soaking into your outfit.
Lucky Brand The Relaxed Trench Coat
2. Navy trench coat
Another beautiful neutral which will go with everything, if you would prefer a darker color, is navy.
This shorter style from Ralph Lauren also comes in black, brown and a traditional beige shade.
Lauren Ralph Lauren Water Repellent Trench Coat
3. Stone trench
For similar look to Burberry without a Burberry price tag, London Fog is a good brand to consider.
London Fog Heritage Water Repellent Trench Coat
4. Green coat
Of course, you dont have to choose a neutral at all. A bright trench can make a big style statement.
If you would prefer a pop of color, take a look at British brand Boden, where you will usually find dramatic colors and color-block styles.
5. Blue trench coat
Another go-to is Amazon where you will find this Zeagoo trench in plenty of colors.
Zeagoo Double Breasted Trench Coat
6. Pink trench
Whatever your style personality, a pink shade could work. Pink can look particularly striking when worn with gray.
Also take a look at how to wear pink.
Cole Hann Double Breasted Trench
7. Belted trench coat
For traditional with a twist, this Scotch & Soda style could be perfect.
Its a classic beige trench, yet its given a touch of the unexpected with the bright lining and belt.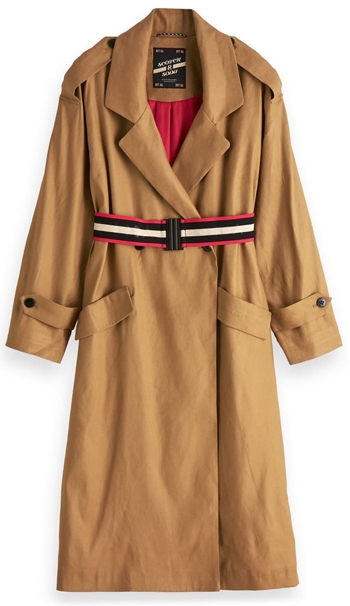 Scotch & Soda Belted Linen Blend Trench Coat
8. Faux leather trench
If you really want to take a classic style and almost turn it on its head, you could opt for a leather or faux leather style to give your trench a little rock chick flair.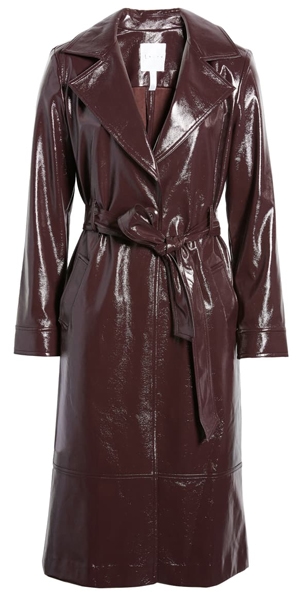 Leith Faux Patent Leather Trench Coat
9. Vinyl trench coat
If you do want to opt for a playful take on the trench, there are plenty of options at Topshop including this blue vinyl style.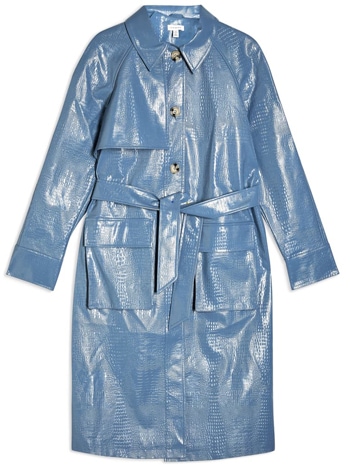 Topshop Charlie Croc Embossed Vinyl Trench Coat
10. Hooded trench
While the trench coat is often worn simply as a style statement, it is also very practical.
If you want to make sure you are protected from rain showers, you could look for a hooded trench.
Lauren Ralph Lauren Hooded Trench Coat
11. Plaid trench coat
What do you think of this plaid trench? I love it. It would definitely be the stand out piece of any outfit.
You could throw over a pair of black pants and a white top and look incredible. Its sure to get you compliments.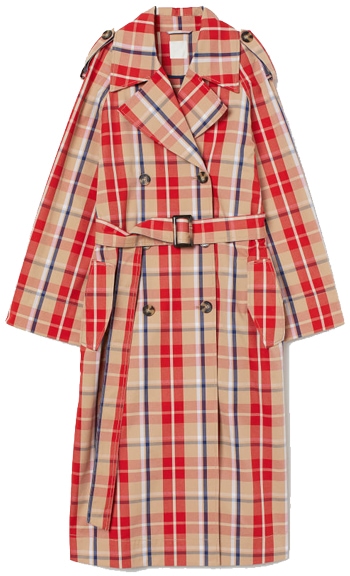 12. Denim trench coat
Rather than the usual waterproof heavy cotton, how about choosing a denim trench?
Of course, it wont keep the rain off so well. But, it will make an impact.
13. Cotton trench
As discussed earlier, a trench really is an investment piece you can wear for many years.
This style from Suistudio is a little pricier than many high street options, but still an affordable choice if you think about cost per wear.
SUISTUDIO Dwight Stretch Cotton Trench Coat
How to wear a trench coat to look current and polished
Which one of the trench coats above is your favorite, or do you already have one you love?
A good trench coat can go from day to night, and can go with a variety of outfits.
Layer one over jeans and a blouse or over leggings and a cardigan or use one as a night time cover up over your evening look.
Below, youll find inspiration from stylish 40+ women, as well as 12 different outfit choices, all featuring the same stone-colored trench coat.
How to style and accessorize a trench coat
Trench coats are the perfect transitional weather piece of outerwear.
Not only are they layerable, they seemingly go with most any style and occasion. From weekend errand runs to evening outings at an exclusive restaurant, trench coats are a closet staple.
Patricia (above) wears aclassic trench coat over her neutrals.
Recreate her look with this similar trench coat, sweater, jeans, handbag, belt and sunglasses.
Office looks
Spring office looks are never complete without the perfect trench. A belted trench provides a chic power suit like feel to any office ensemble, and serves as a good base for pulling your entire look together.
Monika (above) opts for a stylish on-trend plaid coat.
Check out this plaid trench you can try to pair with this similar trousers, pumps and satchel.
Office look 1: Striped shirt and pants
If you work in a slightly less formal setting, how about a shirt worn with white pants. Or you could simply switch for black pants if prefer. The outfit will work just as well.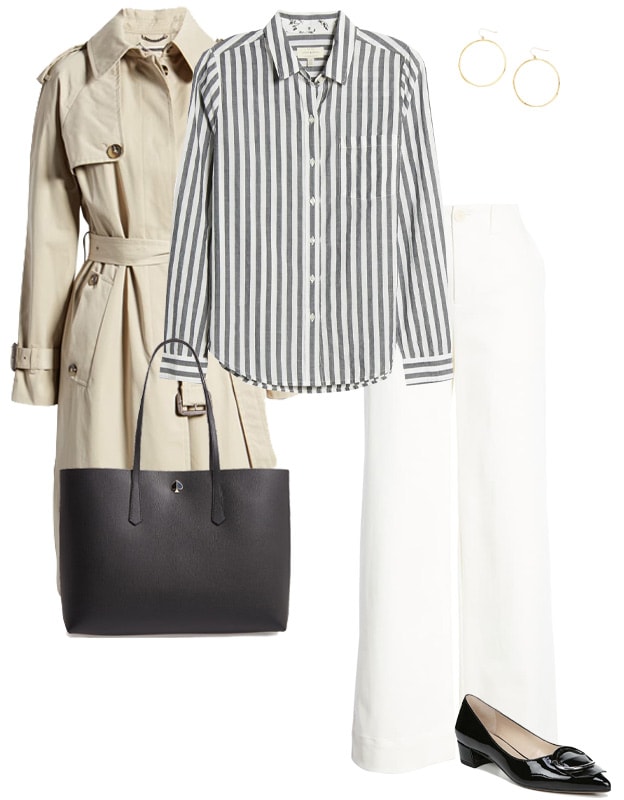 London Fog trench coat Lucky Brand stripe shirt Entireworld wide leg trousers Kate Spade tote Franco Sarto pump Gorjana hoop earrings
Office look 2: A day to night dress
An asymmetrical hem can help a dress go from day to evening if you are heading out straight after work.
London Fog trench coat Harper Rose fit & flare dress Rebecca Minkoff tote Sam Edelman pump Kate Spade pendant necklace
Office outfit 3: A trench and pencil skirt
A trench coat is a classic. A pencil skirt is a classic, so its no wonder when you put them together, you get a winning outfit combination.
London Fog trench coat Halogen stripe blouse Kate Kesin pencil skirt Sole Society pump Nordstrom satchel Anna Beck stud earrings
Casual looks
Whether youre scrunching or rolling up your coat sleeves, leaving the coat open, or tying the belt in the back, trench coats work perfectly for casual looks.
You can also wear your trenches with jeans and pants paired with casual boots, loafers, or sneakers.
Abi (above) styles hers with jeans and a Gucci belt
Check out this similar trench coat, shirt, jeans, booties and tote.
Casual outfit 1: Wear your trench with a denim shirt
Teaming a more formal trench coat with a casual denim shirt can give your outfit unexpected style.
London Fog trench coat Eileen Fisher chambray shirt FRAME skinny jeans Rebecca Minkoff bootie Rebecca Minkoff print silk scarf Sandra Roberts hobo
Casual outfit 2: Stripes with white jeans
For a casual look with your trench, try stripes, your white jeans and a pop of color.
London Fog trench coat Wit & Wisdom stripe ruched sleeve top 7 For All Mankind mega hem jeans Rebecca Minkoff bucket bag Veja sneaker
Casual outfit 3: Your trench with jeans and a sweater
Simply putting a trench coat over your sweater and jeans can give your outfit elegance.
For even more interest, you can literally add a twist with a draped sweater style.
London Fog trench coat BP. knot front tee Lee high waist ankle jeans Longchamp large tote Ted Baker London sneaker
Evening looks
A well tailored trench coat can be the perfect finishing touch to an evening look.
The key here is to select a coat that is well fitted (we definitely recommend tailoring) and is made of quality material.
Be sure to pay attention to fitting and ensure that if you have a longer sleeve dress, the sleeves are not bunching in the sleeves of your coat and creating a bulky look.
Sally (above) looks chic in this outfit featuring statement pants.
Check out this similar mock neck top, trench coat, wide leg pants, pumps and bag.
We love a trench worn with the wider leg pants that are all the rage right now.
We also recommend ensuring your dress does not come down much longer than the coat itself. Seeing a bit of the material can actually add to your look, however, a drastic difference in hem length can create an unflattering silhouette.
Evening outfit 1: Wearing your trench over a classic navy dress
You dont get much more timelessly classic than wearing your beige trench over a navy dress.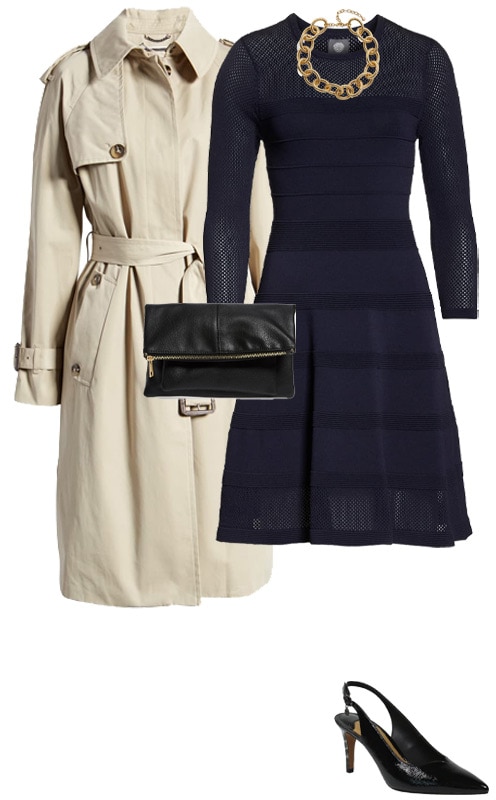 London Fog trench coat Vince Camuto fir & flare dress J. Rene slingback pump Sole Society clutch BaubleBar link collar necklace
Evening outfit 2: Wide leg pants and a wrap top
Wearing wide leg pants is very on-trend right now. Adding a blue top can be a beautiful color combination with beige.
London Fog trench coat 7 For All Mankind silk wrap top WAYF belted trousers Jewel Badgley Mischka ankle strap sandal Nordstrom crystal embellished minaudire Gas Bijoux feather hoop earrings
Evening outfit 3: Teaming leather with your trench coat
Leather can go very well with your trench coat because of the contrast between the classic styling of a trench style, and the edginess which leather brings to your outfit.
London Fog trench coat Chelsea28 pleated faux wrap top Nordstrom Signature leather skirt Vince Camuto peep toe pump Knotty double disc drop earrings Tory Burch clutch
Weekend brunch looks
Brunch looks are always fun and punchy opportunities to experiment with chic looks you otherwise might not consider.
A classic trench coat especially works well with more artistic and avantgarde looks by providing a solid foundation, and serving as a neutral canvas that does not take away from your look.
Venetia (above) chooses a subtle shade of pink for her trench coat to wear over her printed dress.
Recreate her look with this similar trench coat, dress, pumps, and sunglasses.
Brunch outfit 1: A midi dress with your trench
A feminine midi dress worn with a trench can give your outfit a romantic, ladylike feel.
London Fog trench coat Anne Klein polka dot dress David Tate sandal Treasure & Bond woven tote Panacea hoop earrings
Brunch outfit 2: A dress worn over leggings
If you have a dress that you feel if shorter than you like to wear now, how about wearing it over leggings and topping with a trench?
Also take a look at how to wear leggings over 40.
London Fog trench coat Ganni floral shirtdress Frank & Eileen crop leggings Vince Camuto bamboo crossbody bag Bella Vita bootie Nakamol Chicago huggie hoop earrings
Brunch outfit 3: Perfectly pale
Tonal shades worn with your trench can provide a whimsical, summery look to your outfit.
London Fog trench coat Halogen v-neck blouse Wit & Wisdom kick flare jeans Bella Vita slide sandal Nina floral stud earrings
Do not feel confined to only wearing the traditional and classic beige trench.
As you can see there is no one way when it comes to how to wear a trench coat. Trenches come in a diversity of cuts, lengths, colors, and fits that can be just as versatile and enticing as the classic trench.
The right trench coat can work as a dress, jacket or accessory.
Marie Louise (above) chooses a bright orange shade rather than beige.
Check out this similar trench coat, jeans, sneakers and sunglasses.
Your trench coat capsule
Below are all of the looks featured together in a capsule. You can see how versatile the clothes in these looks are. Any of the tops would go with any of the bottoms.
Also take a look at how to put together a capsule wardrobe.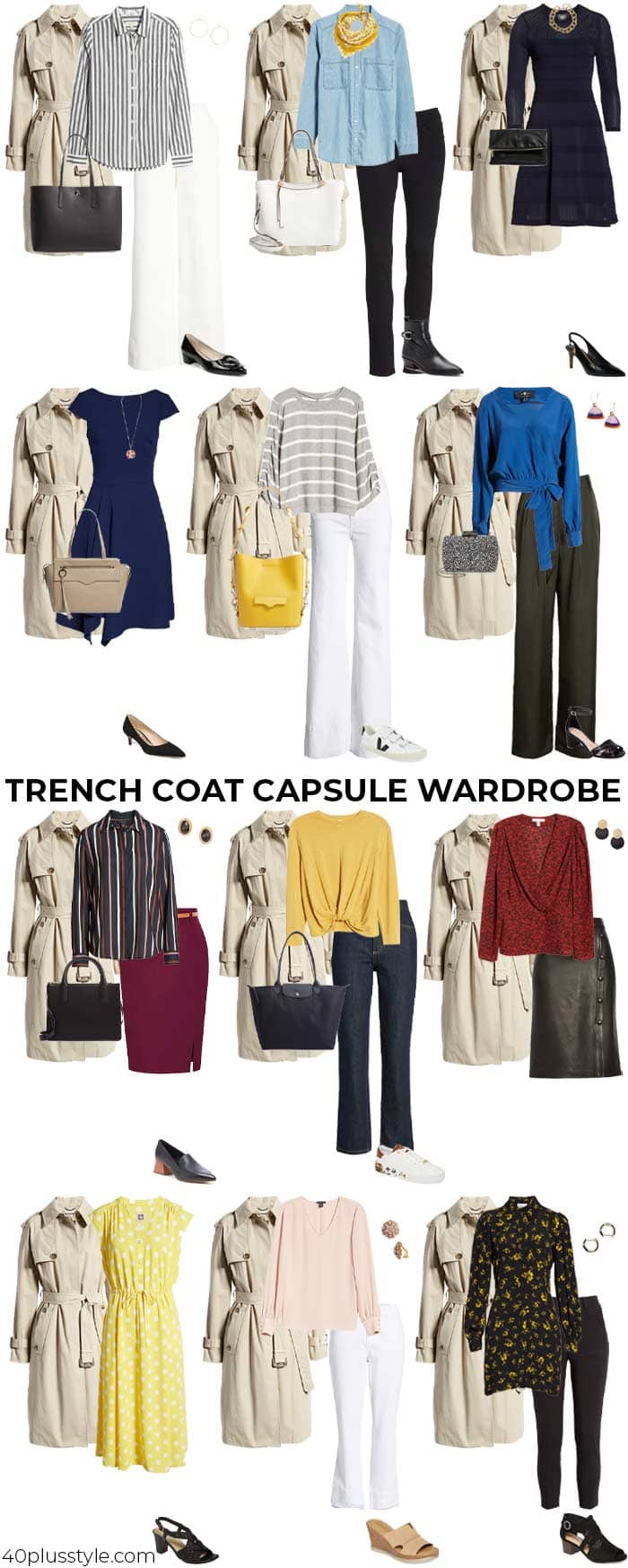 When thinking about how to wear a trench coat, what would you choose to wear your trench with? Id love to hear how you style yours.
Continue reading:
Like this post on how to wear a trench coat? Share it on Pinterest!
Feature image by Marie Louise
The post How to wear a trench coat and the best trench coats in stores now appeared first on 40+ Style.