Light-Up Snowman For Under $10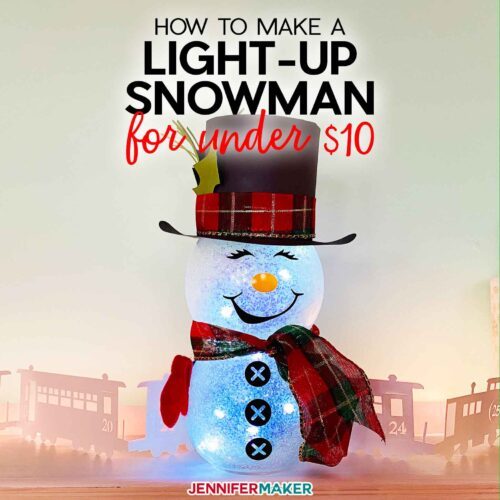 Learn how to make a cute light-up snowman using inexpensive supplies from Dollar Tree!
I've been on a big Dollar Tree kick lately, finding all sorts of fun things to use in my Cricut Crafts. I recently found these glass bowls in the floral section of Dollar Tree, which can be combined together to make a super cute snowman, just like this little guy. So I'm going to show you how I made this so you can have one too. I calculate that it was only $9 for supplies to make this light-up snowman!
Watch the step-by-step video coming soon on my channel! 
Now, I want to note that this is not my original project design — this snowman project has been floating around the Internet in many forms for many years now! But I thought it would be fun to share my top hat pattern and my own snowman faces to help you make this, plus show you how to do it step-by-step.
To make this light-up snowman, you need two glass bowls. I got these 4.9 inch bowls from Dollar Tree, but you can find them at craft stores, WalMart, and Amazon. .
I recommend putting something inside your bowls — you can get little ornaments and fake snow to make scenes, or get some LED fairy lights as I have done here to light up your snowman. If you use LED fairy lights, I recommend you do something to diffuse the light, such as frost the outside or glitter the inside. I'll show you how to do both in this video.
To decorate the snowman, I cut a snowman face and buttons from permanent vinyl on my Cricut cutting machine and applied it to the front. Easy peasy!
The dapper little top hat is made of cardstock, and I'll show you how to make that in this tutorial, too!
Other things to have on hand to make your light-up snowman include some craft glue to assemble your hat, some hot glue to attach your glass bowls together, and some ribbon or felt to decorate your snowman. I used some plaid Dollar Tree ribbon for the scarf and hat, and a felt Dollar Tree stocking to make the wee little mittens.
Here's my finished light-up snowman on display in my living room:
Light-Up Snowman Components from Dollar Tree:
Two glass bowls – $2
One strand of LED lights – $1
Glitter – $1
Mod Podge – $1
Ribbon – $1
Vinyl – $1
Cardstock for the Top Hat – $1
Decorations – $1
PROJECT TOTAL: $9
Let me show you how easy it is to make this fun light-up snowman with my free designs! This post contains some affiliate links for your convenience (which means if you make a purchase after clicking a link I will earn a small commission but it won't cost you a penny more)! Read my full disclosure policy.
Materials to Make a Light-Up Snowman For Under $10
View my Amazon shopping list with equivalent items to make this project
Two 4.9″ floral glass bowls (I got mine from Dollar Tree, but you can also get them from Amazon or places like WalMart)
Something to fill your bowls, such as glitter, frosted glass spray, fiber fill, or decorative shred — you can also use faux snow and fill up your bowls with little scenes!
(Optional) Mod Podge if you decide to glitter your snowman
LED fairy lights (clear, white, or color-changing)
Permanent vinyl – I used a little black and a little orange
Cardstock – 65-80 lb. 12″x12″ cardstock (for the top hat)
Ribbon to tie around your snowman's neck and hat
Decorations for your hat (Optional)
A method to cut your cardstock – I used the amazing Cricut Maker, but you can also use the Cricut Maker 3 or Cricut Explore Series, or Cricut Joy
Design #358 – My free snowman top hat, face, and button SVG/DXF/PDF files are in my free resource library (get a password for it at the bottom of this page)
How to Make Your Own Snowman With Fancy Top Hat
Watch the step-by-step video that shows how this fun holiday craft from start to finish!
Answers to Your Questions About Making the Light-Up Snowman
Q: What kind of cardstock do I need?
I recommend 65-80 lb. cardstock for these crafts. Thicker cardstock will be harder to cut and curve.
Q: Do I have to use those glass bowls?
I haven't found anything better yet! They are ideal because they have a flat bottoms, allowing them to sit on a surface without rolling about, and stack upon one another!
Q: What kind of lights can I use?
I only recommend mini LED lights because they will be enclosed in small space. Do not use any light that may heat up.
Q: Is there an alternative to make the cardstock hat?
Sure! Get a fun sock and put the sock on the snowman's head instead — it'll look like a cute stocking cap!
Get my free patterns to create a light-up snowman!
I love seeing what you make with my designs and how you use them! Please share a photo of your light-up snowman in our Facebook group or tag me on social media with #jennifermaker.
Love,
The post Light-Up Snowman For Under $10 appeared first on Jennifer Maker.