OK, but How Cute Are These 1-Person Picnic Baskets From Target?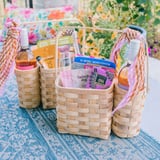 Grab your blankets, and pack your snacks (and don't forget a bottle of wine)! A picnic in the park has never sounded better than it does right now. Lifestyle blogger Simply Taralynn came across one-person picnic baskets in Target's dollar section, and the truth is: we have to have them. The miniature picnic baskets can fit all your favorite munchables, games, and then some and even have a dedicated wine-bottle holder for you and a partner (or even just you). They are perfect for a casual day at the park or beach and even make a great gift basket for a friend! Pack one with all the essentials you need, and top it off with an adorable scarf for a picture-perfect, Instagrammable look.
While this adorable basket isn't currently sold on Target's website, check out your local Target's dollar section to see if you can snag a few for yourself before they're all sold out - we have a feeling this gem won't be on store shelves for long!