Quality basic clothing under $50 to create everyday outfits you will want to wear all day, every day
At times like these, we often want to go back to basics. And, I mean that in the best way possible. When it comes to style, having a good capsule of basic clothing items in your closet means you're set for anything, from staying at home to heading out for a daily walk. If you are able to go out right now, you just need to add a few accessories to create a great outfit.
I've partnered with Nordstrom to bring you 24 quality essentials along with 4 pairs of shoes and 10 accessories, all under $50. You can take these pieces of basic clothing and use them as the foundation for so many outfits.
Why you need basic clothing in your closet
While basics are actually the foundation of any great outfit, often we purchase what we are most attracted to and buy our basics as something of an afterthought.
I'd advise doing the opposite and getting your basics right first. That way, you will have so much more flexibility when it comes to putting your outfits together. Plus, while trends may come and go, you will wear your quality basics for years and years.
You can wear just your basics, put together for easy casual style or add a few accessories to create a different look.
What basic clothing do you need?
Everyone's "basics" will be different, depending on your lifestyle. But generally, your basic clothing should wash well, be comfortable to wear, and be completely timeless.
Think about good quality tees and tanks, comfortable pants and classic-style shirts, in materials such as cotton, jersey, silk and linen.
Basic clothing – tees and tanks
Having some great t-shirts and tank tops will give you so much flexibility when it comes to putting outfits together. You can easily wear with everything from a pair of jeans or drawstring pants for casual days, or tuck into a pencil skirt, for example, for a day at the office.
However, just because an item is one of your "basics" that doesn't mean it actually has to be basic. You could add interest with some asymmetry or ruching, or you could choose a luxurious fabric.
I love the Caslon t-shirt (left) for the asymmetric ruching detail which adds something special to a "basic" t-shirt. it also comes in striped options if you already have lots of white tees.

Caslon ruched knit t-shirt – Caslon knit t-shirt – Caslon muscle tank – Halogen scoop neck woven shell
Basic clothing – long sleeve tops and sweaters
Depending on where you live, it's unlikely that you can get away with wearing short sleeves all-year-round, even if you do layer up with a coat or sweater on top.
A lightweight, long-sleeved top could be the perfect answer for transitional dressing. You could choose a top which has a twist detail, draping or an interesting neckline.
The twist detail on the Halogen top (right) looks fabulous and comes in a choice of 5 colors.
Caslon scoop neck top – Caslon cowl neck high/low top – Caslon three quarter sleeve tee – Halogen twist neck knit top
Shirts and blouses 
Is there a more classic, timeless item you could own than a white shirt? A white shirt really can be worn with pretty much everything.
Other timeless basics include a striped shirt, or you could choose a bright pop of color, or a wrap top.

Caslon button front top – Caslon stripe button front top – Halogen hidden button blouse – Chelsea28 cross front blouse
Basic jackets, cardigans and coats
When it comes to basic jackets and coats, it can be tricky to find quality items under $50, but these options (below) from BP, Halogen and Leith definitely fit the bill.
Opting for classics such as a denim jacket, utility-style coat or long cardigans will ensure your basics remain on-trend for many seasons. Plus, you'll find some great discounts at the moment.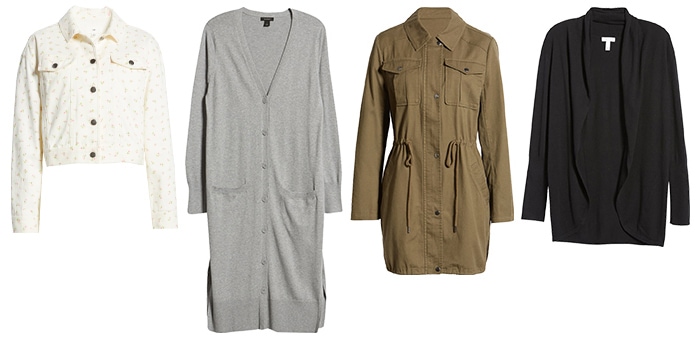 BP. printed denim jacket – Halogen long cardigan – BP. utility jacket – Leith open front cardigan
Basic pants 
A pair of black pants is one of the most versatile items you can have in your closet. You really can wear them for any occasion – with a t-shirt and sneakers for casual days, or with a silk shirt and pumps for work or dinner.
I'd also add a pair of leggings to your basics, which you can wear with tunic tops or dresses. Plus a pair of utility pants could be a great alternative to jeans.
Halogen ankle pants – BP. straight leg ankle pants – BP. paperbag pants – BP. high rise leggings
Basic dresses, jumpsuits and skirts
Dresses and skirts can be just as versatile as the pants in your closet. A t-shirt dress could be worn over your leggings, or you could style a button-up skirt with one of your basic t-shirts.
Choose a dress or a jumpsuit in a soft fabric and they will be just as comfortable as your pants.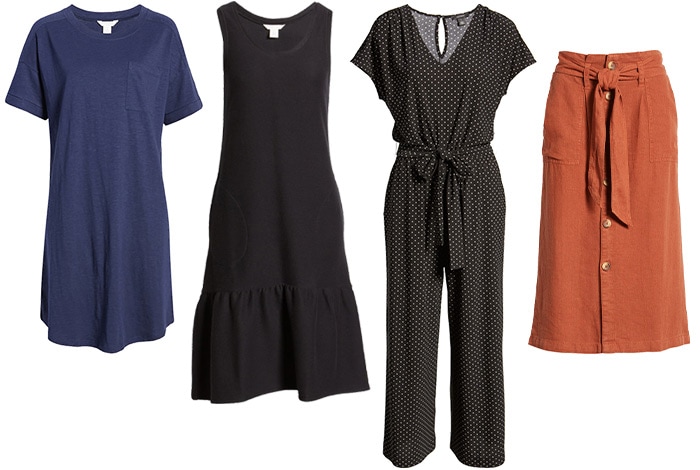 Caslon pocket t-shirt dress – Caslon knit midi dress – Halogen crop wide leg jumpsuit – Caslon button front utility skirt
Basic shoes
So what shoes should you wear with your basics? I would opt for very classic pairs of pumps, loafers and sneakers that you can wear with a variety of different outfits, and that you will wear for many years to come.

Caslon slip-on sneaker – BP. ballet flat – BP. mesh panel sneaker – Treasure & Bond loafer
Accessories and shoes you can add to your basics to create the perfect outfits
Of course, if you are simply relaxing at home, you will want to wear your basics just as they are. But, if you are heading out, you can easily add a hat, scarf or a piece of jewelry to create a chic, timeliness look.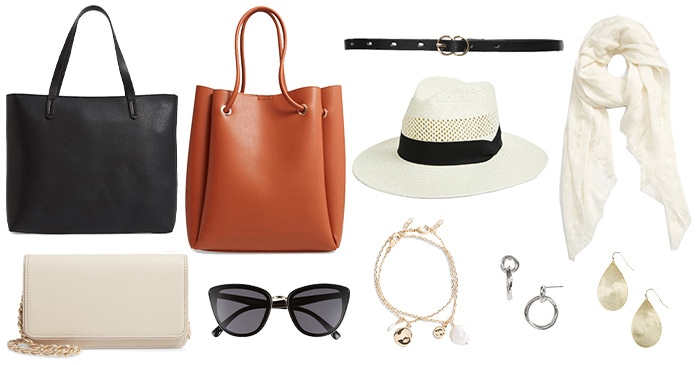 BP. classic tote – Nordstrom leather clutch – BP. accordion tote – BP. cat eye sunglasses – Halogen skinny belt – Halogen panama hat – Halogen pearl charm bracelets – Halogen teardrop earrings – Treasure & Bond blanket wrap – Halogen twisted ring drop hoop earrings
Capsule wardrobe featuring basics
Below you can see all of the basic clothing items from above used in a capsule of 9 outfits. However, all of the pieces could easily be mixed and matched to create countless outfits.
What pieces of basic clothing couldn't you live without? I'd love to hear what your own essential basics are. Let me know in the comments below.
Like this post on quality basic clothing? Share it on Pinterest!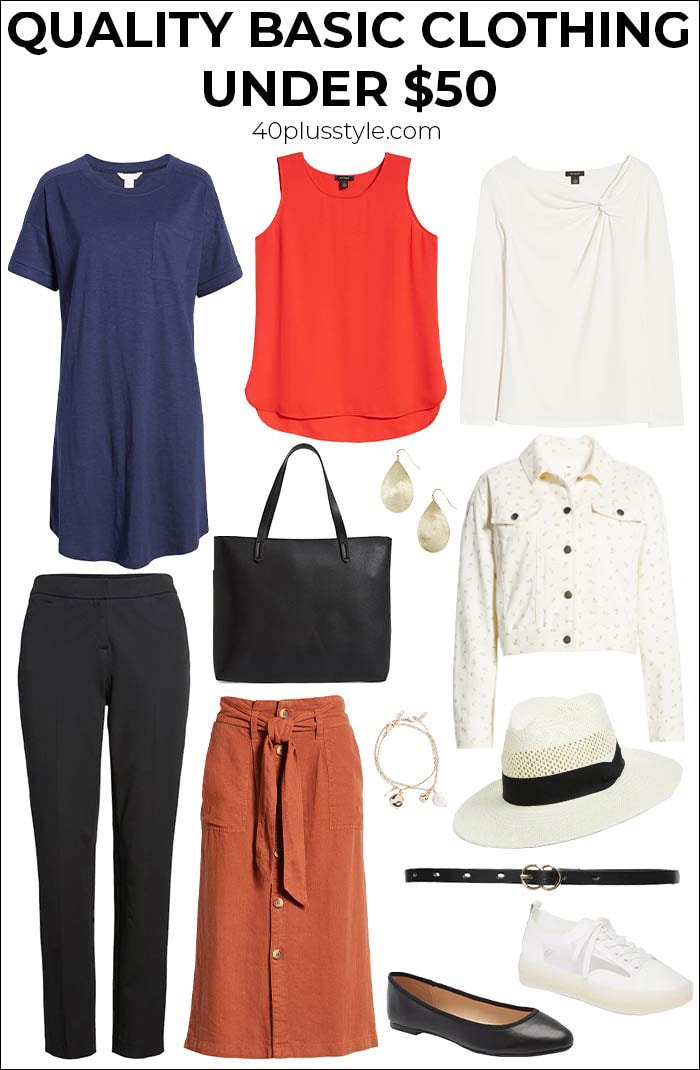 This article was sponsored by Nordstrom
The post Quality basic clothing under $50 to create everyday outfits you will want to wear all day, every day appeared first on 40+ Style.