R29 Readers Can Get These Twirl-Worthy Linen Dresses For 15% Off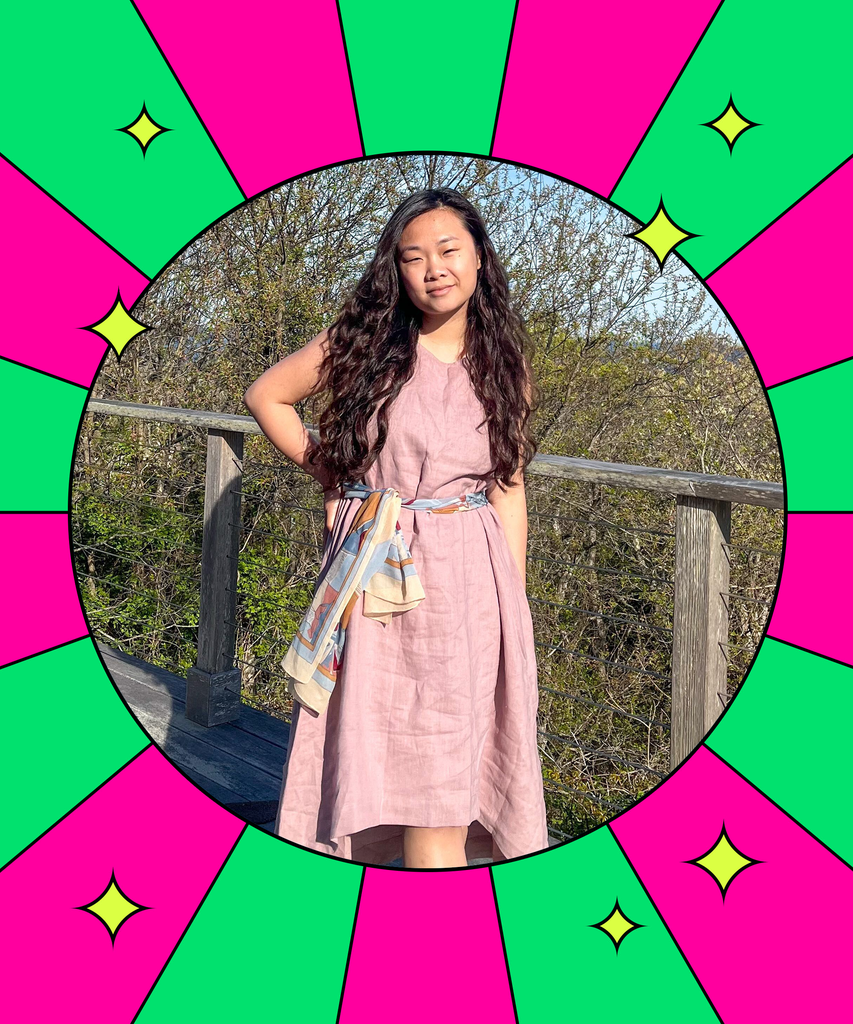 Super Sale Alert: Get 15% off all dresses at MagicLinen with our promo code R29, now through May 21.
Is twirling around in a pretty dress one of your favorite summer hobbies? We can definitely relate. That's why we suggest adding a new cottagecore essential to your closet: MagicLinen's comfy, flowy, and stylish dresses. And lucky for us the brand famous for its hand-crafted, high-quality textiles is giving R29 readers an ultra-exclusive deal. From now through May 21, get 15% off all linen dresses with the promo code R29 at checkout. But if the limited-time deal doesn't fully convince you to pull the "buy now" trigger, keep on scrolling to see some of our very own shopping editors' opinions. (Spoiler alert: They're obsessed.)
"I was excited to receive this Tahiti linen dress, so I can wear it for summer barbecues and beach days. I don't own many linen pieces, but I've come to realize that wrinkles come with the territory and accept that I should embrace them. (The brand recommends smoothing out folding lines with a steamer while the fabric is still damp, but leaving the natural creases as is).
"I originally ordered an XL, per the sizing guide, but found that the dress was way too wide and long for my 5'3" frame. So I re-ordered it in a size large, which is slightly snug around the widest part of my body, my hips, since it's a non-stretch fabric, but is still loose and breezy everywhere else. My favorite part of this simple sundress is the back cutout. Here, I'm wearing it over a bikini, and the strap falls perfectly over the band (I've also found that it hides my bra band, too), which is the cherry on top for this style." —Victoria Montalti, Associate Affiliate Writer
"A breezy linen dress is high on my summer wardrobe wish list, so I was excited to try out Magic Linen's Royal Toscana Linen Dress, which looks like the epitome of effortless dressing with its loose fit and asymmetrical hem. I love the flowy silhouette and how the high-low hemline cascades around my legs — there is a lot of fabric here, but the piece didn't feel heavy at all. The material also feels softer and smoother against the skin compared to some other linen items I own. As with all linen garments, it still looks chic even with a couple of wrinkles.
"The color Woodrose was also really flattering and goes with the basketweave bags and brown leather sandals I wear a lot in the summer. If you're on the shorter side like me, just note that the two side pockets are located pretty far below the torso, so you do have to really stretch your arms to reach them. I like the billowing effect of the bottom half of the dress, but I love the look even more with a bit of cinching at the waist, using a colorful skinny silk scarf." —Venus Wong, Senior Affiliate Writer
"As a native Texan, I love dresses during the summer: They're easy, breezy, and fun when the temperatures hit a record high. This is not the type of dress that I normally reach for, but it should be. I feel like a cottagecore fairy with the brown windowpane pattern…and I love it. This linen pinafore has two front pockets, an A-line silhouette, and is so breezy. I love that I'm able to just throw this on to take my dog, Nugget, for a quick walk or a trip to the park with keys, my phone, and snacks all enclosed in the front pockets. The linen dress itself is comfortable and breathable, perfect for sweaty Manhattan summers. I got a size medium, the size that I usually reach for, and it fits great!" —Becca Sax, Affiliate Coordinator
"Don't mind me as I twirl around pretending I'm in Little House on the Prairie. It might be the voluminous babydoll silhouette or the puffy sleeves, but I'm getting major cottagecore vibes from my Magic Linen dress. However, one note is that I would size down since the dress has a voluminous skirt. I got an XS/M, and it was too big. There isn't any elastic around the waist, so you won't get a cinched look. Other than that, I found it to be a comfortable dress that I can wear around the house and outside on a warm spring day." —Vivien Lee, Fashion Affiliate Writer
"I ordered the Cut-Out Linen Dress in white because I loved the back. I thought it gave a pretty simple white sheath and interesting detail that I hadn't seen in that style before, and I didn't have anything in my closet that looked like it. The linen is structured but still looks airy and flowy, and the length is modest enough to wear to your family BBQ, but it'll still keep you cool outside. In fact, my main gripe about the dress is that it's so airy that it's pretty see-through in white, and you will definitely need a slip to wear outside. With a slip, though, it'll be perfect for wearing wherever my warm summer days take me, especially with this season's trendy platform sandals." —Charlotte Lewis, Sexual Wellness Content Producer/Writer
At Refinery29, we're here to help you navigate this overwhelming world of stuff. All of our market picks are independently selected and curated by the editorial team. All product details reflect the price and availability at the time of publication. If you buy or click on something we link to on our site, Refinery29 may earn commission.
Like what you see? How about some more R29 goodness, right here?
20 Best Dresses For Summer Festivities
The 10 Best Linen Dresses To Prep For Summer Heat