Say 'oui' to cheap flights from Miami to Paris this winter
Paris is always a good idea.
It's about to become an even easier one to act on for South Floridians when budget carrier French bee launches nonstop service from Miami to the City of Light beginning mid-December.
Not only will French bee offer affordable nonstop flights from South Florida to France, but we can already see that other airlines are providing competitive fares on this route. That means flights between France and South Florida will be easier – and cheaper – to book than ever before.
"We are excited about this expansion as we know that passengers will find value in booking competitive prices in the market. With the access that the new Miami service provides, we expect it to generate high demand, forging more economic and tourism ties between both cities," says Marc Rochet, president of French bee.
Related: Book this, not that: Getting the most from your hotel points in Paris
If you live in the Sunshine State and dream of seeing the Eiffel Tower, touring the Louvre and cruising the Seine in person, these flights are for you. They'll get you to Paris with some fromage left to purchase a gourmet dinner or a chic new scarf or two.
Here's what you need to know about getting to Paris from Miami this winter and beyond.
For more TPG news delivered each morning to your inbox, sign up for our daily newsletter.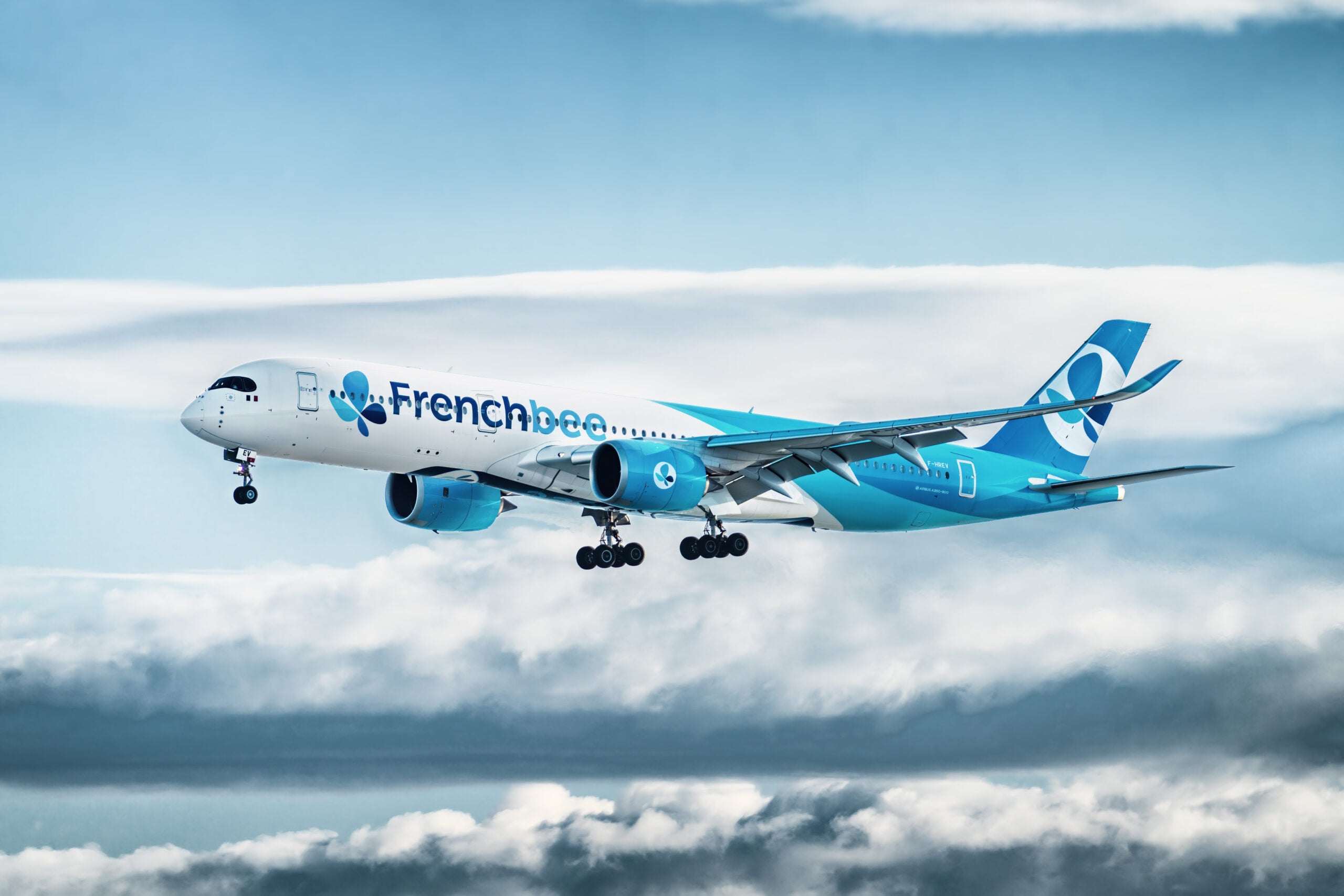 French bee
Beginning Dec. 15, budget airline French bee will operate three weekly nonstop flights from Miami International Airport (MIA) to Paris-Orly Airport (ORY). Bookings are currently open, with one-way basic economy fares starting at $281 and one-way premium economy fares starting at $641.
Related: I flew this French low-cost airline from LA to Paris and wouldn't do it again
Details
Airline: French bee.
Route: Miami to/from Paris.
Prices: Fares start at $281 one-way for basic economy and $641 one-way for premium economy from Miami to Paris in December, dropping to $210 in January.
When: Starting Dec. 15, operating three times weekly on Mondays, Thursdays and Saturdays in December; increasing to four times weekly in April. The outbound flight departs from MIA at 9 p.m. with arrival at ORY the following day at 11:40 a.m.
How to book: Directly with French bee.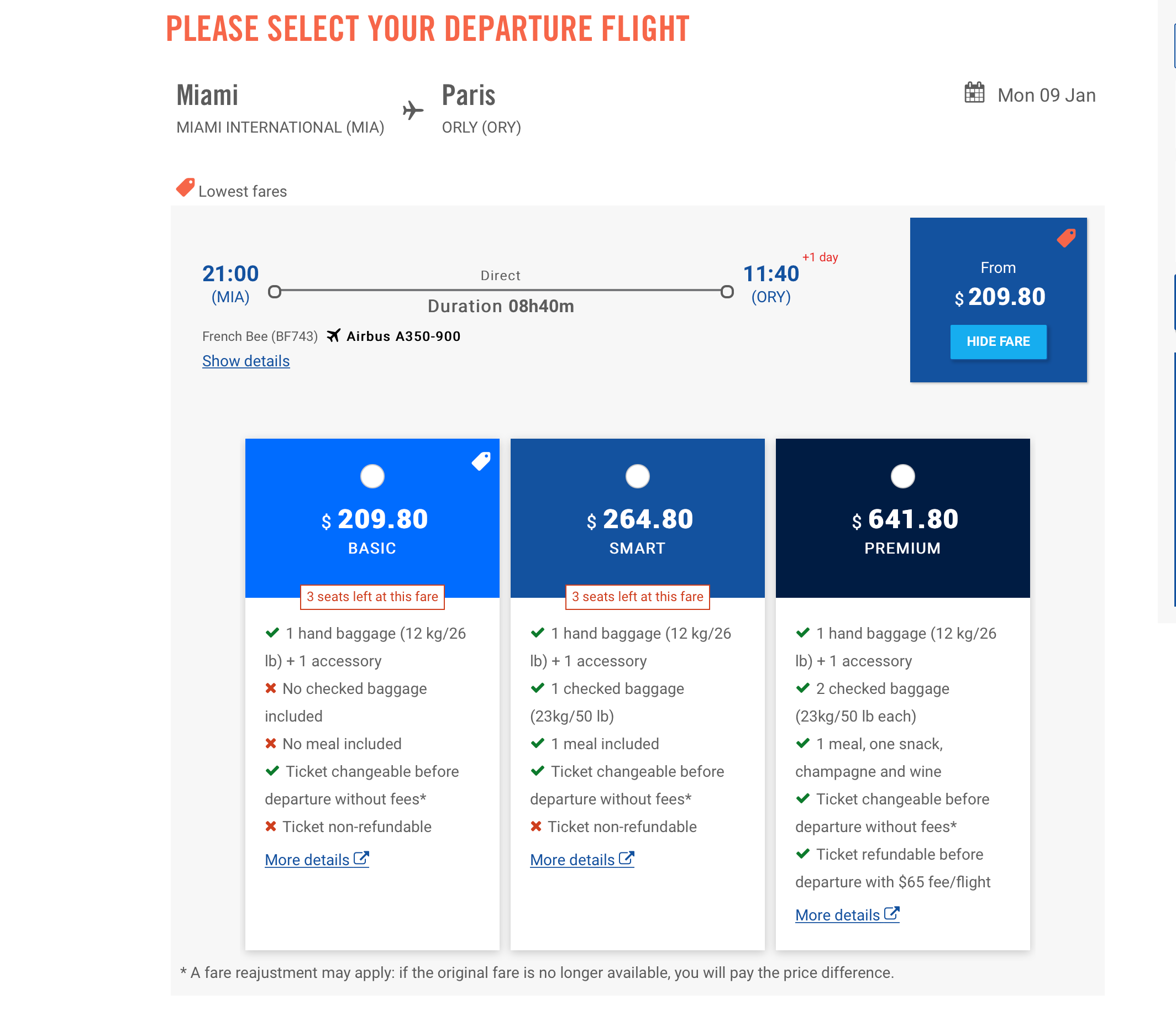 Note that French bee operates with three levels of service. Basic economy is the most affordable but also has the most additional costs, with meals and checked bags costing extra.
All levels of service allow passengers to change their tickets prior to departure without incurring fees. Although French bee is advertising flights starting at $281 each way, we actually saw a number of tickets starting from $210 beginning in January.
Related: Cabin showdown: Premium vs. economy on French bee
Other Miami-to-Paris options
Searching for flights on the same route, we were able to find a number of options that were competitively priced with this new French bee itinerary, often costing a bit less.
For example, we found flights over New Year's on Scandinavian Airlines for $495, although you will have a four-hour layover in Oslo, Norway.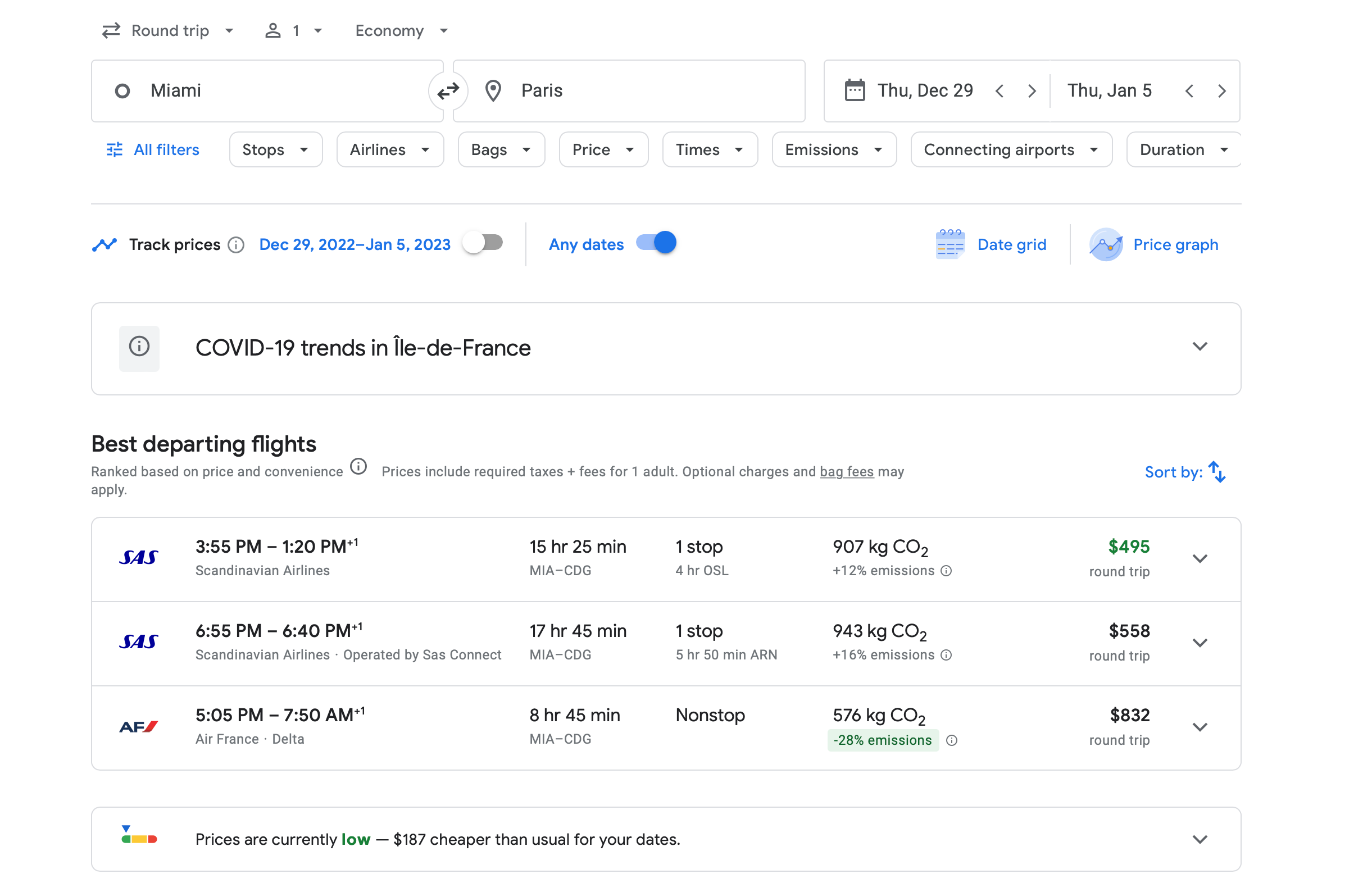 Nonstop flights are available on American Airlines and its codeshare partners for January dates from $644 round-trip, providing even more options for Miami-area residents to fly to Paris.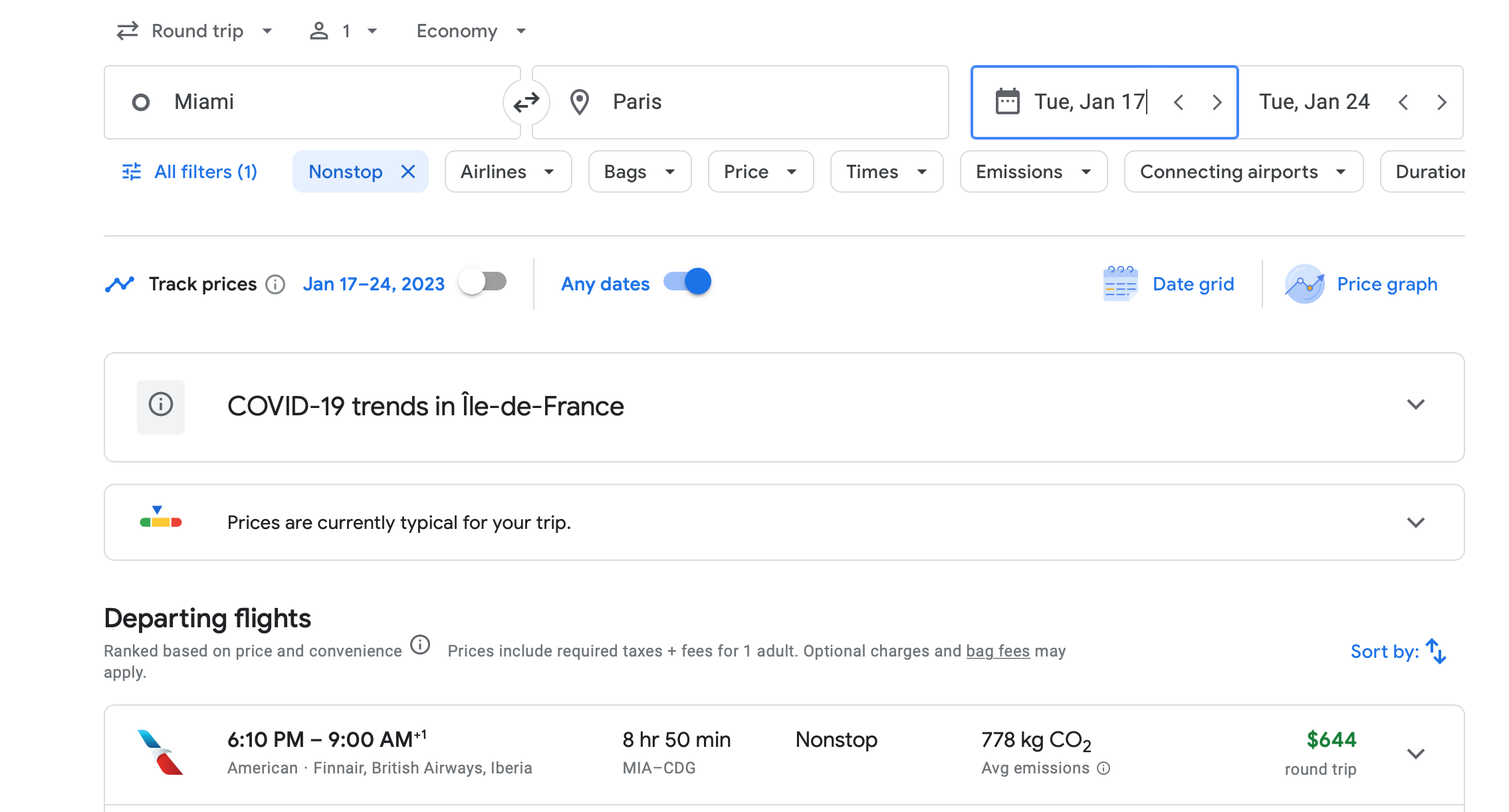 Related: Visiting Paris in the winter: Is it worth it?
Bottom line
A new route on budget carrier French bee provides nonstop, low-cost flight options to fly to Paris from Miami.
Other carriers are also offering lower prices on routes from South Florida to Paris this winter, making it a great time to say "bonjour" to the City of Light for South Floridians.
Featured photo by StockByM/Getty Images.