Summer accessories: The accessory trends youll want to wear for spring and summer 2020
I re-discovered a fantastic quote about accessories recently. Italian fashion journalist Anna Dello Russo said: Accessories are like vitamins to fashion as such you should use them liberally.
If youre thinking about adding a liberal sprinkling of accessories to your outfits for the upcoming season, in this article you will find all the summer accessories trends you need to know.
Summer accessories to look out for
There are so many different accessory styles for spring and summer that youre sure to find at least one that suits your style personality.
Two of the major trends showcased on the catwalks were upsized everything from belts to earrings to bracelets, as well as plenty of 90s revivals, so you may well already have some of these accessories in your closets.
Let me know which your favorites are and which youll be wearing in the comments at the bottom.
1. Bucket hats
Wondering what style of hat to wear to protect yourself from the sun for summer, then look no further! The bucket hat was the major hat trend on the runways for spring and summer.
If you arent sure if this style of hat will suit you, take a look at the best hats to suit your face shape.
Michael Kors Giambattista Valli Fendi

2. Big belts
If youre looking for a new belt, make it a big one. You can give your existing outfits a new feel by opting to cinch them with a belt.
Or, you can always opt for three belts like Marc Jacobs (below, left)!
Marc Jacobs Alexander McQueen Prabal Gurung

3. Oversized chains
Just as the bigger the better for your belts (summer accessories trend #2), the same holds true for your necklaces.
While chain necklaces are always in style, for the upcoming season oversized chains are particularly on-trend.
You could wear yours in plenty of different ways. Many designers (below) chose to show off their chain necklaces with scoop or v-neck tops. They would also look beautiful worn against a block color dress, or worn underneath an open-neck shirt.
Alexander McQueen Bottega Veneta Dolce & Gabbana

4. Geometric jewelry
Im a big fan of contemporary jewelry, and there were plenty of geometric styles on the runways for spring and summer.
I would wear like Alexander McQueen (below, left) or Proenza Schouler (below, right) with a neutral top or dress and let your jewelry be the star of your outfit.
Alexander McQueen Prabal Gurung Proenza Schouler

5. Traditional pearls
Pearls are among the most coveted jewels of all time, worn by everyone from Coco Chanel to Audrey Hepburn, so its no wonder that they appear on the catwalks season upon season.
You can guarantee a piece of pearl jewelry will always be in style. You could choose a very traditional look for your pearls such as those below, or opt for pearls styled in a completely different way take a look at trend #6.
Simone Rocha Prabal Gurung Simone Rocha

6. Modern pearls
If you want to update your pearls, you could choose pearl jewelry with an unexpected twist, such as pearls featured in geometric jewelry (as seen below, left), or an asymmetric style such as that of Miu Miu (center).
Prabal Gurung Miu Miu Tory Burch

7. Oversized hoops
It seems that everything is oversized for spring and summer. Youve already seen big belts in trend #2 and big chains in trend #3.
Hoop earrings have also been upsized for spring and summer. If you do want to opt for a larger hoop, you probably want to ensure your earrings arent too heavy. Otherwise they will be uncomfortable to wear for long periods of time.
Dolce & Gabbana Prabal Gurung Proenza Schouler

8. Floral brooches
Florals are always on trend for spring and summer, but they tend to pop up in different accessories from year to year.
For the upcoming season, floral brooches were the most on-trend accessory to choose. Wear them with a stripe or pattern like the looks below.
For more floral ideas take a look at the next trend too.
Chanel Tory Burch Louis Vuitton

9. Florals everywhere
As shown above, you can wear your flowers on your lapels. But, florals are on trend no matter what accessory you choose.
You could also opt for flowers on your necklace, bracelet, or on your hat. You can see Marc Jacobs (below, center), has paired two trends together with the use of florals and a bucket hat style.
Giambattista Valli Marc Jacobs Giambattista Valli

10. Animal magic
There is always plenty of animal print on the catwalks, no matter what the season, but for spring and summer, designers decided to feature actual animals, rather than just the print.
As you can see below, any animal goes. Oscar de la Renta opted for insects (below, left), while Erdem (center) choose monkeys, and Gucci decided to adorn belts with the king of the jungle (below, right).
Adding your favorite animal is a great way to add some playfulness to your outfit.
Oscar de la Renta Erdem Gucci

11. Anklets
When it comes to 90s trends, the anklet is right up there with the camisole worn over a t-shirt, the choker necklace or combat pants worn with heels.
For 2020, the anklet is back. Wear with your heels or sandals for summer. As you can see (below), you can choose a thicker chain or a more subtle style.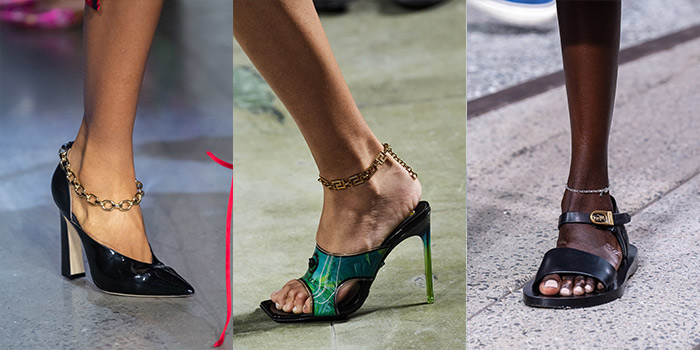 12. Cuff bracelets
The oversized everything trend also applies to bracelets. Big cuff bracelets were seen all over the runways for spring and summer.
As you can see (below) this style looks beautiful, and brings a slightly Grecian feel to a white outfit.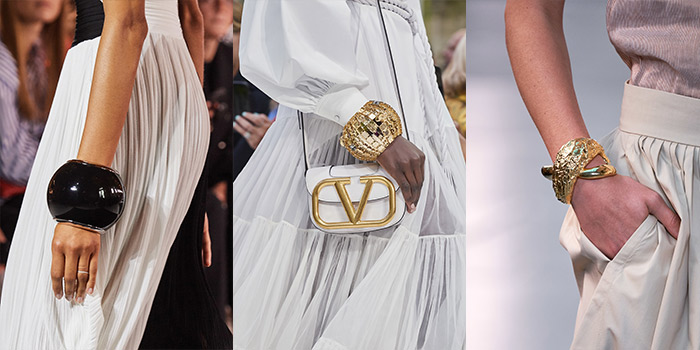 13. Chain belts
Youve already seen wide belts, but if you prefer a more subtle look for your waist-wear, you could always add a thin chain, or jewelry-inspired belt.
This look was seen either worn on the waist, as you would expect, or worn on the hips.
For more ideas, take a look at how to wear a belt.
Chanel Michael Kors Tory Burch

14. Ladylike neck scarf
You dont have to give up wearing your scarves during the warmer months. Simply opt for a scarf in a lightweight fabric.
Color clash your scarf as seen on the Marc Jacobs runways (below, left), or wear in your hair like at Dolce & Gabanna (below right).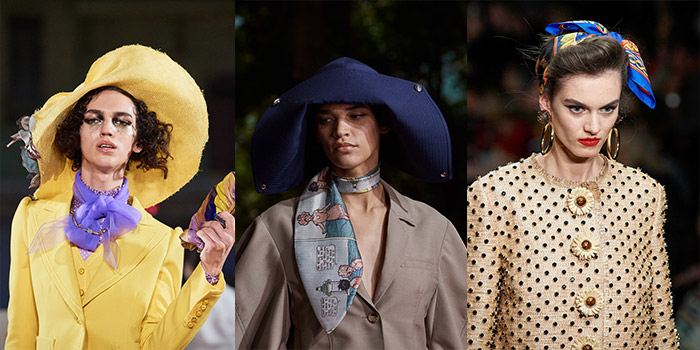 Marc Jacobs Lanvin Dolce & Gabbana

15. Rope belt
Another belt option for you to choose from if trend #2 and trend #13 arent for you. There were plenty of belts inspired by a nautical style, worn either over a dress or over your coat.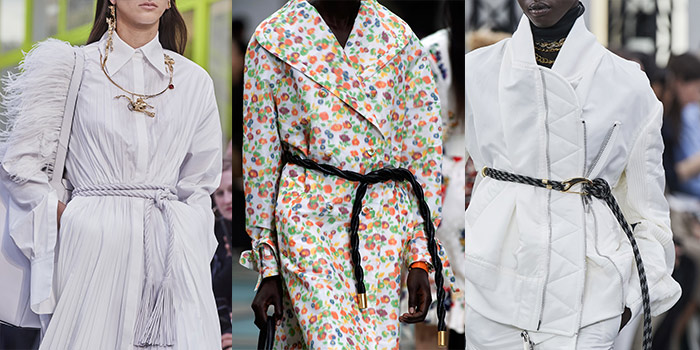 Valentino Tory Burch Sacai

16. Brooches of all styles
Youve already seen floral brooches in trend #8. but, you definitely dont have to stick to flowers. Brooches in all different styles look lovely worn either on your lapels or your scarf.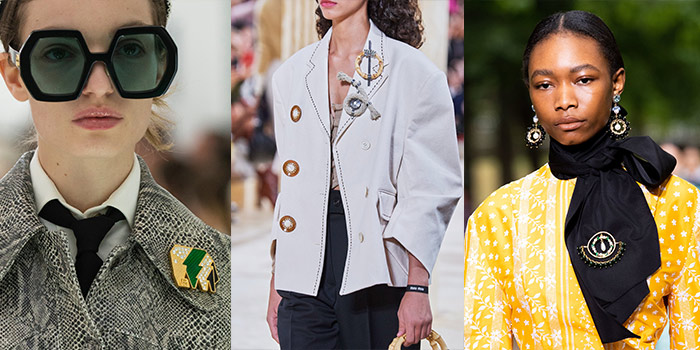 17. Plastic-framed sunglasses
One of the most important accessories you can choose not just for style, but to protect your eyes is a pair of sunglasses.
Opt for either bright frames or neutrals if you want to make sure your sunglasses are on trend for the summer season.
Salvatore Ferragamo Gucci Off-White

Which of these summer accessories would you most like to wear for the upcoming season? Do you already have any of these in your closet?
Continue reading:
Like this article on the best summer accessories for spring/summer 2020? Share it on Pinterest
All images from Vogue: Spring 202 RTW Fashion Shows
The post Summer accessories: The accessory trends youll want to wear for spring and summer 2020 appeared first on 40+ Style.