The Absolute Best Winter Coats, According to Our Chicago-Based Editors
The area you live in naturally makes you an expert on a few things. The best food in the area, the ideal time to visit—the list goes on. And something you become an expert on when you live in Chicago? The best winter coats.
With surviving six months of snowstorms and temperatures that love to drop to -30 whenever we're least expecting it, Chicago teaches you nothing if not how to stay warm—but since it's us, staying warm isn't enough. We have to look good and stay warm, and that isn't always an easy feat.
As born-and-bred Chicagoans, our editors have some thoughts on which winter coats are worth your coin. We each took a hard look in our closets and are breaking down the coats that we turn to year after year—which means they're just that good.
Maddie
I bought this coat last year after my 6-year-old, tried-and-true parka sadly had its last day. This is by far my favorite parka I have ever had in my life. It's not only the warmest coat I've ever worn, but I also actually look forward to wearing it. I got it one size up to fit slightly oversized and love how the fit and gold hardware make it feel less classic puffer, more elevated one. I would buy this coat again and again.
Every cold-weather girl needs a good camel coat, and this one took over all my others. The "Dad Coat" fit of it make it feel a little more effortless, so I find myself reaching for it to style in a more casual way than I ordinarily would. Besides my puffer (which is reached for more for warmth reasons), this is by far my most-worn coat.
Beth
I somehow lived the entirety of 2020 without a parka. I'm not sure how I did it, but last summer, my biggest goal in the Nordstrom sale was to get myself a really good puffer coat. I've lived in the Midwest my whole life, but I simply cannot handle wearing a giant, puffy, long parka. So I wanted something that was comfortable and stylish, but most importantly, warm. This fits the bill, and I've gotten a handful of compliments on it since I started wearing it. The shiny fabric makes it look trendy and high-end, but the inside keeps me ultra-warm (even in the already-single digits we've had in Chicago).
As stated above, I am not that fond of giant jackets. They tend to make me feel so uncomfortable and self-conscious, so I avoid them at all costs, which has led me to wearing other jackets with big sweaters and lots of warm accessories to make up for it. I had my eye on this leather bomber for months, thinking it would be the perfect winterized leather jacket. Turns out, my dad already had an almost identical version hanging in the back of his closet from God-knows-when that I "borrowed." I have worn it over a dozen times since with a big scarf and gloves, and I'm obsessed. It's perfect for outdoor events like shopping with friends or strolling through the park when you want to look good but know you won't be taking your jacket off. 
Jessica
My strategy to get through Chicago winters is to bury myself in this giant puffer jacket. It is warm enough to face the freezing temps, waterproof so snow doesn't soak through, and so easy to throw on with any outfit. Plus, I'm totally guilty of keeping it on for hours after I get back inside—it's basically like wearing my comforter.
Jess
After many years of owning the long black Michael Kors parka (you know the one), I decided to upgrade my parka last winter. If you live in a cold climate, you know just how essential it is to have a parka that is not only super warm but also at least a little bit cute. After much research, I discovered that Abercrombie has tons of well-reviewed and stylish options, so I went for this one. Although my exact style is no longer available, I am here to confirm that Abercrombie parkas are definitely worth it—this is the warmest jacket I own, and I always get compliments on it.
I just received this faux leather puffer for Christmas, but I already know that it is going to be my go-to this winter. In Chicago, we are often faced with the dilemma of choosing between looking cute or freezing whenever we go anywhere. This puffer solves that problem: It's thick and warm but also looks super chic. I searched high and low for a faux leather puffer that wouldn't break the bank but doesn't look too cheap, and this one is the perfect choice. I also love that it has a hood—major bonus points for those snowy days.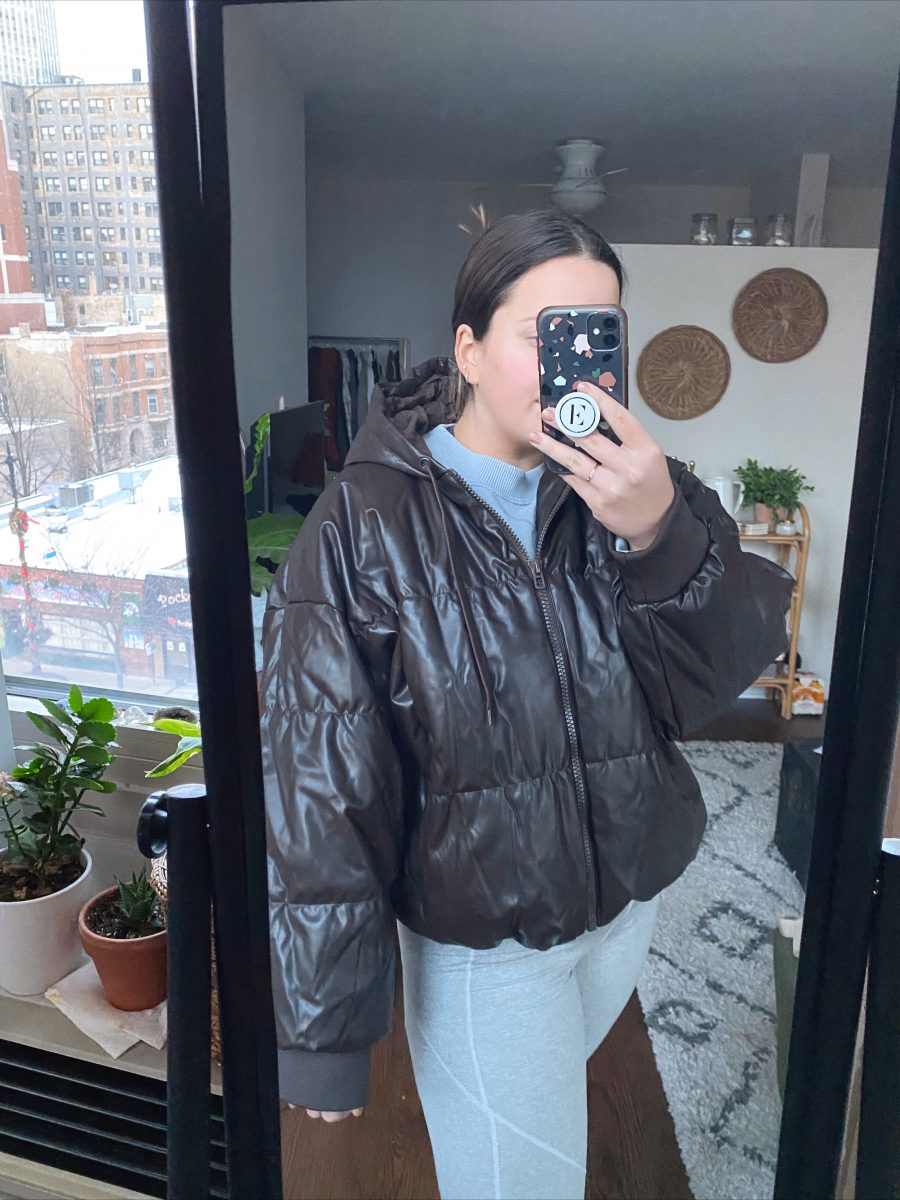 Ashley
When I was visiting my parents in Michigan over Thanksgiving break, we were rocked with freezing temps, and in my usual, not-so-prepared fashion, I found myself without a parka and in a pickle. I ran to Target and picked up this budget-friendly coat in one size bigger than I normally get for an oversized fit, and let me tell you: For the price, this thing gets the job done. Yesterday, I wore it to walk two miles in 12-degree weather, and I was honestly sweating by the end of my trek. 10/10 recommend.
I've had this Madewell shacket for over a year now, and it's my go-to transitional coat that carries me into and out of winter. It hasn't seen the outdoors in a few weeks, but on that first day where freezing temps decide to release their chokehold on Chicago, it'll be the first piece I reach for. 
Keely
I've had this viral parka from Amazon for a couple of years now, and it's grown to be my absolute favorite coat. The oversized fit makes it super chic (especially now since oversized coats are so in) and it keeps me warmer than far more expensive parkas that I've had. I would rebuy this coat over and over, and every winter, I'm excited to break it out.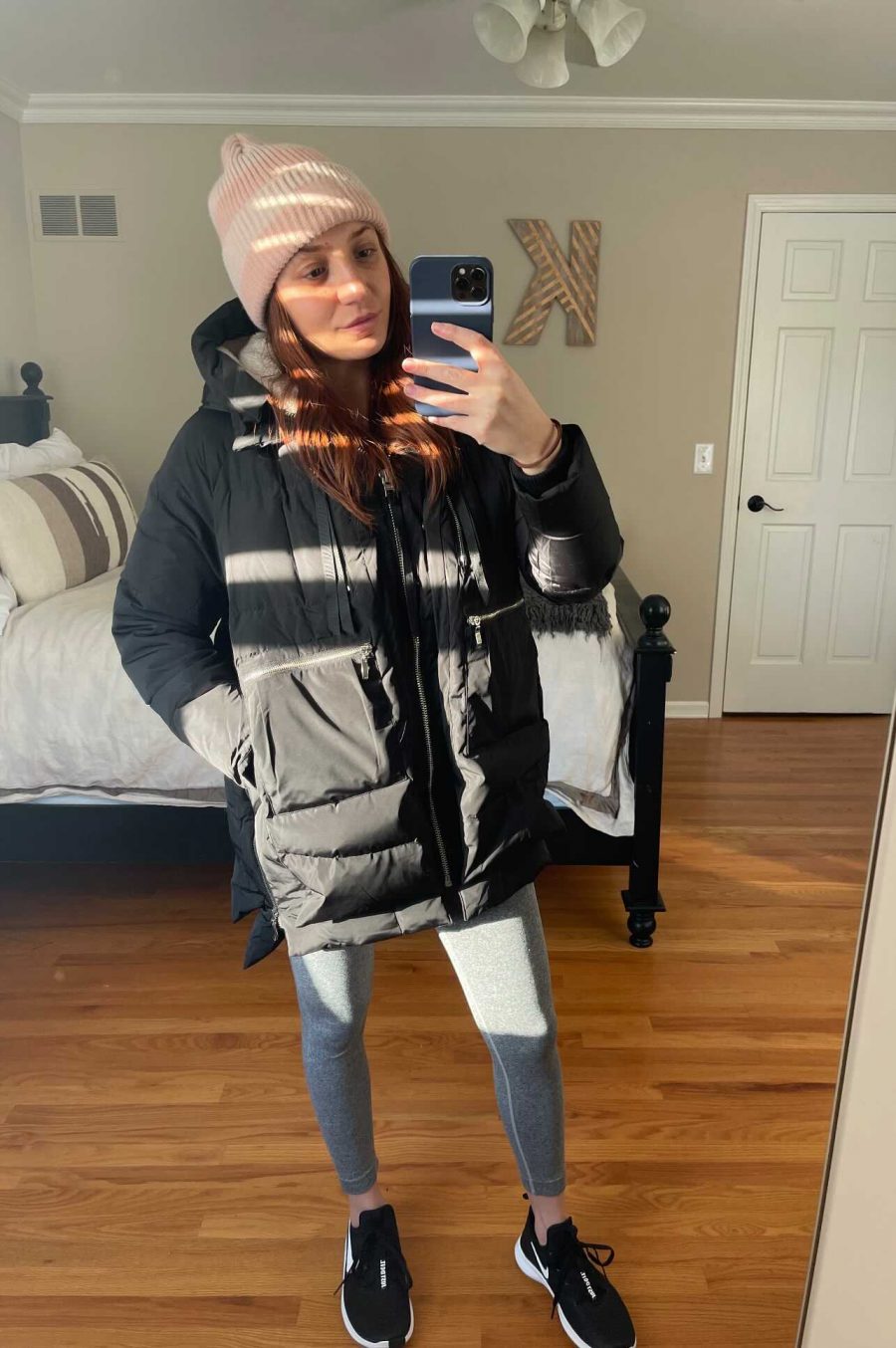 The post The Absolute Best Winter Coats, According to Our Chicago-Based Editors appeared first on The Everygirl.