The best dresses to hide your tummy
If you aren't loving your tummy area, shopping for dresses can feel like a nightmare. Some dresses can certainly be unforgiving when it comes to hiding a belly. However, there are many styles that do a great job at hiding or camouflaging the tummy. We show you all the best dresses to hide your tummy.
Of course there are many garments that can be used to hide your tummy.
Be sure to also check all our tips to hide your belly with the right clothes.
Lingerie and undergarments to go under your dresses
First of all, while they are nothing to do with the dress itself, the lingerie and undergarments you choose to go under your dress will make a huge difference to the way it looks. Even the best dresses to hide your tummy will work better with the right lingerie.
Depending on whether you're dressing casually and want to be comfortable, or whether you are heading out for the evening, this might mean anything from making sure the bra and panties you wear fit well and create smooth lines under your dress to choosing shapewear.
In general you don't need shape wear (I don't use it) but you do need to choose underwear that doesn't show any ugly lines. It also helps if your underwear covers your tummy.
Also take a look at the best bras for the large bust and the best bras for small breasts.
Shapewear is an option
Of course you may wish to wear some shapewear for a special occasion.
It definitely does help to tuck your tummy in.
These Spanx bodyshaping shorts tuck in the tummy as well as slimming thighs and providing some uplift for your rear.
Spanx mid-thigh shaping shorts
Also check our article on the best shapewear for women over 40.
The best dresses to hide tummy areas
There are plenty of dresses that you can wear that hide the belly without the need of shapewear.
The best dresses to hide your belly are those that skim (and not cling) over the areas you don't want to highlight.
Hide your tummy with a tunic and legging combo
Layering had always been a good option when you want to camouflage or hide something. And wearing and wearing a dress over pants can be a great option.
A flowy tunic or trapeze dress can work wonders when it comes to hiding a belly if you wear it over leggings.
The loose material of the tunic will drape over areas you aren't so keen on, while if you choose the right leggings or pants (check our recommendation for the best tummy control leggings), they will help to tuck in your tummy and create a more streamlined silhouette.
This casual t-shirt dress from Amazon has a great number of reviews. I'd wear with leggings and a contemporary statement necklace.
Need new leggings? Then be sure to check our article on the best leggings for women over 40. 
Dresses that hide belly bulge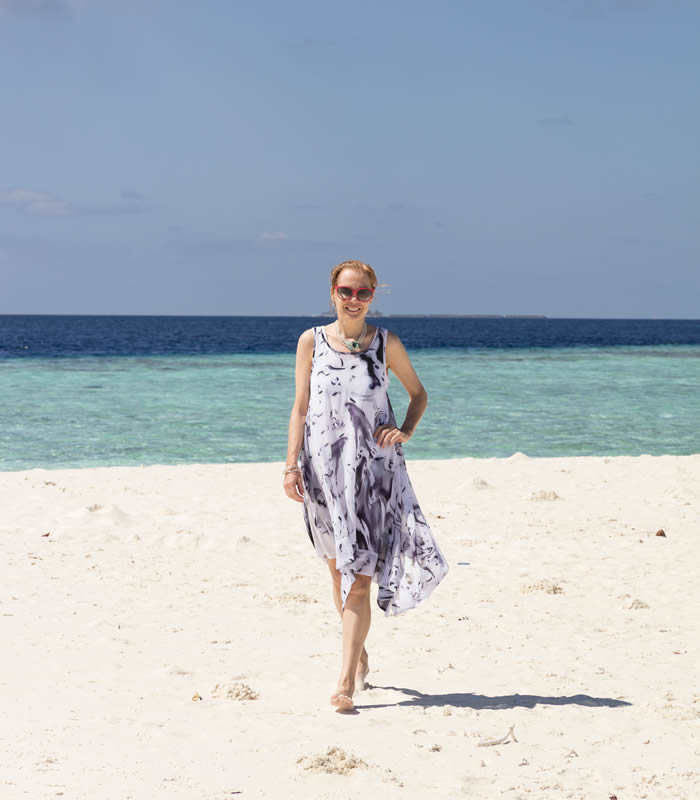 Belly bulge is very common in women over 40. Even though I'm quite slim all over I too have a belly bulge and I'm not keen to highlight it.
It's very common to develop a tummy at peri-menopause or menopause, even if you haven't previously had a problem with this area of your body.
One easy way to hide this belly bulge is to choose dress that's wide and drapy like the dress I wear in the picture above. The
The dress I am wearing above is from Stella Carakasi but is no longer available. Here are some similar dresses that you can try Sakkas and Vince Camuto.
Since the dress fits snugly at the top and is supposed to go wide, it's still very flattering and no one needs to know that you have a tummy.
Summer dress that hides your stomach
Similar to the dress above you can also choose a summer dress or beach dress that you can wear over your swim wear or to an outdoor evening dinner.
A dress with asymmetrical detailing can be the perfect way to hide your tummy.
Kidsform striped maxi sundress
Vertical pattern dresses are great at hiding the tummy
Vertical stripes have a slimming effect, drawing the eye up and down, rather than across your tummy.
The stripes of this belted dress run vertically rather than horizontally which should help to take the attention away from your midriff. You can tie the belt at the slimmest part of your tummy.
Hide your tummy with dresses with prints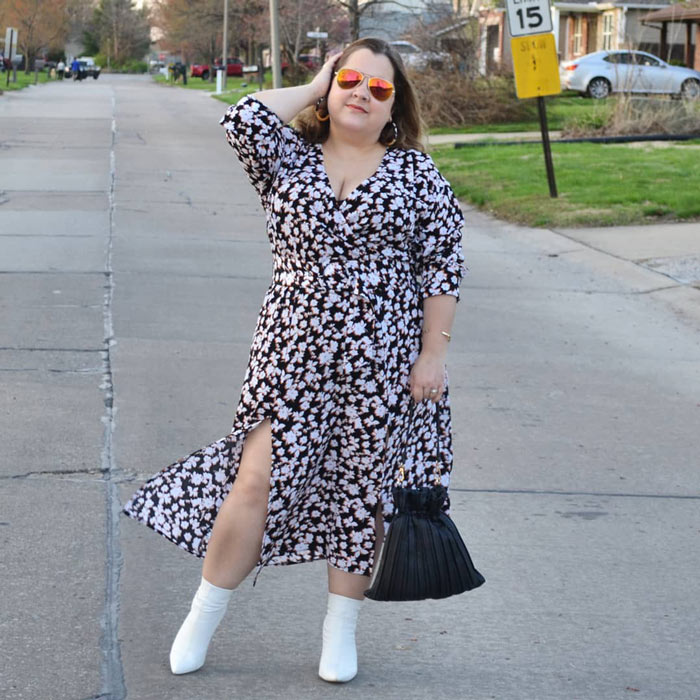 Choosing a patterned dress is  a great way to disguise a belly because the patterns confuse the eye, drawing the gaze up, down and around, and away from any belly bulge.
Cassie (above) opts for a stylish print dress along with other methods for hiding a belly. The v-neck is super flattering, while the side slit and white booties draw the attention to her legs.
Recreate her look with this similar floral dress, booties, bag, earrings and sunglasses.
Try a dress with asymmetrical elements
I'm sure you know how much I love asymmetric clothing.
Opting for an asymmetric dress is a great way to draw the attention away from your belly. A dress with asymmetry can create vertical and diagonal lines, giving a slimming illusion.
Depending on how much of a belly you feel you need to hide, you can opt for a dress which is more fitted or looser.
Tommy Bahama stripe maxi dress
Asymmetric clothing in very flattering for your body. Even if you don't want to downplay your tummy but another area of your body, consider adding asymmetrical pieces to your wardrobe.
Be sure to check my recommendations for the best asymmetric clothing.
 Empire waist dress
What works for one woman will not necessarily work for the next, so really this is about playing around with what works for you. Some women report that these kind of dresses make them look pregnant, while others find them the ultimate tummy hiding dress.
An empire waist dress could work for you by drawing attention to the slimmest part of your torso, which will be the part directly underneath your bust, and skimming over your belly rather than clinging.
You can also opt to emphasize your breasts with an empire dress if this is part of your body you like.
Cornelia (above) is wearing an empire waist dress that gives the whole look more structure and shows off her beautiful figure. The fabric doesn't cling, is layered and airy and skims beautifully over the tummy.
Check out this similar dress, sandals and handbag.
Shift dress
A shift dress in the right fabric (natural is best) won't cling in all the wrong places. It will skim over your midsection and show off your legs.
Deborah (above) wears a beautiful cobalt blue shift dress and matching sandals.
Get her look with this similar shift dress, sandals and earrings.
This style by Halogen (below) is incredibly versatile. You could wear over leggings or skinny jeans.
Haloegn cap sleeve shift dress
Hide your tummy by layering your dress
It's easier to think about layers in terms of separate tops and bottoms.
But, you can definitely still add a stylish layer over a dress.
Choose a long sleeveless vest to add style (and tummy camouflage) to your outfit. This creates a slimming effect of a column of color in the middle, and two columns on either side, breaking up your silhouette so your belly is not as noticeable.
This sleeveless vest cardigan can easily be layered over a dress. For instance, if you popped this over your favorite little black dress, you would create a flattering column of color down the middle of your outfit.
Shirt dress
A shirt dress can be a good option to hide a belly. You could choose for a dress with buttons down or with a belted waist.
Julia (above) teams her shirt dress with her sneakers for a stylish, casual look.
Check out this similar shirtdress, sneakers and handbag.
I like the tie waist detail of this HOBBS shirtdress (below). You could leave a couple of buttons open to create a v-neck, or add a statement necklace over the collar to draw the eye upwards.
Draw attention to your neckline
By drawing attention upwards to your necklines, and therefore your face, you will take the attention off your middle section.
This off the shoulder maxi dress will skim over your figure rather than cling too much and the ruffle neckline draws the eye upwards to your face. If you like your shoulders, this could be a great choice for summer.
Drapes are a tummy's best friend!
Depending on the way a drape falls on you, it can either emphasize or disguise a belly.
It may be a question of experimenting a little until you find one which works for you.
Look for a dress which has a flattering draped effect, but which does not add extra bulk around the tummy area, or draw attention to it.
Catrice (above) chooses a draped faux wrap dress, and adds another slimming effect by wearing her scarf loose.
Steal her look with this similar dress, heels, scarf, handbag and sunglasses.
Use layers to hide your tummy
Layers are always good for hiding a multitude of "issues" that you aren't keen on.
Some dresses already come with clever layers built in, like this eVogues layered dress which would be perfect for any formal events you are invited to, for going out to dinner or for wearing more casually with sandals.
Frills or ruffles can hide tummies too
Just as with the draping you opt for, you can choose frills or ruffles which create a number of effects.
You could, for example, draw attention away from your tummy by having ruffles on the arms. Just make sure, if you do, that the sleeveless doesn't fall at the same place as your belly.
Or, you could find a dress which has a frill or ruffle drawing the eye upwards and downwards rather than across.
Anita (above) wears a beautiful red dress with frills which flow diagonally across the body.
Recreate her look with this similar dress and sneakers.
Pleated dress
Pleating can have a lot of advantages when it comes to hiding a belly.
The pleats mean that the dress is not close-fitting. Plus, pleats naturally create a series of vertical lines.
The waistband on this dress appears to sit a little higher so shouldn't dig into your belly, and the paler shade towards the hemline will also help to take the attention away from your tummy.
Club Monaco ombré pleated midi dress
Wrap dress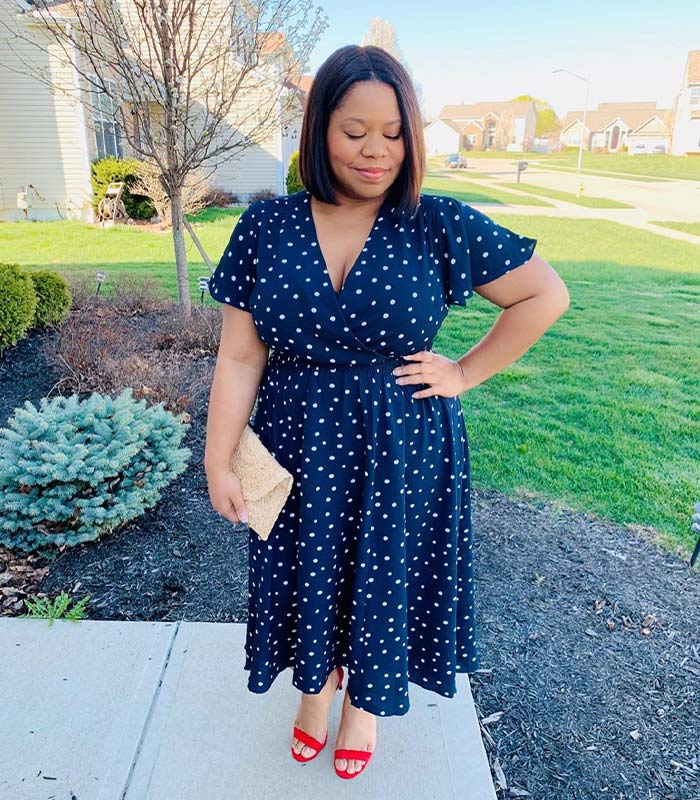 A wrap dress is a style that will suit the vast majority of women, no matter what your shape or size. You can slightly alter the way the belt ties to the most slimming effect, and the v-neck is also a flattering option.
Venetia (above) wears an on-trend polka dot wrap dress which would be a flattering option for all body types.
Check out this similar dress, sandals and clutch.
Blouson dress
A blouson dress is another option which can work for some women but not for others. The blouson top can create the illusion that your top half is a little larger as well as draping over the tummy, which makes your waist look smaller.
Maison Tara blouson midi dress
What do you feel are the best dresses to hide the tummy? What has worked for  you?
Continue reading:
Like this article on the best dresses to hide the tummy? Save it on Pinterest!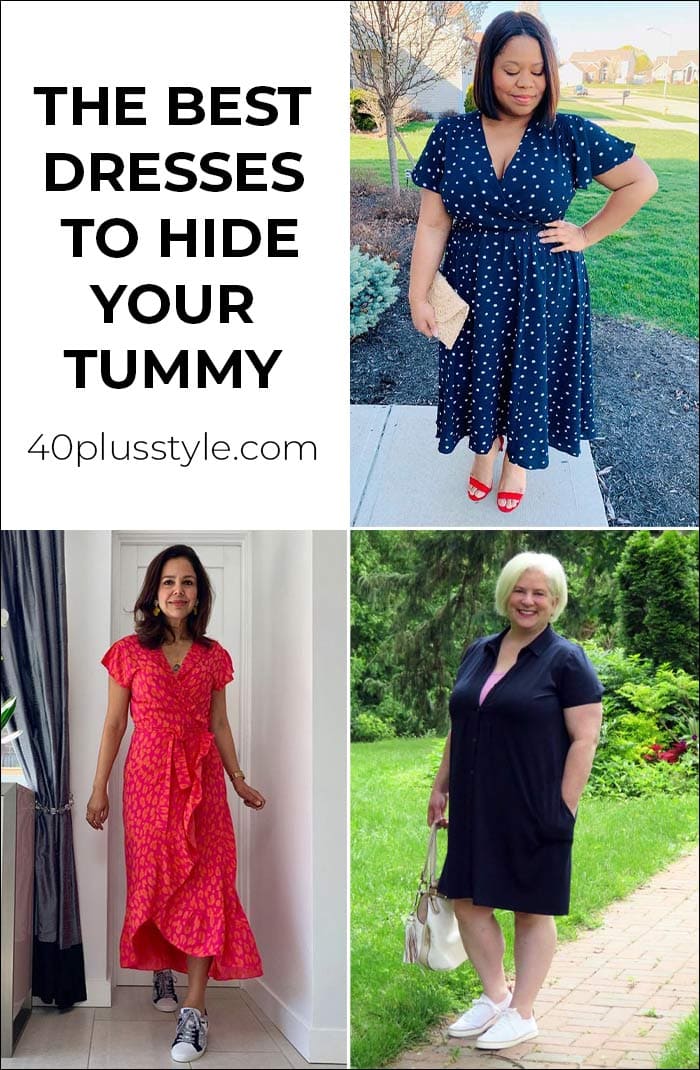 Feature image by Venetia
The post The best dresses to hide your tummy appeared first on 40+ Style.