The SAG Awards Red Carpet Was Chaotic Neutral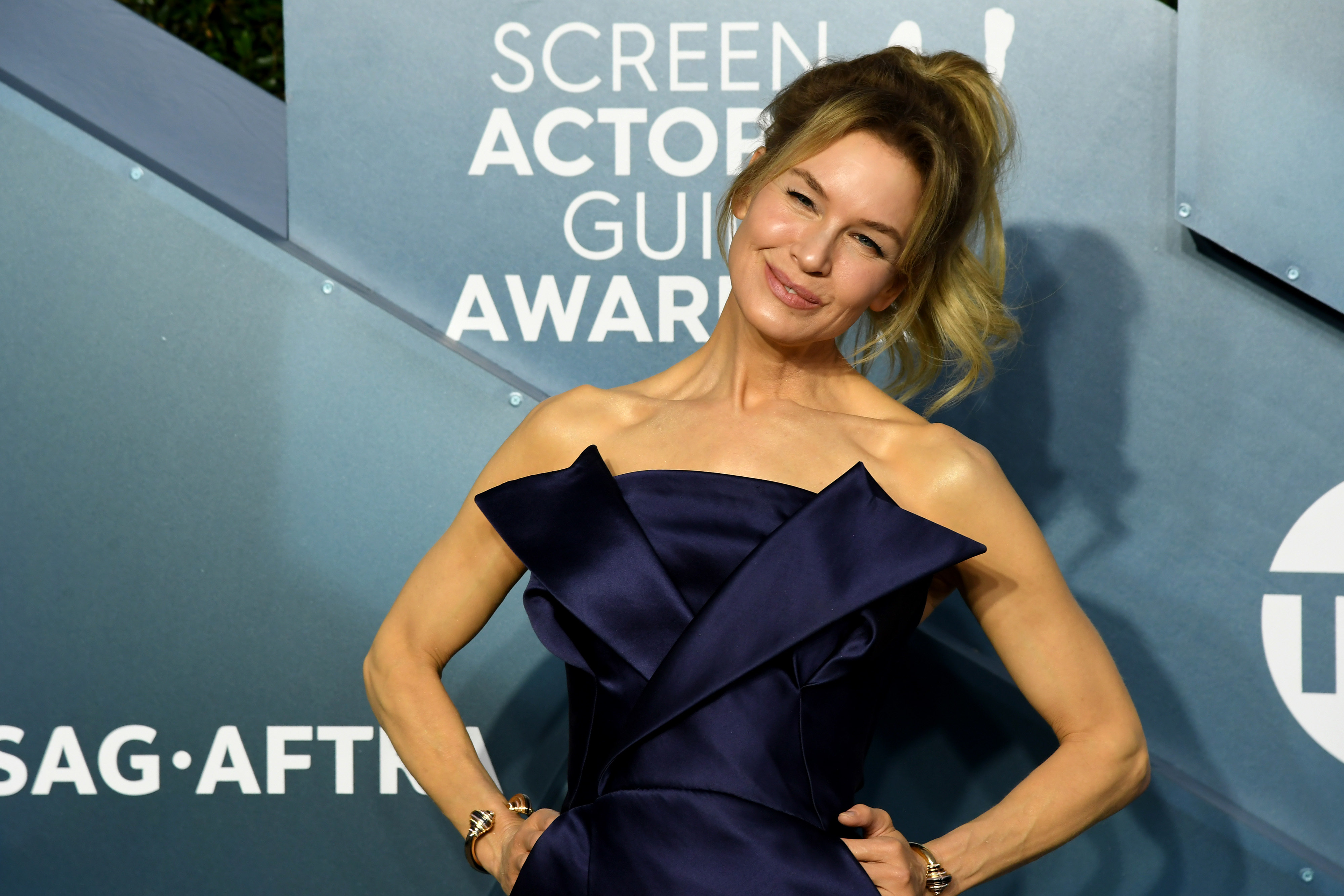 The good news: There were no disasters. The bad news: There were no disasters. The A-Listers at the Screen Actors Guild Awards on Sunday seemed unwilling to break with the expected. Margot Robbie wore Chanel... again. Jennifer Aniston wore Dior... again. Michelle Williams wore Louis Vuitton... again. Expect the unexpected this was not.
None
Related | The Hypocrisy of Red Carpets Under Climate Change
None
It makes sense somewhat. The SAGs often have a disjointed energy, as both the middle point of awards season for some (with the Golden Globes and Critic's Choice in the rearview and BAFTAs and Oscars just around the corner) and a finale for others like the television actors who have an eight-month break until the Emmys in September. So the SAGs can be a bit all over the place red carpet-wise, ideally either chaotic good or chaotic evil, both of which can be exciting. Alas, on Sunday night we got a night of largely chaotic neutral.
None
That's not to say there weren't a few surprises and delights, like Rene Zellweger in a navy (pocketed!) Maison Margiela Haute Couture gown created by John Galliano, or Danai Gurira in fire engine red Mugler. But even the presence of some of our fave designers (like Reese Witherspoon in Celine, Cynthia Erivo in Schiaparelli, and Gwendoline Christie in Rick Owens), couldn't bring enough oomf to make this a memorable red carpet. Seeing Jennifer Garner in Dolce & Gabbana was a real low point. One would think her stylists Jill Lincoln and Jordan Johnson would know to steer their clients clear of a brand that has been forced to cancel runway shows over allegations of racist advertising and whose namesake has claimed sexual harassment is "not violence," but alas, ignorance can be a unique form of bliss.
None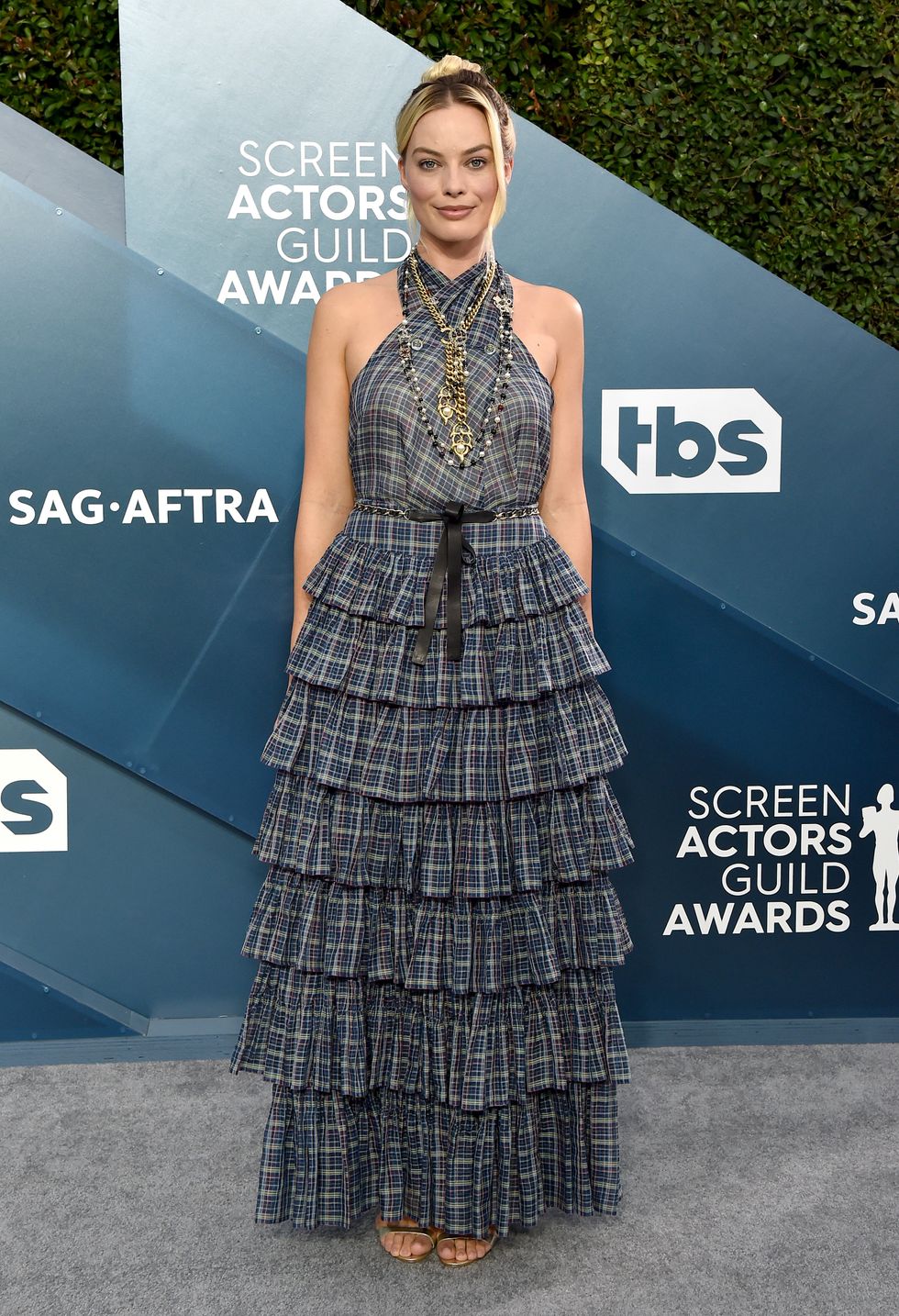 None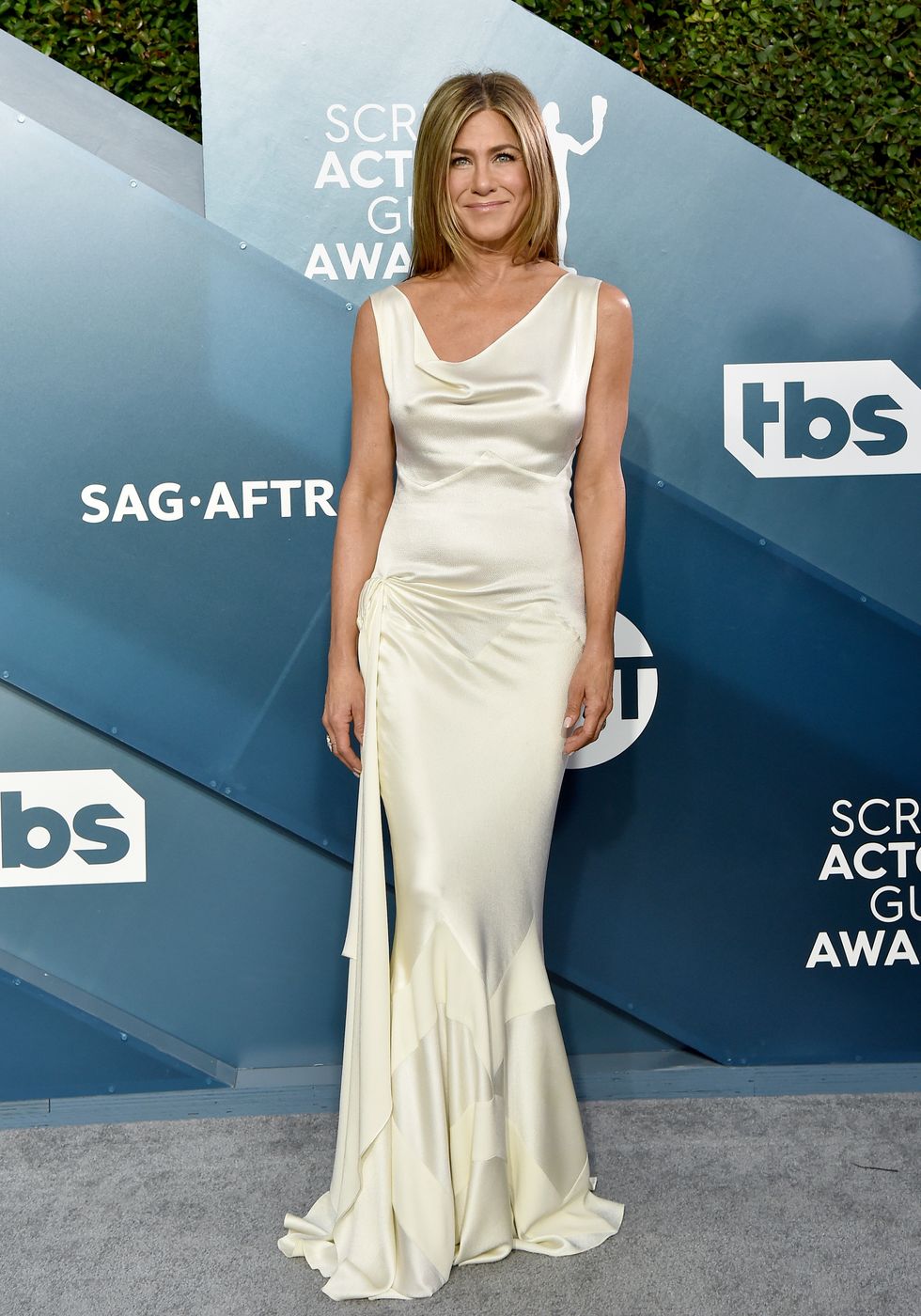 None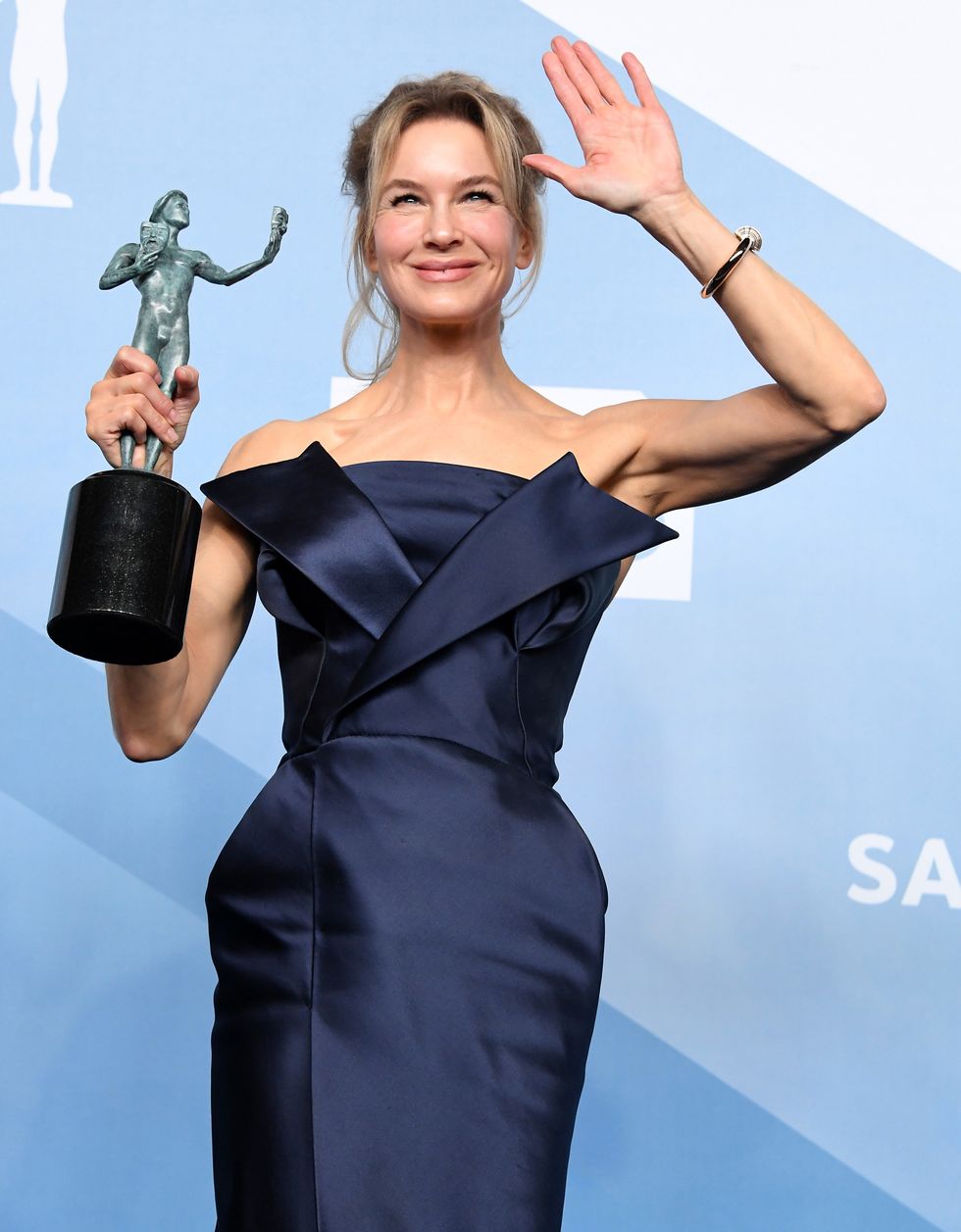 None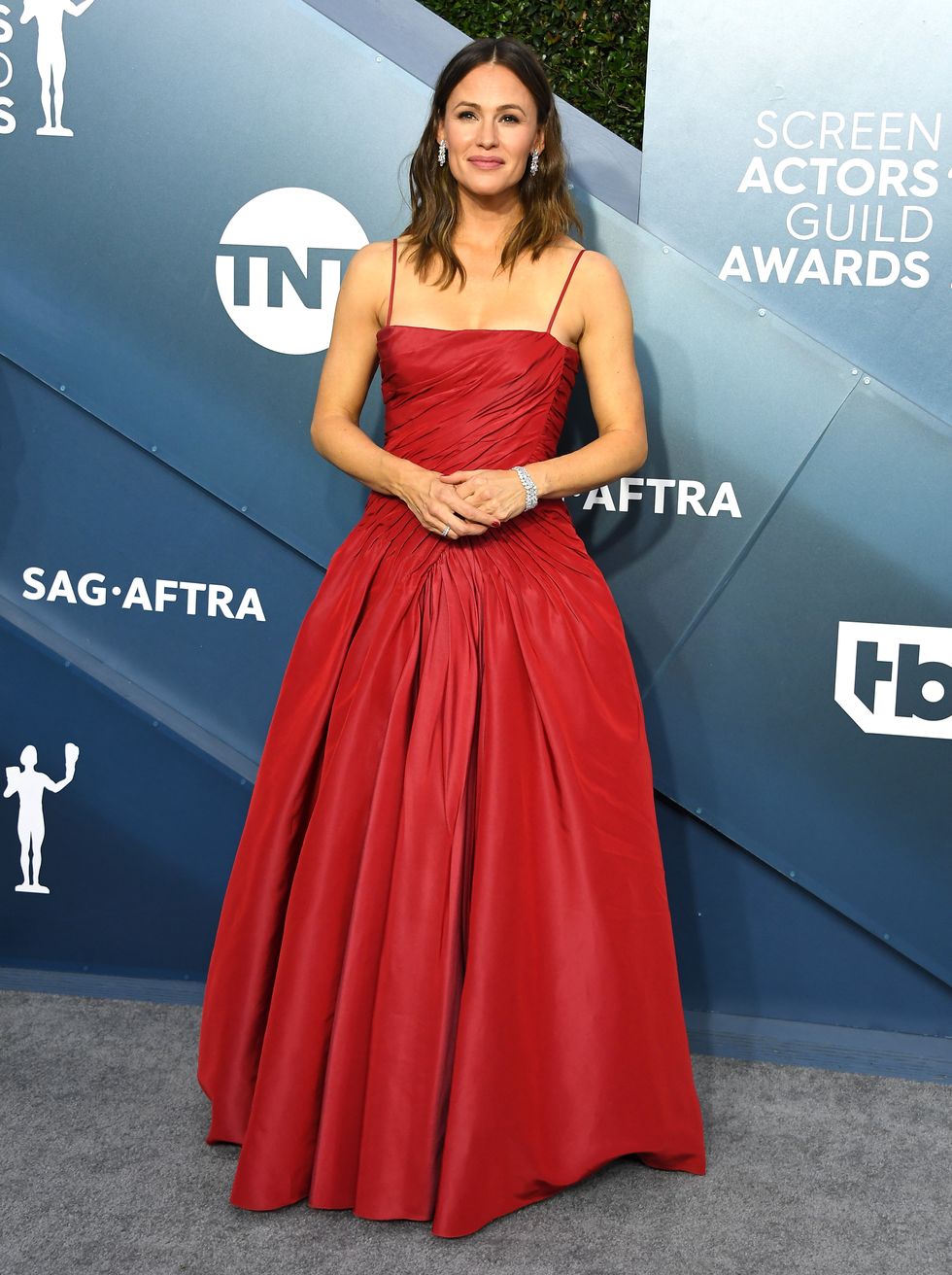 None
Enough about the fashion industry's willingness to reward bad behavior. Let's instead give a few shout-outs to the youngins, who brought flair and panache: The Society star Kathryn Newton in a tiered tangerine Valentino dress from Pierpaolo Piccioli's Spring 2020 collection had me shaking, Euphoria's Storm Reid in a pink and white Giambattista Valli dress from the brand's Fall 2019 couture collection had me on my feet, and 11-year-old Big Little Lies actress Chloe Coleman wearing a navy suit by Burberry lifted my wig clear off my scalp.
None
The night's best look came courtesy of Catherine O'Hara in a gold sequined gown from Marc Jacobs' Spring 2020 collection. "As soon as Catherine tried it on, everyone in the room took an audible gasp," stylist Andrew Gelwicks told me. "It was one of those moments where everything aligns and you just know you've found it. The dress has every bit of glamour and playfulness we could hope for."
None
Gelwicks has successfully transformed O'Hara into a red carpet one-to-watch, putting her in brands ranging from indie labels like Beckett Fogg and Piotrek Panszczyk's AREA to red carpet staples like Greta Constantine and Tom Ford. "It's rare to find someone as multi-faceted as Catherine," he said. "She's of course a brilliant actress and terrifically funny, but also warm, kind and has an innate sense of style and who she is as a person." More Catherine O'Hara on red carpets is a campaign slogan I can get behind!
None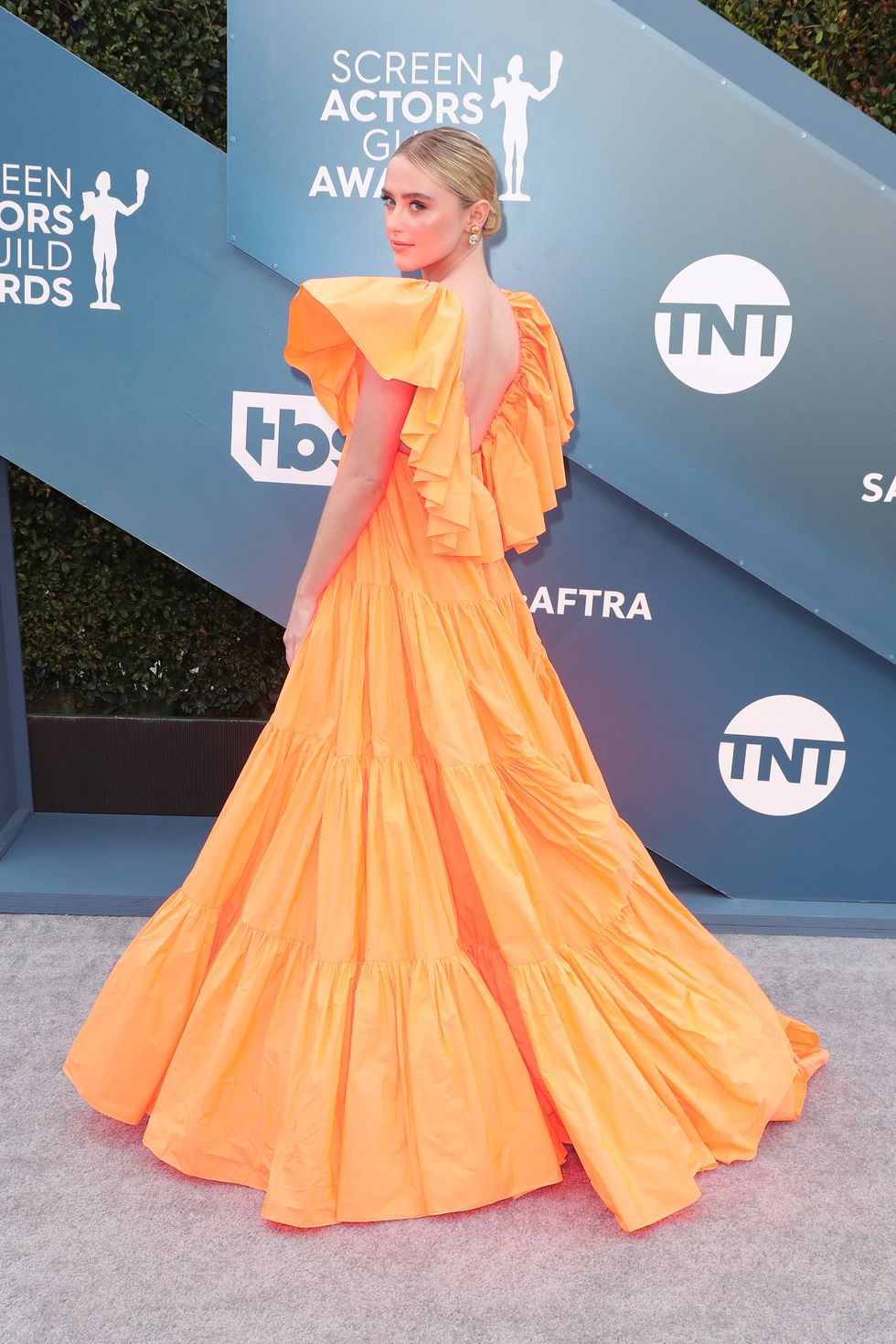 None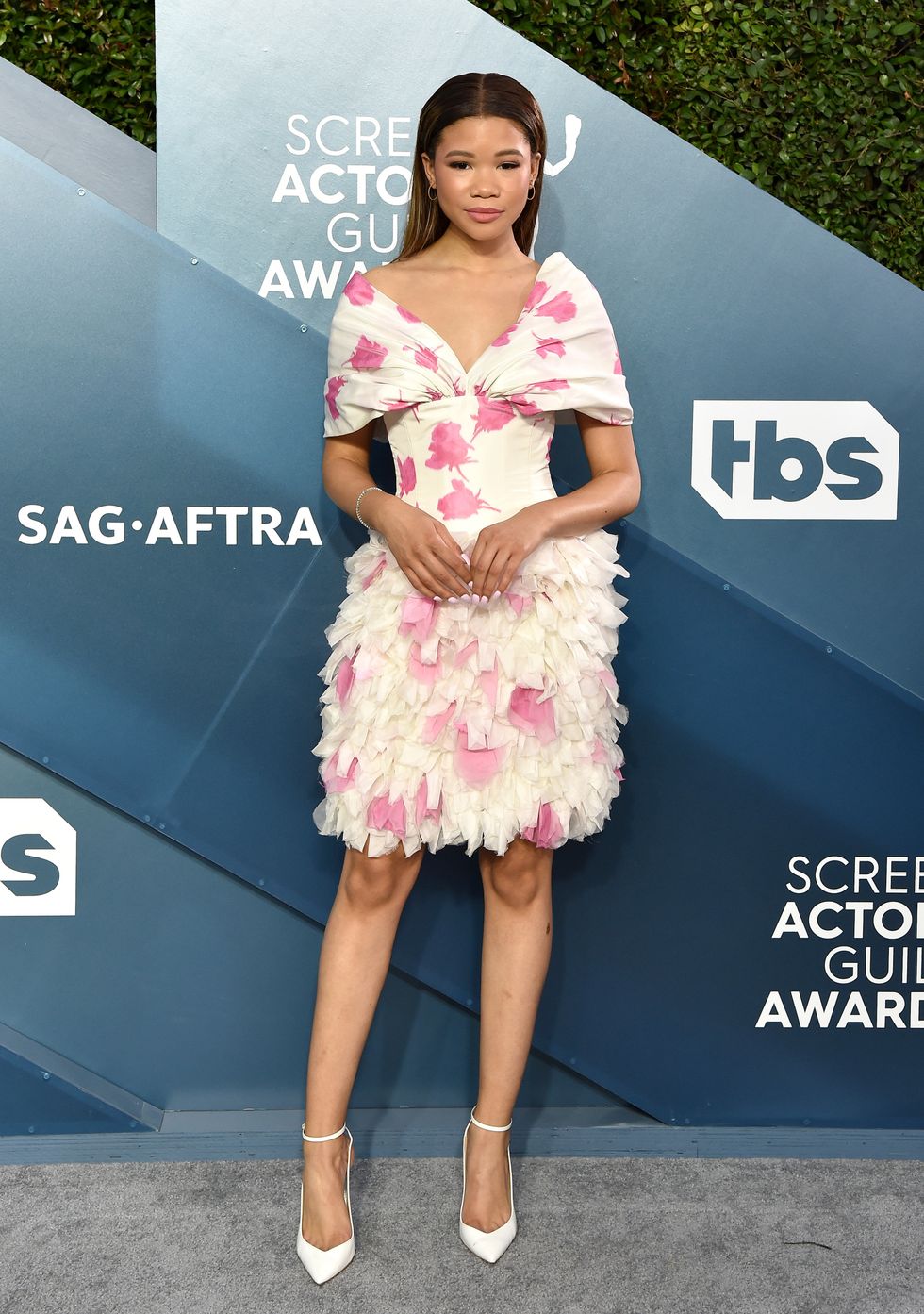 None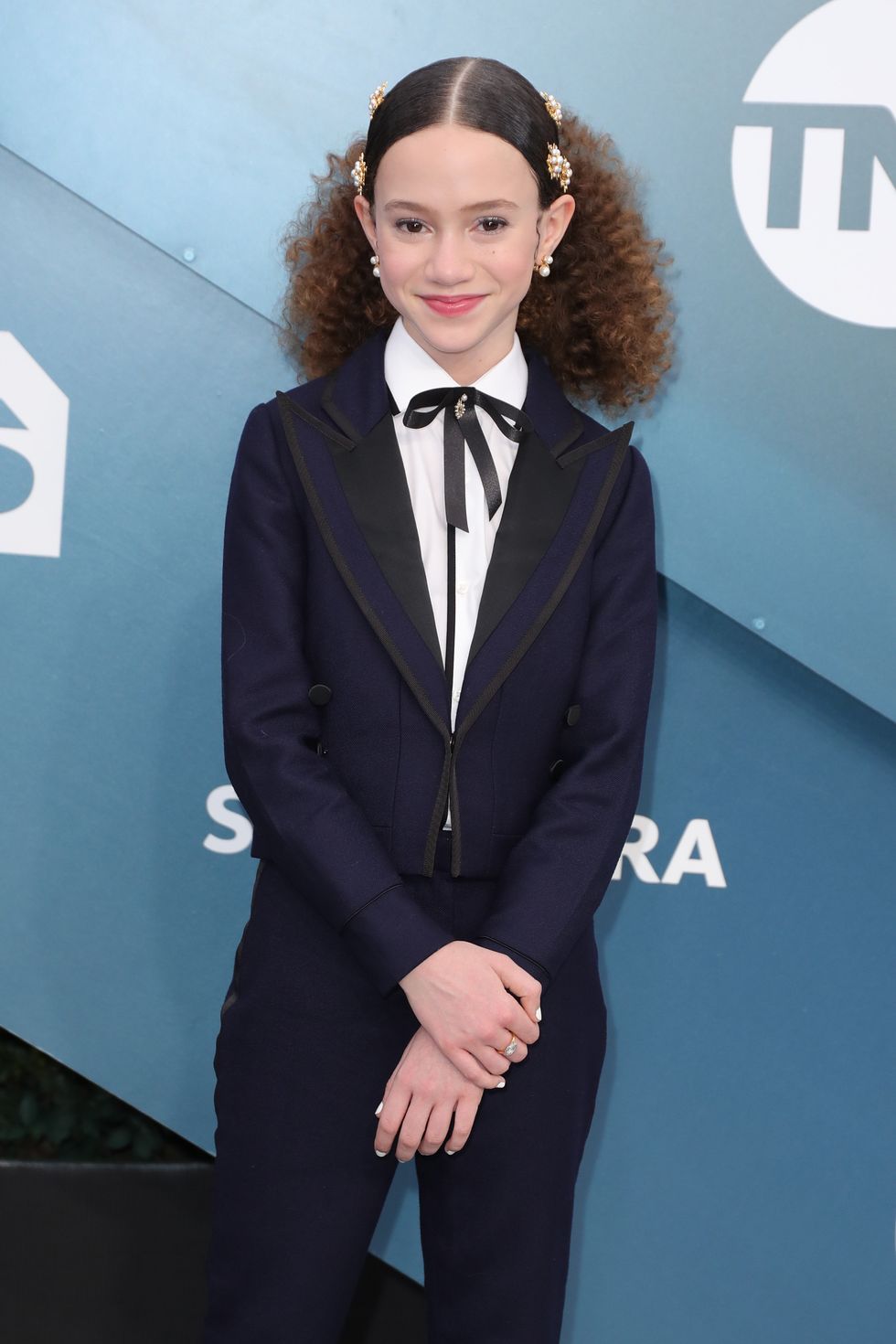 None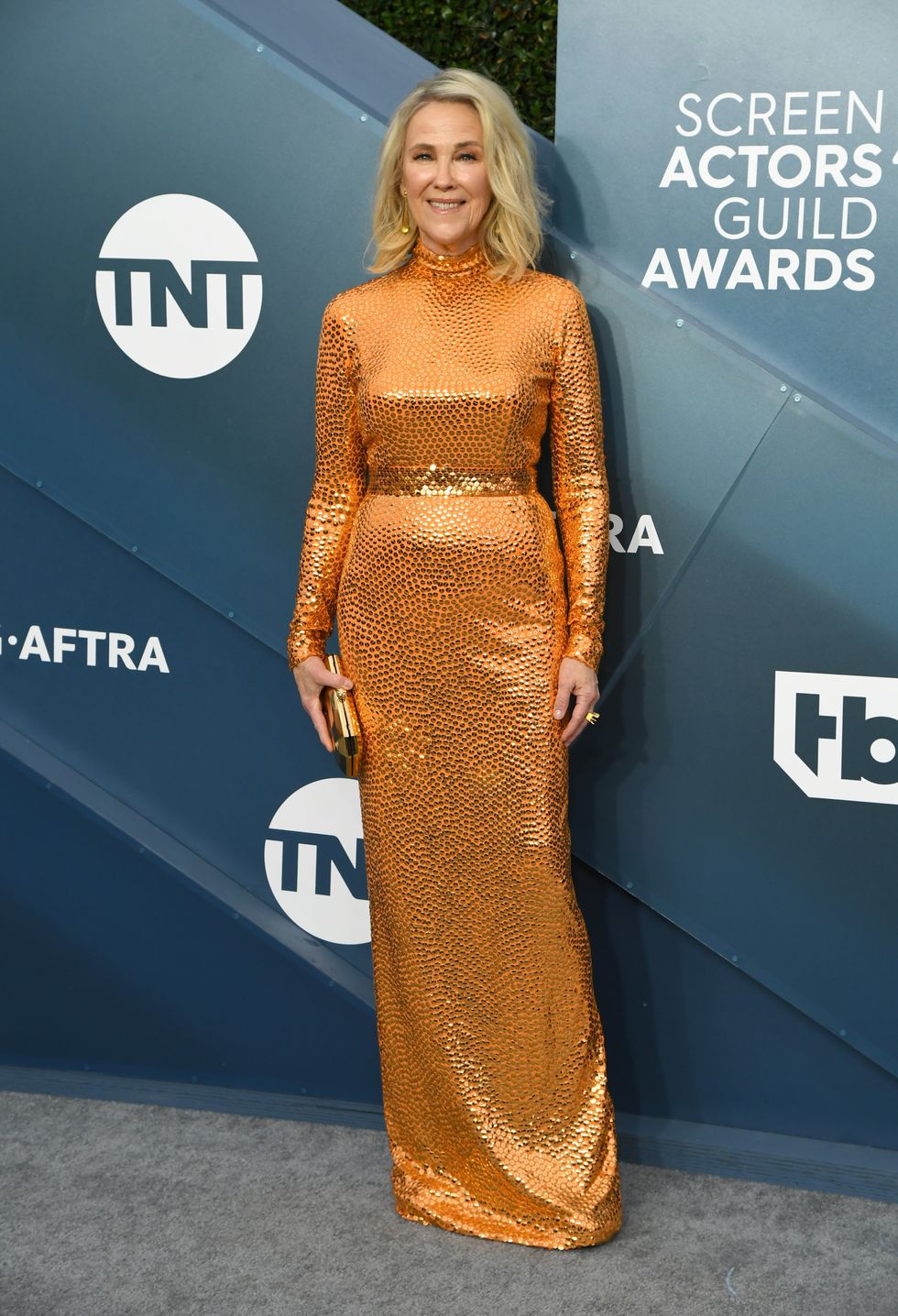 None
Wanna know who really turned it out at the Shrine Auditorium? The men... surprisingly. Let's start with the biggest risk, which earned the biggest reward: 15-year-old Stranger Things star Noah Schnapp stuck the landing in a custom baby blue Balmain suit, rocking the cummerbund over his suit jacket, drawing an obvious similarity to Timothe Chalamet's pale gray cotton silk and satin Haider Ackermann suit at the Venice Film Festival in 2019.
None
Related | What Tops Do Bottoms Wear on a Red Carpet?
None
According to Stylist Philippe Uter, the cummerbund almost didn't happen. "In the first sketch of Olivier Rousteing (even way before choosing the baby blue color) a cummerbund was finishing the look," he told me. "After several sketches until getting to the final one, the belt disappeared. We talked a few weeks ago and I asked to get this belt just in case. Olivier was right from the beginning, the belt was complementing the whole look."
None
Cummerbunds ended up being a prominent theme throughout the night, worn by Brad Pitt in Brioni and Fleabag's Hot Priest Andrew Scott in a mauve blazer from Azzaro's Spring 2020 collection. "Any chance for men to experiment with their presentations on the red carpet is a plus for me," designer Christopher John Rogers told me over Instagram DM. Rogers should know, having designed his first menswear piece for Lil Nas X at the American Music Awards, a slime green silk wool suit paired with a metallic flocked stretch velvet tee and opera gloves.
None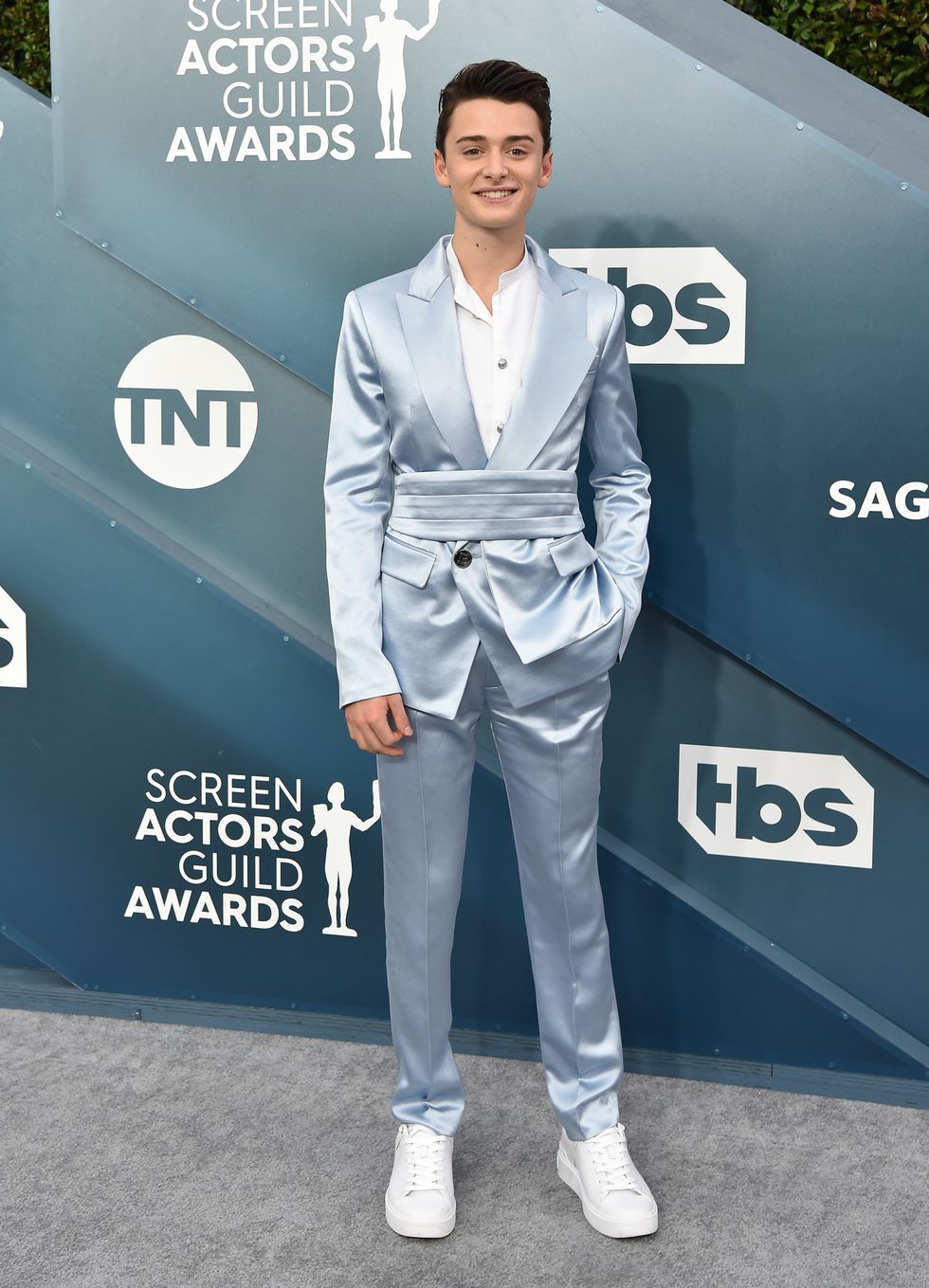 None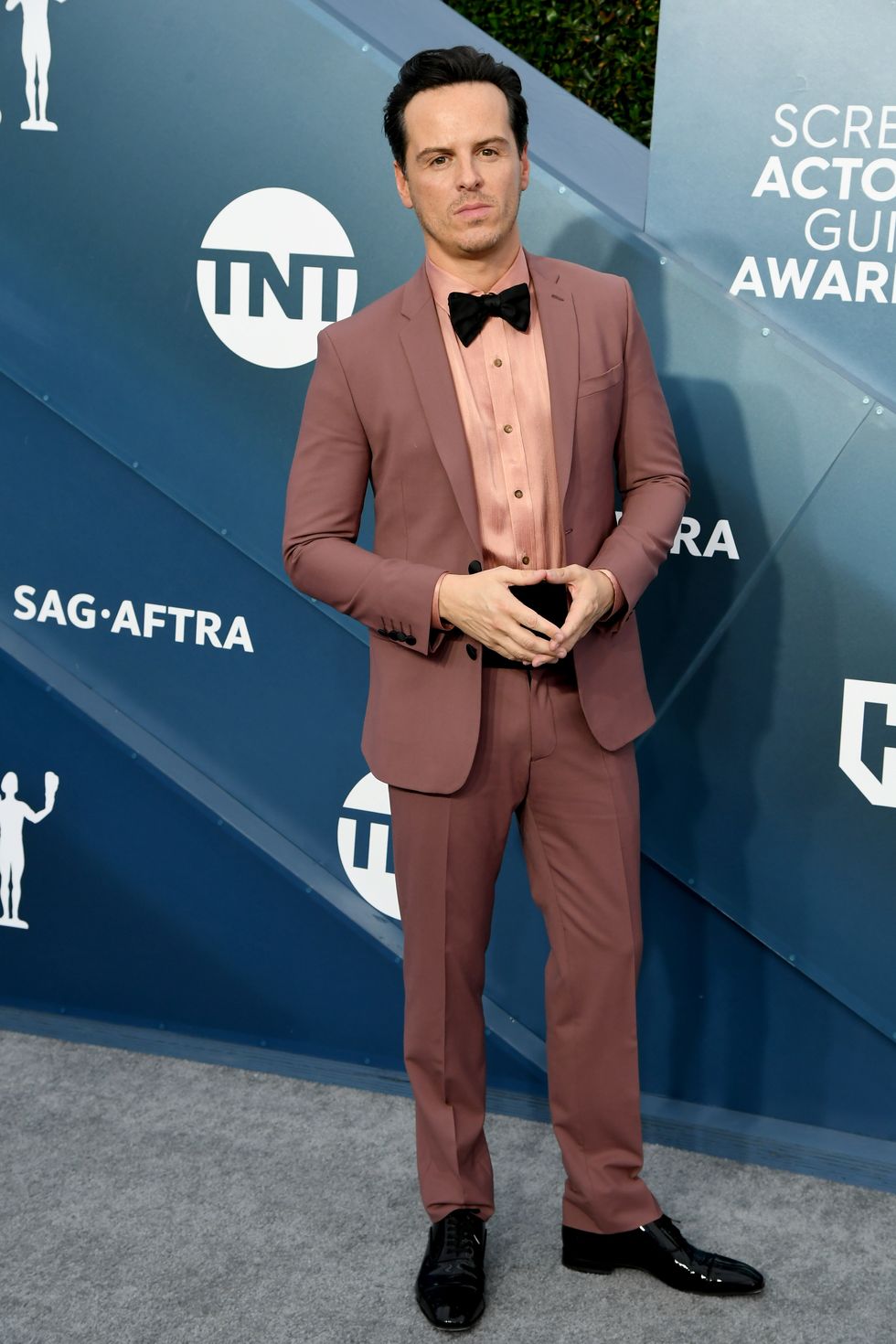 None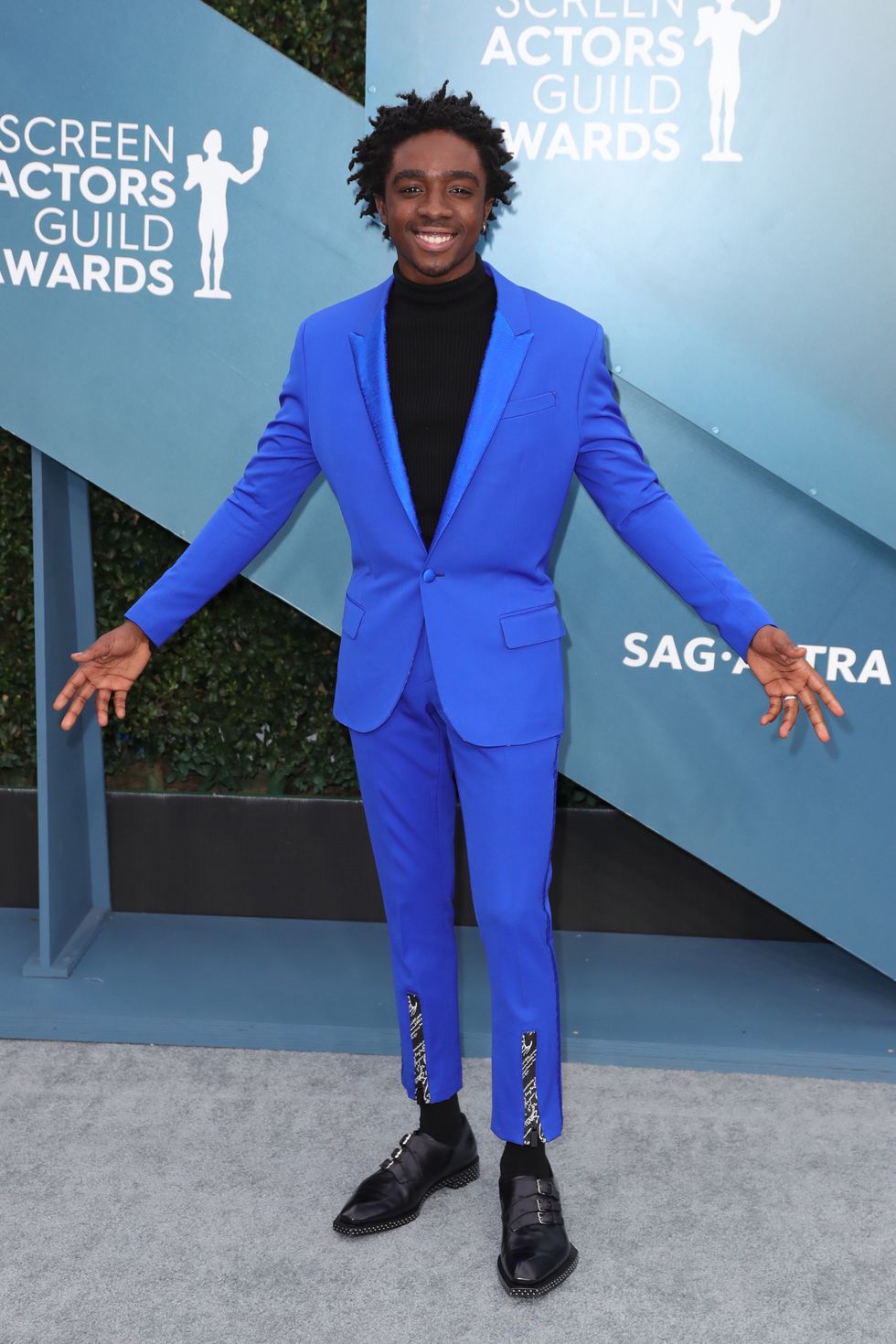 None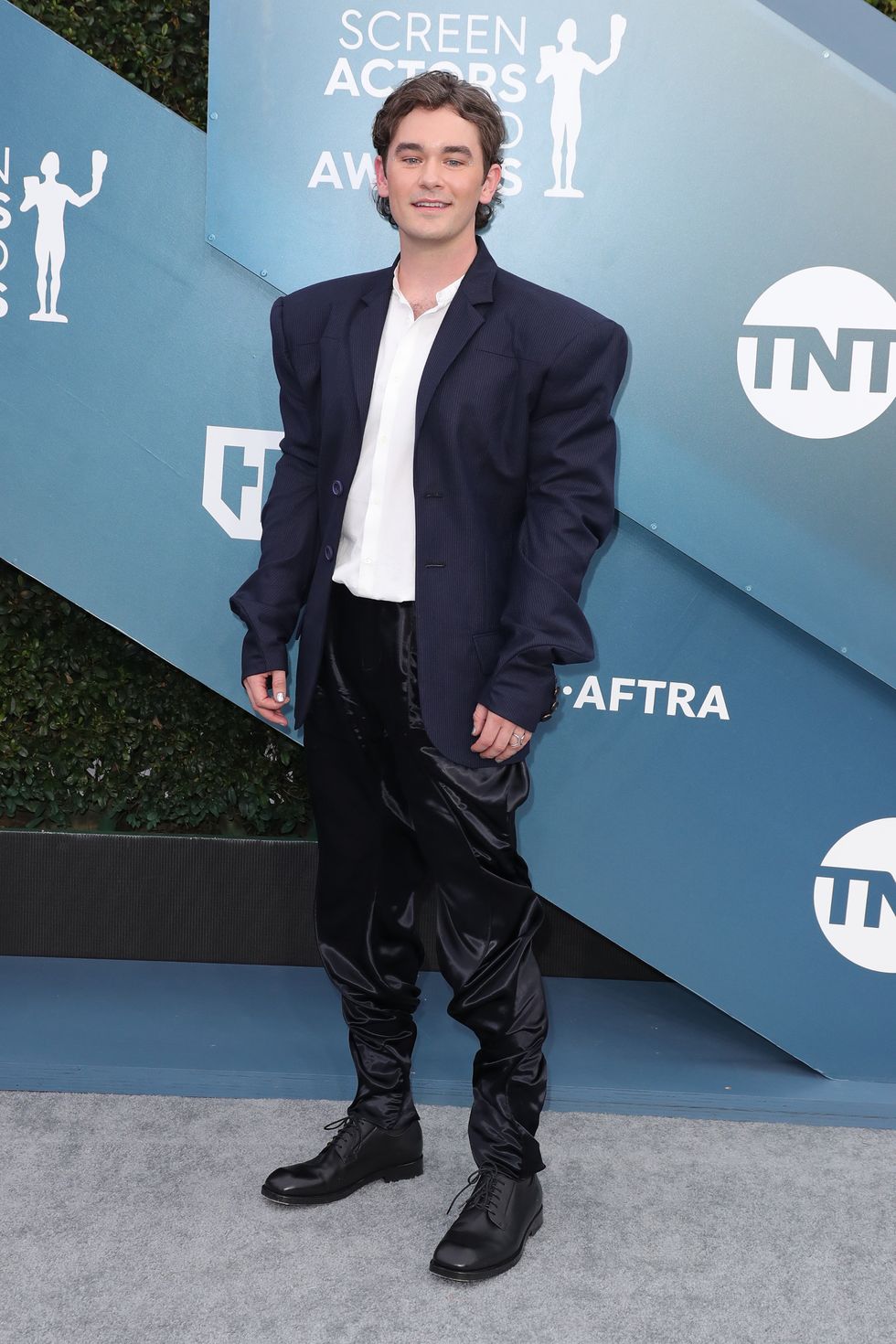 None
Pitt joined in on another trend of the night: going tieless. Game of Thrones star Pedro Pascal went sans tie in Dunhill, as did Timothy Olyphant, a man I would pay to step on me. The entire young adult ensemble of Stranger Things abided by the no-tie dress code as well: Caleb McLaughlin in Berluti, Finn Wolfhard in Gucci, and Gaten Matarazzo in Strong Suit with an H&M shirt. These teens are at the frontline of a new, slightly more casual kind of red carpet dressing for men in Hollywood.
None
Other notable 'fits from guys include Jojo Rabbit director Taika Waititi in Ermenegildo Zegna, Schitt's Creek's Dan Levy in Dior, and The Kominsky Method's Casey Thomas Brown in Vincent Wong. Best dressed man of the night is a toss-up between The Crown's Josh O'Connor, who wowed in a bespoke navy blue double-breasted wool Loewe suit, a black silk tie with pearl detail, and black leather shoes, and Mahershala Ali, who wore a floral-patterned navy velvet shawl-collar Ermenegildo Zegna tuxedo, a navy "bomber collar" shirt, and navy silk scarf with a matching silk pocket square and Bruno Magli Picasso camo loafers.
None
And best is great, sure, but let's perhaps double back to Noah Schnapp's look: easily the most exciting of the night, and worth revisiting. It's an ensemble that's unabashedly fashion-with-a-capital-F, from the color to the texture to the fit. It feels both elevated and intensely wearable thanks, in no small part, to the open collar and the sneakers. It has a story: the cummerbund over the jacket is unexpected and attention-worthy without being attention stealing a fine line to walk, indeed. Best of all, he glows. You can tell that he likes the way he feels in this garment. And that is the ultimate test.
None
Related | Cardi B and Billy Porter Dominated 2019 Red Carpet Searches
None
On a night when tried-and-true was the name of the game, the men really stepped it up and proved that the standard "Suit & Tie" may be nothing more than a mediocre Justin Timberlake song from 2013.
None
Welcome to Wear Me Out, a column by pop culture fiend Evan Ross Katz that takes a look at the week in celebrity dressing. From award shows and movie premieres to grocery store runs, he'll keep you up to date on what your favorite celebs have recently worn to the biggest and most inconsequential events.
None
Photos via Getty