The Snow In Irving Berlin's White Christmas Was Actually A Very Deadly Substance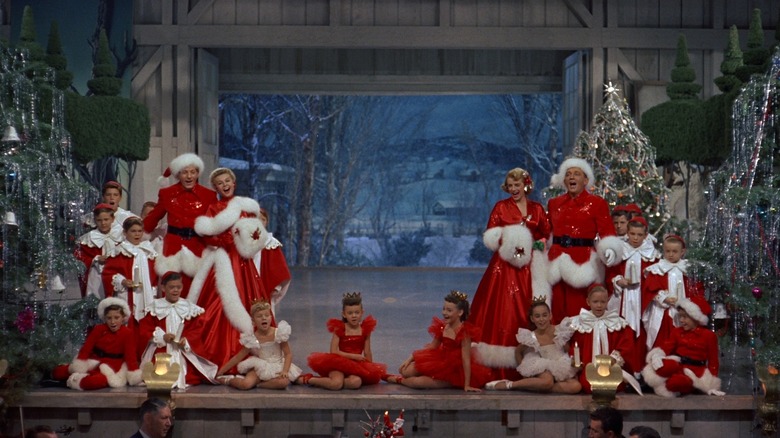 When an actor accepts a demanding role in a stunt-heavy action franchise like "Mission: Impossible" or "Fast & Furious," there's a distinct possibility that injuries will occur. A certain amount of danger on set is accepted and the old adage "Pain is temporary, film is forever" becomes a form of motivation to get the cast and crew to embrace the challenge of capturing amazing moments on screen, no matter how grueling it may be to achieve them. It's extremely rare now to have any health problems associated with the actual materials used in creating and building film sets today, but actors in the earlier days of filmmaking had to unknowingly deal with toxic chemicals that presented an entirely different kind of danger. 
With the holiday season fast approaching, some families will gather around the television for the yearly ritual of watching the classic musical "White Christmas" to delight in the yuletide joy and idyllic snow-covered landscapes. Unbeknownst to everyone involved with making the film back in 1954, the "snow" used to create the beautiful finale was actually made of asbestos, a deadly carcinogen that's now widely known to cause cancer. In the '50s, asbestos was used in the concrete, plaster, and drywall to build the homes of millions of Americans. 
Knowing that Bing Crosby, Danny Kaye, Rosemary Clooney, and Vera-Ellen are performing the title song "White Christmas" after being exposed to the famously harmful chemical may make it a little to harder to sing along with this year. The storyline of "White Christmas" is almost always anticipating snow or celebrating it when it finally starts to fall, so it feels a little dirtier after realizing that the quintessential holiday movie was essentially poisoning everyone. 
What Is White Christmas About Again?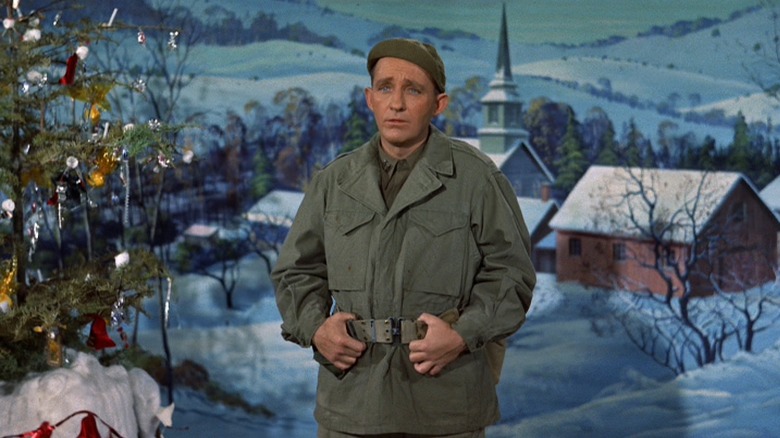 Has anyone ever been cooler than Danny Kaye in "White Christmas?" No one could wear a scarf like him, and legendary costume designer Edith Head made sure that everyone, including Kaye, looked positively dapper and dashing. Even when Bing Crosby and Danny Kaye are wearing army fatigues, they look like they're ready to hit the red carpet of the Met Gala. 
As for the actual plot, Crosby and Kaye play two lounge singers named Bob Wallace and Phil Davis who become more popular than ever after returning from World War II. While out on the road, they meet sister act Betty (Rosemary Clooney) and Judy Haynes (Vera-Ellen), and the four singers travel to an old hotel in Vermont to perform a Christmas show. They discover that the struggling hotel, the Columbia Inn, is owned and operated by their former WWII commander, General Waverly (Dean Jagger). So, they decide to put on a huge Christmas musical extravaganza to help save the hotel and restore General Waverly's faith in humanity. 
Early on in the movie, the four of them are already singing a song called "Snow" on the train up to Vermont which immediately puts everyone right into the holiday spirit. By the time the show-stopping tune starts up in the finale, the idyllic snowy landscape outside helps set the stage for a heartwarming scene where Waverly is greeted by his former troops who thank him for getting them back home safe for the holidays. 
They survived the dangers of the war only to be surrounded by fake carcinogenic snowflakes. Learning more about the unsafe environment during production starts to make "White Christmas" seem like a Christmas horror movie. 
What You Don't Know Can't Kill You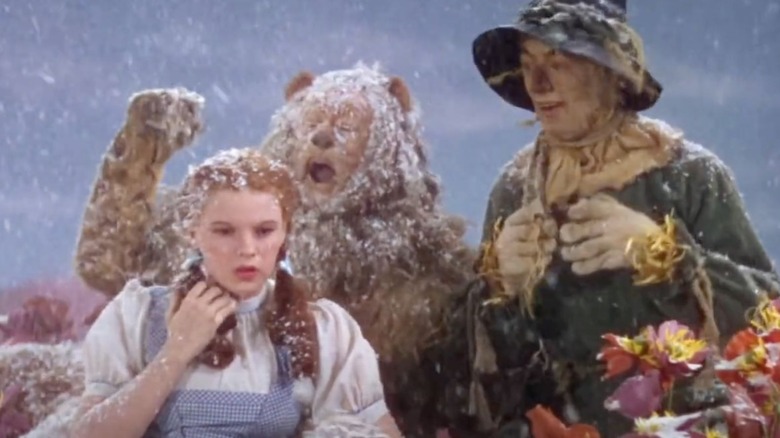 "White Christmas" certainly wasn't the only Hollywood production to use asbestos and other strange concoctions as a fill-in for actual snow. A lot of those productions didn't have the luxury of waiting for a blizzard to hit like the one seen in Quentin Tarantino's winter Western "The Hateful Eight." To be fair, the producers of these movies rarely, if ever, knew that the substances used on set were that harmful to humans. The Christmas trees in "White Christmas" also contained asbestos, similar to Americans at the time that would dust, or flock, their own trees with the chemical. 
For "It's a Wonderful Life," around 6,000 gallons of fake snow made out of foamite, the same material used in fire extinguishers, was used during filming. Smithsonian magazine reported that, while filming "The Wizard of Oz," in the famous scene where Dorothy (Judy Garland) wakes up in a field of poppies, asbestos completely covered her, Ray Bolger, and Bert Lahr. The further adventures of "Oz" were documented in season 2 of Shudder's "Cursed Films" series chronicling how Buddy Ebsen, the original Tin Man, also had a life-threatening reaction to the aluminum powder and paste used by the makeup team. Ebsen never returned to "Oz" and actor Jack Haley replaced him. 
Today, most film productions use a product called Snowcel or they rely mostly on CGI to recreate the effect. 
The Asbestos Disease Awareness Organization (ADAO) reports that asbestos, once referred to as the "magic mineral," was still used by certain industries during the 1960s, after it was widely known how harmful it was. Since the beginning of the 20th century, Americans have apparently "consumed" more than 31 million tons of asbestos, a sobering fact to think about the next time you're sipping egg nog while watching "White Christmas." 
Watch "White Christmas" on Netflix, if you dare. 
Read this next: The 20 Most Influential Comedy Stars In Movie History
The post The Snow In Irving Berlin's White Christmas Was Actually a Very Deadly Substance appeared first on /Film.