Travel gifts for women – the best travel gifts to get travel ready in style
I'm sure you know someone who is always planning their next trip, even before they're back from their last one. This gift guide is for them. Take a look at the best travel gifts for women; gifts they're sure to love whether they're planning their next adventure or reminiscing about a previous one.
best gifts for travel lovers
If you're looking for the best travel gifts for women, you're sure to find plenty of inspiration below.
Travel gifts for women – Anti theft travel bag
When traveling, she may not want to take her usual bag with her – either because it is the wrong size for her essentials, or she may be worried about security. The Travelon bag (below) has plenty of safety features including a lockable compartment, anti-slash material and lockdown straps.
Travelon Anti-Theft Classic Mini Shoulder Bag
luggage set
When was the last time she changed her luggage? If she's a frequent traveler, she may appreciate a new luggage set. The Travelers Club set (below) is the ideal size for carry on. It comes in 5 colors from neutrals to pastels and brights so you can pick her favorite shade.
Travelers Club Sky+ Luggage Set, Rose Gold, 3 Piece
travel cubes
Travel cubes can help you stay organized when traveling, making them one of the best travel gifts for women. You can use one or each daily outfit, for example, or one for each type of clothing so you can easily pick out your tops and bottoms. These ones are high quality, fit into any carry-on travel bag and the 2 different colors make it easy to separate different items.
Compass Rose Travel Accessories Slim Packing Cubes
See also how to pack with just a carry-on.
swimsuit
If your loved one is heading off somewhere warm or for a spa break, perhaps, I'm sure she would love a new, flattering swimsuit. The tummy control swimsuit (below) comes in lots of colors so you can choose from classic black, bright red, or a print.
Ekouaer Tummy Control Shirred One Piece Swimsuit
Also take a look at my favorite swimsuits in this article on the best bathing suits for women over 40.
travel gifts for women: beach cover up
To go with her new swimsuit, how about a cover-up that she can pop on at the beach or round the pool, or if heading up to the bar for a drink or snack.
Check our list of the best bathing suits cover-ups in stores now.
sneakers (with arch support)
When traveling, you tend to do a lot of walking while sightseeing so a comfy pair of shoes is essential. The Vionic slip-ons (below) are on-trend right now because of the platform sole, and they have insole arch support.
Vionic Essence Zinah Platform Slip-on Sneaker
You can find more comfy shoes in this article on arch support shoes for walking all day.
travel journal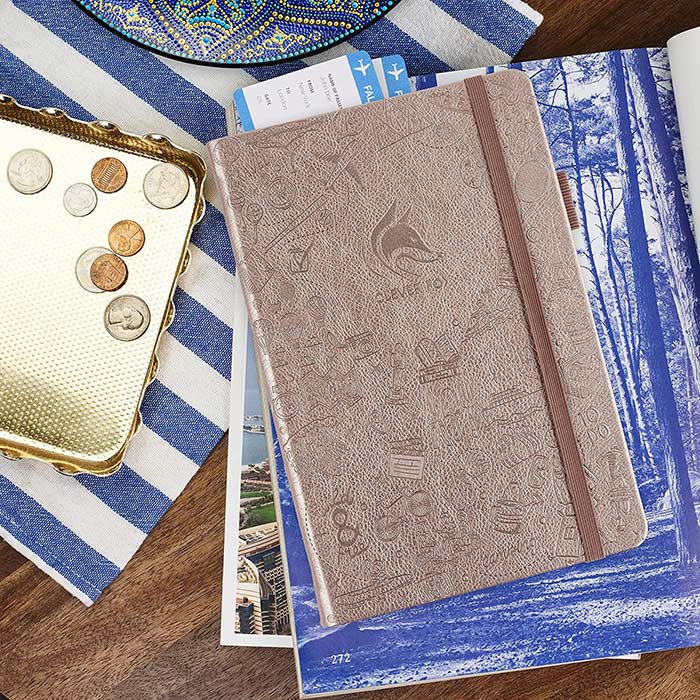 When traveling, it's good to be able to jot down all of your favorite memories, restaurants and places to visit. You can record your memories or plan future trips in the bucket list journal (below).
Clever Fox Bucket List Journal – Inspiring Bucket List & Travel Book for Memories & Adventures
destinations of a lifetime
When you aren't actually traveling, the next best thing is daydreaming about traveling. The National Geographic book (below) makes a stunning coffee table read that is sure to be a conversation starter.
Destinations of a Lifetime: 225 of the World's Most Amazing Places
travel posters
Another stylish idea to remember your travels is to opt for a new travel poster each time you take a trip and to build up a collection on a feature wall.
Herzii Prints National Park Posters & Prints – Set Of 4
wall map
If you know someone who is working from home more than usual recently, I think the handmade world map (below) would look beautiful in a home study. Or, you could always showcase it in a living room, as shown below.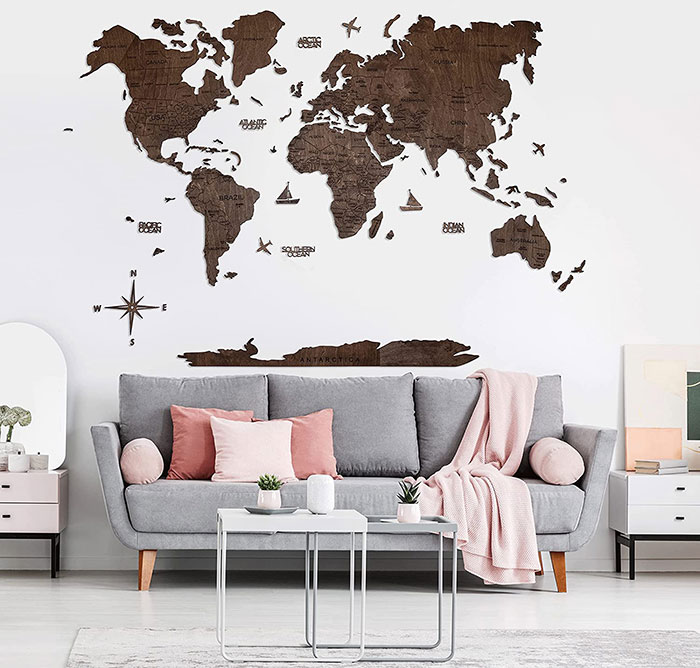 Wood World Map Wall Art Large Wall Decor
power bank
If you're working on the go, or just watching movies, listening to music and surfing the web, it can be easy to run down the batteries on your devices. The portable power bank (below) can add juice to all your everyday gadgets.
HSL Portable Charger Power Bank 30000mAh
make up organizer
If you have someone in your life who loves make-up and travel, the organizer (below) is the ideal way for her to take everything she needs on her trips. When she arrives, she can simply hang on a door or shower hook to keep all her toiletries and make-up at easy reach. It has 18,000+ largely 5* reviews.
BAGSMART Toiletry Bag Travel Bag with Hanging Hook
travel make up set
When you travel, you want all of your make-up essentials, but you don't necessarily want to take full-size bottles with you. A make-up kit like the Bobbi Brown Holiday Highlights set (below) can be the perfect option.
Bobbi Brown Holiday Highlights Deluxe Set
packable sunhat
A hat can be cumbersome to take with you. But you will want a good sunhat to protect your face from UV rays. The roll up hat (below) is easily packed into a suitcase or bag and then bounces back into shape.
Lanzom Women Wide Brim Straw Panama Roll up Hat
sunglasses
Sunglasses are a great gift option no matter what time of year. Not only are they stylish, but they help prevent eye damage on vacation or can protect eyes from low winter sun glare when driving.
Oakley Women's Oo9232 Drop-in Cat Eye Sunglasses
travel scarf
A scarf is cozy for traveling, particularly if your recipient tends to get cold on a plane. The infinity loop scarf (below) is particularly practical, not just for keeping you warm, but for hiding your valuables.
ELZAMA Infinity Loop Scarf With Hidden Zipper Pocket
travel gifts for women – travel pillow
It can be tricky to get some rest or sleep when traveling as it's hard to get into a comfortable position. The travel pillow (below) has memory foam to adjust to your head and neck.
MLVOC Travel Pillow 100% Pure Memory Foam Neck Pillow
travel mirror
It isn't always easy to find the right light to do your make-up while traveling. The travel mirror (below) is bright and easy to pack.
deweisn Folding Lighted Travel Mirror
A magnifying Mirror
As my eyes have deteriorated quite badly over the last few years, I have found it increasingly difficult to apply eye makeup or maintain my eyebrows. This mirror makes that so much easier! Even though this is a pricy mirror, the light is so much brighter than on other mirrors and you'll never need to buy another magnifying mirror again. You can easily pack it and I never leave home without it.
I bought the mini Simplehuman mirror which magnifies 10 times! It is great for applying makeup but does not magnify as much as the smaller one. This is a gift that will last her a long time.
travel towel
When heading to the beach, you don't necessarily want to take a bulky towel with you. The absorbent towels (below) fold up so small you can easily fit them into your pocket or beach bag.
4Monster Camping Absorbent Towels
sanitizing wipes
If you're concerned about your loved one traveling in the COVID-19 era, you could always add a pack of anti-bacterial wipes along with your chosen gift, so they can wipe down surfaces such as the tray table on the plane.
TRIP WIPES – Alcohol-Free Hand Sanitizing Antibacterial Hand Wipes
desk globe
Can't decide where to travel? You could always close your eyes and point your finger at the floating globe (below). This makes a stylish little desk gizmo for those working from home.
TeaMaX Magnetic Levitation Floating World Map Globe
wide angle lens
Gone are the days, for most of us, when we traveled with a separate camera and phone. The pro lens kit (below) will enable you to get wider angle shots on your smartphone. Reviewers say this is the next best thing to having an SLR camera.
tripod
Want to get handsfree shots of yourself or your loved ones with your vacation scenery in the background? Then a tripod could be the ideal option. The tripod set (below) also features a selfie stick for moments when you need a longer angle than your arm can manage.
sleep mask
If sleeping somewhere unfamiliar, whether on-the-go on a plane or train, or in a hotel room, it can be tricky to get the sleep you need. A sleep mask like the Yieview option (below), which has contoured eyes so your eyelashes don't catch, can help to shut out distractions.
headphones
Whether you're working on your travels or you want to watch movies and listen to music, a great pair of headphones are essential. The Sony headphones (below) cancel out noise around you so you can concentrate.
Sony Wired Noise Cancelling Headphones
face mask
When traveling, particularly by plane, your skin can become dry. It's a lovely treat when you arrive at your destination to apply a moisturizing facemask and get some rest.
Dermal Collagen Essence Full Face Facial Mask Sheet Combo Pack
suitcase tag
Worried about someone picking up your suitcase, or your suitcase going to the wrong destination? A stylish luggage tag can make your suitcase more recognizable as well as helping to ensure your luggage gets to where it needs to go.
Travelon Set of 2 Luggage Tags
skincare essentials
If you don't want to forego your usual skincare regime, a moisturizing set featuring smaller versions of your essentials is perfect. The Burt's Bees kit (below) has lots of moisturizing creams and balms to ensure you don't get dry skin when traveling.
Burt's Bees Timeless Minis Kit
resistance bands
Do you know someone who like to keep up their fitness regime, even when on vacation? The resistance bands (below) can be used instead of bulky weights, and they come in a handy travel bag.
Love Sweat Fitness Resistance Bands
travel yoga mat
If heading off on vacation, there are lots of places where you can do yoga or pilates on the beach. The fold-up yoga mat (below) is better than exercising on a towel and will fold up into a suitcase.
Gaiam Folding Travel & Fitness Yoga Mat
portable air sofa
Want a comfy spot to rest wherever you go, the portable air sofa (below) easily inflates by simply whisking it through the air.
Wekapo Inflatable Lounger Air Sofa Hammock
sand free beach mat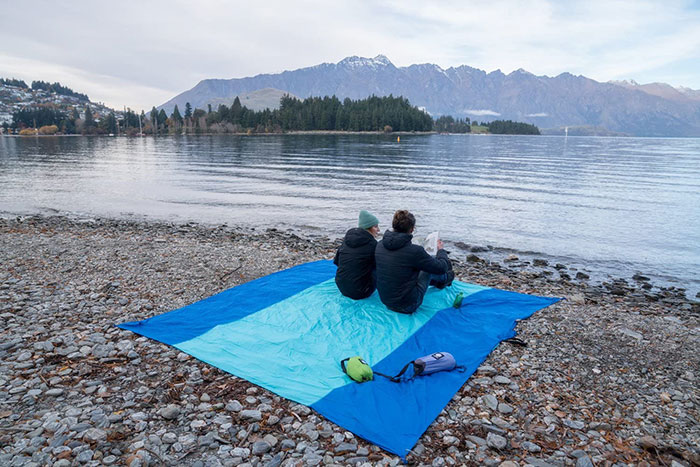 Love the beach, but hate getting sand on your towel? The sand-free blanket (below) is big enough to fit all your family on, and it easily shakes out so you don't end up taking sand in your car or back to your hotel. A good travel gifts for women option for those who like a day beside the sea.
Wekapo Sand Free Beach Blanket
kindle
If she doesn't already have a Kindle, I'm sure she'd appreciate one rather than carrying lots of heavy reading material with her. If she does, you could always treat her to an upgrade. The Kindle Oasis (below) is waterproof so you can read by the pool. Is she loves listening to book (as I do) you can also consider an audible subscription.
portable hotspot
If you're worried about whether you'll be able to get wi-fi on your trip, a portable hotspot can be a good solution, so you can work wherever you are, look up directions or find a good restaurant.
TP-Link AC750 Wireless Portable Nano Travel Router
foldable keyboard
With so many of you working from home or as a digital nomad nowadays, answering emails and drafting documents on your phone or tablet can be a pain. A portable keyboard can turn your smartphone into a laptop, making it a great travel gift for those working on-the-move.
PASSPORT AND VACCINE RECORD HOLDER
I'm sure you're happy that travel is easier than it was a few months ago, but there are still more hoops to jump through than there were pre-pandemic. If you're thinking about travel gifts for women, a passport and vaccine record holder is handy to keep all your essential travel documents together.
Teskyer Passport and Vaccine Card Holder
Continue reading:
What do you think the best travel gifts for women are? Have I missed anything from my list? Have you ever received a great travel gift?
like this post on the best travel gifts for women? share it on pinterest!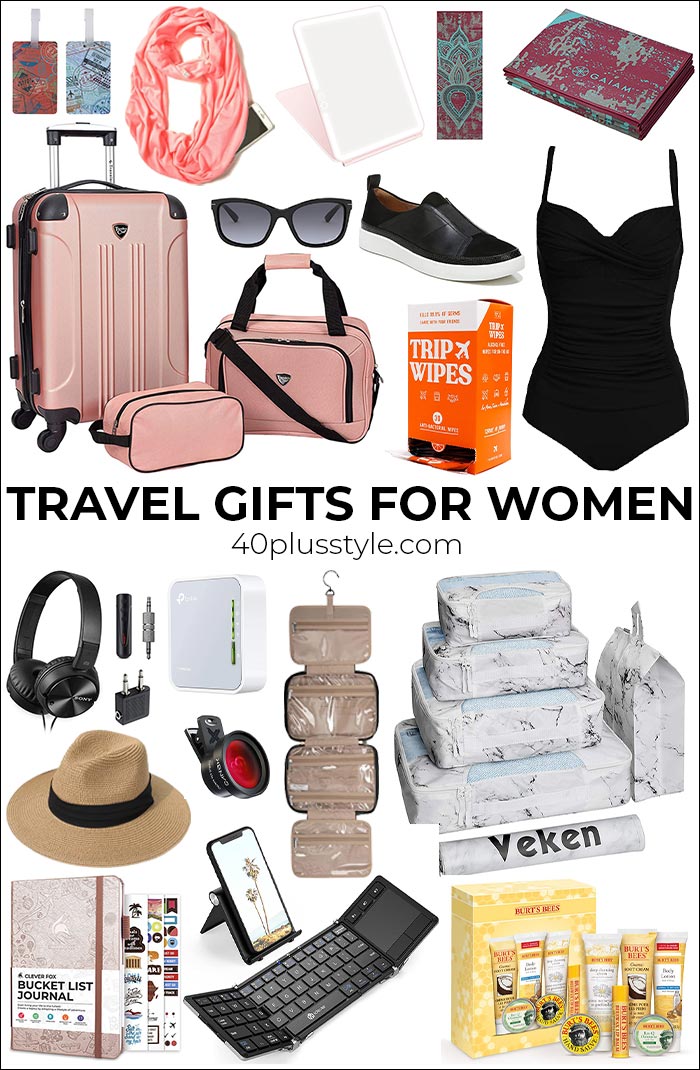 The post Travel gifts for women – the best travel gifts to get travel ready in style appeared first on 40+ Style.