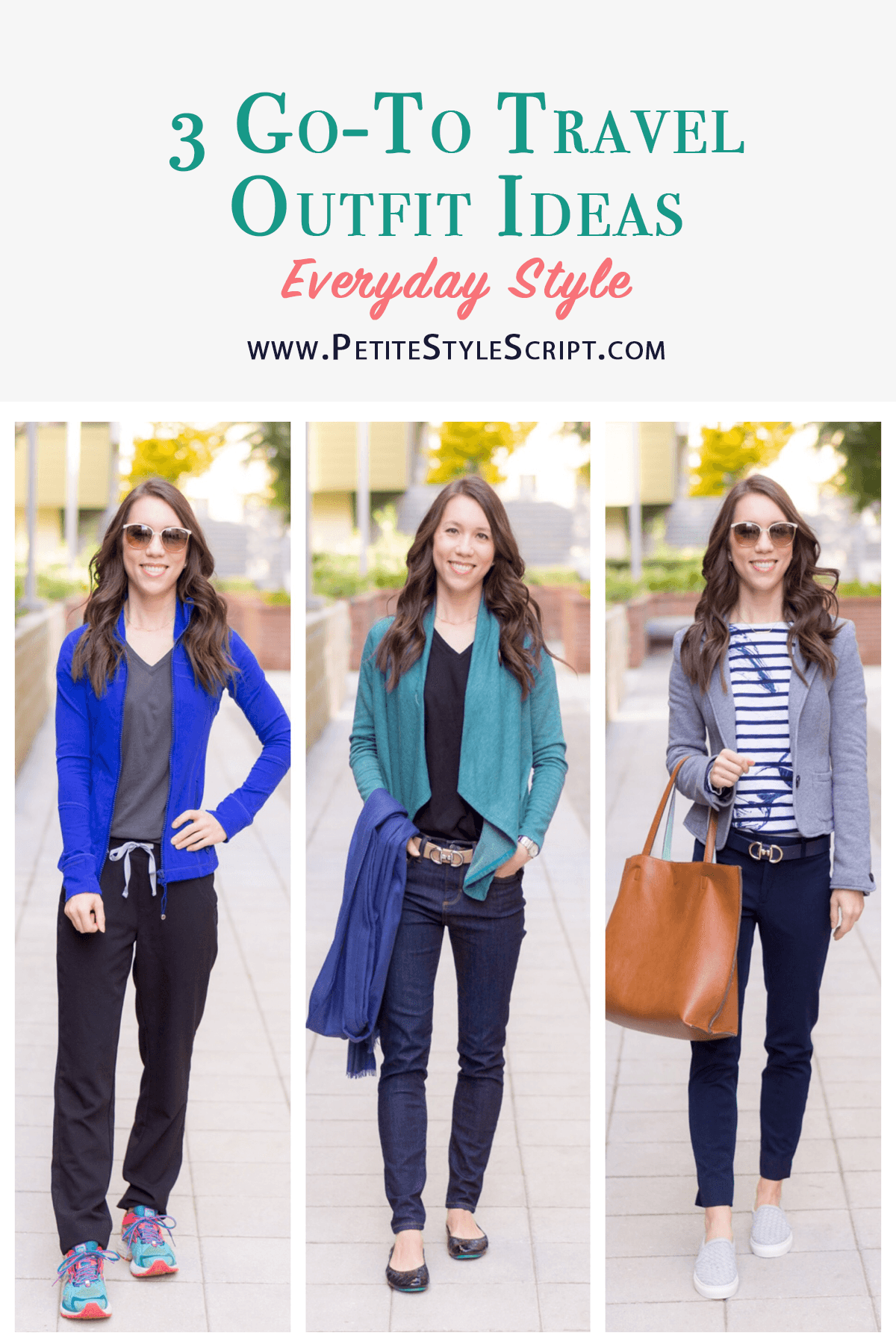 3 Go-To Travel Outfit Ideas // What to Wear on a Plane
I know many of you travel during the holiday season and travel outfit ideas are a must! Over the years, I've learned how to style outfits for different types of travel needs. Today, I've broken down these outfits into 3 categories: Ultra-Comfortable, Put-Together Comfort and Polished Comfort. Read more about my tips and recommended items (many from my Capsule Wardrobe) that will make traveling a breeze!
Best Shoes to Pack? Foldable Tieks Ballet Flats! Read why in this blog post!
Note: This post may contain affiliate links; full disclosures HERE. This means, purchasing an item through one of my links may earn me a small commission without affecting your own purchase. Thank you for supporting Petite Style Script & helping it continue as an educational resource. 
GET YOUR FREE WORKSHOP NOW!
6 Steps to Cultivate Joy at Work: How to Simplify your work life so you can enjoy making memories with your family more! 
Watch Instantly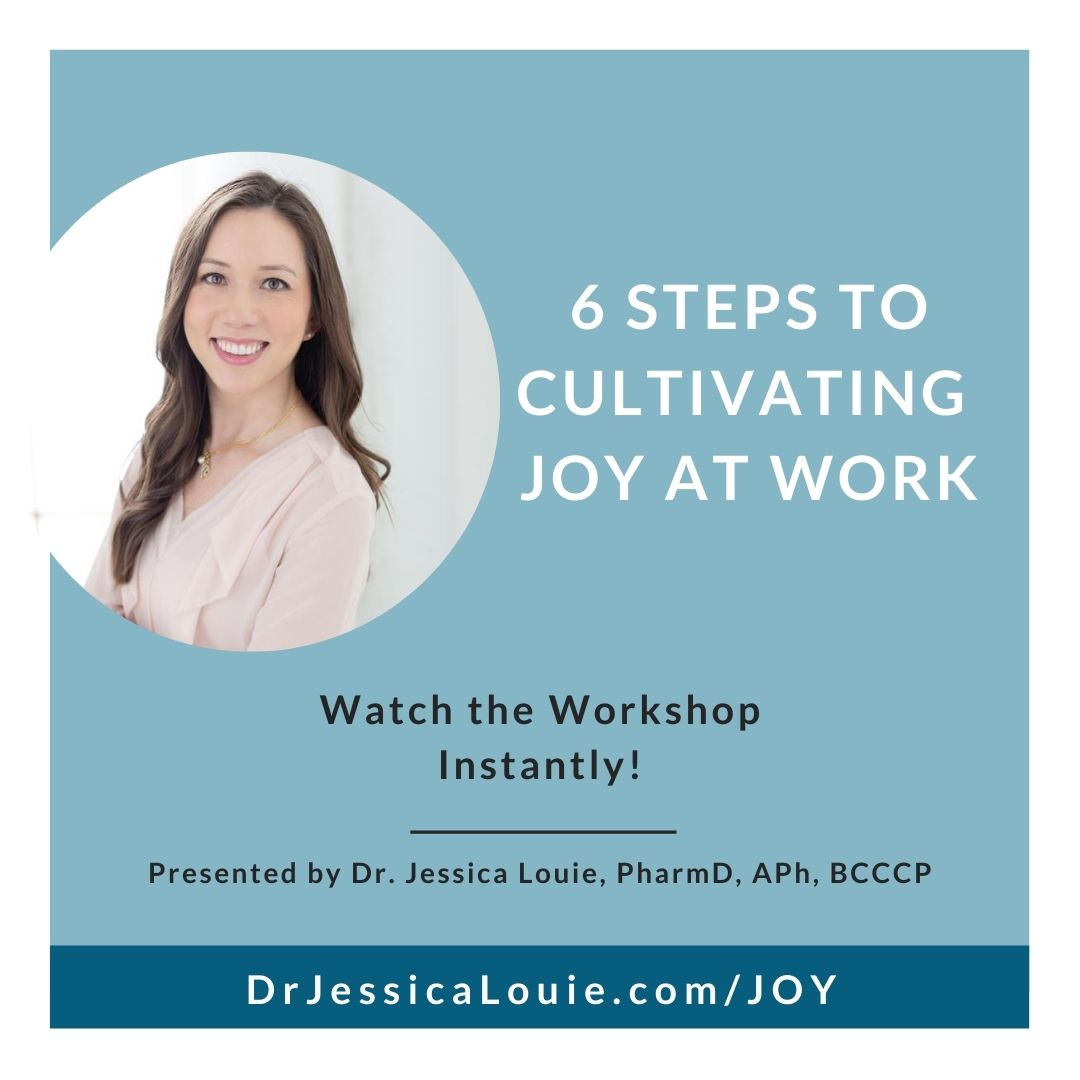 Shop the Post (click image): 

I'll start with the most comfortable and end with a polished look that easily transitions into a day sightseeing at your destination! 
Ultra-Comfort // Jogger Pants & Classic V-Neck Tee
When I think travel outfit, I immediately think of a comfortable outfit. This is especially important when the travel time exceeds 4 hours or any overnight (i.e. redeye flights) times. I already wear my jogger pants as loungewear on a near daily basis (because who wears "regular" clothes in the house?! Not me!) so of course these will be part of my Ultra-Comfortable travel outfit.
Best Deal on Travel – CityPass for local attractions!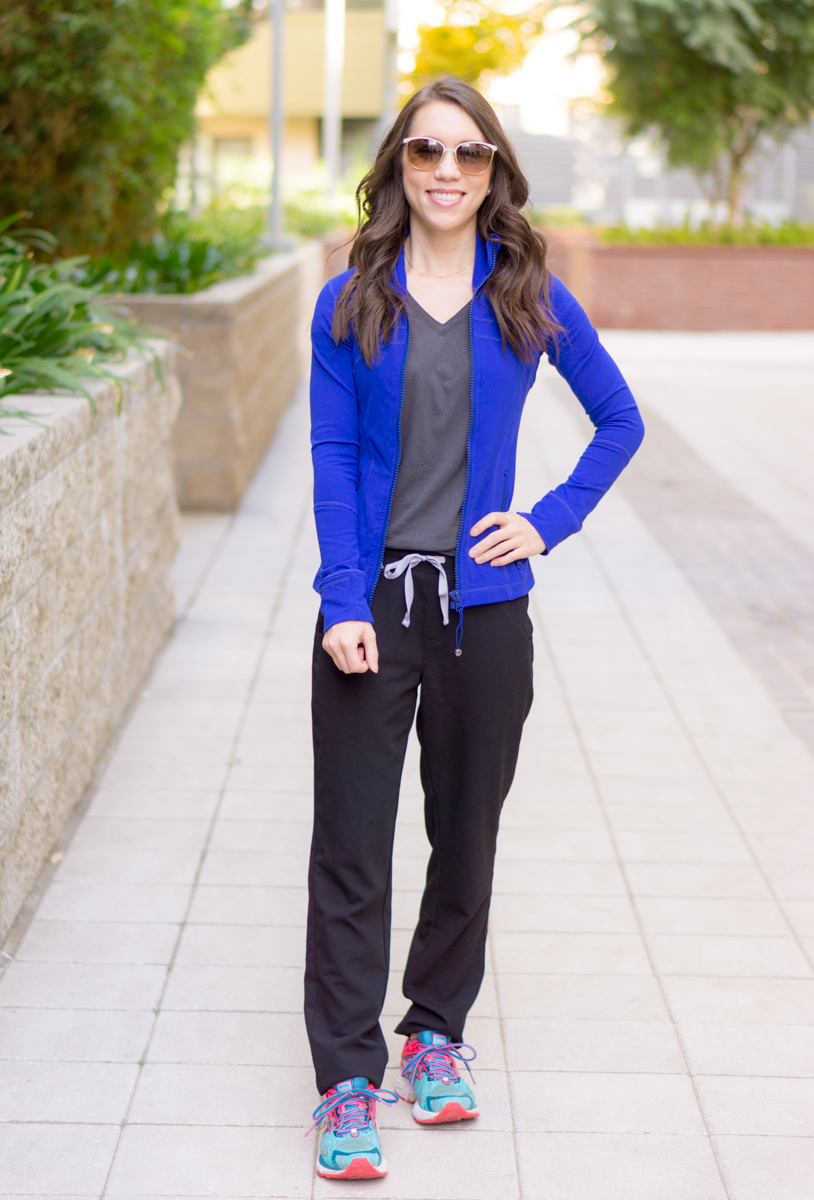 Top off your outfit with a v-neck tee and bring 1-2 layering pieces. Layering pieces are very important on flights for me because of the chilly temperatures during the flight (but warmer temperatures before take-off and after landing). Two of my favorite layering pieces are a zippered jacket and wrap. My favorites are from Athleta – the zippered pockets help hold my phone and boarding pass/ID. Finish off the outfit with sneakers that will help you keep up your fitness routine on your trip and be comfortable walking shoes for exploring the city/sites!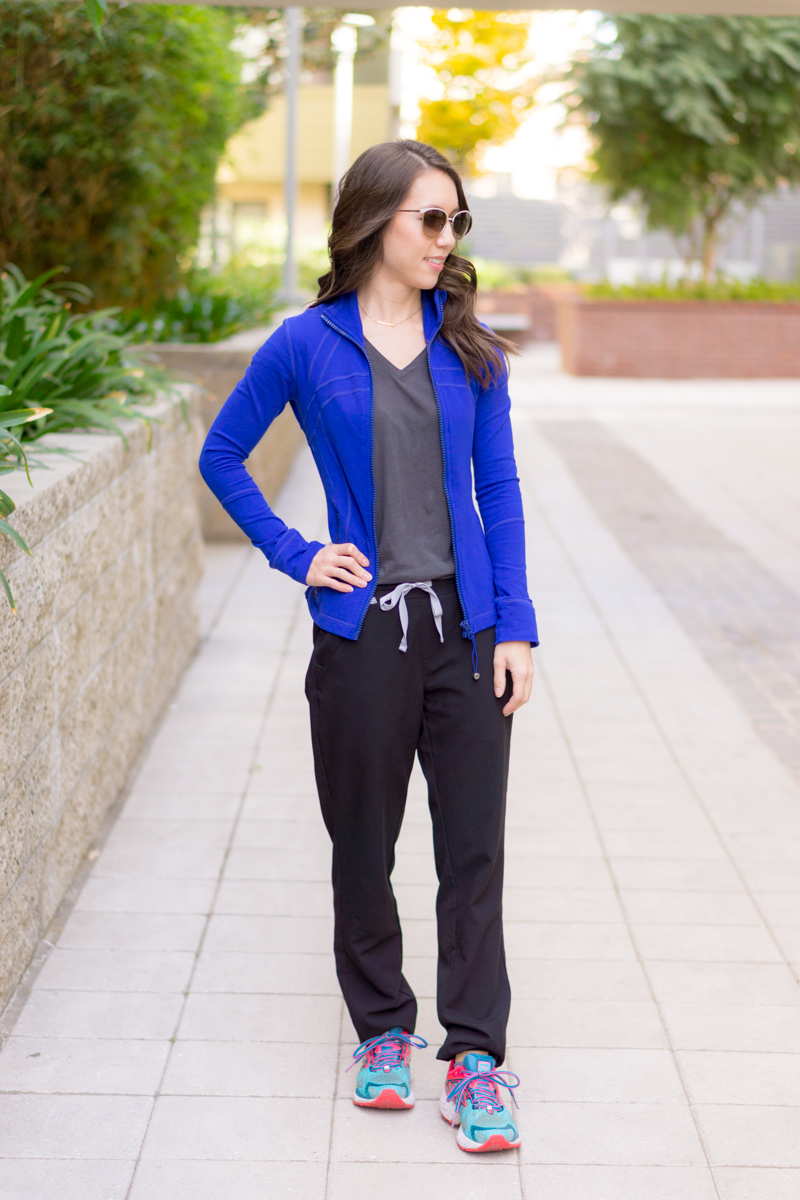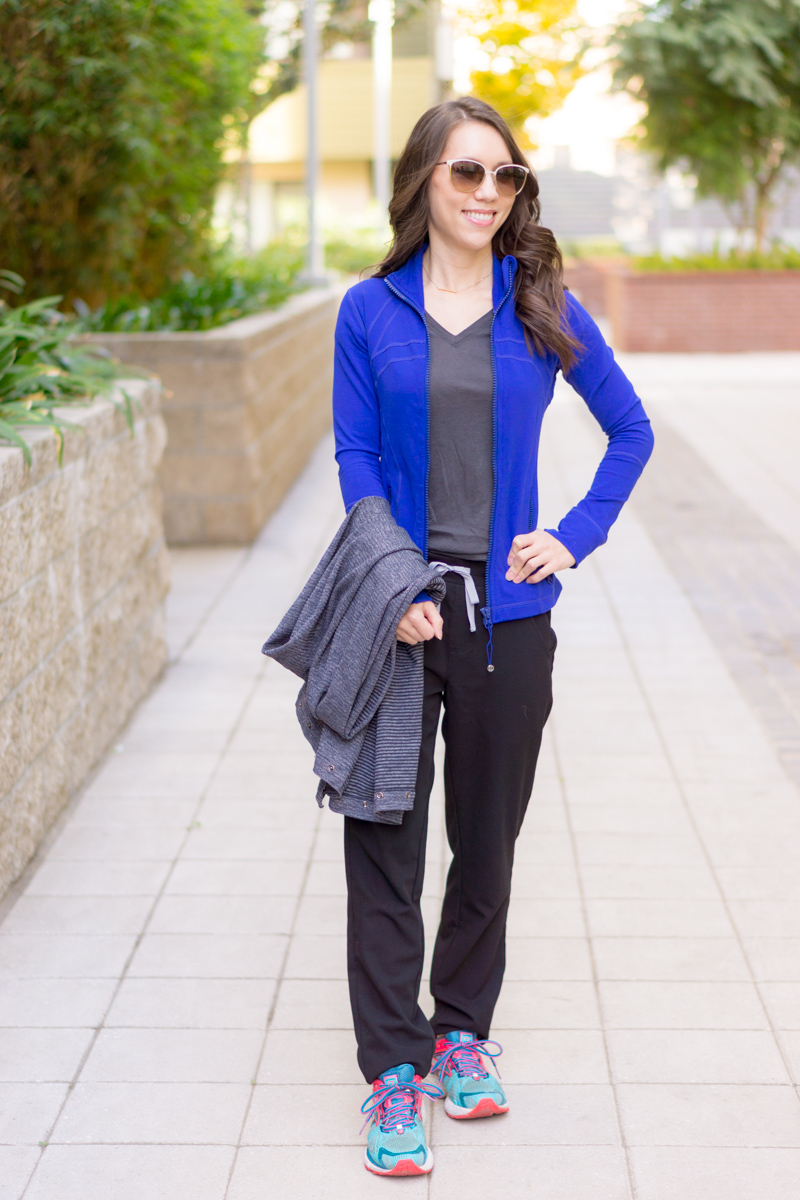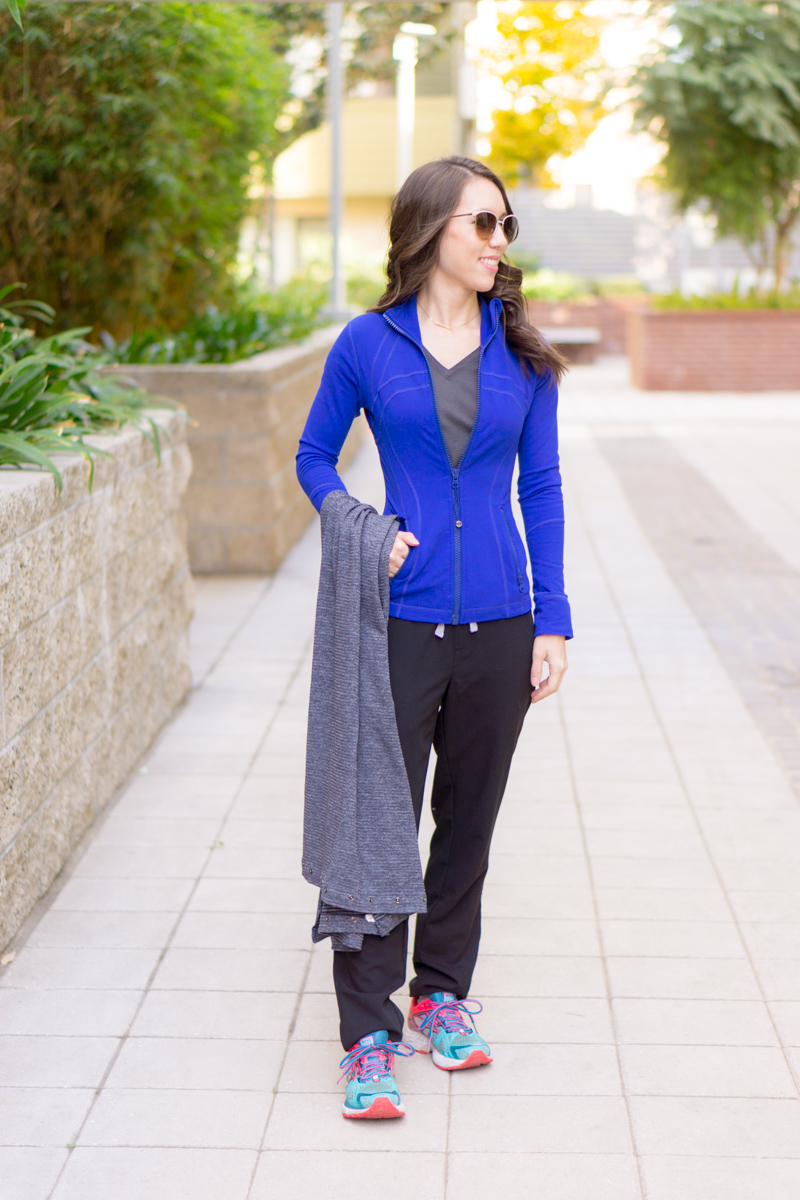 Outfit Details: FIGS Jogger Pants & FIGS Underscrub Tee XXS & XS c/o (20% off discount code in this blog post); Zip Jacket (old, similar); Simple necklace (similar); Sneakers size 6 (similar); Vogue sunglasses (on sale) 
Put-Together Comfort // Fleece Cardigan & Jeans
This wrap cardigan is a go-to for comfort not only for travel but daily lounging! My favorite is from Bobeau (see previous blog post here) and it comes in several color options to find your favorite! I'll add in dark wash denim for a more put-together outfit. For traveling in jeans, pick out your stretchy and most comfortable pair to wear. I like these high-waisted ones from Banana Republic.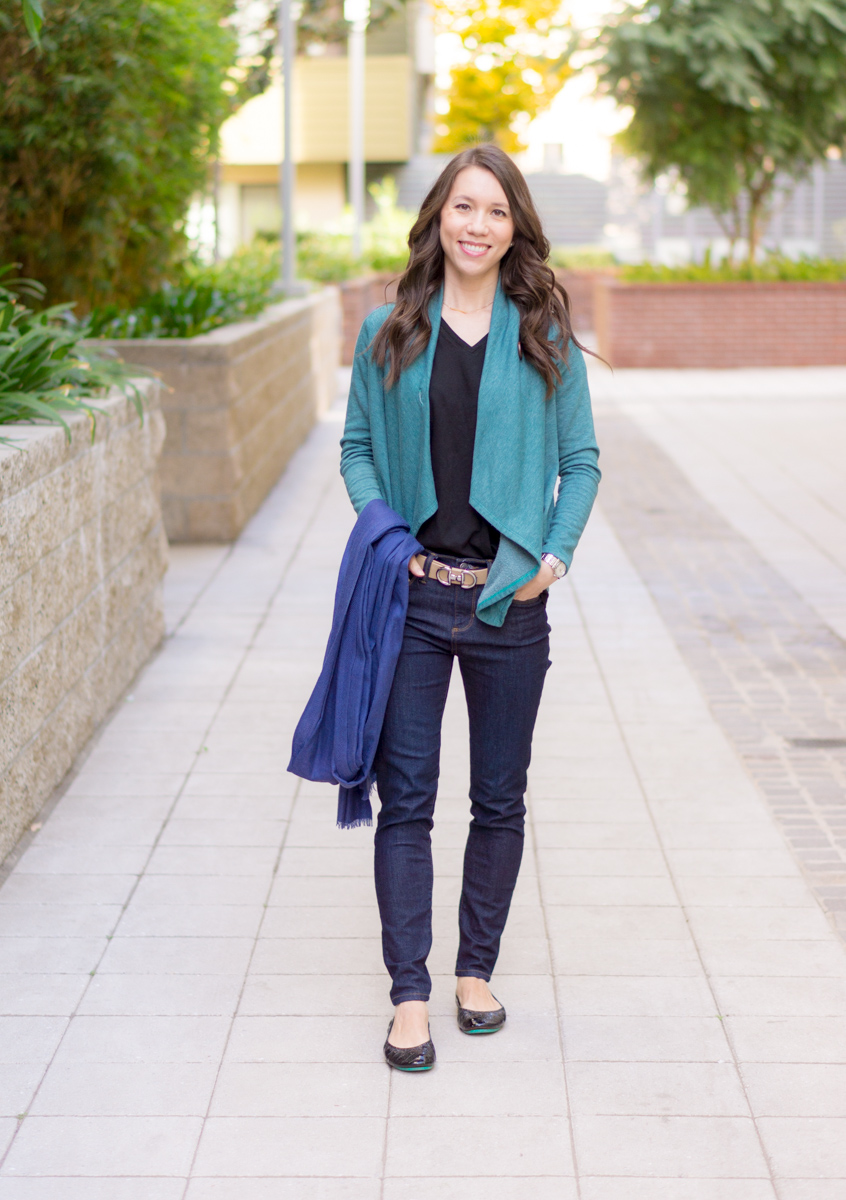 You can add in a scarf to bring as a wrap on the plane/car ride that will double as an actual scarf for colder climate travel. My favorite lightweight one here and heavier one here.
To finish off the outfit, I wear my go-to ballet flats from Tieks. These will also function as walking shoes during the trip and will fold easily into my carrying pouch if I need to pack them for the trip home. Don't forget to pack your no-show sock to wear with your ballet flats – more information on my favorite one in this blog post (with 20% discount code). A printed travel bag also makes travel more fun – mine is old from Vera Bradley (shop it here) and has gotten me through countless weekend trips and short travels.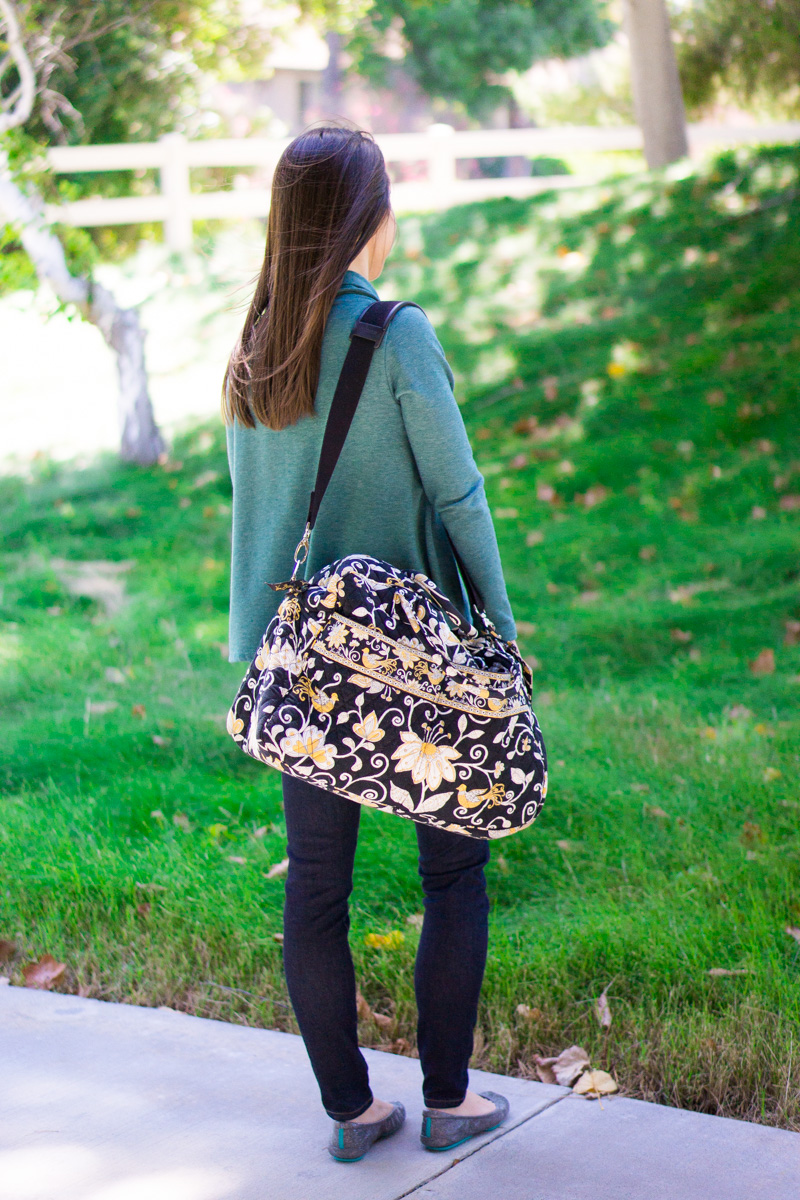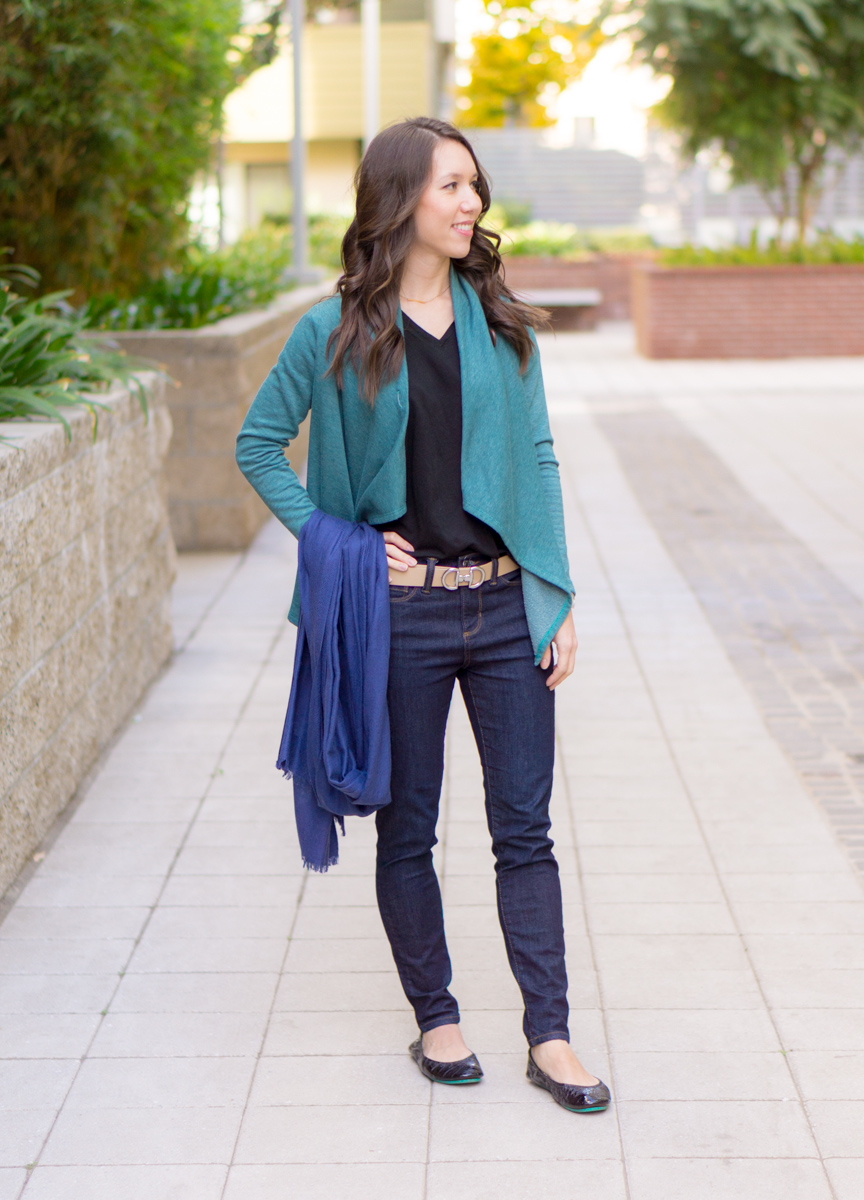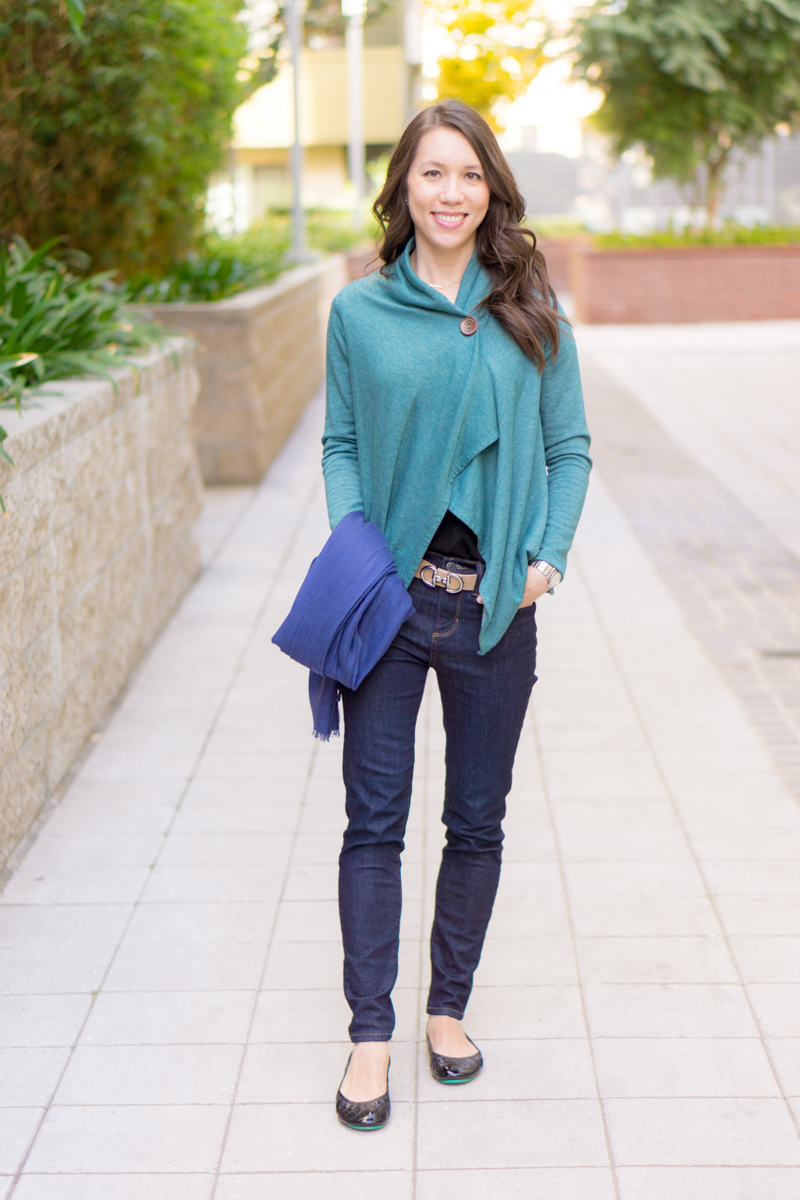 Outfit Details: Bobeau cardigan XXSP; Banana Republic Jeans Size 24; Talbots belt XS (my blog post); FIGS Underscrub Tee XS; Nordstrom Scarf; Tieks Ballet Flats; Sheec No-Show Socks (discount code here)
For those traveling to areas where bulky boots are required (snow boots, OTK boots, rain boots), I highly recommend wearing these on the plane to make room for other items in your suitcase. Simply switch out the ballet flats and wear the biggest shoes onto the flight.
Polished Comfort // Work Pants + Stripes + Sweater Blazer
Banana Republic Sloan pants are literally the only work pants I own (outside my Theory business suit of course – in this post) and are so comfortable and stretchy that they make wonderful polished travel outfits. I loved classic striped tees and my favorites come from J. Crew and J. Crew Factory. The one I'm wearing benefited the Wildlife Society – more info in this blog post.
I'll top off this polished look with a blazer – made with a comfortable and moveable fabric. This gray one is old from H&M but I found a similar one from LOFT and a similar one from Nordstrom. You can also switch out the sweater blazer for this popular blazer from J. Crew or a twill jacket such as my favorite from Ann Taylor (that I also use as an alternative to a leather jacket – in this blog post).
Finally, comfortable yet stylish slip-on sneakers finish this travel outfit. I recently received these from M. Gemi and they are amazing! They run small so I sized down to a 35 (see previous posts about their sandals and heels) and they are still roomy. Overall, this travel outfit is the easiest to transition into a sightseeing outfit for the day – arrive in the morning to your destination, store your luggage at the front desk and get out exploring the city in this polished & comfortable outfit!
Best Deal on Travel – CityPass for local attractions!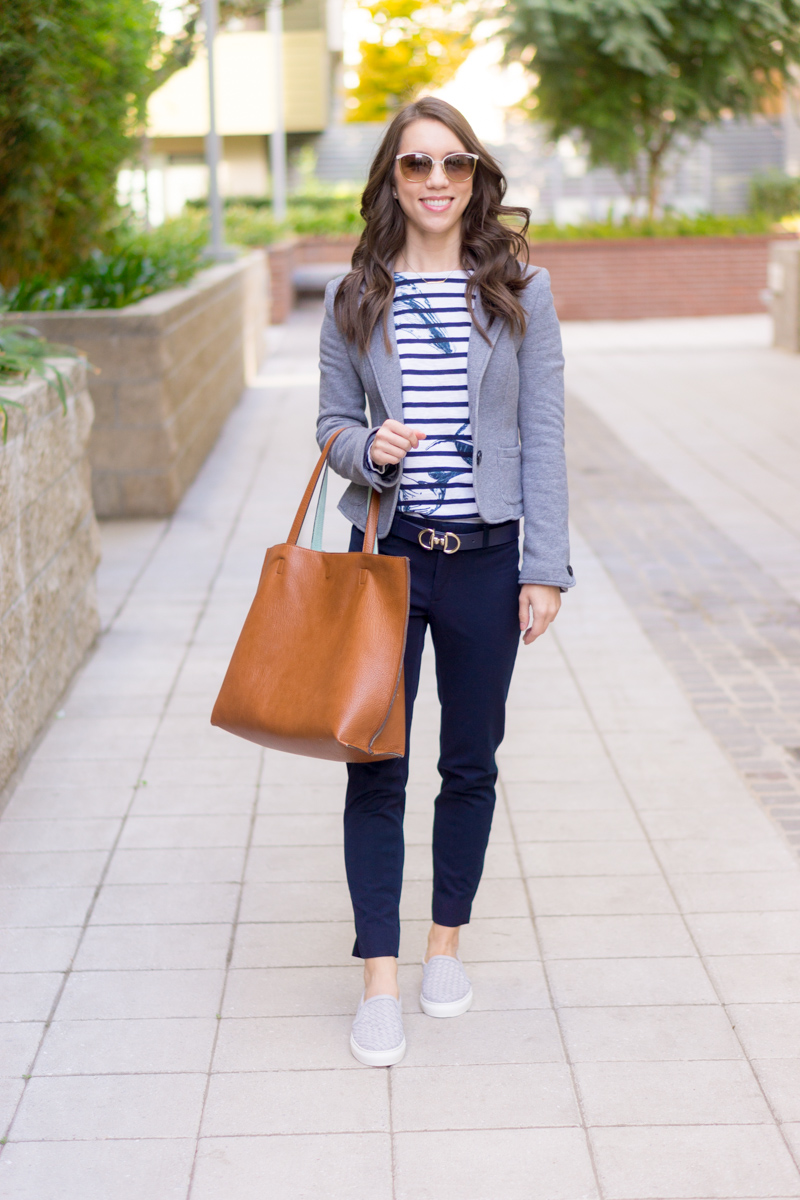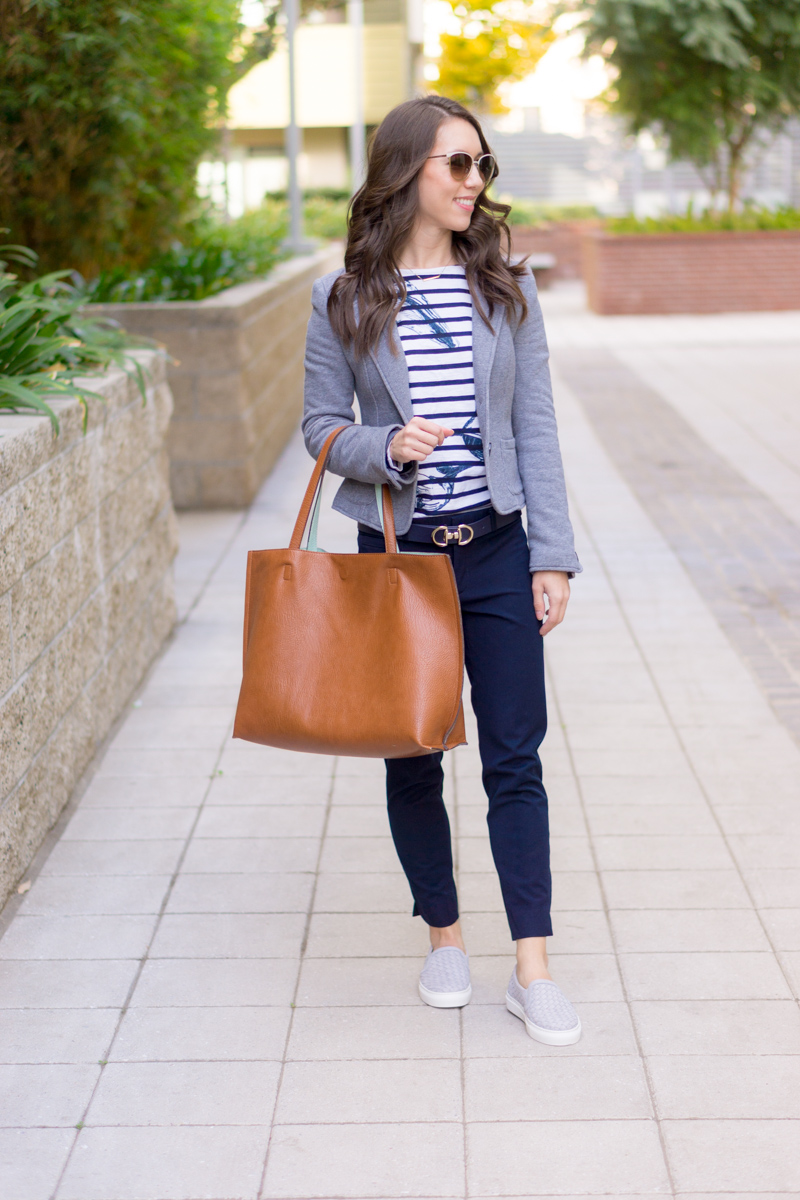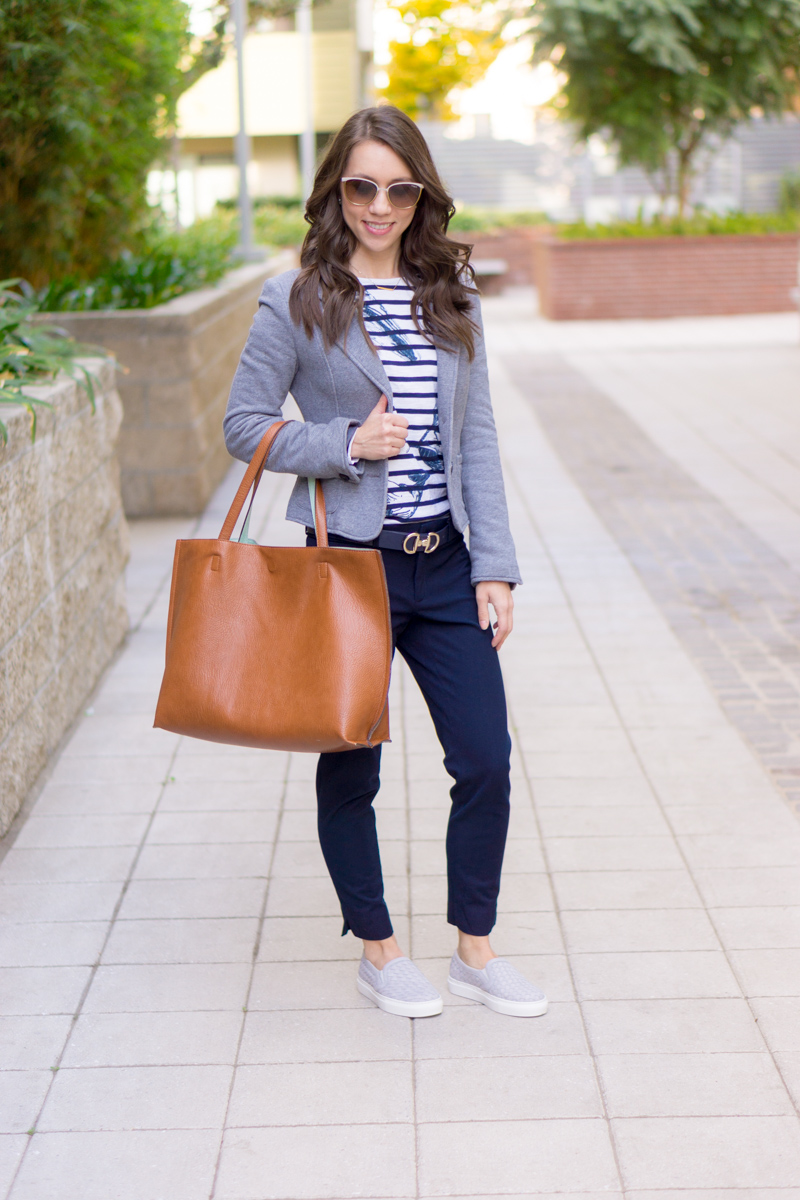 Outfit Details: Banana Republic Pants 00P (my blog post); J. Crew Striped Tee XXS (my blog post); H&M Sweater Blazer (old, similar here or here); M. Gemi Cerchio sneakers size 35; Street Level reversible tote; Talbots belt XS; Vogue sunglasses (on sale)
An additional note about travel outfits. I NEVER wear heels when traveling via airports. They are just completely impractical to walk through airports in – there is no need to elongate your legs while lugging your carry-on items with you through (many times) long corridors in airport terminals. I'm all about comfort, practical and versatility – when I do pack heels for a trip it's usually just one pair that will go with everything I need (work or special occasion related) – example in this NYC blog post.
A final comment – I've gotten better with traveling lighter on my trips. Honestly, I love carrying a backpack with me to organize my laptop and on-plane essentials and now struggle the most with where to fit my camera bag in my travel items! If you're interested in seeing how I pack outfits for 3, 5 or 10-day trips, please comment below. And check out my travel packing cubes and go-to suitcase on my Travel page.
---
You May Also Enjoy Reading: 
The post Travel Outfit Ideas appeared first on Petite Style Script.