Vive Health Post-Op Shoe review
— Recommendations are independently chosen by Reviewed's editors. Purchases you make through our links may earn us a commission.
Heel injuries are unpleasant, unwanted, and thoroughly inconvenient. In addition to the pain, swelling, and daily wound care treatments required to prevent infection, it's far more difficult to navigate homes, halls, and life in general. When my mother first injured her heel a year and a half ago, walking became even more challenging because she could no longer put pressure on her left heel.
Because of Parkinson's Disease, my mother has walked unsteadily for years and doctors classified her as a high fall risk well before her foot injury. Even with me behind her, holding her gait belt while she slowly and cautiously stepped behind her walker, walking became even more difficult—and dangerous—so she began dramatically limiting her walking. Cutting back on walking so much led to her muscles and joints stiffening up which, in turn, made walking even more difficult. We had to find a solution.
About the Vive Heel Wedge Post Op Shoe
The Vive Heel Wedge Post-Op Shoe is basically a raised, strap-on shoe with the heel cut out. This design shifts weight to the fore- and midfoot, which helps to relieve pain and pressure in the heel. It has a wide toe box and comes with extender straps to accommodate bandages and swelling. The neutral design of the shoe means that it can fit on either your left or right foot, and it comes in five sizes to accommodate sizes 5.5-12 in women and 6.5-14 in men.
Related: 14 handy things for a smoother post op recovery
While, technically, this is a post op shoe, one mustn't go under the knife to appreciate its benefits. My mother didn't have any surgery for her foot injury; she had a scrape that got infected so badly that it required daily cleaning and bandage wrapping. During one of her home occupational therapy sessions, the therapist saw her struggling with the slipper-shoe combo and suggested we look into a heel wedge shoe. She didn't specifically recommend the Vive shoe but it's what I found online. My mom found the shoe to be extremely helpful and we both recommend it to anyone in a similar situation.
What I like
It provides stability while eliminating pressure on the heel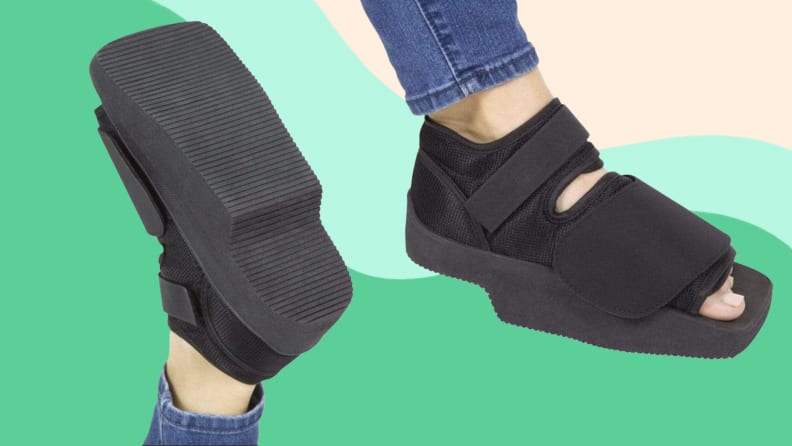 Due to arthritis, hammertoe, and a host of other foot challenges that several surgeries have been unable to fully remedy, walking in slippers is quite painful for my mother. To provide more comfort to her non-injured foot, she started wearing one slipper and one walking shoe but this introduced the problem of varied heights. The wedge shoe resolved it by allowing her to walk more fluidly without putting pressure on her injured heel.
It's easy to put on and take off
Despite advanced arthritis, limited flexibility, and Parkinson's-related hand tremors, my mother has been able to put the wedge shoe on and take it off without requiring any assistance. This gives her a greater sense of independence and, as her caregiver, I'm freed up to do something else while she's putting on her shoes.
It's helpful even after the injury has healed
My mother wore the wedge shoe every day for about six months, at which point her podiatrist said she only needed to wear it half the day. Two months after that, she was told she didn't need to wear it at all—hooray! However, when slight heel pain resumed a couple months ago, she began wearing it here and there accordingly. She keeps the wedge shoe with her other shoes and still puts it on if her heel is bothering her.
What I don't like
The Velcro fastener could be longer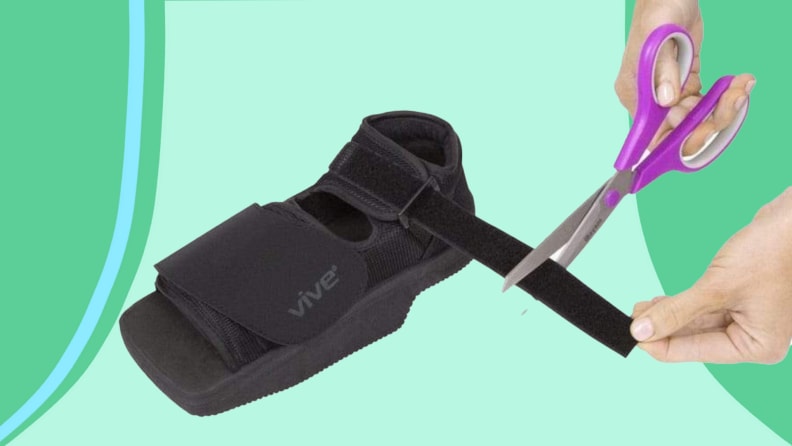 For the most part, my mother really loves this boot and hasn't experienced any major issues with it. However, one challenge that sometimes occurred was that the ankle strap would become loose. We suspect this would happen because the Velcro fastener on the side of the boot is only about an inch long. Were it longer, we think the ankle strap would be less likely to loosen.
It's not particularly attractive
I saw that some reviewers online complained about the shoe being too heavy, but this wasn't my mother's experience. Sure, it's heavier than flip flops and slippers but it's no heavier than the New Balance walking shoes she normally wears. Yes, the wedge shoe is a bit bigger, clunkier, and certainly less attractive than her walking shoes, but it sort of has to be, doesn't it? I'm no engineer or fashion designer but I suspect it's impossible to design a supportive, post op medical shoe that is missing its heel while somehow still managing to look exactly like a regular sneaker. That's just not realistic.
It only comes in black
We think the boot is as unassuming as possible and, because it's all black, my mother is able to match it fairly well with her clothing. Now, if you tend to wear a lot of white, perhaps it would be problematic that the boot is only available in black, but since my mom tends toward darker pants and tops, perhaps with a colorful scarf thrown in for good measure, the black works well for her.
Should you buy it?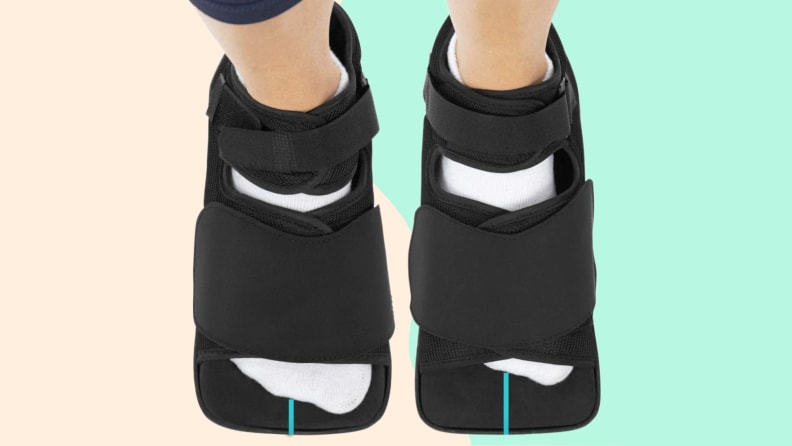 If walking would be made easier or more comfortable without putting pressure on your heel, then, yes, you should definitely buy the Vive Heel Wedge Post Op Shoe. And while this shoe appears to be adaptive equipment, anyone with a heel injury would benefit from its use. So if you ever find yourself tenderly hobbling to avoid putting pressure on your heel, the minimal investment of a post op shoe like the Vive Is definitely worth considering.
Get the Vive Wedge Post Op Shoe at Amazon from $26.99
The product experts at Reviewed have all your shopping needs covered. Follow Reviewed on Facebook, Twitter, Instagram, TikTok or Flipboard for the latest deals, product reviews, and more.
Prices were accurate at the time this article was published but may change over time.