What to wear to the airport: airport outfits to get your trip off to a stylish start
I'm sure you spend time planning your vacation outfits. But how about what you are going to wear to the airport itself? Making sure you look stylish and feel comfortable from the outset will get your trip off to the best start. Let's take a look at how to put together the most stylish airport outfits.
What to think about when putting together your airport outfits
Will you be warm enough?
It can get chilly on the plane, particularly with the air conditioning on, so make sure you wear layers that you can take on and off for different temperatures.
Material
Particularly if you're on a long-haul flight, or you're rushing or carrying heavy bags, you may start to sweat a little. Choose loose fabrics and moisture-wicking materials.
Wear the right accessories
You won't want any hassle when going through security. So, leave off any belts, and don't opt for boots that are tricky to take off in case you're asked to remove them.
Will you be comfortable at destination?
When you set off somewhere cold and arrive somewhere warm, it can be tricky to ensure you feel comfortable straight from the outset. If you opt for a lightweight jacket or wrap you can always put it on, or pack it in your bag, before heading out.
What to wear to the airport: 10 essentials
Now, let's take a look at some specific options to choose for the airport. Nora @jacketsociety above (read her style interview here) opts for a casual outfit that would work well. Her jeans have some stretch in them so will be comfy for the plane, her shoes are easy to get off if she needs to, the scarf will add warmth on the plane and she can easily take off the jacket if she is arriving somewhere warm.
Check out this similar jacket, jeans, sneakers, handbag, belt, scarf (other options here and here) and sunglasses.
airport outfits – layers
When you travel through the airport, you can go through lots of microclimates, from the airconditioning in the cabin to the sun as the plane door opens, so it's important to have layers you can easily take on and off. The Barefoot Dreams wrap (below) will also come in handy if the nights are chilly at your destination.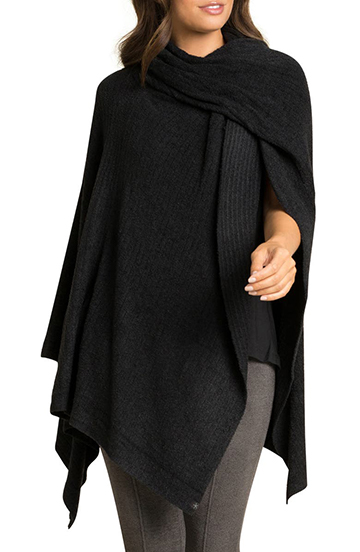 Barefoot Dreams CozyChic Lite® Ribbed Travel Wrap
comfy shoes
With differing temperatures and having to walk through security, your feet can swell or become sore if you don't have comfortable walking shoes. A pair of slip-ons will be ideal in the airport and for sightseeing when you reach your destination.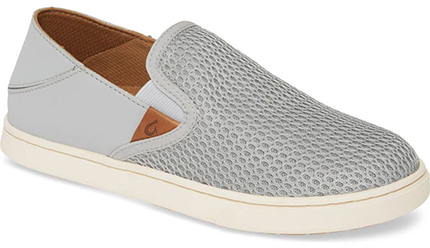 compression socks
If you are traveling long-haul, particularly if you usually suffer from swollen feet and ankles, you may want to consider compression socks which are designed to help to maintain blood flow and relieve discomfort and swelling. Reviewers say the BLUEENJOY socks (below) have just the right amount of squeeze.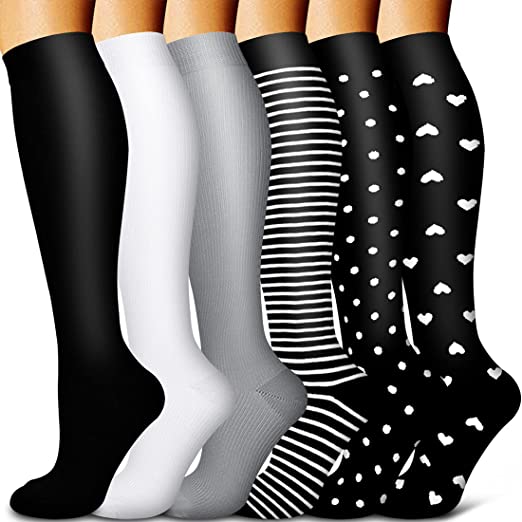 clothes with pockets
If you want to make sure you keep your passport, phone and travel documents to hand, pockets may be the answer rather than your bag. The SCOTTeVEST jacket below has 18 pockets for everything from your lip balm to your e-reader.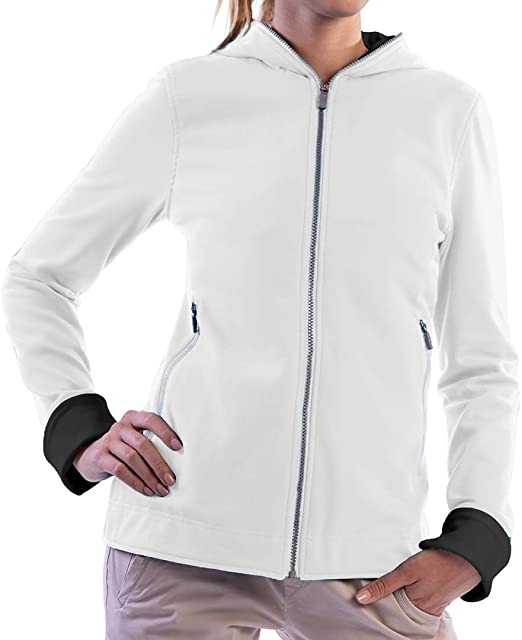 SCOTTeVEST Chloe Glow Travel Hoodie
Another option if you're looking for pockets could be a travel scarf like the TwoYek Infinity scarf below. This is also a good choice for security as it's unlikely anyone would expect you to be carrying your valuables in your scarf.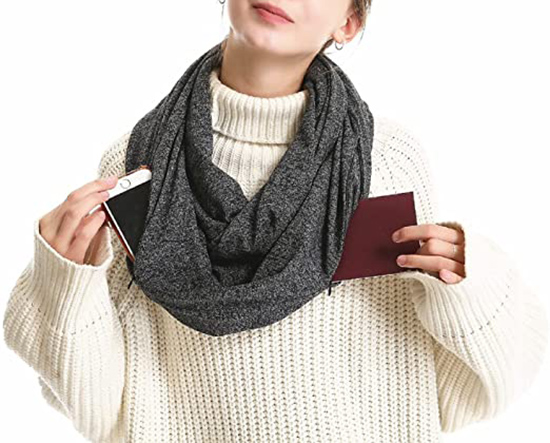 TwoYek Infinity Travel Zip Scarf
breathable fabrics
It's important the fabrics you choose for your airport outfits are breathable. You don't want to get too hot while rushing through security and then be uncomfortable for your flight, so choosing fabrics you would usually find in workout wear is a good idea. Bamboo is a good choice as it is moisture-wicking. The bamboo t-shirt (below) comes in a good choice of colors and reviewers say they are comfortable and silky.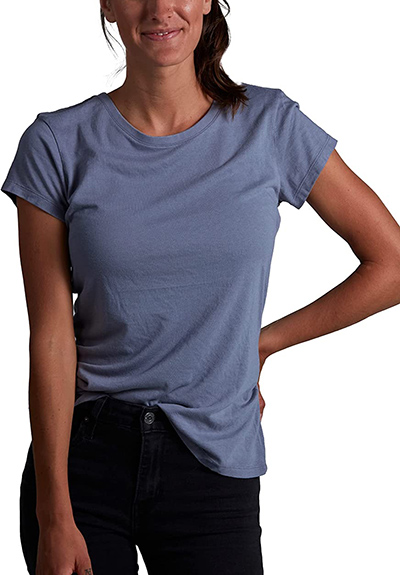 a blanket scarf
If you usually get chilly on the plane, a blanket scarf is the answer. You can wear over your shoulders, on your knee or fold it up and use it as a pillow. Then layer over your summer dresses on your vacation.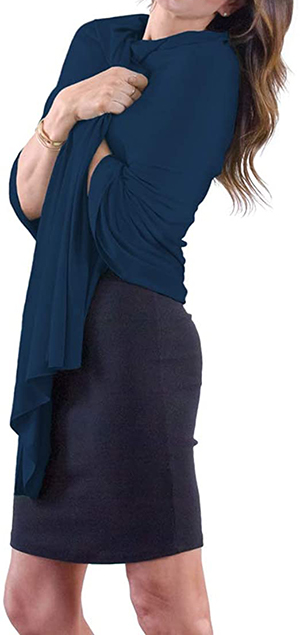 If you want a lighterweight option that would look stylish with your summer outfits, you could try the Nordstrom cashmere scarf (below).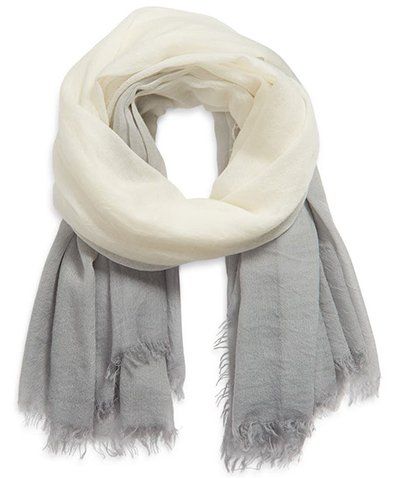 Nordstrom Cashmere & Wool Blend Ombre Square Scarf
comfortable pants
When putting together your airport outfit, you don't want to wear anything too constrictive. A pair of comfy travel pants will be perfect for the airport and plane, and then you can wear as pajama bottoms or for sightseeing during your trip. Reviewers say the yoga sweatpants (below) are a good dupe for a better known brand.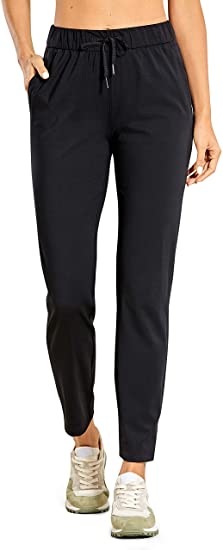 Your carry on essentials
If you want a carry-on bag you can slot over your trolley case handle, or you just want a bag big enough to fit in a weekend's worth of clothes, then the carry-on tote (below) could be a good option. Reviewers say it is good for travel and the beach.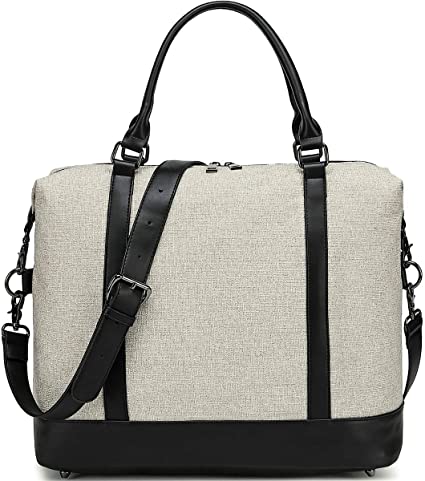 Bluboon Carry-on Tote Duffel Bag
airport outfits: the best Clothes to wear to the airport
Now, let's move onto some specific clothes, shoes and accessories you could wear to the airport. I've used plenty of neutral choices so you can then use them as a base to create other outfits when you reach your destination.
tops for your airport look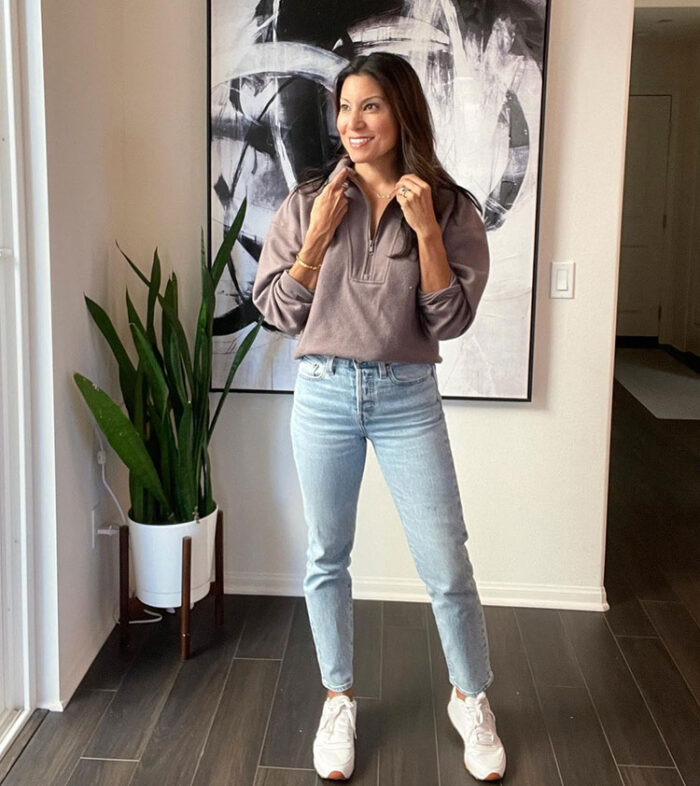 When choosing your airport tops, you'll want to make sure they are comfortable, breathable and you can move around in them. Adaline @sdmomstyles above chooses an on-trend zip-up sweater.
Recreate her outfit with this similar sweatshirt, jeans and sneakers.
You could look out for similar sweater options, or long, tunic tops you can wear over leggings.

COS Oversized Shirt – Vince Camuto Lattice Cotton Sweater – Bulotus Cowl Neck Asymmetrical Hem Tunic Top – Treasure & Bond Shrunken Hoodie
Airport look for women: jackets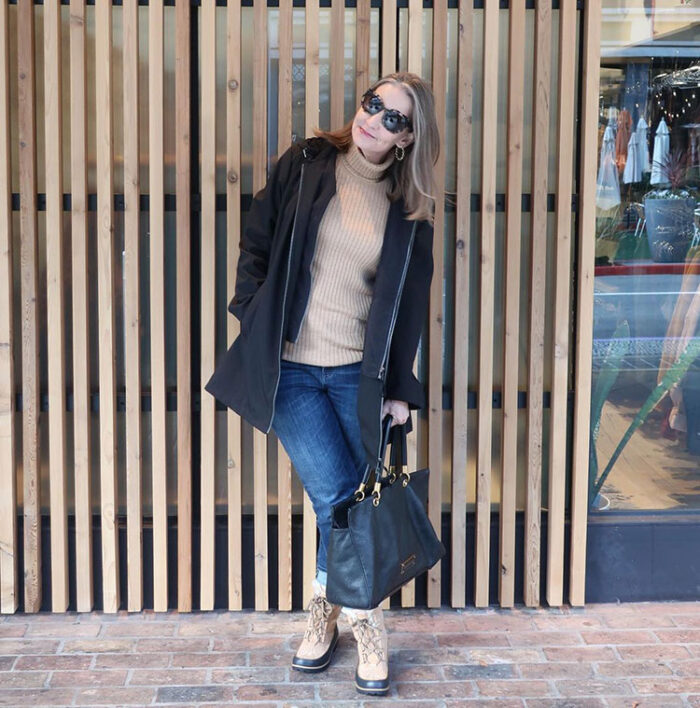 No matter where you are going, it's likely you will want some outerwear to stay warm during chilly evenings or in air-conditioning. Dawn Lucy @fashionshouldbefun above (read her style interview here) chooses a mid-length coat that would work for colder destinations.
Get her look with this similar sweater, jacket, jeans (another option here), boots, handbag, sunglasses and earrings.
You could choose a smart blazer. Look for a stretch wool option to ensure you are comfortable. Or, a long cardigan, short jacket or poncho.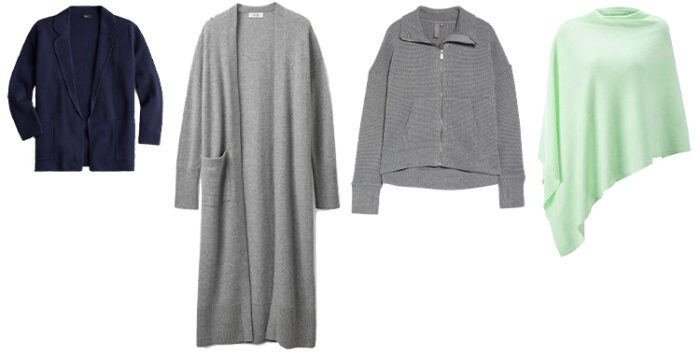 J.Crew Eloise Sweater-Blazer – COS Longline Cashmere Cardigan – Sweaty Betty Restful Bouclé Jacket – Fomolom Knitted Poncho
Airport outfit ideas: bottoms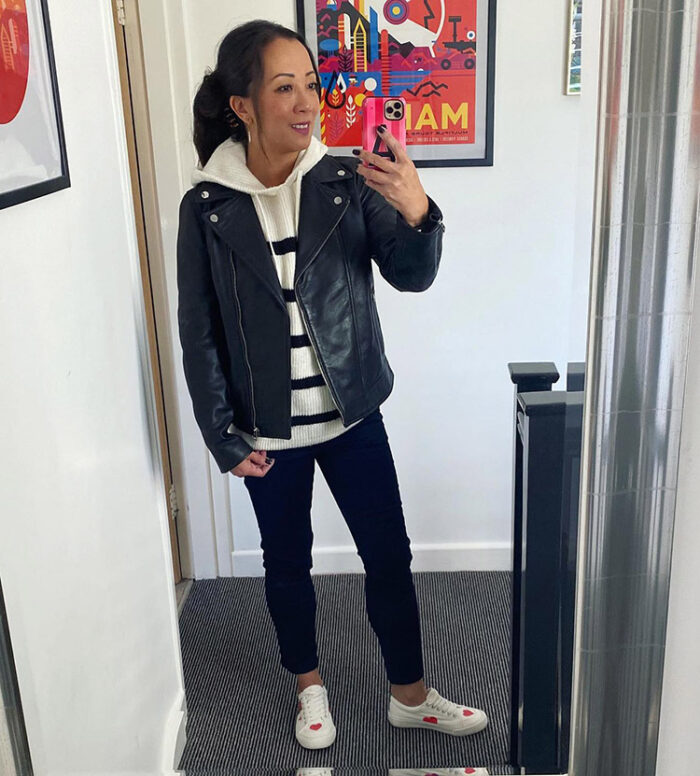 When it comes to the bottoms you choose, you're likely to be more comfortable in a pair of pants rather than a dress or skirt. Abi @stealmystyle40 above chooses stretch jeggings.
Get her look with this similar hoodie, moto jacket (another option here), jeans and sneakers.
You could choose a pair of leggings, tracksuit pants or utility pants. Choose styles that will be comfortable at the airport and that you could then wear while on your trip.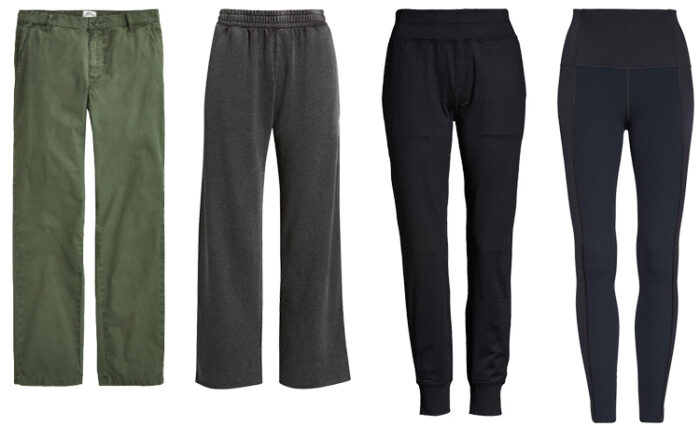 J.Crew Slouchy Boyfriend Chino Pants – Treasure & Bond Washed Wide Leg Pants – Zella Cozy Active Pocket Joggers – Nike Yoga Luxe Infinalon High Waist Leggings
What to wear to the airport: shoes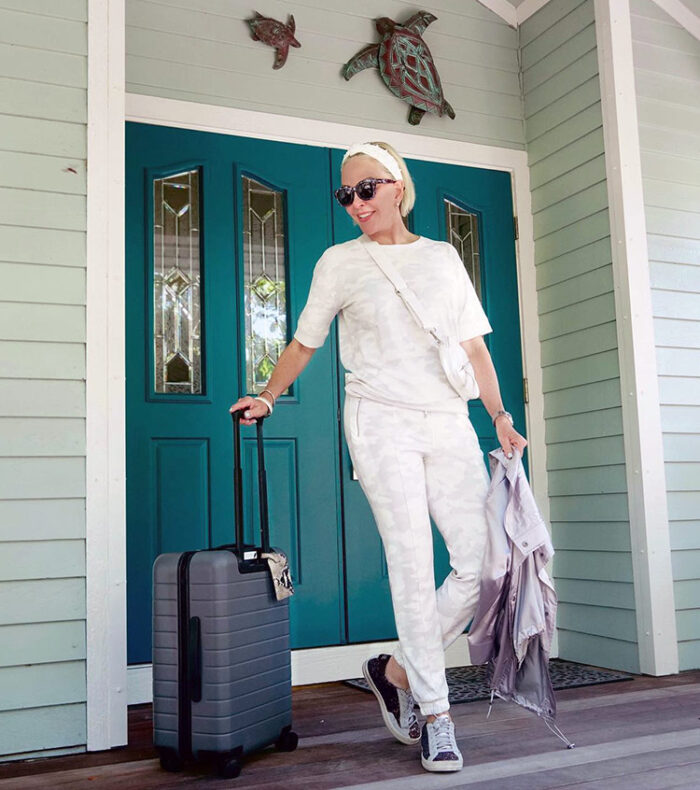 You'll want to make sure that you can walk comfortably through the airport, onto the plane and to wherever you need to go when you land. Sheree @shesheshow above opts for a pair of sneakers that would be ideal for at the airport and for sightseeing.
Check out these jogger sets from Eurivicy and PRETTYGARDEN that you can wear with this similar pair of sneakers, crossbody bag, suitcase, sunglasses and headband.
You could choose slip-ons or sneakers. Look out for options that will work with your vacation outfits so you don't have to pack too many pair of shoes that will take up luggage space. Neutrals or metallics should go with all of the outfits in your suitcase.

Dr. Scholl's Shoes Nova Sneaker – Clarks Serena Terri Loafer Flat – Vionic Advantage Jacey Slip On Wedge – ZGR Canvas Low Top Sneaker
what to wear on a plane: accessories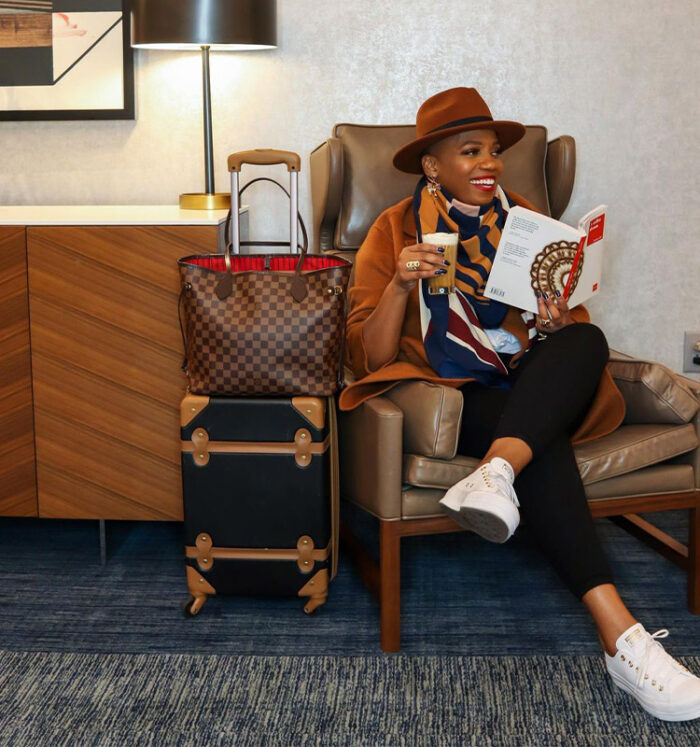 Just because you are in the airport or traveling, you don't have to forgo your accessories. Psyche@economyofstyle above opts for a scarf, earrings and hat. Wearing your hat to travel in can be a good idea so it doesn't get squashed in your suitcase.
Check out this similar coat, leggings, sneakers, suitcase, tote, fedora and scarf.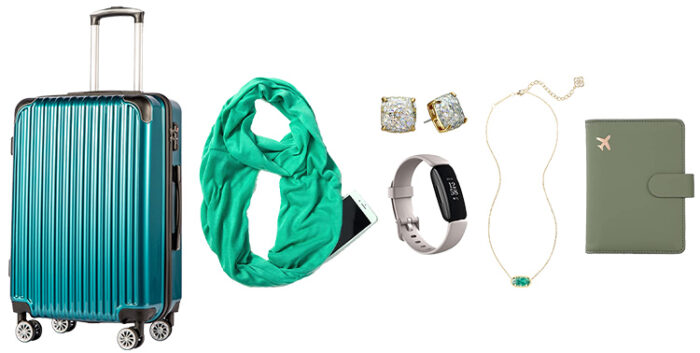 Coolife Expandable Suitcase – ELZAMA Infinity Scarf – Kate Spade New York Small Square Stud Earrings – Fitbit Inspire 2 Health & Fitness Tracker – Kendra Scott Elisa Birthstone Pendant Necklace – Melsbrinna Passport and Vaccine Card Holder
Your airport outfits together in one capsule
Below, you can see the clothes, shoes and accessories from above together in one capsule. You can see you can change the tops and bottoms around to create different outfits.
Once you get to your destination, the white shirt could work as a beach cover-up, the leggings could be worn under your dresses or to do yoga on the beach, the long cardigan could double as a dressing gown and the blazer would smarted up any outfit. Choose airport outfits that will be versatile and do double duty once you reach your destination.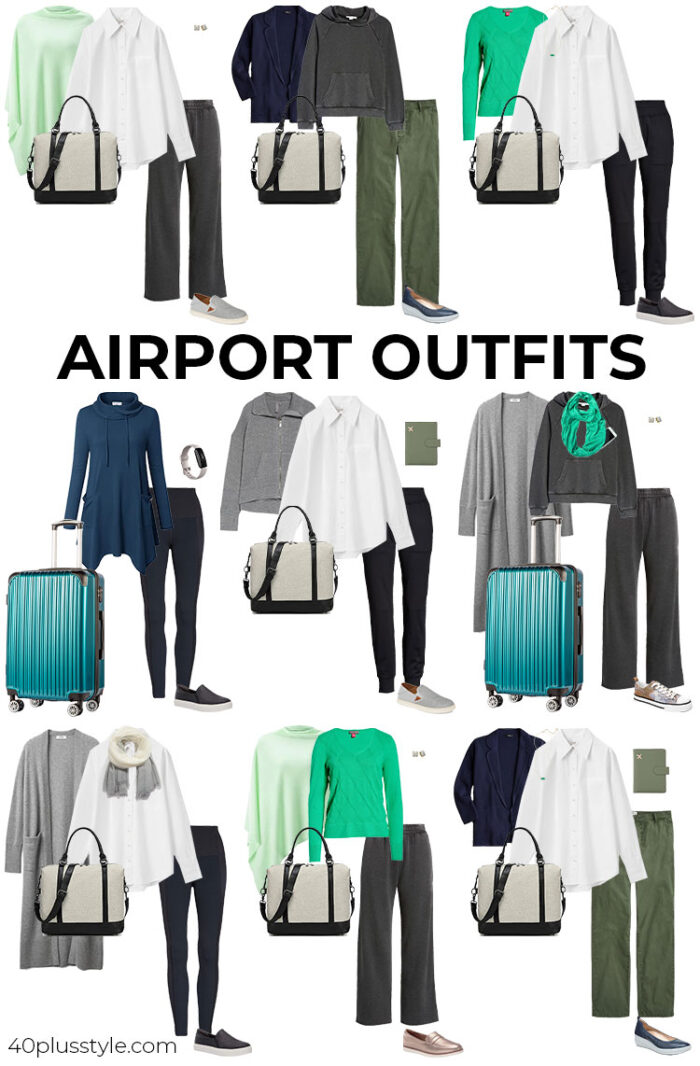 shop some of the items above here:

What are your favorite airport outfits? Let me know in the comments below
Continue reading:
Like this article on airport outfits? Share it on Pinterest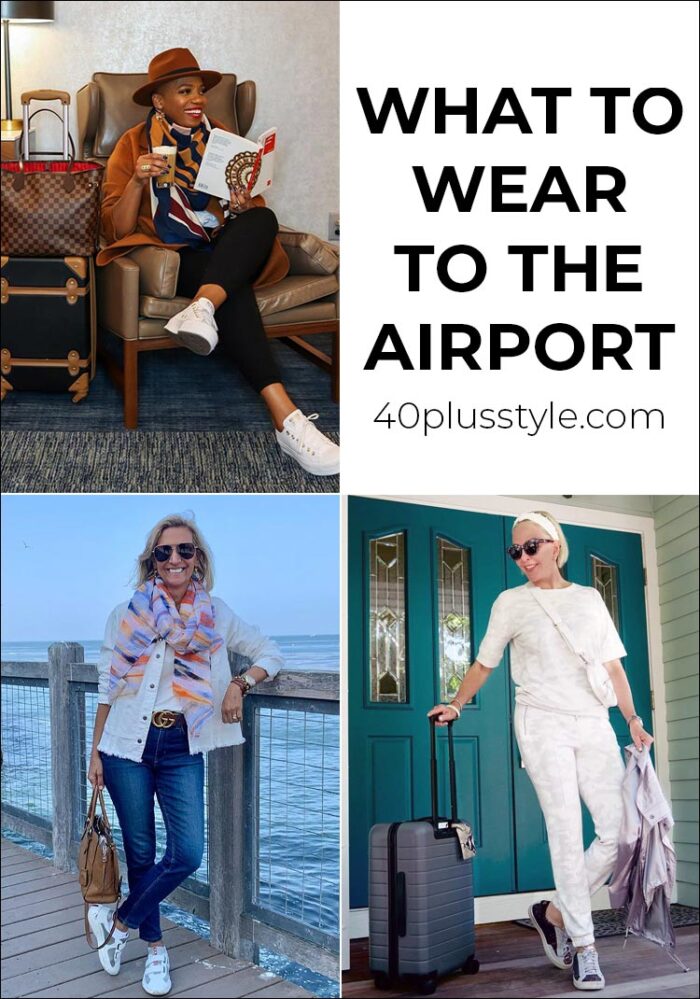 Feature image by Psyche@economyofstyle
The post What to wear to the airport: airport outfits to get your trip off to a stylish start appeared first on 40+ Style.